Aaron Craft
Recent Tweets
All Tweets
DraftExpress: Notable Undrafted 4 Aaron Craft Jakarr Sampson Fuquan Edwin Markel Starks Shayne Whittington Casey Prather Chane Behanan Alex Kirk
2014-06-27 00:15:32
DraftExpress: Apparently Aaron Craft has been really holding his own defending Kyrie Irving here. Picking him up full-court and making him work.
2013-06-26 17:34:38
DraftExpress: At the Nike Skills Academy in NJ. Watching Kyrie Irving go up against the likes of Aaron Craft Olivier Hanlan Semaj Christon and others.
2013-06-26 17:26:07
DraftExpress: Top NBA Prospects in the Big Ten, Part 2-http://t.co/QToq2uxT - Trey Burke, DeShaun Thomas, Aaron Craft, Branden Dawson
2012-09-08 01:59:38
DraftExpress: DX: Top NBA Prospects in the Big Ten, Part 3 http://t.co/Tqf28V3 Tim Hardaway Jr, Aaron Craft, Keith Appling, Adreian Payne, Melsahn Basabe
2011-09-12 01:37:23
Team: Szolnok
Physicals
Positions
Rankings
Salary
Misc
H: 6' 2"
W: 198 lbs
Bday: 02/12/1991
(24 Years Old)

Current: PG
NBA: PG
Possible: PG

RSCI: 115

Agent: Lance Young

High School: Liberty Benton
Hometown: Findlay, OH

Predraft Measurements
| Year | Source | Height w/o Shoes | Height w/shoes | Weight | Wingspan | Standing Reach | Body Fat | No Step Vert | Max Vert |
| --- | --- | --- | --- | --- | --- | --- | --- | --- | --- |
| 2015 | D-League Elite Camp | 6' 0.5" | 6' 1.75" | 198 | 6' 2" | 7' 10.5" | NA | 27.5 | 33.5 |
| 2014 | NBA Draft Combine | 6' 0.75" | 6' 1.75" | 192 | 6' 2" | 7' 10.5" | 6.1 | 29.0 | 32.0 |
| 2013 | LeBron James Camp | NA | 6' 2.5" | 194 | 6' 1.5" | NA | NA | NA | NA |
| 2013 | PG Skills Acad | NA | 6' 2.5" | 194 | 6' 1.5" | NA | NA | NA | NA |



Basic Per Game Statistics

- Comprehensive Stats - Statistical Top 25s
| Year | League | Name | GP | Min | Pts | FG | FGA | FG% | 2Pt | 2PtA | 2P% | 3Pt | 3PtA | 3P% | FTM | FTA | FT% | Off | Def | TOT | Asts | Stls | Blks | TOs | PFs |
| --- | --- | --- | --- | --- | --- | --- | --- | --- | --- | --- | --- | --- | --- | --- | --- | --- | --- | --- | --- | --- | --- | --- | --- | --- | --- |
| 2015/16 | Eurocup | Aaron Craft | 7 | 21.0 | 2.9 | 1.1 | 4.6 | 25.0 | 0.7 | 3.4 | 20.8 | 0.4 | 1.1 | 37.5 | 0.1 | 0.3 | 50.0 | 0.6 | 2.1 | 2.7 | 3.4 | 1.3 | 0.0 | 2.0 | 3.1 |

Player Page&nbsp&nbsp| Player Stats | Mock Draft History | Related Articles&nbsp&nbsp| Add to My Draft Express&nbsp
&nbsp
L.A. Clippers Mini-Combine Recap and Analysis
May 22, 2014
Aaron Craft, 2 points, 2 assists, 1 turnover, 2-for-3 FTs
In typical Aaron Craft fashion the Ohio State point guard didn't attempt a field goal but still had a positive impact on the game. He moved the ball on offense, got into the lane with hesitation moves from the perimeter, and defended his position. Craft's shooting mechanics leave much to be desired, however, as he's a long way from being any type of threat from NBA 3-point range. Craft's defense is exceptional, but serious questions remain about whether he's enough of a scoring threat to get on the floor in the NBA and not be a liability.

[Read Full Article]

---
2014 NBA Combine Interviews: Craft, O'Bryant, Ross
May 22, 2014
[Read Full Article]

---
Aaron Craft Updated Scouting Report
March 24, 2014
Josh Riddell

Aaron Craft's illustrious career came to a disappointing end with a round of 64 loss to Dayton in the NCAA Tournament, as he was unable to convert a tough runner at the buzzer to win the game for the Buckeyes. He will be an interesting case to follow through the draft process and beyond, as he doesn't have a typical NBA skill set, but he could earn a roster spot under the right coach and system.

Craft's value to a NBA team will start with his defensive ability, as he was one of the best defenders in college each of his four years, twice winning Big 10 Defensive Player of the Year. Despite his below average athleticism and length, sporting just a 6'1.5" wingspan, Craft's size, strength and lateral quickness should allow his defensive prowess to translate to the NBA. He harasses ball handlers on the perimeter and is active with his hands both when guarding the ball and in the passing lanes, as his 3.0 steals per 40 minutes pace adjusted ranked 5th among all players in our top 100 . Craft's quick feet and hands combined with his tireless work ethic should help him stay a competitive defender at the NBA level and gives him a fighting chance to latch onto a roster and stick in the right situation.

Throughout his four year career, Craft was basically the same offensive player year in and year out, never seeming to be able to add any new skills to his repertoire. The past two years, our preseason report suggested he would have to increase his offensive role after the departure of key offensive pieces in Jared Sullinger and DeShaun Thomas, but he has been unable to become a bigger part of the Buckeye offense. His 8.0 field goal attempts per 40 minutes pace adjusted was the second lowest of any player in our top 100 rankings, which was actually a decrease from 9.9 field goal attempts per 40 minutes pace adjusted in his junior season. He also did not see a rise in his assists, as his assists per 40 minutes pace adjusted were 5.6 in his senior season, right in line with the two previous seasons. Should Craft get drafted, he would be only the third collegiate point guard (besides Kendall Marshall and Chris Duhon) in the past twelve years to get picked with as low of a usage rate as he has.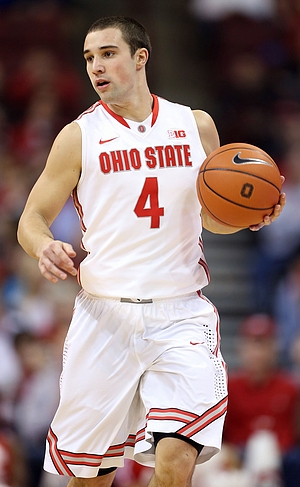 US Presswire



One area Craft will have to focus on to stick in the NBA is his ability to create out of the pick and roll. Craft has shown he can be a distributor in this area, but he often doesn't have a passing lane because the defense goes under the screen, daring him to take a jump shot. Craft looks uncomfortable shooting off the dribble (27% FG%), as he struggles to get balanced and has a slow release that will allow NBA defenders to recover and challenge the shot when they see him prepare to shoot. Craft took only 1.8 three point attempts per 40 minutes pace adjusted, third lowest among point guards in our top 100 . He shot only 30% on these three pointers, on par with the rest of his career and not high enough to make defenses guard him at this distance. If he doesn't develop a passable jump shot, it will be harder for him to stay in the league because defenses will not need to guard him in this area, making it harder for him to create for his teammates.

Craft is unable to beat collegiate defenders off the dribble on a regular basis and will likely continue to struggle with this skill against NBA level defenders. When Craft puts the ball on the floor, he puts his head down and tries to go straight to the rim. Since he was usually unable to get a step on the defender, he often found himself out of control which resulted in a turnover—his 23% turnover percentage ranks tops amongst all Top-100 prospect point guards. Instead of barreling straight to the rim, he'll need to develop a more shrewd approach to try to beat his defender off the dribble when called upon to create offense.

After four years at Ohio State, it is clear what Aaron Craft can bring to a team as a NBA player. He will provide value defensively and improve a team's practices, lockerroom and chemistry with the hustle and toughness he brings to the table. To stick in the NBA, he will first need to find the right situation with a team that values the skill set he provides. He will then need to find a way to force defenders to have to respect him on the offensive end, likely with a more reliable jump shot, which will help open up scoring opportunities for his teammates.

Craft may not hear his name called in the Draft, but he should find his way onto a summer league team and earn invites to NBA training camp, where he can demonstrate his value as he tries to find the right opportunity. It will be a continuous uphill battle for Craft to make it and stick in the league, but landing with the right organization which values the intangibles he brings off the court could help his cause.

[Read Full Article]

---
Top NBA Draft Prospects in the Big Ten, Part 6 (#6-10)
September 21, 2013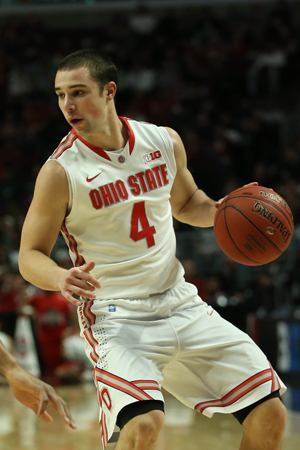 US Presswire



Matt Kamalsky

Heading toward the start of his senior season, there's very little that has not already been said about Aaron Craft. Over the last three seasons, or seven if you include his career at Liberty Benton HS (OH) and the 221-9 record he amassed playing for All-Ohio Red on the AAU circuit, the two-time CoSIDA Academic All-American has earned a well-deserved reputation for defense, hustle, and the type of heady point guard play and gamesmanship one would expect from a coach's son.

Similarly, our scouting reports on Craft have remained equally steady over time, as his strengths and weaknesses as a prospect are well-documented and haven't changed much since he emerged on the college scene. A strong point guard with good size and lateral quickness, Craft is among the best perimeter defenders the college game has had to offer in recent memory. His non-stop motor and all-around game make him a disruptive force and help him make plays that don't show up in the box score.

On the offensive end, he is a steady ball-handler who does a good job handling pressure and distributing the ball in transition and on the pick and roll. An extremely unselfish, pass-first point guard, he seldom forces the issue, but will take what the defense gives him off the dribble. He lacks great length and leaping ability, but still finished at a 62% rate around the basket last season according to Synergy Sports Technology. The biggest question-mark about Craft from a NBA perspective has and continues to be whether he can keep defenders honest with his perimeter shot.

Looking at statistics alone, one could assume last season was a struggle for Craft on the offensive end on the whole, his productivity increased marginally as he averaged double figures for the first time but shot career lows of 42% from the field and 30% from beyond the arc. For stretches, there was certainly some truth to that, it was a challenge for him to be the consistent secondary offensive weapon Thad Matta's team needed early on. The primary ball-handler on a team that lacked a consistent high-level scoring threat aside from DeShaun Thomas until LaQuinton Ross emerged late in the year, the onus was on Craft, and his often-criticized jump shot, to play out of character and look for his own offense on the nights his team struggled to score.

Though he finished the year making just 32% of his jump shots off the dribble and off the catch alike, Craft delivered when it mattered. After a blowout loss to Wisconsin in February, things began to click for him, as he made 32% of his three pointers including one to sink Iowa State in the Sweet 16 as time expire, shot a much more characteristic 48% from the field, and averaged 11.8 points over the team's last 12 games. Couple that uptick in offensive efficiency with all the other positive things he does on the floor, and it is no surprise that he was ultimately named All-Big Ten 1st team by the media and was the MVP of the Big Ten Tournament.

Heading into his last season of eligibility, Craft could once again face additional pressure to score with Thomas out of the picture unless Ohio State's deep junior class picks up that slack. Regardless, he'll have ample opportunity to show what progress he's made as a shooter. Even if he doesn't show marked improvement, he'll still get plenty of looks, as coaches love players who do their job consistently the way he does. Eric Snow and Kevin Ollie both played 10+ seasons in the NBA thanks to their size, defense, and intangibles. Neither even became a very reliable threat from outside in that time. Point guards in their mold fit in particular situations better than others, and different teams will certainly have different views on Craft depending on their personnel. If he can improve his consistency away from the rim, there's no doubt he'll broaden his appeal and improve his draft stock.

[Read Full Article]

---
Top NBA Draft Prospects in the Big Ten, Part Two (#2-5)
September 8, 2012
US Presswire



Kyle Nelson

After a promising freshman campaign, Aaron Craft had a very strong sophomore season, leading the Ohio State Buckeyes to a 31-8 record and Thad Matta's second Final Four. Without All-Conference talents Jared Sullinger and William Buford on campus, however, Craft will have to embrace a larger role on the offensive end, while continuing to be the Buckeye's premier defensive stopper and distributor.

Though he is just an average athlete in terms of quickness in the open floor and explosiveness around the basket, Craft's lateral quickness is tremendous, and he still has a built frame with strength and toughness to spare. Beyond a simple physical or athletic profile, however, Craft is incredibly active, agile, and aggressive, which allows him to stay in front of his man, draw charges, and disrupt perimeter scorers better than perhaps any player in college basketball.

As was the case the last time we wrote about him, Craft's defense remains both his most effective skill and what sets him apart as a NBA prospect at this stage. Simply put, he is a lockdown man-to-man defender, who stays involved even after he has been beaten and is a terror for opposing ball-handlers to deal with on the perimeter. Though he will need to adapt his style somewhat to the bigger, stronger and more talented guards he'll find in the NBA, he projects favorably as a defender at the next level, despite possessing a seemingly average physical profile at the collegiate level.

Despite being an elite defender, Craft has a long way to go on the other end of the floor. One of the least productive scoring point guard prospects in our database last season, Craft improved his offensive output marginally as a sophomore in a slightly expanded role on offense, and should have ample opportunities to take a much bigger jump as a junior, which teams will likely want to see him do.

In particular, one area in which he looked more aggressive is off of the dribble, operating far better out of the pick-and-roll, finding open lanes, and attacking the basket. His lack of an elite first step and average leaping ability limit him as a slasher, as he gets his shot blocked quite often, and doesn't get to the free throw line very often, but his strength and bullish demeanor allowed him to carve out space and find room to score around the basket. Additionally, he showed increased comfort pulling up off of the dribble and knocking down shots from mid-range, impressive considering his overall increased shooting efficiency and impressive 55.4% 2FG.

To Craft's credit, he is an efficient scorer, shooting 50% from the field last year, which separates him from almost all of his counterparts in the sub-11 point per-40 range, most of whom can only dream of scoring as efficiently as him.

He regressed as a long-range shooter, however, making just 35.9% of his 2.0 attempts per 40 minutes pace adjusted. His mechanics were inconsistent as a sophomore, and he struggled with a hitched and oftentimes slow release. Additionally, he looked far more comfortable with his feet set and with space to shoot, than off of the dribble or with a hand in his face. Working on maintaining fluidity in his form on contested jumpers and off of the dribble should be a priority looking forward, especially given the fact that he may be relied upon more in this capacity as a junior.

Though not as flashy as some of the NCAA's elite point guard prospects, Craft is a steady distributor, with solid court vision and an impressive 2.15 assist to turnover ratio. He is not a prototypical drive-and-dish or pick-and-roll oriented point guard, but he nevertheless dictates the tempo of Ohio State's offense well while showing the ability to find his teammates in half court and up-tempo situations alike. Moving forward, scouts will be watching to see if he is capable of developing a more aggressive and distinctive identity as a playmaker with what should be a greatly expanded role in the offense.

Despite maintaining a relatively low profile thus far in his college career, Craft will have every opportunity to raise his stock in scouts' eyes with a breakout junior season. If he continues to improve his offensive game and develops further as a point guard, he already has the IQ, basketball and otherwise, defensive ability, and demeanor to succeed in a rotation at the next level in the mold of defensive stoppers such as Derek Fisher and Eric Snow.

[Read Full Article]

---
Top NBA Draft Prospects in the Big Ten, Part Three (#11-15)
September 12, 2011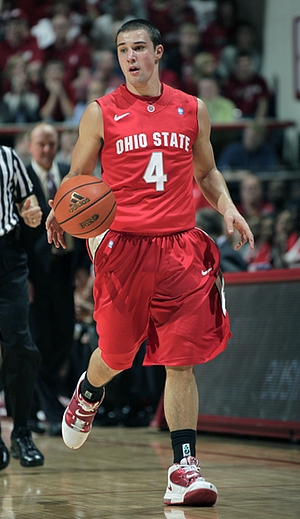 Icon SMI



Matthew Kamalsky

Aaron Craft was not considered a blue-chip recruit coming out of high school, but earned national attention for his inspired play as a freshman for the 34-3 Ohio State Buckeyes. Winning the Big Ten Sixth Man of the Year Award and being named to the All-Big Ten Defensive Team, the Findlay, Ohio native was the consummate glue guy for Head Coach Thad Matta.

Despite the praise Craft received for his hustle and defense, it is important to remember that he was playing in a very small niche offensively. Though he could not have meshed better with the veterans on OSU's roster, he did rank among the least prolific per-40 minute pace adjust scorers in our database, attempting the second fewest field goal attempts per-minute, which is a limiting factor on the depth with which we can evaluate his NBA potential at this time.

When delving into what we can definitely say about Craft at this point, analyzing his somewhat unique physical profile is not a bad place to start. Built somewhere in between a Big Ten football player and a point guard, Craft has adequate size and good strength for his position, but it is his lateral speed that really stands out among his peers. Craft moves his feet exceptionally well on the defensive end, and uses his ability to stop and start on a dime to handle full court pressure like a seasoned veteran on offense.

It was Craft's agility that made him one of the peskiest defenders in all of college basketball last year. Ranking among the top players in our database in steals per-40 minutes pace adjusted, Craft doesn't only keep his man out of the lane and apply pressure, he uses his quick hands to create turnovers, stays with plays even when he's beat, steps in front of much bigger players to take charges, won't hesitate to get on the floor to scrap for loose balls, and managed to take some of the NCAA's best scorers out of their comfort zones with his intensity. Though his size and average explosiveness limit his ability to contest shots at times, Craft seems to have the burst that many players in this no-nonsense, defense-oriented mold have lacked in the past.

On top of what Craft offers defensively, he is an extremely efficient passer. The rising sophomore ranked 11th among players in our database in assist-to-turnover ratio, showing a high basketball IQ while making simple plays to set up the experienced group of players around him. A team-first player, Craft seldom forces the issue and is like a coach on the floor. He may not be a dynamic shot-creator at this stage, which limits his upside at the position from a professional standpoint, but he more than got the job done as a true freshman at the collegiate level.

As noted above, one area where Craft did not exceed expectations was as a scorer. Part of the reason why he scored under 7 points per-game was because of the talent around him and that he, in his role of set-up man, was not seeking his own shot, but it was also a result of his recognition of his limitations as a slasher. At the rim, Craft took what defenders gave him and finished at a decent rate, but had his shot blocked on occasion and showed a lack of explosive leaping ability that hurts his ability to compete above the rim.

Out on the perimeter, Craft knocked down a solid 41% of his jump shots in limited attempts. Moving forward, Craft could definitely stand to improve his shooting consistency.

At this juncture, there is no reason to jump to any conclusions about what Craft's NBA outlook may be. He's a probable three or four-year player who has a terrific head on his shoulders, but does not yet have a clearly defined NBA skill, despite his merits defensively. He's an elite role-player in the college game, but as the cast of characters changes around him, Craft's skill level will be tested, at which point his potential NBA prospects will become clearer.

[Read Full Article]

---