Adonis Thomas
Recent Tweets
All Tweets
DraftExpress: More Undrafted Vander Blue Robert Covington Adonis Thomas Kenny Kadji Vitalis Chikoko Seth Curry D.J. Stephens Augusto Cesar Lima.
2013-06-28 00:19:03
DraftExpress2: RT @GoodmanESPN Early entry guys still on board CJ Leslie Lorenzo Brown Vander Blue Phil Pressey Adonis Thomas Deshaun Thomas BJ Yo\u2026
2013-06-27 23:35:33
DraftExpress2: Early entry guys still on board CJ Leslie Lorenzo Brown Vander Blue Phil Pressey Adonis Thomas Deshaun Thomas BJ Young.
2013-06-27 23:34:28
DraftExpress: DX Trending Prospects Adonis Thomas http://t.co/gQnlqhDFfI
2013-05-15 09:13:28
DraftExpress: Adonis Thomas leaving Memphis signing with an agent http://t.co/D0yAleL71k - Strange move after his stock plummeted. Could go undrafted.
2013-04-04 16:10:22
Team: Grand Rapids
Physicals
Positions
Rankings
Salary
Misc
H: 6' 6"
W: 242 lbs
Bday: 03/25/1993
(22 Years Old)

Current: SF
NBA: SF
Possible: SF

RSCI: 8

Agent: Travis King

High School: Melrose
Hometown: Memphis, TN

Predraft Measurements
| Year | Source | Height w/o Shoes | Height w/shoes | Weight | Wingspan | Standing Reach | Body Fat | No Step Vert | Max Vert |
| --- | --- | --- | --- | --- | --- | --- | --- | --- | --- |
| 2015 | D-League Elite Camp | 6' 5" | 6' 6.25" | 242 | 7' 0.5" | 8' 6" | NA | 29.0 | 32.5 |
| 2013 | NBA Draft Combine | 6' 4.75" | 6' 5.75" | 232 | 7' 1" | 8' 3" | 7.5 | 34.5 | 40.5 |
| 2012 | Kevin Durant Camp | NA | 6' 6" | 241 | 7' 0" | NA | NA | NA | NA |
| 2009 | LeBron James Camp | NA | 6' 5" | 204 | 7' 0" | NA | NA | NA | NA |



Basic Per Game Statistics

- Comprehensive Stats - Statistical Top 25s
| Year | League | Name | GP | Min | Pts | FG | FGA | FG% | 2Pt | 2PtA | 2P% | 3Pt | 3PtA | 3P% | FTM | FTA | FT% | Off | Def | TOT | Asts | Stls | Blks | TOs | PFs |
| --- | --- | --- | --- | --- | --- | --- | --- | --- | --- | --- | --- | --- | --- | --- | --- | --- | --- | --- | --- | --- | --- | --- | --- | --- | --- |
| 2015/16 | DLEAGUE | Adonis Thomas | 2 | 24.5 | 5.0 | 2.0 | 6.0 | 33.3 | 1.0 | 2.5 | 40.0 | 1.0 | 3.5 | 28.6 | 0.0 | 0.0 | &nbsp | 0.0 | 4.5 | 4.5 | 0.0 | 0.0 | 0.5 | 0.5 | 2.0 |

Player Page&nbsp&nbsp| Player Stats | Mock Draft History | Related Articles&nbsp&nbsp| Add to My Draft Express&nbsp
&nbsp
Trending Prospects: Adonis Thomas
May 15, 2013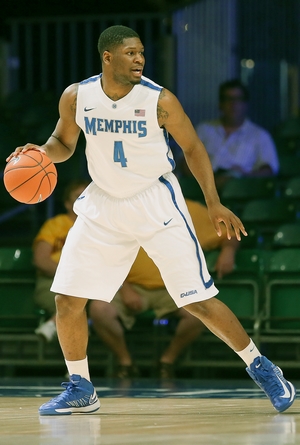 US Presswire



Joe Treutlein

Following an underwhelming freshman season marred by inconsistency and an injury that caused him to miss half the year, Adonis Thomas unfortunately failed to make up for lost time in his healthy sophomore campaign, as he actually regressed in some areas and didn't take advantage of the opportunities available to him.

Thomas' physical attributes remain his best selling point from a pro perspective, as his chiseled 6'7 frame and excellent 7'0 wingspan give him the ideal build for a small forward prospect. As far as his skills on the court go, however, he hasn't progressed much if any since setting foot on campus two years ago.

On the offensive end, Thomas' game is raw in all aspects, with his spot-up jump shot being the furthest along of his skills. While he boasted an impressive 40.5% shooting mark from behind the arc as a freshman (albeit on a small sample size of 1.9 attempts per game), that number regressed significantly to 29.2% as a junior (again on a small sample of 2.5 attempts per game). Looking at the film, there's not much different in Thomas' shot, which still has consistent form and is solid overall. The truth about his shooting ability likely lies somewhere in the middle of the numbers he posted the past two seasons, which means he still has some work to do before making this a reliable NBA-level skill.

The rest of Thomas' offense is even less noteworthy, with spot-up drives and mid-range attempts making up the bulk of his other possessions. His ball-handling is very shaky and he has trouble consistently getting by his man, making it very difficult for him to get to the rim in off-dribble situations. This combined with his expanded role played a large part in how his two-point percentage plummeted from 51.5% to 43.9% this season.

On the positive side, Thomas does show solid touch and even a decent arsenal of moves in the mid-range and mid-post areas, utilizing floaters and runners with decent success. The problem is these shots by nature are not very high efficiency attempts, and aren't something a small forward is likely to succeed with by making his bread and butter.

Thomas' low propensity for getting to the rim, both in terms of off-ball cuts and attacking the offensive glass, is definitely concerning given his physical attributes combined with his raw offensive game. To his credit, he did significantly increase both his offensive rebounding (1.2 to 2.0 rebounds per 40 minutes pace adjusted) and the rate at which he got to the line (0.16 to 0.27 FTA/FGA) this season, but both still remain weaknesses overall, especially when viewed alongside his very weak two-point percentage.

On the defensive end, Thomas can be seen in more of a bright light overall, as his physical attributes shine through more frequently, as he's capable and often is a versatile and aggressive perimeter defender. His fundamentals and awareness remain works in progress, and he can lose intensity on plays that tend to drag on, but he boasts great size and solid lateral quickness for his position.

Looking forward, Thomas clearly didn't have a great two seasons at the collegiate level relative to where he was ranked coming out of high school, and still appears to be a ways away from being able to make consistent contributions at an NBA level. Still, his combination of physical attributes along with a groundwork of skills as a shooter and defender make him someone teams will be interested to see in workout settings, especially if he can exhibit he's making some progress in the skills department throughout the pre-draft process.

His stock can't be very high right now after two disappointing seasons at Memphis, which makes his decision to declare for the draft and hire an agent puzzling at first, but things didn't appear to be working out for him at Memphis for whatever reason, so a change of scenery may help. While he's no lock to be drafted given where his stock sits, it may be for the best, as spending some time playing professional ball overseas or in the D-League and continuing to develop his skills may be the best chance he has at realizing some of the potential many thought he had coming out of high school.

[Read Full Article]

---
Top NBA Prospects in the Non-BCS Conferences, Part Two
November 6, 2012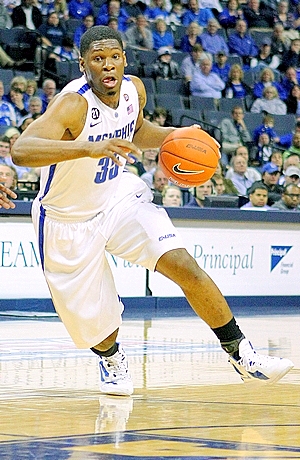 US Presswire



Kyle Nelson

A McDonald's All-American and RSCI top-10 high school recruit, Adonis Thomas had an undistinguished freshman campaign, replete with bouts of inconsistency and torn cartilage in his ankle that required surgery and cost him two months and 15 crucial last-season games. He managed to return and play limited minutes in the CUSA and NCAA Tournament, but a first-round upset at the hands of Saint Louis ended Memphis's season and ultimately resulted in Thomas deciding to forgo the NBA draft for his sophomore season.

Now with Will Barton and Wesley Witherspoon off to the pro ranks, scouts will be watching to see if Thomas can elevate his game and emerge as the star he was projected to be for his hometown Tigers.

On first glance, it's easy to see why Thomas was such a coveted prospect. He already looks the part of a prototypical NBA small forward physically standing between 6-6 to 6-7 with a long 7'0 wingspan and a rugged 241-pound frame. He is a good athlete, as well, who runs the floor in transition, moves well laterally, and is capable of making plays around the basket.

Despite his excellent physical profile, Thomas is not a particularly skilled, fluid or prolific offensive player, even if he does show some intriguing flashes of potential on occasion. An 18-year old freshman coming in to a veteran team, he averaged just 14.4 points per-40 in 24 minutes per game, which rates 44th of the 61 returning players who currently make up our top-100 prospect rankings.

Thomas made an impressive 41% of his 3-pointers last season, but that came on a fairly small sample size due to his prolonged absence midway through the season, only taking 37 attempts in 19 games, with five of his fifteen total makes coming in a single game, a blowout win over Austin Peay.

On film, he shows solid mechanics, although a bit on the rigid side, but has a relatively consistent release point. Despite his relative lack of perimeter attempts, he showed the potential to hit shots with his feet set and on the move, suggesting that he can develop into an effective perimeter scorer down the road.

He also shows a solid in-between game, particularly in terms of his ability to create space off the dribble and knock down pull-up jump shots. He made 52% of his 2-pointers and nearly 50% of his jump shots inside of the three-point line, although again on a limited sample size.

Scouts will want to see Thomas show more as a sophomore in terms of shot-creation skills, as he at times looked hesitant to attack the basket last year. He showed flashes of being able to take his man off of the dribble with his quick first step and powerful strides, often just barreling his way into the paint. Becoming a more fluid ball-handler, particularly with his left hand and overall ability to change speeds and directions with the ball, would certainly help him better operate in Memphis' half-court offense, but so too would adopting a more aggressive mentality in general. He averaged just 2.1 free throws per 40 minutes pace adjusted, which is a very low number considering his physical tools.

Considering Thomas' size and length, it's surprising that he was only able to grab 1.2 offensive rebounds per-40 minutes last season, which ranks the lowest of any small forward amongst our top 100 prospects. He doesn't fare much better as a defensive rebounder either, ranking as one of the worst rebounding small forward prospects in our database last season.

On defense, Thomas showed good lateral quickness, which combined with his strength and length, allowed him to be a solid perimeter defender even if his intensity level left a bit to be desired at times. His awareness and instincts on the defensive end looked like a work in progress during his freshman year, as he struggled at times to fight through screens and to close out on shooters without fouling. It is important to remember, however, that he is still very young, learning a new position on defense, oftentimes guarding bigger and more athletic power forwards, and seemingly possessing all of the right intangibles needed to get better. Therefore, scouts will be watching early-season match-ups against Louisville, Tennessee, and in the Battle 4 Atlantis Tournament to see how he fares defending NBA-caliber perimeter players.

When evaluating Thomas, it is important to remember that he started just 8 games and played in only 19, the last three of which he played on his surgically repaired ankle. Furthermore, he was one of the youngest players in college basketball, not turning 19 until after the season ended, as is often praised for his strong intangibles. With that said, his freshman season did little to distinguish him from the pack, which makes this upcoming year especially important, as his team will need him to produce, and he'll no longer be able to rest on the laurels of his upside.

[Read Full Article]

---
Podcast: Talking NBA Draft with Gary Parrish
May 26, 2011
Adonis Thomas - is he a one and done type player?

[Read Full Article]

---
McDonald's All-American Game Video Profile: Adonis Thomas
April 27, 2011
[Read Full Article]

---
Final Scouting Reports: High School Class of 2011
April 22, 2011
Jonathan Givony

Adonis Thomas (#9 Scout, #15 Rivals, #8 ESPN) is one of the most improved players in this class relative to the last time we saw him in Germany. He's made noticeable improvements in his skill-level and his feel for the game, in turn establishing himself as one of the most promising prospects in the 2011 high school class.

Thomas is still the same incredibly impressive prospect physically, measuring nearly 6-7 in shoes at the Nike Hoop Summit with a near 7-foot wingspan. At 217 pounds, he comes into college ready to play from Day One. He's extremely physical in the post, can lock down positions 2-4 effectively and is an excellent rebounder—making him a very versatile player.

Where Thomas has progressed the most is in his spot-up shooting. He looks quite a bit more consistent with his feet set than we remembered him being. He has a compact, fundamentally sound stroke that will continue to get more consistent with repetition. Off the dribble, Thomas is not quite there yet, though. His accuracy drops considerably when pulling up.

As a shot creator, Thomas can beat his man off the dribble with a powerful first step. He can also finish through contact with his mature frame, particularly in transition, where he truly excels. He still has work to do on his ball-handling skills, though. He struggles to change direction and does not possess much in the way of advanced moves in half-court settings.

Thomas is an unselfish player with excellent intangibles. He's lauded not just for his on-court exploits, but also for academic prowess. He still has plenty of room to grow as a basketball player, particularly on the offensive end, but there's no reason to believe he can't reach his full potential down the road.

[Read Full Article]

---
2011 Nike Hoop Summit: USA Team Measurements
April 12, 2011
Adonis Thomas
Height (with shoes): 6-6 3/4
Weight: 217
Wingspan: 6-11 ˝

[Read Full Article]

---
FIBA U-17 World Championships: Top American Prospects
August 16, 2010
The aptly named Adonis Thomas is 6-6, exceptionally long and athletic, and has an outstanding frame. He clearly passes the look test on first glance, to say the least. He's built like a tank and often plays like one too, bringing an unbelievable amount of energy and intensity to the table and seeing outstanding results defensively and on the glass in turn.

Offensively, Thomas has improved his shooting form significantly from the last time we saw him. The results were better than advertised as well as he looks more capable on the catch-and-shoot than we remembered him being in the past.

Thomas is still fairly streaky from the perimeter, and he's prone to taking bad shots from time to time. He still has work to do on this part of his game, especially off the dribble. As a shot creator, he's outstanding in transition and a terrific finisher around the basket, but he's just an average ball handler at this stage, especially in the half-court. He has plenty of time to improve upon this part of his game, though, and he brings so much to the table in other areas that it's easy to understand why he's considered such a highly touted prospect by recruiting services, especially when you consider his outstanding intangibles.

[Read Full Article]

---
Initial High School Player Scouting Reports, Part Two
August 22, 2009
One of the more enjoyable prospects to watch on the AAU circuit in the class of 2011 was Memphis Magic wing Adonis Thomas (#15 Scout, #11 Rivals, #9 ESPN). We're talking about a real junk-yard dog here—a long-armed, strong and extremely athletic forward who was easily the best defender we saw this summer. Thomas plays with unbelievable energy and was constantly making an impact on the game every time we saw him—be it running the floor, grabbing offensive rebounds, coming up with blocks and steals, and just sticking his nose in all kinds of places. He uses his length, strength and lateral quickness exceptionally well on the defensive end, getting low in a stance and absolutely smothering his opponents, never taking a single play off.

Offensively, he appears to be a raw prospect on first glance, showing underdeveloped ball-handling skills and an inconsistent stroke from the perimeter, although we did see him heat up from time to time and show nice potential on this end as well. At this level he can make his presence felt well enough just by being tougher and more athletic than everyone else, and he seems to do the job quite well. He draws a lot of fouls and will post up from time to time, even showing some nice passing skills from time to time. He never seems to get rattled and shows exactly the type of demeanor you want to see from a player who is only 16 years old. If Thomas continues to develop his all-around skill level, and maybe even grows another inch or two, while still playing with that same chip on his shoulder, we could be looking at a very interesting prospect down the road.

[Read Full Article]

---