Adreian Payne
Recent Tweets
All Tweets
DraftExpress: RT @Mike_Schmitz New @DraftExpress Preseason Scouting Video breaking down Michigan State PF Adreian Payne http://t.co/XtnC3BhasA #Spartans\u2026
2013-09-19 14:36:52
DraftExpress: New @DraftExpress Preseason Scouting Video breaking down Michigan State PF Adreian Payne http://t.co/XtnC3BhasA #Spartans #NBADraft
2013-09-19 10:36:45
DraftExpress: Top NBA Prospects in the Big Ten Part 4 Adreian Payne Scouting Video http://t.co/tLXNNuaxFn
2013-09-19 10:02:25
DraftExpress: RT @WojYahooNBA Michigan State's Adreian Payne will return to school for his senior year a source told Y! Sports. Midnight deadline to en\u2026
2013-04-28 15:01:55
DraftExpress: Michigan State's Adreian Payne will return to school for his senior year a source told Y! Sports. Midnight deadline to enter NBA Draft.
2013-04-28 14:30:18
Predraft Measurements
| Year | Source | Height w/o Shoes | Height w/shoes | Weight | Wingspan | Standing Reach | Body Fat | No Step Vert | Max Vert |
| --- | --- | --- | --- | --- | --- | --- | --- | --- | --- |
| 2009 | LeBron James Camp | NA | 6' 9" | 215 | 7' 0" | NA | NA | NA | NA |
| 2009 | Amare Stoudemire Camp | NA | 6' 9" | 215 | 7' 0" | NA | NA | NA | NA |



Basic Per Game Statistics

- Comprehensive Stats - Statistical Top 25s
| Year | League | Name | GP | Min | Pts | FG | FGA | FG% | 2Pt | 2PtA | 2P% | 3Pt | 3PtA | 3P% | FTM | FTA | FT% | Off | Def | TOT | Asts | Stls | Blks | TOs | PFs |
| --- | --- | --- | --- | --- | --- | --- | --- | --- | --- | --- | --- | --- | --- | --- | --- | --- | --- | --- | --- | --- | --- | --- | --- | --- | --- |
| 2013/14 | NCAA | Adreian Payne | 31 | 28.1 | 16.4 | 5.7 | 11.4 | 50.3 | 4.3 | 8.1 | 53.6 | 1.4 | 3.4 | 42.3 | 3.5 | 4.5 | 79.0 | 1.5 | 5.7 | 7.3 | 1.3 | 0.5 | 0.9 | 2.0 | 2.6 |

Player Page&nbsp&nbsp| Player Stats | Mock Draft History | Related Articles&nbsp&nbsp| Add to My Draft Express&nbsp
&nbsp
Adreian Payne's 41-Point NCAA Tournament Performance
March 21, 2014
A video breakdown of Adreian Payne's 41-point NCAA Tournament performance against Delaware, with a focus on the different aspects of his offensive game he showed, and how they might translate to the NBA.


---
-NBA Draft Prospect of the Week: C.J. Wilcox (Video Scouting Report)
-NBA Draft Prospect of the Week: T.J. Warren (Video Scouting Report)
-NBA Draft Prospect of the Week: A.J. Hammons (Video Scouting Report)
-NBA Draft Prospect of the Week: K.J. McDaniels (Video Scouting Report)
-NBA Draft Prospect of the Week: Deonte Burton (Video Scouting Report)
-NBA Draft Prospect of the Week: Noah Vonleh (Video Scouting Report)
-NBA Draft Prospect of the Week: Nik Stauskas (Video Scouting Report)
-NBA Draft Prospect of the Week: Aaron Gordon (Video Scouting Report)
-NBA Draft Prospect of the Week: Clint Capela (Video Scouting Report)
-NBA Draft Prospect of the Week: Thanasis Antetokounmpo (Video Scouting Report)
-NBA Draft Prospect of the Week: Shabazz Napier (Video Scouting Report)
-NBA Draft Prospect of the Week: Bogdan Bogdanovic (Video Scouting Report)
-NBA Draft Prospect of the Week: Joel Embiid (Video Scouting Report)
-NBA Draft Prospect of the Week: Julius Randle (Video Scouting Report)
-NBA Draft Prospect of the Week: Jabari Parker (Video Scouting Report)
-Revisiting Giannis Antetokounmpo (Video Scouting Report)
-Revisiting Damian Lillard (Video Scouting Report)
-Revisiting Nikola Mirotic (Video Scouting Report)
-Revisiting Alexis Ajinca (Video Scouting Report)
---
All of our video scouting reports this season can be found here.

[Read Full Article]

---
Top NBA Prospects in the Big Ten, Part 4: Adreian Payne Scouting Video
September 19, 2013


Mike Schmitz is the video analyst for DraftExpress. Follow him on twitter and subscribe to the DraftExpress YouTube page. He will be breaking down the NBA draft in digital format all year long for us.

[Read Full Article]

---
Top NBA Draft Prospects in the Big Ten, Part Three (#6-10)
September 11, 2012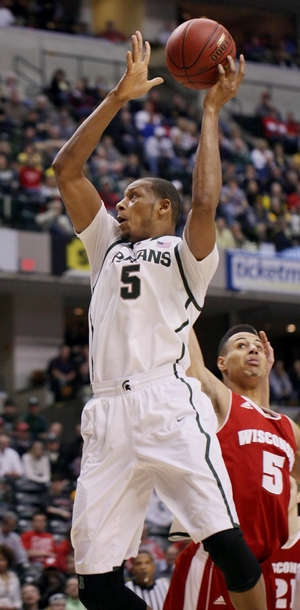 US Presswire



Joe Treutlein

Following a largely unproductive freshman campaign, top-30 high school recruit Adreian Payne took some very strong steps forward as a sophomore, improving notably in nearly every facet of his game. Heading into his junior season, Payne is primed for another strong year, and will have every opportunity to expand his role with Draymond Green graduating and leaving 33 minutes per game for the taking.

Looking at Payne's sophomore showing, the first thing that stands out is his improved physique, as he's gone from a 215-lb high school senior to a solidly filled out 242 pounds as of this summer. >Coach Tom Izzo reportedly wants to eventually see him in the 245-250 range, and Payne certainly appears to have the frame to handle the extra weight.

On the court, Payne saw a strong increase in minutes, production, and efficiency, making good use of his improved frame and showing much more confidence in finding ways to consistently impact the game.

Payne's offensive contributions come predominantly within five feet of the basket, where he's developed a penchant for throwing down some ferocious highlight reel dunks. In addition to his excellent size, length, and athleticism, Payne has developed some nice hands and coordination that make him a very dangerous threat on pick-and-rolls, especially in combination with his confidence finishing with power at the rim.

Payne is similarly explosive attacking the offensive glass, where he shows good instincts and pursuit, along with a nice second bounce and of course, no qualms about finishing strong. His ability finishing on off-ball cuts lags behind his pick-and-roll and offensive rebounding somewhat, as he's still coming into his own with his overall feel for the game, but he's not someone defenses want to leave alone roaming around the paint.

In terms of his post-game, Payne has improved some from his freshman year, still showing largely crude footwork and having problems with turnovers against top competition, but doing a better job taking advantage of his physical tools and showing decent touch on his finesse moves. He's much more comfortable executing moves against weaker competition and with more space to operate, seeing his effectiveness go down markedly in more difficult situations. This area is still a work in progress for him, but he shows some nice flashes, specifically with a running hook that shows a very high release point and solid touch.

Payne's skill level in general is still below average for a junior big man with NBA potential, but he showed a considerable learning curve over the past two years, most notably with his much improved shooting. His FT% went from a dismal 48.6% on one attempt per game to a respectable 69.7% on 2.4 attempts per game, and he also showed flashes of turnaround jumpers in the post and even some 10-15 footers later in the season. While his in-game shot isn't NBA-ready by a long shot, he shows solid mechanics and appears to be putting in the work, making it something to watch out for this season.

Defensively, Payne has also taken some strong steps forward, developing into a pretty effective post defender who does a good job taking advantage of his physical tools. While his fundamentals are still a little rough around the edges and he's prone to being overpowered against players who are in his league physically, he does a good job moving his feet and using his length to contest shots, being tough to score on for most opponents. He focused less on blocking shots this season, but still is a worthy threat there with his length and mobility. Things are less encouraging for Payne at this stage on the perimeter, where he looks mostly lost in pick-and-roll defense despite having considerable potential down the road with his elite physical tools.

The biggest concern for Payne heading into this season is if he steps up to fill the voided role in Michigan State's frontcourt and if his body can handle a significant increase in minutes from the 17.9 per game he saw as a sophomore. Payne reportedly has smaller lungs than an average person his size would, resulting in reduced lung capacity that makes it difficult to play extended minutes. That Payne has overcome this and made such a marked improvement as a sophomore is a testament to his work ethic, and it will be interesting to see if he can make similar gains as a junior. Payne already brings an intriguing package to the table with his physical tools, offensive rebounding, ability to finish around the basket, and defensive potential, so he could certainly put himself firmly on the NBA radar if he makes additional strides this year.

[Read Full Article]

---
Top NBA Draft Prospects in the Big Ten, Part Three (#11-15)
September 12, 2011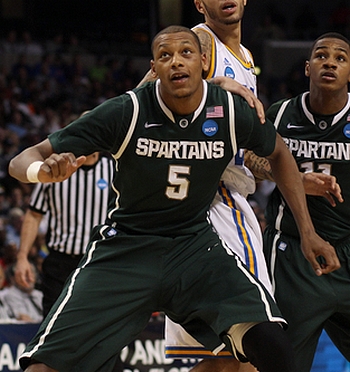 Icon SMI



Jonathan Givony

A consensus top-30 recruit in high school, Adreian Payne's freshman season was mostly a learning process, averaging just 2.5 points and 2.4 rebounds in 9 minutes per game.

Listed at 6-10, with a long wingspan, large hands and a frame that should fill out reasonably well in time, Payne is a mobile, agile big man with physical attributes that simply cannot be taught.

Skill-wise, Payne is a fairly limited player at this point, seeing most of his touches around the basket and not being counted on for scoring at all in Michigan State's offense. Capable of playing above the rim and showing very nice extension around the basket, Payne has average footwork and touch and at times looked out of place on the court. His lack of strength hurts him in the paint, and it's clear that his skill-level and feel for the game are still catching up with his physical tools, as he dished out just 5 assists all season and converted 49% of his free throw attempts.

Where Payne did contribute was as an offensive rebounder and shot-blocker, two areas where he ranked among the freshman leaders on a per-minute basis. He's a useful player to have around the basket because of his size, length and agility, and he seems to put a solid effort in as well. Not immune to getting taken advantage of by stronger and more experienced frontcourt players, Payne needs to continue to fill out physically and improve his ability to step out onto the perimeter and move his feet.

Like many young, raw big men, the best thing you can say about Payne at this stage is that he has potential, as he was clearly not very productive as a freshman. Players in his mold can make big, sudden jumps in ability, though, so it makes sense to continue to keep track of his progress to see how he's improving. With Michigan State returning pretty much their entire frontcourt, it will be interesting to see how much more playing time Payne can stake out as a sophomore.

[Read Full Article]

---
adidas Nations Experience: 2010/11 High School Prospects
August 20, 2008
This was our first look at the oddly spelled Adreian Payne (#23 Scout, #14 Rivals, Unranked ESPN), and we can definitely tell what the recruiting services (some of them at least) see in him early on. "All arms and legs" was the way one NBA executive described him—which tells you a little bit about both his strengths and weaknesses. He has really nice size (maybe closer to 6-10 than the 6-8 or 6-9 he's listed at), a freakishly long wingspan, and a frame that should be able to add weight in time. He's incredibly skinny at the moment, to the point that it really affects the way he can operate on the court.

Payne is a very quick and athletic big man who does a little bit of everything right now, but doesn't seem to really know what his game is all about just yet. He can run the floor extremely well, put the ball on the deck a little bit, finish around the basket (if strength is not an issue) with an emphatic dunk or with his left hand, bounce off the ground (often consecutively) for blocks and offensive rebounds, and even occasionally hit a surprising pull-up jumper.

The problem is that he's exceptionally raw, but no one seems to have let him in on that little secret yet. He's not an efficient player at all just yet, being very turnover prone, and his decision making seems to have the longest to go from what we can tell. Payne's shot-selection looked brutal at times, throwing up some awful bricks on contested looks, and getting himself into serious trouble by trying to do too much with the ball in his hands. He tried to block pretty much every shot that he could too, looking fairly off with his timing, and getting himself out of position to compete for the defensive rebound.

Still, you can't help but be intrigued about what this guy might develop into considering his natural physical tools and just how incredibly young he still is, so we definitely need to stay tuned and see how he develops over the next few years.

[Read Full Article]

---