Alec Brown
Recent Tweets
All Tweets
DraftExpress: At #50 Phoenix selects Alec Brown from UW-Green Bay. 7-0 stretch power forward. Excellent shooter. Needs to improve in a lot of other areas
2014-06-26 23:41:51
DraftExpress: Alec Brown has started the season very slowly so far shooting 32% for 2 http://t.co/XN8qVivv - Billed by some as a top-10 pick this summer
2012-11-29 12:43:07
DraftExpress: Top NBA Prospects in the Non-BCS Conferences #7-#10 Ray McCallum Alec Brown Nate Wolters Isaiah Canaan - http://t.co/mIGMntBb
2012-11-15 13:07:05
DraftExpress: Top NBA Prospects in the Non-BCS Conferences #7-#10 Ray McCallum Alec Brown Nate Wolters Isaiah Canaan http://t.co/mIGMntBb
2012-11-14 21:43:13
Team: Obradoiro
Physicals
Positions
Salary
Misc
H: 7' 1"
W: 231 lbs
Bday: 07/23/1992
(23 Years Old)

Current: C
NBA: C
Possible: C

Agent: Bill Duffy

High School: Winona
Hometown: Winona, MN
Drafted: Pick 50 in 2014 by Suns

Predraft Measurements
| Year | Source | Height w/o Shoes | Height w/shoes | Weight | Wingspan | Standing Reach | Body Fat | No Step Vert | Max Vert |
| --- | --- | --- | --- | --- | --- | --- | --- | --- | --- |
| 2014 | NBA Draft Combine | 7' 0.25" | 7' 1.25" | 231 | 7' 1.5" | 9' 1" | 7.7 | 27.0 | 30.0 |
| 2011 | Amare Stoudemire Camp | NA | 7' 1" | 212 | 7' 0" | NA | NA | NA | NA |



Basic Per Game Statistics

- Comprehensive Stats - Statistical Top 25s
| Year | League | Name | GP | Min | Pts | FG | FGA | FG% | 2Pt | 2PtA | 2P% | 3Pt | 3PtA | 3P% | FTM | FTA | FT% | Off | Def | TOT | Asts | Stls | Blks | TOs | PFs |
| --- | --- | --- | --- | --- | --- | --- | --- | --- | --- | --- | --- | --- | --- | --- | --- | --- | --- | --- | --- | --- | --- | --- | --- | --- | --- |
| 2015/16 | ACB | Alec Brown | 3 | 8.0 | 2.0 | 1.0 | 2.3 | 42.9 | 1.0 | 2.0 | 50.0 | 0.0 | 0.3 | 0.0 | 0.0 | 0.0 | &nbsp | 1.3 | 1.0 | 2.3 | 0.0 | 0.0 | 0.0 | 0.7 | 0.3 |

Player Page&nbsp&nbsp| Player Stats | Related Articles&nbsp&nbsp| Add to My Draft Express&nbsp
&nbsp
Alec Brown Updated Scouting Report
May 23, 2014
Josh Riddell

After a successful regular season that saw Green Bay win the Horizon League by two games, the Phoenix sputtered at the end of the year as they were upset in their conference tournament before falling in the opening round of the NIT. Although senior Alec Brown was named to the Horizon League first team as well as honored as the conference defensive player of the year, many scouts will wonder why he wasn't able to consistently dominate as a 7-footer in a league that had few players that could match his size.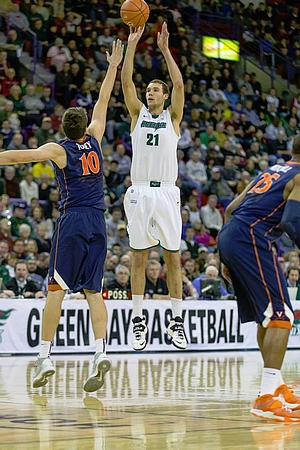 Green Bay Phoenix Basketball



After declining to play at the Portsmouth Invitational Tournament, Brown's shooting touch was on full display at the NBA combine, where he tied for first among all players by knocking down 18 of 25 NBA spot-up three point shots. Brown is a tremendously talented outside shooter with clear "stretch big" potential, as he shot 44.6% of 92 three point attempts last season. Brown also showed nice efficiency from the mid-range, connecting on 21 of 25 on 15 footers, first among big men that participated in the combine.

Although Brown shot well at the combine, Brown did not test well athletically, which is not particularly surprising. At 7'1.25", Brown was the second tallest player at the combine behind Jordan Bachynski, but Brown had an average 7'1.5" wingspan.

As a spot-up shooter, Brown converted on 44.7% of his spot-up opportunities last season, according to Synergy Sports Technology. This provides some intriguing potential as a pick and pop player, as Brown has nice form on his shot and a high release point (due mainly to his height), which allows him to get his shot off even when guarded.

While Brown can provide some value as a shooter, he will likely need to fill out his offensive repertoire to become a usable offensive player in the NBA. The most logical next step for Brown is to improve his post game, where he struggled his entire career, despite his height advantage most nights in the Horizon League. He needs to add significant strength to his frame, as he was often pushed off the block and forced to catch the ball far from the basket. He then struggled with a lack of advanced footwork, which forced him into difficult contested jump shots or tough hook shots. An improved post game will take vast improvement, and a complete change of mentality, as Brown clearly lacks much in the way of toughness, but it will help him from becoming a one dimensional scorer.

Although Brown improved his two point percentage from 45% to 50%, this was still one of the lowest marks among big men prospects in our Top-100 rankings.[/url]. This is partly because he was unable to get closer to the rim after he caught the ball, which forced him into tough jump shots when he should have been able to turn these shots into layup attempts.

Brown's lack of physical tools and strength contributed to him to being an exceptionally poor rebounder throughout his career, as he corralled only 4.4 rebounds per 40 minutes pace adjusted, which ranked last among centers in our Top-100 [/url]. He wasn't much better on the offensive end, pulling down only 2.5 rebounds on the offensive end, per 40 minutes pace adjusted. Considering his struggles in this area throughout his career, it's fair to assume that he projects as a liability in this area at the NBA level.

Although Brown was unable to use his length to be a dominant rebounder, Brown was able to make his mark on the defensive end by blocking 3.6 shots per 40 minutes pace adjusted. This may not be as translatable a skill to the NBA as his shooting though, since he doesn't have impressive leaping ability or length to protect the rim against NBA players, and also lacks much in the way of toughness to battle with stronger players inside.

As a strong outside shooter, Brown could provide some value to a NBA team with his ability to stretch the floor as a big man. He will need to find ways to contribute in other ways though, both offensively and defensively. He may struggle at times physically, as he will be at a disadvantage when matched up against NBA big men, at least until he gets stronger. His height and shooting ability will allow him to play at some high level but he will likely need to make some major improvements to round out his game to be a NBA rotation player.

[Read Full Article]

---
2014 NBA Combine Interviews: McDermott, Brown, Christon
May 18, 2014
[Read Full Article]

---
Top NBA Prospects in the Non-BCS Conferences, Part One: (#1-5)
October 29, 2013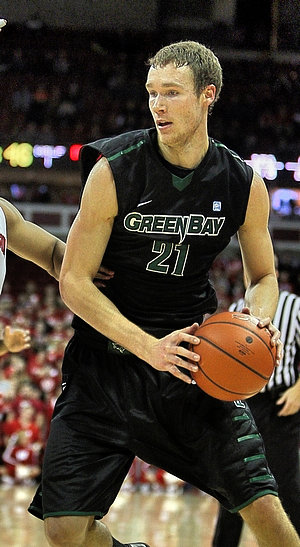 US Presswire



Kyle Nelson

When we last wrote about Green Bay center Alec Brown at this time last year, many outlets considered him to be a surefire early entrant to the NBA Draft. His junior season did little to justify this hype, however, as he was less than impressive in early season match-ups against Wisconsin, Marquette, and Virginia and did not have the kind of dominant impact in the Horizon League that his skill set and physical profile suggested he should.

Still, Brown was named All Horizon League Second Team, and was voted on to the 2013-2014 pre-season First Team, and he has another opportunity to remind scouts why he was such an intriguing prospect to begin with. As Brown is set to play his final season in Green Bay, it is up to him to take the next step from intriguing project to NBA player.

Standing 7'1 with a slight frame, narrow shoulders, and a 7'0-wingspan, Brown clearly has the height for an NBA center, but lacks the strength and length. He is reportedly weighing-in at 235-pounds and he has already added nearly 40-pounds since his senior year in high school, but there are nevertheless legitimate questions about whether he can survive physically at the next level. While he is not an explosive athlete, he compensates for many of his athletic deficiencies due to his combination of mobility, fluidity, and quickness, possessing an intriguing physical profile for a player his size.

Equally intriguing is his versatility on the offensive end of the floor. While he increased his production only marginally between his sophomore and junior seasons, he nonetheless averaged a solid 18.5 points per 40 minutes pace adjusted. According to Synergy Sports Technology, 29.6% of his offense came out of traditional post-ups, 14.7% via spot-up jump shots, and 13% out of the pick-and-roll. On film, however, Brown shows a wide variety of tools, albeit with some significant limitations, and a skill set of a prototypical face-up big man.

Most notable is his jump shot. 42% of his field goal attempts are jumpers and he makes an impressive 41.8% of them. Likewise, he ranked as one of the best perimeter shooters among prospects in our top-100, and netted a career high 43.5% of his 2.8 3-point attempts per 40 minutes pace adjusted. His shooting mechanics are quick and fluid with a beautiful follow through, and his shot is extremely difficult to block not only thanks to his size, but also due to the fact that Green Bay frequently finds him looks by running him off of screens.

Brown has nice versatility as well, looking very comfortable knocking down spot-up perimeter jump shots from all over the floor while occasionally showing the ability to take his man off of the dribble before pulling up from mid-range or taking the ball to the basket. He possesses very good ball-handling skills for a big man, which when coupled with his quickness make him a formidable face up threat at this level.

Brown also excels in the pick-and-roll, seeing nearly two-thirds of his attempts in a pick-and-pop capacity. While he lacks the girth to be an effective screener, he does a very good job of rolling into space – and nailing mid-range jump shots - or using his foot speed to get to the basket and finish.

Looking at Brown's post game, however, reveals him to be a more of a mixed bag as an NBA prospect. He lacks the strength and intensity to carve out post position, even against smaller and less athletic big men in the Horizon League. Additionally, he struggles grabbing offensive rebounds, finishing in traffic, and corralling errant passes, all predominately due to his lack of strength and toughness.

These struggles also extend into his finishing abilities. While he actually showed some impressive footwork and has developed a few reliable post moves, he continued to regress in terms of his efficiency and his 44.3% 2P% ranked as one of the lowest among prospects in our top-100, let alone 7-footers. His lack of strength and toughness makes it difficult for him to finish through contact, despite his high skill-level and soft shooting touch.

Brown does not get to the line nearly as often as his skill-set would suggest, and he is an incredibly poor rebounder, ]possessing the lowest mark among big men in our top-100 with a career-low 7.8 rebounds per 40 minutes pace adjusted.

His lack of physical development also hurts him on the defensive end, where he displays impressive ability to step out and guard the pick-and-roll, but still cannot hold his position on the block three years into his college career and, at 4.0 fouls per 40 minutes pace adjusted, remains as foul prone as ever. He even took a step back as a shot blocker, arguably his most intriguing defensive quality in the post, logging a career-low, though nonetheless solid 2.3 blocks per 40 minutes pace adjusted. His potential to step out and guard face-up big men is certainly intriguing and the NBA is always looking for athletic shot blockers, but there is simply no way that he can crack a rotation until he gets significantly stronger and tougher.

At this point, it's very clear what Brown brings to the table as a prospect and, even so, he has quite a bit of work to do to prove to scouts that he can compete against NBA-caliber athletes. Unfortunately, Green Bay's lackluster schedule offers him few opportunities to prove himself, making season match-ups against the likes of Wisconsin, Virginia, and Texas Southern all the more important. With added strength and improved play, however, his stock could rise significantly, as his combination of size, athleticism, and offensive versatility is rare at any level of basketball.

[Read Full Article]

---
Top NBA Prospects in the Non-BCS Conferences, Part Four
November 14, 2012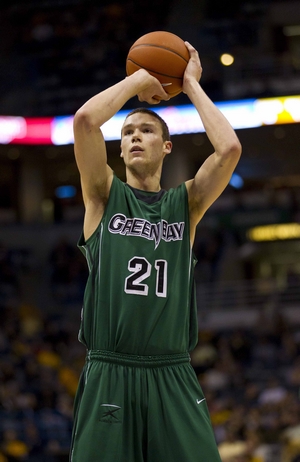 US Presswire



Jonathan Givony

Alec Brown shot up ten inches from 6-3 to 7-1 over the course of his high school career, but struggled to attract the attention of the bigger schools in the Midwest due to his extremely frail 190 pound frame. Brown decided to stay close to home for college and improved steadily during his first two seasons at Wisconsin-Green Bay, and could now be on the verge of solidifying himself as a legit NBA prospect as a junior.

Measured at 7-1 at the Amare Stoudamire big man camp in the summer of 2011, but just 211 pounds, Brown has excellent height but a very narrow frame that will likely take another few years to reach its maximum potential, which has hindered his development to a certain extent. He moves extremely well for his size, though, running the floor fluidly, even if he's not an explosive leaper who plays above the rim consistently.

Brown's biggest virtue as a prospect, besides his tremendous height, revolves around his intriguing skill-level, which is far more advanced than you normally find in a player his size in the Horizon league. Able to score with either hand around the basket, Brown has excellent footwork and body control, being capable of stringing together multiple post-moves in succession with the use of fakes and counter moves. If contact is not a factor, he can finish very well around the basket with a variety of jump-hooks and very soft touch, making 77% of his free throw attempts last season. He's adept at scoring both facing and with his back to the basket, albeit not consistently, as he displayed in his 22-point outburst against Marquette in December of 2011. His perimeter skill-level is impressive considering his size, as he can shoot with range out to the 3-point line, and can attack his man off the dribble with a strong first step and solid ball-handling skills.

Unfortunately things haven't all come together for Brown quite yet. While showing strong flashes of potential from time to time, Brown has struggled to make his presence felt on a consistent basis and was far from a dominant threat at the Horizon League level last season. According to Synergy Sports Technology, he shot just 40% from the field in post-up situations, playing against a fairly weak level of competition amongst big men for the most part.

Brown's frail frame makes it difficult for him to establish solid post position inside, and he doesn't compensate for that with the type of toughness and grit you'd like to see, often fading away from contact as soon as an opponent puts a body on him. He settles for weak turnarounds on a regular basis, and attempts far too many mid-range jumpers, which is the main reason he shot just 47% from 2-point range last season, which ranked last amongst returning top-100 prospects centers last season. If Brown is to help Green Bay improve on their 15-15 record (10-8 in league play) and first round exit from the Horizon league conference tournament, he will have to become much more assertive finishing through contact around the basket, as well as more consistent away from the rim, where he converted just 32% of his jump-shots last season.

Defensively is another area NBA scouts will want to see Brown improve as he matures physically. He shows impressive timing as a shot-blocker, swatting 3.8 shots per-40 minutes last season, mostly coming from the weak-side, where he does a good job keeping his blocks in-bounds. He struggles badly in man to man settings, though, being unable to hold his ground inside the paint against stronger Horizon League opponents who push him around mercilessly and are often able to score on him with relative ease. His very narrow frame and relatively short wingspan (7-0) do him no favors here. Opponents shot over 50% from the field against him in back to the basket situations last season, which ranks him amongst the worst post defenders in college basketball, certainly amongst NBA prospects. Because of his inability to defend post players, his coaching staff tends to slot him alongside another big man at times so Brown can guard power forwards and concentrate on being a weak-side shot-blocker. Unfortunately Brown tends to struggle on the perimeter as well, where he looks very upright and does not possess the lateral quickness needed to stay in front of most opponents.

Another area of concern defensively lies in Brown's rebounding ability. While he does a decent job crashing the offensive glass (4 per-40), the same can't be said on the defensive end, where he pulled down just 6.6 rebounds per-40 last season, a fairly average rate. Part of this has to do with the way his team utilizes his shot-blocking prowess, asking him to act as somewhat of a free safety defensively, but some of this has to do with his average strength, toughness and intensity level as well.

Billed as a potential top-10 pick by other NBA draft outlets, Brown will receive plenty of attention from scouts this season, despite playing for a relatively obscure shool. A late bloomer who made incremental progress from his freshman to sophomore season, Brown may not be ready to make the gigantic leap some are projecting from him, but surely has some tools that make him worth keeping track of moving forward, particularly if his frame proves capable of carrying more weight in the next few years.

[Read Full Article]

---