Alex Tyus
Recent Tweets
All Tweets
DraftExpress: Yes. Especially since he is getting an Israeli passport. RT @dgm591: You think Alex Tyus was smart to sign with an Israeli team so soon?
2011-07-03 12:30:27
DraftExpress: Converted. RT @dgoldstein79: How is Alex Tyus getting an Israeli passport? Convert? Marriage?
2011-07-03 02:30:34
DraftExpress: RT @AlexKennedyNBA: Jacob Pullen will withdraw from the Portsmouth Invitational. As I predicted earlier, Alex Tyus is in as a replacement.
2011-04-05 11:17:19
Not a lot of upside there I'm afraid. RT @jamesboeh: @DraftExpress What is your scouting report on Alex Tyus' hair?
2010-03-18 13:18:03
Top 25s - Full List
Team: NON-NBA College Team: Anadolu Efes
Physicals
Positions
Rankings
Salary
Misc
H: 6' 7"
W: 207 lbs
Bday: 01/08/1988
(27 Years Old)

Current: PF
NBA: PF
Possible: PF

RSCI: 54

Agent: Happy Walters

High School: Harmony Community
Hometown: St. Louis, MO

Predraft Measurements
| Year | Source | Height w/o Shoes | Height w/shoes | Weight | Wingspan | Standing Reach | Body Fat | No Step Vert | Max Vert |
| --- | --- | --- | --- | --- | --- | --- | --- | --- | --- |
| 2011 | Portsmouth | 6' 6.5" | NA | 207 | 6' 11.5" | 8' 7.75" | NA | 34.0 | NA |



Basic Per Game Statistics

- Comprehensive Stats - Statistical Top 25s
| Year | League | Name | GP | Min | Pts | FG | FGA | FG% | 2Pt | 2PtA | 2P% | 3Pt | 3PtA | 3P% | FTM | FTA | FT% | Off | Def | TOT | Asts | Stls | Blks | TOs | PFs |
| --- | --- | --- | --- | --- | --- | --- | --- | --- | --- | --- | --- | --- | --- | --- | --- | --- | --- | --- | --- | --- | --- | --- | --- | --- | --- |
| 2015/16 | EURO | Alex Tyus | 7 | 11.4 | 4.7 | 1.9 | 3.9 | 48.1 | 1.9 | 3.7 | 50.0 | 0.0 | 0.1 | 0.0 | 1.0 | 2.4 | 41.2 | 1.4 | 1.0 | 2.4 | 0.4 | 0.4 | 0.7 | 1.4 | 1.4 |

Player Page&nbsp&nbsp| Player Stats | Related Articles&nbsp&nbsp| Add to My Draft Express&nbsp
&nbsp
All-Portsmouth Invitational Tournament, Third-Team
April 17, 2011
Kyle Nelson

Alex Tyus has had an interesting college basketball career, in which he declared for the NBA Draft and explored transferring before ultimately returning as senior as one of the essential components of Florida's 2011 NCAA Tournament run.

Tyus has always been an NBA-caliber athlete, possessing elite explosiveness, but is clearly undersized for a big man. He stands just 6'6 ˝ without shoes with a wiry 207 pound frame, but has a solid 6'11.5 wingspan which helps compensate somewhat.

Tyus is also as raw as they come at the ripe age of 23, showing very little in terms of skill-level at this juncture. He scored most of his points here around the basket with a host of put-back dunks, alley oops, and acrobatic finishes in transition.

On a team without a true point guard, Tyus had very few plays run for him and his athleticism and aggressiveness were on display as he scrapped around the basket, moved without the ball, and ran the floor well in transition.

His footwork around the basket is very poor and he struggled to finish with his back to the basket in this setting.

Tyus doesn't show much in terms of a face-up game, which will be necessary considering his lack of ideal size for the post. His shooting form still needs considerable work – he releases the ball over his head with a nasty hitch and inconsistent mechanics – but he hit a pair of jump shots in the tournament and shot the ball well from the foul line.

Though he spent most of Portsmouth matched up against post players, he did a solid job of guarding his man inside. Despite his lack of ideal size, he compensated through sheer energy and effort, bodying up his man and altering shots around the basket. He used his athleticism and mobility to his advantage, sticking with big men inside and outside and even showcasing his above average lateral quickness on the few occasions that his man dragged him to the perimeter.

Something that may hurt Tyus in the evaluation process is the fact that he was not a very impressive rebounder over the course of his career, especially not offensively, which is surprising considering how limited his role was. An athletic undersized 4-man like Tyus would have to make a living as a scrappy hustling type, and his numbers don't support that notion.

While Tyus is neither the most productive nor most fundamental player, he certainly helped himself at Portsmouth by shining in a supporting role and by playing with energy despite a lack of touches. His production over the course of his career at Florida was anything but consistent, but he came on very nicely late in the season to help his team make a deep NCAA tournament run.

The NBA may be not be a very realistic goal when it's all said and done given his age, lack of size, unpolished skill-set and limited potential, but Tyus certainly showed scouts that he has much to offer at the professional level and that he could emerge as a legitimate prospect down the line should he continue to improve.

[Read Full Article]

---
2011 Portsmouth Invitational Tournament, Day One
April 7, 2011
-Alex Tyus is one of the most impressive athletes in attendance, which he showed on a number of explosive finishes. That being said, he is also one of this Tournament's least skilled players, showing very little in the way of a post game. Furthermore, Tyus did nothing to suggest that he has a reliable face-up game, let alone perimeter skills. He finished with 10 points on 5-10 FG and eight rebounds.

[Read Full Article]

---
Top NBA Draft Prospects in the SEC, Part Four (#16-20)
September 27, 2009
Scott Nadler

After renouncing his plans to transfer out of Gainesville back in April, Alex Tyus is committed to Billy Donovan's hopes of restoring the Gators back to national relevance. Hardly a household name, Tyus has earned his keep over the past two seasons as a blue collar inside player with tireless energy, proving to be one of the most efficient players in college basketball. Used primarily as a role player in the past, Tyus will be expected to shoulder more of a responsibility on the offensive end this season, while continuing to maintain his hustling nature.

Tyus' wishes to transfer lied primarily in his discontent with playing out of position all of last year. On a stunted Florida squad, the 6-8 Tyus played center, when in fact he sees himself as a small forward, even though scouts would probably argue that he's actually an undersized 4 man. If he wants to play on the perimeter at all, he must make vast improvements this season, or relish the role he's given and learn how to become an even more effective inside player.

Tyus currently possesses little of the skills necessary to play the small forward position. His ball handling skills are average, and even though he was successful in the few opportunities he was given to show his slashing ability, he was always matched up with the opposition's biggest player. Along with that, he was never pressured beyond the 3 due to his lack of range, which in turn allowed him a running start to beat slower defenders.

Despite lacking 3-point range, his midrange game definitely stands out. He was very effective in pick and pop and pick and slip situations and shot a very solid 50% on jump shots last season. He has a high release point and gets up well off the ground, although he does have a tendency to shoot it on his way down from time to time, resulting in flat shots. His improved free throw shooting from 54.3% to 68.5%, albeit on a little over 2 attempts per game, is also rather encouraging.

Another area which is extremely encouraging is in his production around the basket, where he shot a sizzling 67.1%, taking full advantage of his elusiveness and dexterity inside. The majority of his offensive production comes off of cuts, post-ups, transition, and offensive rebound put backs, which speaks volumes about his mobility and work ethic. He always seems to be in the right place at the right time, to either clean up a teammates miss, or by freeing himself up for an easy pass. These skills allowed him to be 2nd on the team in scoring at 12.5 PPG and 1st in rebounding with 6.2 RBG in 26.2 minutes a game.

His superb athleticism didn't hurt him either as he was one of, it not the best athlete on the floor each night. He is a quick leaper and can get high above the rim, not to mention his ability to sprint the floor and beat almost any forward down the court. His great motor allows him to play a relentless style, which is essential for a player who doesn't have too many plays run for him.

All of those characteristics are apparent when watching him on defense as well. He's very active and uses his long wingspan to contest every shot – regardless of where he is on the court. He maintains a good stance when off the ball, and is not afraid to pressure his man when he has it. He's also very physical as a post defender, often pushing his opponent away from the hoop by establishing a strong base. Whether or not he can defend perimeter oriented forwards remains to be seen, and is something that will be watched closely this season.

Undersized power forwards have found success in the NBA over the past decade, including two former Florida Gators in Udonis Haslem and David Lee, both of whom posted numbers eerily similar to Tyus' during their sophomore campaigns. Going into his junior season now, Tyus, who is most likely a four year player like Haslem and Lee, will attempt to follow in their footsteps. To do this, he will have to stay true to his hustle and bustle style and refrain from going outside of his element.

[Read Full Article]

---
High School Roadtrip: Scouting Brandan Wright and Michael Beasley
December 14, 2005
Harmony Prep's Alex Tyus is a very interesting player in that he doesn't really stand out in one particular area of the game, but he just seems to get it done each and every time he steps out on the floor.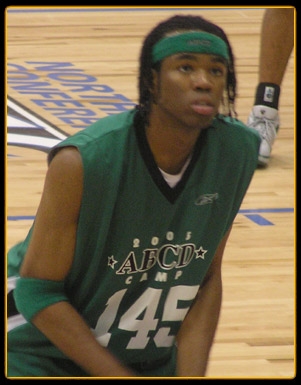 ??



While not overwhelmingly skilled, Tyus is a pleasure to watch each and every time he steps on the floor due to his great work ethic and nonstop motor. The transfer from St. Louis is a bit undersized for the power forward position at only 6'8, but he is so remarkably active, long, and athletic that he will definitely be able to make up for his lack of size at the collegiate level. Alex is supposedly working very hard on his perimeter skills, but still needs plenty of work on his ball-handling and defense before he can be considered a legitimate small forward prospect. Regardless of his skill level however, Tyus gets it done each and every time he steps on the floor and will definitely be a very nice college player at the bare minimum.

[Read Full Article]

---