Anthony Brown
Recent Tweets
All Tweets
DraftExpress: Keith Appling (Michigan St), Melsahn Basabe (Iowa), Bradley Beal (Florida), James Bell (Villanova), Anthony Brown (Stanford), Trevor Cooney
2011-05-12 12:08:45
Predraft Measurements
| Year | Source | Height w/o Shoes | Height w/shoes | Weight | Wingspan | Standing Reach | Body Fat | No Step Vert | Max Vert |
| --- | --- | --- | --- | --- | --- | --- | --- | --- | --- |
| 2015 | NBA Draft Combine | 6' 5.25" | 6' 8.5" | 211 | 6' 11.25" | 8' 8.5" | 6.1 | 27.5 | 34.5 |
| 2014 | Nike Skills Academy | NA | 6' 7" | 207 | 6' 9.5" | NA | NA | NA | NA |
| 2009 | Vince Carter Camp | NA | 6' 6" | 184 | 6' 7" | NA | NA | NA | NA |



Basic Per Game Statistics

- Comprehensive Stats - Statistical Top 25s
| Year | League | Name | GP | Min | Pts | FG | FGA | FG% | 2Pt | 2PtA | 2P% | 3Pt | 3PtA | 3P% | FTM | FTA | FT% | Off | Def | TOT | Asts | Stls | Blks | TOs | PFs |
| --- | --- | --- | --- | --- | --- | --- | --- | --- | --- | --- | --- | --- | --- | --- | --- | --- | --- | --- | --- | --- | --- | --- | --- | --- | --- |
| 2014/15 | NCAA | Anthony Brown | 37 | 35.7 | 14.8 | 4.8 | 11.0 | 43.1 | 2.6 | 6.2 | 42.4 | 2.1 | 4.8 | 44.1 | 3.1 | 3.9 | 79.5 | 1.1 | 5.8 | 6.9 | 2.5 | 0.8 | 0.2 | 1.9 | 2.1 |

Player Page&nbsp&nbsp| Player Stats | Mock Draft History | Related Articles&nbsp&nbsp| Add to My Draft Express&nbsp
&nbsp
Stanley Johnson vs Anthony Brown Head to Head Matchup Video Analysis
January 23, 2015
More Situational Videos from Mike Schmitz
-Jahlil Okafor vs Frank Kaminsky Head to Head Matchup Video Analysis
-Myles Turner vs Kentucky's NBA Frontcourt Video Analysis
-Kristaps Porzingis vs Barcelona Video Analysis
-Ben Simmons vs Ivan Rabb Video Analysis
-Jakob Poeltl vs Cliff Alexander Head to Head Matchup Video Analysis
-Montrezl Harrell vs Kentucky's NBA Frontcourt Video Analysis
-Rashad Vaughn vs Arizona Video Analysis
-Christian Wood vs Arizona Video Analysis
-Jerian Grant vs J.P. Tokoto Video Analysis
-Bobby Portis vs Damian Jones Video Analysis
-D'Angelo Russell vs Louisville Video Analysis
-Delon Wright vs Rondae Hollis-Jefferson Video Analysis
---
Take a look at our video section for a compilation of all the videos we've produced this year.
[Read Full Article]

---
Top NBA Draft Prospects in the Pac-12, Part 6: Prospects #10-14
September 8, 2014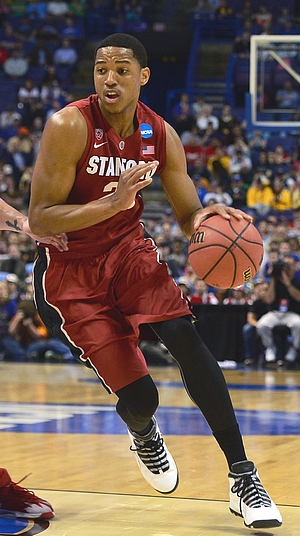 US Presswire



Kyle Nelson

Anthony Brown was a highly regarded recruit out of high school, but spent most of his first two seasons as a solid, but unspectacular role player for the Stanford Cardinal. To make matters worse, his junior season was derailed due to a congenital hip condition that required surgery and forced him to sit out for the entire year. He was all but an afterthought by the time he suited up as a redshirt junior in 2013-2014.

What happened next took everybody by surprise. Brown emerged as a 46% 3-point shooter and was an essential component to Stanford's Sweet 16 run on his way to being named the Pac-12's Most Improved Player. No longer a surprise and finally playing up to his high school potential, scouts will want to see whether Brown's breakout season was something he can build off towards showing he's worthy of a NBA roster spot as a senior.

Physically speaking, Brown possesses ideal size for a NBA wing, standing around 6'7 with a 6'9.5 wingspan and a wiry 215 pound frame. He is a solid athlete, as well, though he is smoother than he is explosive and his first step is just average.

On the offensive end of the floor, Brown averaged a relatively unimposing 14.6 points per 40 minutes pace adjusted, but he emerged as one of the best perimeter shooters in college basketball. A career 35% 3-point shooter as an underclassman, he connected on an outstanding 45.6% of his 3s as a junior–ranking third among all wing prospects in our database– while showing the ability to knock down shots in a variety of different capacities, as he connected on 45% of his catch-and-shoot jumpers, and 43% of his jump shots off the dribble.

On film, he sports a quick release with fluid mechanics and a very high release point, while doing a good job of moving into space. He also looked less hesitant to make plays with the ball in his hands, particularly taking a dribble or two before pulling up from mid-range.

For as good of a shooter as Brown has become, however, he is also a fairly one-dimensional player. 70.8% of his overall shots were jump shots and his shooting efficiency declined significantly in other aspects of his game. For instance, he converted on a mere 45% of his attempts around the basket and less than 49% of his overall 2-pointers. He is neither a particularly creative nor efficient finisher at this stage in his career and struggles to finish through contact, despite doing a much better job of getting to the basket than in the past. His basic ball handling ability, in particular, significantly limits him to little outside of straight line drives to the basket.

Perhaps most intriguing about Brown, however, is that he is a competent defender, capable of guarding both wing positions at the collegiate level. While his lateral quickness is above average at best, Brown does a good job of staying involved and using his length to distract players, even if they have beaten him off the dribble. He also does a good job of closing out on shooters thanks to his long strides and length. That being said, he can get a little bit passive on this end of the floor, similarly to what happens on offense. He doesn't get in the passing lanes all that frequently, and has trouble fighting through screens at times, not only due to his lack of strength, but also because of a relative lack of toughness: too often, he simply gives up once he has run into a screen. Playing with the same type of effort and intensity throughout the game, every game, is something scouts will want to see Brown do as a senior.

Against all odds, however, Brown has come back from hip surgery a far better NBA prospect than he was before and with a clear-cut NBA skill to complement his intriguing physical profile. The fact that he projects as a shooting specialist with above average defensive fundamentals certainly helps, as well. The real concern that scouts should monitor during his senior season, however, is his inconsistency. After all, his breakthrough junior season came in spurts: he averaged 16.1 and 16.6 points per game in November and February and a paltry 9.6 and 8.0 in December and March. Put differently and despite making some important plays throughout, he was too often passive during Stanford's most important stretches of the season. That being said, if he can prove to scouts that he is the Anthony Brown of November and February, then expect his stock to rise significantly during his senior season.

[Read Full Article]

---
Top NBA Draft Prospects in the Pac-12, Part Three (#11-15)
October 10, 2011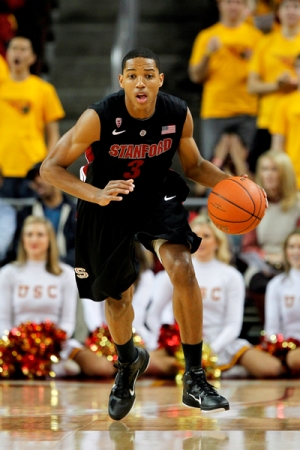 Icon SMI



Derek Bodner

Anthony Brown worked his way into the Stanford starting lineup down the stretch, averaging 10.8 points and 4.7 rebounds per game over the struggling Cardinal's last twelve games of the season.

Brown has good size and long arms for his position. He has a slender frame and must fill out more to effectively defend some bigger wing players, but does look to have added some weight since graduating high school.

Offensively, Brown operates primarily as a set shooter at this stage in his development, with over 80% of his half-court shot attempts coming from jumpers. He has a high, effortless release and does a good job of getting his feet set on catch and shoot opportunities. The results are somewhat inconsistent, but with enough repetition it should be a staple of his game going forward.

Brown runs the floor well, and gets out in transition both as a finisher and trailing the play. He's neither a high flyer nor going to lead the break with regularity, but does a good job of filling the lanes and finishing.

The rest of his offensive game is a work in progress. Despite his length, he hasn't shown a post game, and his lack of bulk may still be a factor in this. He does very little off the bounce, and shot only 31.3% in a small sample size of isolation sets. He very rarely gets to the free throw line, as his 3.1 free throw attempts per 40 minutes pace adjusted is near the bottom of our list in terms of wing players. He has only an average first step and isn't a great leaper, although his long strides may help him gain separation if he becomes more comfortable creating off the dribble.

Brown does look comfortable shooting off the pick and roll. The amount of times he was placed in this situation was relatively small, but he could see his time in these sets increased as Stanford's staff looks to get him more involved in their half-court offense.

Defensively, Brown has average lateral mobility, but combats this with good length and good defensive technique. He needs to work on fighting through pick and rolls, as he tends to get cleared out too easily.

Brown has good size for his position and plays a fundamentally sound game. He was effective as a spot-up shooter down the stretch for Stanford, but with the loss of the Cardinals leading scorer in Jeremy Green and their point guard Jarrett Mann, there are going to be more opportunities for Brown to create on his own this year. Whether or not Brown can diversify his offensive game and create more, both for himself and for others, off the bounce will be key in both Stanford's success and his development as a prospect.

[Read Full Article]

---