Bismack Biyombo
Recent Tweets
All Tweets
DraftExpress: Interesting recap of Bismack Biyombo's final workout in Charlotte from @chrislittmann , who was present: http://bit.ly/mJXeiq
2011-06-22 04:45:43
DraftExpress: RT @Grantland33: It's time to play Grantland's "What's Your Deal" with Bismack Biyombo http://t.co/XI36CS4
2011-06-21 04:33:58
DraftExpress: That's precisely why you can throw out all the comparisons to African prospects who have come before Bismack Biyombo. Completely different.
2011-06-15 03:30:33
DraftExpress: Not sure I've met a more interesting draft prospect than Bismack Biyombo in terms of the sheer depth of his thoughts. Incredibly cognitive.
2011-06-15 03:28:49
DraftExpress: Great NBA.com article on Bismack Biyombo: http://on.nba.com/jNSWoW People are underestimating the importance of his intelligence/intangibles
2011-06-15 03:21:16
Team: Bobcats College Team: Raptors
Physicals
Positions
Salary
Misc
H: 6' 9"
W: 245 lbs
Bday: 08/28/1992
(23 Years Old)

Current: PF/C
NBA: PF/C
Possible: PF/C

Agent: Arn Tellem
Current Salary:$3,873,398

High School:
Hometown: Lubumbashi, Congo
Drafted: Pick 7 in 2011 by Kings

Predraft Measurements
| Year | Source | Height w/o Shoes | Height w/shoes | Weight | Wingspan | Standing Reach | Body Fat | No Step Vert | Max Vert |
| --- | --- | --- | --- | --- | --- | --- | --- | --- | --- |
| 2011 | Eurocamp | 6' 8.31" | 6' 9.5" | 245 | 7' 6.16" | 9' 3.42" | 4.2 | NA | NA |



Basic Per Game Statistics

- Comprehensive Stats - Statistical Top 25s
| Year | League | Name | GP | Min | Pts | FG | FGA | FG% | 2Pt | 2PtA | 2P% | 3Pt | 3PtA | 3P% | FTM | FTA | FT% | Off | Def | TOT | Asts | Stls | Blks | TOs | PFs |
| --- | --- | --- | --- | --- | --- | --- | --- | --- | --- | --- | --- | --- | --- | --- | --- | --- | --- | --- | --- | --- | --- | --- | --- | --- | --- |
| 2015/16 | NBA | Bismack Biyombo | 18 | 20.4 | 4.4 | 1.5 | 3.4 | 44.3 | 1.5 | 3.4 | 44.3 | 0.0 | 0.0 | &nbsp | 1.4 | 2.1 | 68.4 | 2.2 | 5.1 | 7.3 | 0.3 | 0.2 | 1.2 | 1.0 | 2.8 |

Player Page&nbsp&nbsp| Player Stats | Mock Draft History | Related Articles&nbsp&nbsp| Add to My Draft Express&nbsp
&nbsp
Situational Statistics: the 2011 Big Men Crop
June 21, 2011
The 2nd best big man in this class some teams' eyes, Bismack Biyombo, sits on the opposite side of the spectrum of Valanciunas. Where the big Lithuanian's efficiency shines through playing a very specific role, Biyombo was clearly still learning the offensive game last season, though he managed to fare well in certain areas.

Overall, Biyombo ranks last in this group in points per-possession at 0.86, primarily because he didn't finish at the rim at a high rate and turned the ball over frequently. Like Valanciunas, Biyombo saw more than 80% of his shots at the basket, but he finished them at a 12% lower rate, making just 56.1% of them last season. He also turned the ball over on 25.8% of his half court possessions, the highest mark in this group, showing that, despite his ridiculously large hands, he struggled to hold onto the ball in traffic at times. Considering this was Biyombo's first taste of high level basketball, it isn't surprising to see a player with so many physical tools, still struggle.

There were a couple of bright spots for Biyombo though. Seeing 33% (1st) of his touches as the roll man on the pick and roll, he finished at a solid 65% (6th) and draw fouls on nearly 31.8% (2nd) of those possessions. The Congolese center has a remarkable frame, and that shined through at times when he bowled his way through contact or finished a lob pass with a dunk.

Part of Biyombo's problem revolves around his desire to do too much at times. When he wasn't turning the ball over, he managed to finish his post-up plays (63% FG, 1st) and cuts (73%, 3rd) at a solid rate, getting fouled about 20% of the time in the process, so picking and choosing his spots will likely be a key for him.

Considering he played just over a dozen games before opting to attend the Hoop Summit, Biyombo's sample size skews his data a bit, but the raw aspects of his offensive game are clear. Ball security and experience are two priorities for Biyombo as he aims to play efficiently in a simple offensive role to match his elite defensive ability.

[Read Full Article]

---
2011 adidas Eurocamp: Day One
June 12, 2011


The Biyombo Workout





Many swings and many misses. Much shooting and a proportionate amount of clanking.

It wasn't pretty for Bismack Biyombo, who puzzlingly did little more than confirm his clear-cut offensive weaknesses in his workout for talent evaluators. Turnaround jumpers in the key (0/5), elbow jumpers alternating sides (2/10), free throws (23/41) – you name it, he missed it. When he switched to uncontested turnaround hook shots in the paint a few more fell, but he mixed in some air balls for good measure.

On the plus side, Biyombo's body looked great and he's still an athletic freak. His combination of length, strength agility and explosiveness is almost unheard of, causing many to marvel at his physical gifts despite the low-skill level he displayed.

Overall? Nothing new outside of a vividly clear illustration of just how raw his offense is at this point.

One NBA exec put it best: "If you liked Biyombo going into today you are going to be set aside the weaknesses he showed and realize that setting couldn't have been any worse for him. The guy is not a jump-shooter, and no one is going to draft him to be one. You need to see through that. But if you came in here with question marks about him you surely came away with plenty more things to worry about. All in all, people who liked him will continue to, and those who don't will as well."

[Read Full Article]

---
DX Podcast: Jonathan Givony and David Locke
June 7, 2011
What type of prospect is he? Will he drop to 12? What is it about him that will allow him to make an impact in the NBA?

[Read Full Article]

---
Finding a Niche For: Bismack Biyombo
April 17, 2011
Bismack Biyombo came out of nowhere to capture the hearts of NBA scouts and executives last weekend at the Nike Hoop Summit in Portland.

But those who have been following Biyombo since he ascended to the senior roster of ACB team Fuenlabrada in early January were not caught off guard. He leads the most competitive league in the world outside the NBA in blocked shots and is amongst the league leaders in rebounding per 40 minutes and free attempts per 40.

He's already one of the most productive players in the league, despite the fact that he might be the rawest player in the ACB in terms of experience.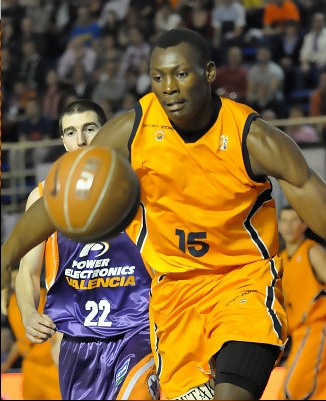 ACB.com



What makes Biyombo unique to talent evaluators is his outstanding combination of physical attributes, toughness and intangibles.

Any scouting report must start with Biyombo's dimensions, which are downright freakish. He measured a 7-7 wingspan (which would rank fifth longest in our expansive database) at the Nike Hoop Summit, despite standing just 6-7 ¾ without shoes. No player of record has ever measured a wingspan that is nearly 12 inches longer than his actual height—the closest is Jason Maxiell, who is 6-5 without shoes with a 7-3 ¼ wingspan. He also sports a chiseled 243-pound frame (4.8% body fat) that he should have no problem putting additional weight onto.

Biyombo is also an excellent athlete. He runs the floor extremely well and is very explosive around the basket. The coordination and reflexes he shows are atypical of a player with such little experience and give him a great framework to improve on as he continues to grow.

What makes Biyombo so interesting, though, is his willingness to utilize his physical tools. He plays the game with incredible emotion (think Joakim Noah or Kevin Garnett), often putting opposing players and teammates in harm's way with his desire to make his presence felt. He competes on every possession, often to the point of physical exhaustion, something that will need to be honed. Still, it's an extremely desirable trait in a prospect.

Offensively, Biyombo is fairly limited from a skills perspective. Nevertheless, he finds ways to produce in his own unique fashion; mostly by running the floor in transition, crashing the offensive glass and working off the ball.

His length gives guards an incredible target radius to work with, allowing them to lob the ball into the paint at difficult angles because they can trust Biyombo to go out and get it, sometimes for a spectacular alley-oop.

He works extremely hard to get deep position in the paint and will call for the ball aggressively once there. This makes him a magnet for fouls, considering how hard he makes opposing big men work to keep him off the block.

Once he catches the ball in the paint, Biyombo usually has one thing on his mind: dunk. He can take off from incredible distances (well outside the restricted area) and still finish plays because of his sheer length and explosiveness. He absolutely crushes the rim any opportunity he gets.

Biyombo doesn't have a highly developed post game. He doesn't show the ability to back his man down and create effectively in one-on-one opportunities, but will mix in an occasional spin move and some basic footwork that could make him even more of a threat as he continues to add lower body strength and improves his overall polish.

On the downside, Biyombo is a very poor passer. He registered an assist on just 4% of his possessions, ranking him amongst the worst in this category in the ACB.

His desire to make his presence felt, while an admirable trait, tends to work against him in this regard, especially when looking at his turnover rate, which is fairly high relative to his usage.

This is where his lack of experience shows the most. It's not rare to see him barrel into opponents, get called for traveling violations or have the ball stripped due to his somewhat weak hands. Additionally, he doesn't show anything resembling a jump shot at the moment and converts just 53% of his free throw attempts. While his touch is not bad, his shooting mechanics are a bit rigid, something he'll need to work on to become at least a capable threat from the mid-range area.

It should be noted that an evaluation of his film from earlier in the season compared to his most recent outings shows he has been making significant improvements in terms of his feel for the game and overall comfort level. This is particularly evident in his understanding of Fuenlabrada's half-court offense, which appears to be very good.

With that said, defensive ability is the area of Biyombo's game where NBA teams see the most potential -- both in the short and long term.

He has the size, length and mobility to guard both power forwards and centers in today's NBA, particularly as he adds weight. He can step out and hedge screens effectively on the pick-and-roll and is tough and aggressive enough to hold his own in the paint against most back-to-the-basket players.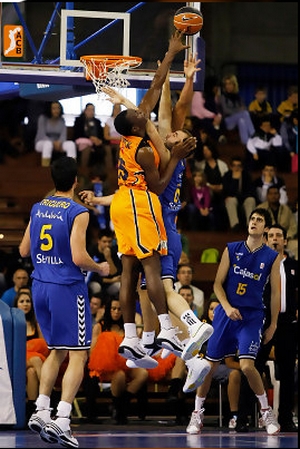 ACB.com



Despite his lack of experience, Biyombo already makes a huge impact in the ACB defensively, especially as a weak-side shot blocker. He shows great timing and can send back shots with either hand, often managing to keep the ball in bounds, which is a huge plus.

When he's not rotating to block or alter shots around the rim, Biyombo does a good job in man-to-man settings as well. He shows surprisingly strong fundamentals and is active in talking to his teammates. His wingspan is extremely bothersome here too. He can contest shots from great distances and he makes it difficult to get good looks, He's a real nuisance with his ability to reach out and poke balls away from behind as well.

Biyombo is also one of the best rebounders in the ACB for many of the same reasons already mentioned. His length, aggressiveness, toughness, timing and athleticism are all great rebounding qualities. He has no problem going out of his area for loose balls, especially on the offensive glass.

Off the court, Biyombo might be just as interesting, as we chronicled recently in the following article. He speaks five languages fluently (English, Spanish, French and two Congolese dialects) and came across as an extremely charismatic and engaging player in our time with him in Portland.

He stood out as the most vocal players on the International team over the course of the week at the Nike Hoop Summit, assuming a position of leadership almost immediately upon arrival. You would often see him having tactical discussions between plays with the coaching staff, and he was quick to take teammates aside and explain the nuances of a play to them when something got lost in translation.

These are all incredibly atypical qualities compared to other African prospects we've evaluated in the past.

The one thing that continues to dog Biyombo are the question marks NBA teams have about his age. Recently converted NBA draft analyst David Aldridge wrote that an NBA GM he spoke with said he had heard rumors that Biyombo was "anywhere from 23 to 26."

Our research has revealed some slightly different information. Coaches who have worked with Biyombo earlier in his career while he was still in Congo think he's "no older than 20 at most," while Biyombo's agent, Igor Crespo, has evidence that proves Biyombo is even younger.

Crespo says he took Biyombo to a specialist to conduct a bone age study immediately upon his arrival in Spain (Biyombo was reportedly 16). The study, as explained here involves taking x-rays of an adolescent's wrist and hand to see if his growth plates are still open. Because the cartilage in Biyombo's hand hadn't fused at that point, the specialist came to the conclusion that he could be 16 or 17 at most, but not 18, when growth plates are expected to be closed.

This obviously rules out the possibility of Biyombo being five to eight years older than he's listed, as the wild speculation we've seen recently on the Internet indicates. Crespo says he will willingly share these x-rays with any NBA team that requests them. One team we spoke with has already begun to evaluate the x-rays.

Biyombo's performance in Portland, coupled with the withdrawals of a host of other power forward prospects (such as Jared Sullinger, Perry Jones, John Henson, Tristan Thompson, Thomas Robinson and Mason Plumlee) has elevated his draft stock significantly.

Due to his offensive limitations, Biyombo doesn't fit on just any NBA team—he's not someone who can be expected to generate his own offense, and probably needs another skilled big man next to him, as well as a creative point guard. The skills he does have are highly coveted, though, and any team looking to upgrade its defensive and rebounding presence will surely give him a look.

Future improvement is something that should also be accounted for -- it's safe to say he's nowhere near a finished product. His draft stock is a topic that will be heavily debated in the next two months.

Highlights from the Nike Hoop Summit:





[Read Full Article]

---
Bismack Biyombo's Long Journey
April 11, 2011
Bismack Biyombo's story is one of the most improbable you'll find in this year's draft class.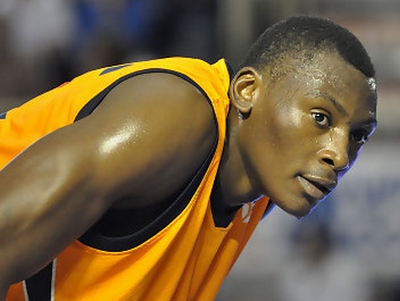 ACB.com



Biyombo is the son of government officials in the Congo and the first of seven children. He was introduced to basketball by his father and his uncle, both of whom played basketball in the Congo's semi-professional first division league.

At age 14, Bismack's friends urged him to start playing basketball competitively.

"In high school, I was playing with friends," he said. "And one of my friends, we were playing one day, and he was just like, 'Why don't you really want to play basketball more seriously? Why don't you want to compete?'"

Reluctantly he agreed.

His progress from there was rapid. Within a year, Biyombo was already competing in Congo's first division. Soon scouts from teams in the Middle East began to recruit him.

The only obstacle, at that point, was his father.

"He said no," Biyombo told me. "I was trying to talk to him every day to convince him. He said, 'Wait for the right time. You're a young kid. You don't want to push yourself the wrong way.'"

"So I went to my mother to ask her to let me go play professional. Her answer was, 'NO!'"

Eventually, after a year of persusaion, Biyombo's parents agreed to let him fly to Qatar to try out for a professional team.

Word of the springy Congolese with arms down to his knees and a relentless motor spread quickly from there. .

From Qatar he went to Jordan, then to Lebanon and finally to Yemen. In total, he spent six months jet-setting around the Middle East.

His breakthrough came in a tournament against the Jordanian national team, coached at the time by a Portuguese coach named Mario Palma.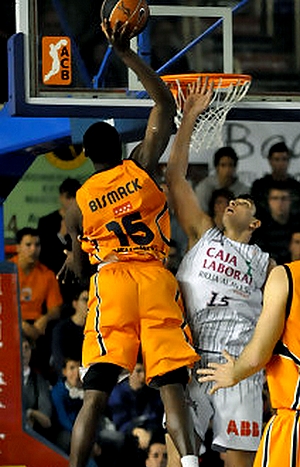 ACB.com



Biyombo impressed Palma on the court with his tremendous physical tools and talent to the point that Palma decided to approach him after the game. He was blown away when he learned that Biyombo was only 16 years old and immediately contacted his friend in Spain, agent Igor Crespo, and urged him to take a look at the young prospect.

"You have to see this kid," Palma wrote Crespo. "He is from another planet. He is gifted for basketball and for life. I have no doubt that he will be an NBA player at some point if he works with the right people. You have to come to Yemen and meet him."

Crespo soon arrived in Sana'a, Yemen, and quickly arranged for Biyombo to move to Spain with him (the move came on June 11, 2009). Biyombo slept on a couch in Crespo's apartment in Vitoria and began to work out with Pepe Laso, who later became his personal coach and mentor, and Crespo's associate Richi Gonzales.

Crespo arranged for teams to watch his new client in an attempt to get one of them to sign and develop him. Caja Laboral, Unicaja Malaga, Real Madrid, CAI Zaragoza and Fuenlabrada all came to evaluate him, but in Biyombo's words, "they said that it was really difficult for them to sign me."

"It was very difficult for them to believe in me," he said. "No one knew me. It was my first time in Spain."

Eventually Fuenlabrada decided to bite, signing Biyombo to a five-year contract. They juggled him between their first, second and third teams during his first 18 months in Spain.

Biyombo's big opportunity came in January, when Fuenlabrada received a huge offer from Euroleague squad Caja Laboral to sell their starting center, Esteban Batista -- reportedly for 1.25 million dollars.

Caja Laboral had already gone through two import big men by then (first Pops Mensah-Bonsu, then Marcus Haislip) and was desperate for a center after getting off to a terrible start. Fuenalabrada cashed in in a major way and immediately began looking for a big man to replace Batista.

In the mean time, they decided to bring up the very green Biyombo to practice with them, temporarily, to plug the hole that was created by Batista's departure.

Fuenlabrada was desperately trying to sign Richard Hendrix from Maccabi Tel Aviv, but the Israelis were reluctant to let the former NBA player go.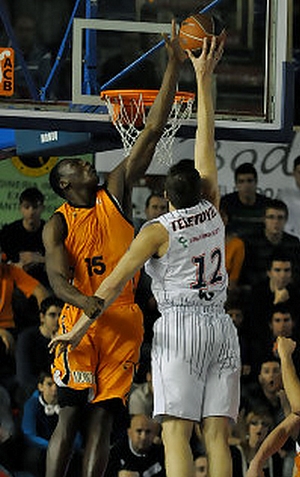 ACB.com



In the meantime, Biyombo saw playing time against Ricky Rubio's old club, DKV Joventut, and did surprisingly well, earning more time to prove himself.

With each day Biyombo continued to improve.

"Getting more time practicing I would make myself better," Biyombo explained. "Coach decided to give me more minutes every game, every game, every game."

Before anyone realized what was happening, the anonymous Biyombo was leading the ACB in blocked shots and field goal percentage while ranking #1 in per-minute rebounds and near the top in per-minute free throw attempts. He moved straight into the top 20 of DraftExpress' top 100 rankings, making one of the biggest jumps in the site's history.

Fuenlabrada's hunt for an American center came to a halt. They realized they had one of the best prospects in Europe on their hands; an incredible force inside the paint who has unlimited potential.

It didn't take very long for Rich Sheubrooks, Nike's Consultant of Global Basketball, who lives in Barcelona, to notice Biyombo's talent.

Sheubrooks quickly extended an invite Biyombo to play at the Nike Hoop Summit, which was to be played in Portland. Crespo had wisely included a clause in Biyombo's contract allowing him to attend the event if he was invited, something no one dreamed possible when Biyombo was signed 18 months prior.

The rest is history.

Biyombo registered the very first triple-double (12 points, 11 rebounds, 10 blocks) in the history of the Hoop Summit, shattering Kevin Garnett's record for blocked shots in the process. Now he's projected as a potential lottery pick by many teams.

Just three months after being added to our own database, Biyombo elected to enter his name in the 2011 draft, as we reported exclusively on April 5.

Biyombo is under contract with Fuenlabrada for another three years, but he has a relatively simple NBA buyout clause (€1 million Euros). What's even more attractive is the fact that the NBA team that drafts him can rest assured knowing that he can continue to play in Europe in the event of a lockout, which won't slow his development.

"The lockout is not worrying me," Biyombo told us. "If there is a lockout, I can continue to play in Spain. I want to make a mark before I leave Spain. When I decided to enter the draft I spoke to my agent Igor [Crespo], and I said, 'Igor, before I leave Spain, I want to put my name on the basketball court. So when I leave Spain my name will be remembered the right way.' About the NBA, I still have time to be on the floor, still have time to work, still have time to make myself better."

[Read Full Article]

---
2011 Nike Hoop Summit: International Measurements
April 4, 2011
Bismack Biyombo
Weight: 243 lbs.
Height (w/o shoes): 6'7.75"
Height (w/ shoes): 6'9"
Wingspan: 7'7"
Body Fat: 4.8%
Standing Reach: 9'3"

[Read Full Article]

---