Bojan Bogdanovic
Recent Tweets
All Tweets
DraftExpress2: RT @MiskoRaznatovic Crazy. During presentation of 27 pick Bogdan Bogdanovic we watched on the screen Bojan Bogdanovic! What a mistake!
2014-06-26 22:33:12
DraftExpress2: Crazy. During presentation of 27 pick Bogdan Bogdanovic we watched on the screen Bojan Bogdanovic! What a mistake!
2014-06-26 22:32:43
DraftExpress: Bojan Bogdanovic's agent confirmed to me today that he will be officially signing in Fenerbahce this week. NBA buyout details still unknown.
2011-05-05 05:05:15
DraftExpress: Bojan Bogdanovic 's agent confirmed to me today that he will be officially signing in Fenerbahce this week. NBA buyout details still unknown
2011-05-05 05:05:03
DraftExpress: Hearing Bojan Bogdanovic signed a big contract for next season w/Fenerbahce, which would make him less attractive for this year's NBA draft.
2011-04-20 03:28:31
Top 25s - Full List
Team: Nets
Physicals
Positions
Salary
Misc
H: 6' 7"
W: 216 lbs
Bday: 04/18/1989
(26 Years Old)

Current: SG/SF
NBA: SG/SF
Possible: SG/SF

Agent: Arn Tellem
Current Salary:$3,278,000

High School:
Hometown: Mostar, Bosnia and Herzegovina
Drafted: Pick 31 in 2011 by Timberwolves




Basic Per Game Statistics

- Comprehensive Stats - Statistical Top 25s
| Year | League | Name | GP | Min | Pts | FG | FGA | FG% | 2Pt | 2PtA | 2P% | 3Pt | 3PtA | 3P% | FTM | FTA | FT% | Off | Def | TOT | Asts | Stls | Blks | TOs | PFs |
| --- | --- | --- | --- | --- | --- | --- | --- | --- | --- | --- | --- | --- | --- | --- | --- | --- | --- | --- | --- | --- | --- | --- | --- | --- | --- |
| 2015/16 | NBA | Bojan Bogdanovic | 17 | 24.3 | 8.4 | 3.4 | 8.1 | 42.3 | 2.6 | 5.1 | 51.7 | 0.8 | 2.9 | 26.0 | 0.8 | 1.2 | 70.0 | 0.4 | 2.5 | 2.9 | 0.8 | 0.6 | 0.0 | 1.4 | 1.1 |

Player Page&nbsp&nbsp| Player Stats | Mock Draft History | Related Articles&nbsp&nbsp| Add to My Draft Express&nbsp
&nbsp
Situational Statistics: the 2011 Wing Crop
June 22, 2011
One of two international players in our group of wings, Bojan Bogdanovic has some interesting numbers, with his 19.6 possessions per game being third highest in the class, though his 0.962 PPP ranks just 11th.

Bogdanovic runs the second most pick-and-rolls of any wing at 15% of all possessions, but his 0.638 PPP on those possessions ranks a disappointing 12th. Bogdanovic's 30% isolation rate similarly ranks tops in the entire class, where he posts an impressive 0.986 PPP, third best of all wings

If he were able to make more than 34% of the 6.6 jumpers he took per game, he'd surely be drawing more draft buzz. The fact that he's shown little to no interest in playing in the NBA based on his actions hasn't helped his cause either.

[Read Full Article]

---
European Roundup: Breakout Bogdanovic
November 17, 2010
Jonathan Givony

After a breakout year in 2009/2010, Croatian wing Bojan Bogdanovic is establishing himself as a legitimate star in the early going of 2010-2011, ranking as one of the top scorers in the Euroleague while leading the Adriatic League with 22 points per game.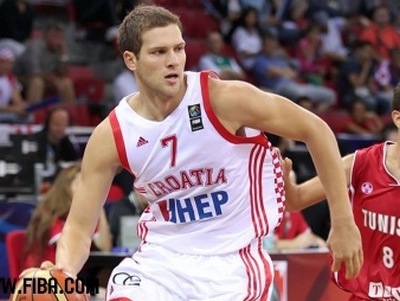 FIBA



Bogdanovic, who was identified as a top European prospect very early on in his career—earning his first DraftExpress write-up over five years ago at the tender age of 16—moved back to Croatia in 2009 after struggling to establish himself in Spain with Real Madrid.

Since then, he's absolutely blossomed, turning in an excellent performance at the FIBA World Championships this past summer, finishing as Croatia's second best scorer, and dropping 17 points against Team USA.

The biggest change in Bogdanovic's game this year revolves around his shot-creating ability. Whereas last season you could classify him as being mostly a shooter—over 60% of his field goal attempts came from behind the arc—this year Bogdanovic has transformed himself into a complete scorer and the unquestioned go-to guy of his young Cibona Zagreb team.

We're now seeing a much more aggressive Bogdanovic with the ball in his hands, both in transition and in the half-court. He regularly grabs a rebound and starts the fast break himself, and his coach has no problem isolating him at the top of the key and letting him take his man off the dribble one on one.

Bogdanovic has a nice first step and a good crossover he can utilize to get his defender off balance. On top of that, he has the ability to drive left or right, stop and go, and change speeds, which you rarely see from European wing prospects playing at this level of competition. His free throw attempts have skyrocketed this season in turn, from 52 attempts in 40 Euroleague and Adriatic games last year to 72 attempts in just 12 games this season.

A very capable threat from outside the arc as well, Bogdanovic shows a very interesting blend of size and shooting ability at 6-foot-7, being capable of putting the ball in the net both with his feet set or off the dribble. He sports an extremely quick release on his jumper, which when combined with his height, NBA plus range and unlimited confidence in his scoring ability, makes him an extremely dangerous weapon to have out on the court at any given moment. He's only making 35% of his 3-point attempts on the season thus far, but that's probably more of a reflection of the type of shots he's forced to take on an otherwise very limited offensive team than of his actual shooting prowess.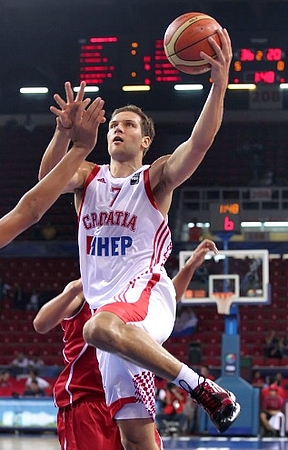 FIBA



Despite his excellent production, there are a few caveats that should be made about the season Bogdanovic is having thus far. For one, he's doing it for a team that is very down this year for financial reasons—they're currently 0-5 in the Euroleague and just 3-4 in the unimposing Adriatic League. He also has the luxury of having his team's entire offense built around him, which is something you rarely see at this level in Europe, especially when discussing a 21 year old prospect.

Bogdanovic is also not producing in the most efficient manner —he turns the ball over a decent amount and is not posting incredibly flattering shooting percentages. He tends to struggle finishing around the basket in traffic at times, as he's not terribly explosive around the rim.

Defensively, Bogdanovic is below average at best at the European level, and could have major issues guarding his position in the NBA if he doesn't improve substantially in this area. He has poor lateral quickness and looks very upright in his stance on the perimeter, making him a frequent target for coaches to isolate against in the Euroleague. His effort doesn't always appear to be the best either. While offensively he has all the tools to play the shooting guard position, in the NBA he would likely struggle defending some of the better athletes we tend to find at that spot, which would likely make him better suited guarding small forwards. He'll need to get tougher and stronger to hold his own there, though.

Despite the negatives, there just aren't that many 21-year old players Bogdanovic's size who show the type of scoring instincts and skill-level that he does, and the way he's producing is extremely impressive any way you slice it. If he continues to put up the numbers he has and is able to shoot consistently and not be a liability defensively, he is going to get quite a few looks this upcoming June, starting in the first round.

[Read Full Article]

---
2009 U-20 European Championship Review: Guards
September 17, 2009
Bojan Bogdanovic made a big impact on his team's performance here in Rhodes. Even if he had many moments that he was too invisible on the court, he still managed to become the tournament's third leading scorer. He's a very versatile wing who can shoot, drive to the basket, handle the ball and play defense.

Bogdanovic shows a strong frame with long arms, but his average athleticism and quickness do limit his possibilities to defend especially on mostly (quicker) shooting guards at the elite level. He does give a good effort on the defensive end, though, and he should be able to guard most small forwards.

Offensively he's got a variety of ways to score. Usually a quite reliable outside shooter, he shot only 31% from 3-point distance over 9 games here in Greece, although he did compensate for that by netting over half his 2-point attempts.

He shows good shooting range, but was not very successful creating his own shot off the dribble. He slashes pretty well to the basket, making use of a good first step and balance to go by defenders and finish at the rim. Due to his aggressiveness going towards the basket, he draws plenty of fouls, getting to the free throw line 6.5 times per game. When he drives, he certainly doesn't go blind to score. His court sense and passing is actually more than decent and he often finds his teammates for an easier shot.

The size advantage he often has over his defenders can also be exploited in the post, as he controls also that aspect fundamentally well (turn around jumpers, spin moves,…).
Although he's not the most agile player, Bojan is a very good ball handler and rebounder respectively. Left or right doesn't make a difference to dribble the ball up on more than one occasion.

Two question marks did emerge about him during this tournament. One was his high amount of turnovers (4 per game). The other was his mental toughness, at least to prove his value with the elite.

[Read Full Article]

---
L'Hospitalet 2007: Reflections of A Poor Class
January 11, 2007
Bojan Bogdanovic, who already plays in Spain in LEB-2 (Spanish third division) for Real Madrid, came back for a second showing in L'Hospitalet after playing in last year's edition. Still, he hardly seemed like the same player at first sight. Physically, Bojan looks very different. He has gained a lot of bulk and even his face looks very different. The good part is that he could take advantage of that superior strength in different situations; the bad part is that he seems less fluid athletically, and we're starting to question his real potential.




Of course, Bogdanovic is the same very fundamentally sound player, but he keeps struggling in certain areas. Particularly, his perimeter stroke hasn't gained a bit of consistency and he occasionally suffered trying to get past his opponents off the dribble. He does not have any trouble with enough spaces or in transition, but when he needs an extra degree of explosiveness, it's not so easy for him. We had always praised his excellent footwork in the slashing department; well, he put it to good use also in the low post. Actually, Bojan played some power forward and eventually center given the thin Real Madrid frontcourt. He looked surprisingly comfortable there, showing good moves and resources to score over his rivals with a nice soft touch, while he contributed greatly in the rebounding department. Actually, standing 6-7, he might be heading towards the small forward position. Bogdanovic also showed an improved use of his left hand finishing near the rim.

It was a nice performance –he averaged 18.7 points, 9 rebounds and 2 assists- but perhaps not as intriguing as expected.

[Read Full Article]

---
U-18 European Championship Prospects: The Wings
September 13, 2006
A so-so performance for this Croatian wing, Bogdanovic wasn't as effective as desired and he couldn't help Croatia to escape from a mediocre tournament. Still, he left numerous drops of his excellent basketball talent. An extremely fundamentally sound player, Bogdanovic won't blow you away with his quickness. He plays somewhat in slow-motion and relies more on his highly developed skill set to get the job done.

Regardless of that average quickness, he has some decent athleticism, showing a solid vertical even if he lacks some explosiveness. After all, he's still a bit skinny, although shows a nice frame in a body that looks potentially perfect for a shooting guard, perhaps even accurate for a small forward.

Anyway, it's not his body that he primarily uses to display his game. Indeed, Bogdanovic is not too effective at the moment when attempting to draw contact from a rival. Instead, he uses excellent footwork to drive in traffic without bumping into rivals, while he enjoys a good first step and the ball-handling skills to beat his matchup. He has nice ability to finish near the rim, especially using the glass, although he rarely releases the ball with his left hand. Bogdanovic has a decent stroke with range out to the three point line. Although his mechanics might need some refinement (they are not steady), you get the feeling that he might evolve into a solid shooter in the future.

Bojan is more of a scorer than anything else, but still he passed the ball a little better than expected, particularly in drive and dish situations. On defense, he shows solid lateral quickness, although he probably can't keep up with quicker shooting guards at the moment.

A first-year player at the U-18's, his performance wasn't that bad considering his youth. Next year he will be able to showcase his abilities against his peers. Meanwhile, despite having his rights owned by Real Madrid, he will play on loan for another season given his youth.

[Read Full Article]

---
2006 Albert Schweitzer Tournament: Top Prospects
May 8, 2006
The Real Madrid player (loaned to his former team in Bosnia-Herzegovina), despite also only being 17-years old, has stood out because of his tremendous quality. He's extremely fundamentally sound. Appears to play in slow motion, like Kiki Vandeweghe used to do, or closer to our days, Dejan Bodiroga. His individual skill-set makes him beat every defensive obstacle he finds in his way. He's a very good slasher and enjoys a good perimeter shot. Besides, he's a devoted defensive player, although he seems to be a bit cold.

[Read Full Article]

---
2006 L'Hospitalet Tournament: the Top 5 prospects
January 11, 2006
After his excellent performance at the Under-16 European Championships, Bojan Bogdanovic signed a multi-year deal with Real Madrid, although the Spanish team decided to loan him back to his former Bosnian team in order to let him gain experience. Real Madrid however called Bojan back to spend Christmas in Spain playing for the junior team. He took part in an Under-20 Tournament in late December as well as this tournament here.

We had heard echoes of a great season in Bosnia so far, but the truth is that we found a very similar Bogdanovic to the one we saw in the summer. He did suffer from a certain lack of understanding with his teammates, aggravated by the language barrier as he apparently speaks very limited English and no Spanish. Regardless, he enjoyed plenty of playing time and could show his stuff while decisively contributing to Real Madrid's final victory.

A good but not great athlete, Bogdanovic is the type of player who is mostly about class and finesse. He's a good shooter even if his mechanics doesn't look the most orthodox. He can nail his jumpers from the mid-range area in off-the-dribble fashion and against opposition, looking to use the glass if he's at the proper angle. From behind the three point line, he usually fires with his feet set and needs a bit of space, looking a bit erratic in his consistency. A nice ball-handler, Bojan enjoys a long first step and some serious footwork in penetration, although his quickness is not always the best. He never finishes with his left hand near the rim, unless he dunks the ball, which he curiously always does with his left.

On this occasion, we missed some of the off the dribble passing we saw from him in the summer, which virtually voided the assists part of his box-score. On defense he looked decent, perhaps still in need of some work on his lateral quickness. Regardless, he showed again his ability to get in the passing lanes with his long arms and quick hands.

There's something about Bojan's character. He's a steady guy that is serious about the game, but he looks very cold. He's not the kind of player that takes his team on his back. He sometimes goes a bit unnoticed, even surprising with larger than expected scoring production.


[Read Full Article]

---
The European Cadet Championship: Final Report
August 9, 2005
Perhaps the best combination of height, athleticism and skills in the tourney, he's far from transmitting the same kind of feelings that both Antoine and Ricard produce. He's a player who doesn't necessarily show up in the key moments of the game, nor is he a constant reference on the court, despite his offensive strengths (he finished as the third best scorer in the tournament). Anyway, he's really a fundamentally sound player, showing lots of finesse in his movements.

Being capable of filling both wing positions, his place on the court will solely depend on how much he grows, as he has the tools to play shooting guard if he doesn't add a single inch. He's quite athletic, featuring very nice quickness and leaping ability at his age.

Guard or forward, he will likely be a shooter. It's his natural instinct, and you can feel it even from the warm up. However, he's still not too consistent. He enjoys good range, and curious mechanics, with the elbow of his shooting arm being more open than usual. I don't think this characteristic has to necessarily affect his accuracy, but it's true that the movement is not always equally fluid.

He displays the ability to shoot off the dribble, but doesn't show it on a regular basis, which is another reason why he wasn't the real go-to guy on his team. He prefers to chase open looks, showing nice movement without the ball, including effective backdoor plays. He will likely rely much more on his off the dribble skills in the future given his remarkable ball-handling skills and coordination. He's one of those players that usually seems balanced on the court. Those same ball-handling skills allow him to penetrate with fair success. He's not too prolific here, instead preferring to fire from the perimeter, but he enjoys quite a nice first step and decent footwork. He feels noticeably more comfortable slashing and working with his right, although he curiously executes dunks and layups with his left every time he's alone in transition, which were numerous given how he loves to run the court.

On defense, again like Diot and Rubio, he's particularly good stealing the ball. His wingspan and quick hands are his weapons. His lateral movement still needs work, though. However, he usually faced smaller players, and it shouldn't be too much of a problem once he gains strength and some more explosiveness. In this tournament, he hasn't proved to be too much of a passer. He can dish off after beating his man, but anyway that wasn't a very common situation for him.

All in all, Bogdanovic is a player who raises less question marks regarding his skills, while apparently his attitude is good. He's clearly a nice project who should pan out with the necessary effort.

[Read Full Article]

---