Top NBA Prospects in the ACC, Part 10: Prospects #22-26
October 27, 2014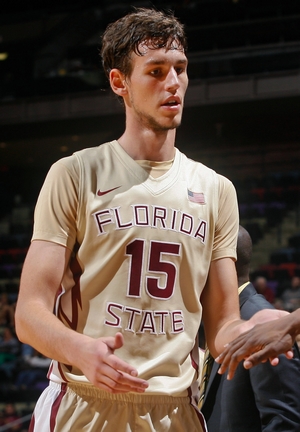 US Presswire
Josh Riddell
Coming from Slovakia to Florida State, Boris Bojanovsky has had two solid, but unspectacular seasons with the Seminoles. Coming back for his junior season, he will look to improve on his skill set both to help the Seminoles back to the NCAA tournament as well as make a name for himself within NBA circles.
Bojanovsky saw a modest rise in production from his freshman season, raising his per-40 minute pace adjusted level for points (10.3 to 11.4), rebounds (6.8 to 7.8) and blocks (2.7 to 3.6) while seeing an increase in minutes to 20.6 per game. He also became a more efficient player, seeing his field goal percentage jump from 54.7% to 58.8%. After taking a small step forward in his production, Bojanovsky will look for another jump in this year to become a much larger piece of the Florida State offense.
Physically, Bojanovsky has some excellent tools, as he has been measured at 7'3" with a nice wingspan and a frame that is slowly filling out. He isn't overly strong at 240 pounds and has room to continue to add muscle, but he has a nice base and isn't pushed around easily by other centers. He moves well for a player of his size, getting up and down the floor with nice mobility for a big man. His explosiveness is a bit lacking, which causes him to struggle to finish in traffic at times. Overall, he looks the part of a professional center and has some solid athleticism for a player his size.
On the offensive end, Bojanovsky was mostly used in post-up situations, where he showed some definite flashes of potential, but scouts will want to see him become more aggressive against collegiate competition. He demonstrated some nice post skills, including good hands, with his go-to moves being a strong drop step as well as an ability to move across the lane and shoot over his defender. He gains position well and is able to hold his ground, but struggles to get a good shot when he is pushed away from the rim and forced to back his man down. He also has a tendency to pass out quickly instead of looking to beat his man and although he is a capable passer, scouts will want to see him make better decisions as to when to attack and when to pass by being patient while reading the defense.
Bojanovsky was not a focal point of the offense other than the occasional post-up, and failed to contribute regularly on the offensive glass, pulling in a pedestrian 3.2 rebounds per 40 minutes pace adjusted. Although he has an impressive reach, he doesn't have the explosiveness, strength or toughness to consistently rebound in traffic. While he is a good finisher at the rim, 59.2% according to Synergy Sports Technology, many of these came on wide-open layup or tip in opportunities. In traffic, he struggled to get above the defense, which led to missed shots. Until he adds some upper body strength, allowing him to fight through the defenders, he may struggle to finish at the rim against NBA ready big men, which will be a red flag for NBA teams.
He has flashed potential in other offensive areas but will need to begin to show this potential on the court and round out his offensive game. His agility gives him some intriguing possibilities as a pick and roll player but he isn't a consistent enough screener, doesn't always show the awareness as to how to finish his cut after the screen and hasn't demonstrated a jump shot over a large enough sample to show he can be a pick and pop player. His jump shot form looks passable in the limited sample he has shown in his career so far and becoming a more effective pick and roll player, if Florida State chooses to incorporate it into its offense, will begin to show the role he can begin to fill in the NBA.
Defensively, Bojanovsky is still raw, but shows plenty of potential. He still struggles a bit with fouling, as he averaged 4.9 fouls per 40 minutes pace adjusted, due to his lack of strength compared to other big men. He struggles rebounding defensively as well, contributing only 4.6 defensive rebounds per 40 minutes pace adjusted. The only seven foot players in our database since 2001 that have averaged less than five defensive rebounds per 40 pace adjusted before being drafted were Ryan Kelly (2011 and 2013) and Alec Brown last season. Showing a more committed effort rebounding, especially defensively, will be a big step for him to take this season after two mediocre years in that area.
However, he uses his height to protect the rim, blocking 3.6 shots per 40 minute pace adjusted last season,
one of the highest marks
among centers. Continuing to do so in the ACC will show he can translate this skill and become a rim protector in the NBA, a skill many teams are looking for each season.
Bojanovsky still has a long way to go before becoming a viable draft prospect, but should have plenty of opportunity to show his development this season. His height will definitely keep scouts interested but he will have to show a more refined skill set as well as a better rebounding ability this season to keep their attention.
[
Read Full Article
]
Top NBA Draft Prospects in the ACC, Part Seven (#15-19)
September 12, 2013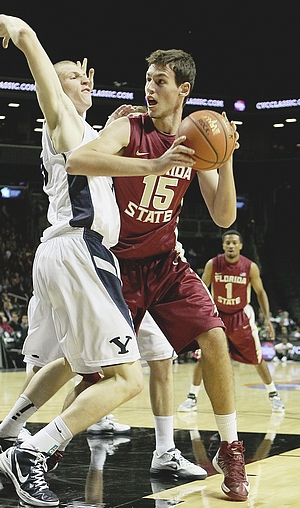 AP
Kyle Nelson
After emerging as an intriguing international recruit at Canarias Basketball Academy and following a dominant performance for Slovakia at the
in the B division of the 2011 U18 European Championships
, 7'3 center Boris Bojanovsky committed to play for Florida State, shunning offers from a host of other ACC programs.
He showed flashes of potential as a freshman in limited minutes, particularly on the defensive end, but rarely was consistent or productive enough to
carve out a niche for himself in Florida State's deep frontcourt
. Now, as a sophomore, scouts will watch to see if he's able to take the next step forward in his development, from exhibiting occasional glimpses of intrigue to posting consistent and productive minutes as part of a deep Florida State frontcourt rotation.
Even before he steps on to the court, Bojanovsky clearly passes the eye test, standing 7'3 with long arms and a 235-pound frame. He will have to continue to add significant bulk to his upper body, but his lower body strength appears farther along than one would expect. He is a fluid athlete for his size, as well, not particularly explosive around the basket or quick in the open floor, but mobile with good lateral quickness and agility.
Bojanovsky is still in a very early stage of his development and looks far from reaching his full potential at this stage. He was not particularly productive in the 11.1 minutes he played last season, scoring just 10.3 points per 40 minutes pace adjusted. He struggled with the physicality of ACC big men and was not able to finish many of the looks that were created for him around the basket, being somewhat turnover prone in the limited touches he saw.
Behind the numbers, however, Bojanovsky is an intriguing prospect due to his versatile skill set. Despite the fact that he is still raw on the offensive end of the floor, he displays solid footwork and the ability to score with his back to the basket. Though he does not do a good job of holding his position on the block due to his lack of strength, he has soft hands and shows the ability to execute some rudimentary post moves, particularly a step through that hints at what he may offer this coming season
The downside is that he lacks the strength to fight through traffic and the explosiveness to finish over defenders. At this stage, Bojanovsky looks far more comfortable finessing the ball to the basket, preferring tips and layups to dunks, which results in him playing, more or less, below the rim. It's also worth pointing out that he also passes out of the post on nearly 20% of his possessions, a testament to his court vision, but also to his passivity and timidity at this point in his career.
Bojanovsky also shows potential facing the basket, and can on occasion put the ball on the floor and get to the rim in a couple of dribbles. Additionally the sample size is very small, Bojanovsky can take and make shots from mid-range, showcasing a smooth stroke with range out to 20 feet. He also shot 75.8% from the foul line, perhaps an indicator that he can continue to develop this aspect of his game moving forward. After all, he took only nine jump shots as a freshman, four of which came from mid-range, and hardly enough data to proclaim him a jump shooter.
While Bojanovsky shows a lot of flashes on the offensive end of the floor, his instincts operating out of the pick-and-roll, where he saw nearly 23% of his possessions. He sets good screens, and has the ability roll quickly to the basket, oftentimes catching his man by surprise in the process. That said, he oftentimes fails to roll hard enough to receive the ball close to the basket and when he pops out on the perimeter, he rarely capitalizes on his open jumper, Simply put, while he shows quite a bit of potential in this area, has a long way to go before he fulfills this role for Florida State, let alone the NBA.
On the defensive end, Bojanovsky displays his share of potential and question marks. His excellent size and length allow him to disrupt shots around the basket and on the perimeter. He is a particularly adept shot-blocker, swatting 2.7 shots per 40 minutes pace adjusted, which ranks him
among the best in our database
. Furthermore, his ability to hedge quickly and aggressively on screens, as well as his ability to stay in front of, or at least trailing closely behind, slashing big men resulted in some impressive defensive stops.
That being said, his individual post defense could use some work, as he gets pushed around due to his lack of bulk and toughness and commits fouls to compensate; he must work on reducing his 4.0 fouls per 40 minutes pace adjusted as a sophomore. While he displays good lateral quickness for a player his size, he sometimes struggles to close out on shooters and displays lax fundamentals, particularly in terms of positioning.
Additionally and most problematic is his effort on the boards, where he grabs just 6.8 rebounds per 40 minutes pace adjusted. His fundamentals and intensity both seemed lacking at times, as he neither boxes out nor scraps for loose balls.
Bojanovsky, is as mentioned, a long ways away from being considered a legitimate prospect at this stage, but his combination of size, mobility, and budding skill leave room for optimism regarding the future. Getting stronger and maximizing his athleticism will certainly help him to better hold his own in the ACC, but so too will playing more assertively and capitalizing on what should be an expanded role as a sophomore. Scouts will be monitoring his development to see how his frame is filling out and whether he can become a little more productive for Florida State as a sophomore.
[
Read Full Article
]