Brandon Davies
Recent Tweets
All Tweets
DraftExpress: Strong first game from Brandon Davies. Showed a pretty nice skill-level for a big man. Handled and passed ball made some mid-range jumpers.
2013-04-10 20:36:36
DraftExpress: NDs Jack Cooley & BYUs Brandon Davies going at each other inside the paint. Both scoring impressively. Neither playing any defense. 49-44 ND
2012-11-17 21:32:20
DraftExpress: Brandon Davies is a Portsmouth guy at least. Will get some looks with his size. RT @cannonaphilip Does BYU have any potential NBA talent?
2012-11-16 19:44:59
DraftExpress: Top Non-BCS Conference NBA Prospects (#26-30): http://t.co/dCq0vf85 - Kyle Weems, Alex Young, D.J. Cooper, Brandon Davies, Keith Wright
2011-11-11 02:08:05
DraftExpress: Theoretically, yes. Brandon Davies could have gone to school anywhere. But in actuality, that choice was made for him a long time ago.
2011-03-02 11:55:03
Team: BYU, Senior
Physicals
Positions
Rankings
Salary
Misc
H: 6' 10"
W: 242 lbs
Bday: 07/25/1991
(21 Years Old)

Current: C
NBA: C
Possible: C

Rank 63 in Top 100 Prospects
Rank 37 in NCAA Seniors

Agent: Bill Duffy

High School: Provo
Hometown: Provo, UT

Predraft Measurements
| Height w/o Shoes | Height w/shoes | Weight | Wingspan | Standing Reach | Body Fat | No Step Vert | Max Vert | Bench Press | Lane Agility | 3/4 Court Sprint | Class Rank |
| --- | --- | --- | --- | --- | --- | --- | --- | --- | --- | --- | --- |
| 6' 8.5" | NA | 234 | 7' 2" | 9' 0.5" | NA | NA | NA | NA | NA | NA | NA |



Basic Per Game Statistics

- Comprehensive Stats - Statistical Top 25s
| Year | League | Name | GP | Min | Pts | FG | FGA | FG% | 2Pt | 2PtA | 2P% | 3Pt | 3PtA | 3P% | FTM | FTA | FT% | Off | Def | TOT | Asts | Stls | Blks | TOs | PFs |
| --- | --- | --- | --- | --- | --- | --- | --- | --- | --- | --- | --- | --- | --- | --- | --- | --- | --- | --- | --- | --- | --- | --- | --- | --- | --- |
| 2012/13 | NCAA | Brandon Davies | 35 | 29.5 | 17.7 | 6.4 | 12.3 | 52.0 | 6.3 | 11.9 | 52.6 | 0.1 | 0.4 | 30.8 | 4.9 | 7.1 | 68.0 | 2.1 | 5.9 | 8.0 | 2.4 | 1.3 | 0.9 | 2.6 | 3.1 |

Player Page&nbsp&nbsp| Player Stats | Related Articles&nbsp&nbsp| Add to My Draft Express&nbsp
&nbsp
NBA Combine Interviews: Adams, Dieng, Gobert, Davies
May 21, 2013
[Read Full Article]

---
Top NBA Draft Prospects in the Non-BCS Conferences, Part 6 (#26-30)
November 11, 2011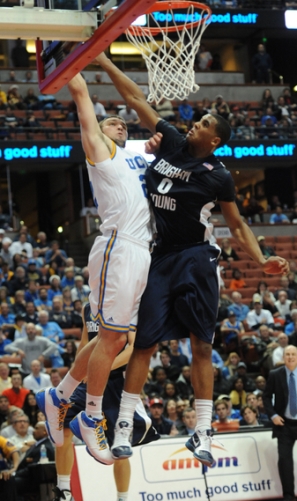 Icon SMI



Jeff Rush

Last year was magical in Provo as the nation caught Jimmer-mania and the Cougars had one of the best years in the proud history of the program. The only real negative during the season was the suspension of Brandon Davies in late February, which left BYU extremely thin in the front court heading into post-season play. Davies reportedly impregnated a woman, a violation of the Mormon school's honor code which says students must remain "chaste and virtuous."

BYU regrouped and advanced to the Sweet 16 despite his absence, but there they ran into the powerful Florida frontcourt and lost in overtime. For 2011-2012, Davies is back and will be counted on to be the Cougars' best player and keep them in among the top mid-major programs in the country.

Physically, Davies has some interesting tools. He is a legit 6'9 with very long arms and can cause a lot of problems for opposing defenses running the floor in transition. He is listed at 235 pounds, but he is not nearly strong enough to be effective banging in the lane as he often gets knocked off balance while making his move in the paint. Another strike against Davies athletically is the fact that he is not explosive when jumping off of two feet, which limits his ability to finish over other post players in the lane. He is capable of making a move off the dribble and dunking on someone, but only if he gets a running start and jumps off of one foot.

In the post, Davies puts the ball on the floor just about every time he makes a move regardless of whether he is going over his left or right shoulder. He is most effective making sweeping moves across the lane going either direction and using his length to finish around his defender. This is something that he is able to get away with because of the shooters that BYU has all over the floor, which allows him to work one-on-one in the post with a lot of open space. He struggles in these situations when the lane is crowded which often leads to him forcing awkward shots in the lane. He is easily bumped off balance and he tends to force shots while falling away when he is bodied by a defender.

On the perimeter Davies' game is almost non-existent. While he did make major strides at the free throw line, improving by 11% in almost double the amount of attempts per-game from his freshman year. Away from the charity stripe, Davies' struggled mightily taking jump shots from the perimeter, shooting only 24%. He was willing to shoot jumpers out to 15-17', but rarely did a defender venture that far from the basket to guard him, preferring to clog up the middle and concede the jump shot.

Davies did do a good job of protecting the ball, sporting a 1/1 a/to ratio although he is not a guy that will be asked to create shots for others. This season he will be the focal point of the Cougar's offense and will be counted on to make plays as the primary post weapon.

On the defensive end of the floor, Davies is a solid but unspectacular defender. He does not do a very good job of fighting for position or denying the entry pass, however he does do a good job of playing big with high hands to cause problems with his length. He seems to be actively avoiding any type of fouls, which could be by design to keep him on the floor because of a severe lack of depth in the post for BYU. Davies was pretty effective while in isolation situations, often brought on by switches in the pick and roll, as he does a good job by using his length to make up for his lack of quickness.

After riding excellent guard play to the Sweet 16 last year, Brigham Young will have to completely change the way their offense runs in their first post-Jimmer season. Davies will be a focal point offensively and it will be imperative for him to have made major strides in his game from his sophomore year. In order to reach his full potential and play at the next level Davies will need to expand his offense and continue to work on his body.

[Read Full Article]

---