Brice Johnson
Recent Tweets
All Tweets
DraftExpress: Top NBA Prospects in the ACC Prospects #10-14 C.J. Fair DaJuan Coleman Brice Johnson Robert Carter Jerian Grant http://t.co/ZjATYj0WSm
2013-09-11 18:03:49
DraftExpress: Top NBA Prospects in the ACC Prospects #10-14 http://t.co/ZjATYj0WSm C.J. Fair DaJuan Coleman Brice Johnson Robert Carter Jerian Grant
2013-09-11 11:22:03
Predraft Measurements
| Year | Source | Height w/o Shoes | Height w/shoes | Weight | Wingspan | Standing Reach | Body Fat | No Step Vert | Max Vert |
| --- | --- | --- | --- | --- | --- | --- | --- | --- | --- |
| 2011 | LeBron James Camp | NA | 6' 9.5" | 185 | 6' 11" | NA | NA | NA | NA |
| 2011 | Amare Stoudemire Camp | NA | 6' 9.5" | 185 | 6' 11" | NA | NA | NA | NA |



Basic Per Game Statistics

- Comprehensive Stats - Statistical Top 25s
| Year | League | Name | GP | Min | Pts | FG | FGA | FG% | 2Pt | 2PtA | 2P% | 3Pt | 3PtA | 3P% | FTM | FTA | FT% | Off | Def | TOT | Asts | Stls | Blks | TOs | PFs |
| --- | --- | --- | --- | --- | --- | --- | --- | --- | --- | --- | --- | --- | --- | --- | --- | --- | --- | --- | --- | --- | --- | --- | --- | --- | --- |
| 2014/15 | NCAA | Brice Johnson | 38 | 24.7 | 12.9 | 5.4 | 9.6 | 56.6 | 5.4 | 9.6 | 56.6 | 0.0 | 0.0 | &nbsp | 2.1 | 3.0 | 67.8 | 2.3 | 5.4 | 7.8 | 0.9 | 0.7 | 1.1 | 1.5 | 2.9 |

Player Page&nbsp&nbsp| Player Stats | Mock Draft History | Related Articles&nbsp&nbsp| Add to My Draft Express&nbsp
&nbsp
Brice Johnson 2015 adidas Nations Interview
August 25, 2015
An interview with North Carolina forward Brice Johnson at the 2015 adidas Nations in Los Angeles.
---
More adidas Nations Content:
-Center Prospect Scouting Reports
-Power Forward Prospect Scouting Reports
-Wing Prospect Scouting Reports
-Point Guard Prospect Scouting Reports
-Jake Layman Interview
-Devin Robinson Interview
-Joel Bolomboy Interview
-Troy Williams Interview
-Amida Brimah Interview
-Simi Shittu Interview
-James Webb III Interview
-Udkoa Azubuike Interview
-Zach Auguste Interview
-Nickeil Alexander-Walker Interview
-Wenyen Gabrien Interview
-Markelle Fultz Interview
-Dennis Smith Interview
-Kobe Paras Interview
-Tim Quarterman Interview
---
[Read Full Article]

---
Top NBA Prospects in the ACC, Part 5: Brice Johnson Scouting Video
October 21, 2014

Mike Schmitz is the video analyst for DraftExpress. Follow him on twitter and check out the DraftExpress video section. He will be breaking down the NBA draft in digital format all year long for us.

[Read Full Article]

---
Top NBA Draft Prospects in the ACC, Part Six (#10-14)
September 11, 2013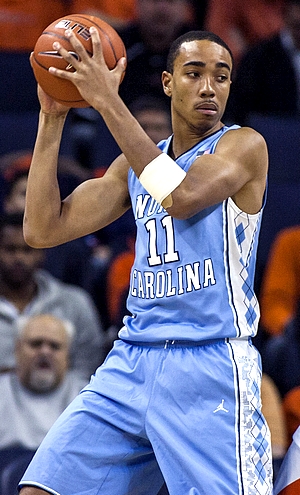 US Presswire



Jonathan Givony

A top-50 high school recruit from South Carolina, Brice Johnson came into college weighing just 187 pounds, despite standing 6-9. He started the season off extremely well but cooled somewhat as the year moved on, seeing fewer minutes down the stretch due to Roy Williams' decision to play smaller lineups with James McAdoo at center and P.J. Hairston at power forward. Up to 205 pounds now reportedly after a full offseason working in North Carolina's renowned strength and conditioning, Johnson will be looking to build off a promising freshman campaign and establish himself as a legitimate NBA prospect.

Johnson did not play major minutes as a freshman, but nevertheless was able to drop some impressive glimpses of potential, on the offensive end in particular. His per-minute numbers were very strong, even when adjusting for UNC's torrid pace, at 18.2 points, 11.3 rebounds and 1.7 blocks per-40 pace adjusted.

The main intrigue surrounding Johnson as a long-term prospect revolves around his excellent combination of size, mobility and scoring instincts, as well as the fact that he did not turn 19 until this past summer, making him one of the youngest players in college basketball last season.

Johnson is a very good athlete, running the floor well and being an extremely quick leaper. That makes sense considering he was a gifted track and field star in high school, winning consecutive South Carolina state championships in the high jump, as well as competing in the long jump and triple jump.

Johnson's athletic prowess translates well to the basketball court, where he is an excellent finisher around the basket thanks to his mobility and terrific touch, being a regular recipient of lobs from UNC's guards because of how reliable he is around the rim.

Highly aggressive calling for the ball and looking to establish position inside, Johnson saw a fair amount of touches in the post last season, even if he struggled at times to convert his looks due to his lack of bulk. Still, he shows good potential as a back to the basket scorer, being very assertive trying to post up opposing big men, displaying nice footwork and feathery touch on his hook shots and turnaround jumpers, and sometimes finishing in impressive fashion off the glass.

It will likely take a number of years for Johnson's body to catch up to his skill-level inside the post, but the fact that he shows the willingness and ability to throw the ball in the basket so easily, despite how frail his frame is currently, has to be considered a good sign for the future.

Where Johnson can already be effective is playing off the ball, be it off cuts, as a pick and roll finisher, crashing the offensive glass, and running the floor in transition. He made an impressive 71% of his non post-up attempts around the rim in the half-court as a freshman, again showing good mobility, reliable hands, and the ability to finish strong from a stand-still off two feet with relative ease.

Johnson should be able to extend his range comfortably outside the paint, as he shows good shooting mechanics and the ability to knock down jumpers out to about 18 feet, particularly from the baseline. His shot-selection leaves something to be desired, though, as he tends to shoot the ball any time he touches it with even a hint of daylight, which may not have always endeared him to his teammates and coaching staff. Gaining a better understanding of what his limitations are will be important as he matures and receives more playing time.

Where Johnson will likely have to improve the most in order to earn minutes and establish himself as a legit prospect is on the defensive end. He struggles badly here at times due to his frail frame and average toughness, getting pushed around mercilessly by stronger opponents. He also doesn't seem to have the best fundamentals here either, biting on pump fakes and regularly falling asleep and giving up deep position before his man even catches the ball.

On the perimeter, Johnson shows good mobility with his ability to cover ground quickly and hedge the pick and roll, but gets beaten off the dribble too easily by more skilled power forwards. He shows good timing as a shot-blocker and rebounder to go along with his strong athleticism, though, so it's possible that with added strength, experience and coaching he could make some serious strides as time moves on.

All in all, Johnson is a very raw prospect who is still far from garnering legit consideration as a NBA draft prospect at this point in time, even if it's difficult not to be impressed by his physical tools and natural knack for scoring which simply cannot be taught.

It will be interesting to see how much additional playing time he will be able to garner in the incredibly crowded frontcourt that Roy Williams has assembled this season, as he'll be competing with no fewer than six other big men in James McAdoo, Joel James, Desmond Hubert, Jackson Simmons, Kennedy Meeks and Isaiah Hicks for minutes. Considering that UNC played some of their best basketball with four guards on the floor last season, there might not be all that much playing time to go around, which could lead to some disappointment.

Nevertheless, Johnson is a prospect that scouts will continue to track the next few seasons to see how his body develops and skill-level evolves over time.

[Read Full Article]

---