C.J. McCollum
Recent Tweets
All Tweets
DraftExpress: Kelly Olynyk DeShaun Thomas Ray McCallum Tim Hardaway Reggie Bullock C.J. McCollum Victor Oladipo RT @Mr_TQ Top 2013 draft picks in PER?
2013-07-17 13:37:30
DraftExpress: With the #10 pick in the NBA Draft Portland selects C.J. McCollum - very dynamic backcourt with Lillard. Unless this is a trade...
2013-06-27 20:36:30
DraftExpress: Video interviews with Alex Len C.J. McCollum Cody Zeller and Kentavious Caldwell-Pope at NBA Draft Media Day in NYC http://t.co/gip3gBufG7
2013-06-27 10:25:02
DraftExpress: NBA Draft Media Day Video Interviews Part One http://t.co/NyEyWnjvDS - Alex Len C.J. McCollum Cody Zeller Kentavious Caldwell-Pope
2013-06-27 00:59:12
DraftExpress: NBA Green Room Invites (cnt'd) Alex Len C.J. McCollum Ben McLemore Nerlens Noel Victor Oladipo Otto Porter Cody Zeller
2013-06-25 12:37:49
Top 25s - Full List
Team: Trailblazers
Physicals
Positions
Salary
Misc
H: 6' 3"
W: 197 lbs
Bday: 09/19/1991
(24 Years Old)

Current: PG/SG
NBA: PG/SG
Possible: PG/SG

Agent: Sam Goldfeder
Current Salary:$2,421,000

High School: Glen Oak
Hometown: Canton, OH
Drafted: Pick 10 in 2013 by Trailblazers

Predraft Measurements
| Year | Source | Height w/o Shoes | Height w/shoes | Weight | Wingspan | Standing Reach | Body Fat | No Step Vert | Max Vert |
| --- | --- | --- | --- | --- | --- | --- | --- | --- | --- |
| 2013 | NBA Draft Combine | 6' 2.25" | 6' 3.25" | 197 | 6' 6.25" | 8' 0.5" | 8.6 | 32.0 | 38.5 |
| 2012 | LeBron James Camp | NA | 6' 3" | 192 | 6' 6" | NA | NA | NA | NA |
| 2012 | Kevin Durant Camp | NA | 6' 3" | 192 | 6' 6" | NA | NA | NA | NA |



Basic Per Game Statistics

- Comprehensive Stats - Statistical Top 25s
| Year | League | Name | GP | Min | Pts | FG | FGA | FG% | 2Pt | 2PtA | 2P% | 3Pt | 3PtA | 3P% | FTM | FTA | FT% | Off | Def | TOT | Asts | Stls | Blks | TOs | PFs |
| --- | --- | --- | --- | --- | --- | --- | --- | --- | --- | --- | --- | --- | --- | --- | --- | --- | --- | --- | --- | --- | --- | --- | --- | --- | --- |
| 2015/16 | NBA | C.J. McCollum | 16 | 34.9 | 19.9 | 7.6 | 16.9 | 44.8 | 5.6 | 11.6 | 48.1 | 2.0 | 5.3 | 37.6 | 2.8 | 3.2 | 88.2 | 0.6 | 2.9 | 3.5 | 3.2 | 0.9 | 0.4 | 2.2 | 2.4 |

Player Page&nbsp&nbsp| Player Stats | Mock Draft History | Related Articles&nbsp&nbsp| Add to My Draft Express&nbsp
&nbsp
2013 NBA Draft Media Day Interviews, Part One
June 27, 2013
[Read Full Article]

---
Situational Statistics: the 2013 Point Guard Crop
June 18, 2013
-Every year there's a player who puts up outrageous numbers in a season shortened by any number of factors. That player this season is C.J. McCollum, who ranked third in overall usage at 20.8 possessions per-game and first in scoring efficiency at a tremendous 1.104 points per-possession.

Ranking second in both transition scoring efficiency at 1.26 PPP and half court scoring efficiency at 1.065 PPP, it was McCollum's prolific jump shooting prior to injuring his foot that helps him here. Connecting on more than 50% of his jump shots overall, with splits of 49% off the dribble and 61% off the catch, McCollum leads this group in field goal percentage on the pick and roll and in spot-up situations and ranks second one-on-one thanks to his hot perimeter shooting as a senior. Knocking down 36.6% of his jump shots in 35 games as a junior, McCollum clearly benefits from some sample size bias, but has a proven track record of being able to put pressure on opposing defenses with his ability to score from all over the court.

A slightly above average finisher and foul drawer, if McCollum has a true weakness on paper in this limited sample of games, it is that his profile reinforces that the role he filled was more aligned with playing off the ball than those of his peers. He did less creating for his teammates on the pick and roll than any player other than Lorenzo Brown at 2.6 pass outs to possessions per-game, well below the average of 6.1, and used screens without the ball to get open for 12% of his possessions, almost double the next closest player in this group.

Doing what he needed to as a scorer to lead Lehigh to wins, McCollum has acknowledged in interviews that he's prepared to make whatever adjustments he's asked to make as a lead guard at the next level to fit in stylistically.

[Read Full Article]

---
C.J. McCollum Workout Video and Interview
June 4, 2013
Video film and production courtesy of Farhod Family
[Read Full Article]

---
NBA Combine Interviews: McCollum, Carter-Williams, Wolters, McCallum
May 18, 2013
[Read Full Article]

---
NBA Draft Prospect of the Week: C.J. McCollum
January 18, 2013
Video analysis by Mike Schmitz. Scouting report by Matt Kamalsky

Averaging 25.7 points per-game entering Lehigh's January 5th game at VCU, tops in the NCAA, C.J. McCollum was off to the best start of his storied career as a senior. Showing well at a number of Nike Skill Academies this past summer, the prolific guard was poised to lead the Mountain Hawks to another Patriot League Championship and NCAA Tournament appearance while solidifying his draft stock in the process. Pulling up in pain and limping off the floor after a mid-first half drive, McCollum broke the fifth metatarsal in his left foot against the Rams and will be out for an estimated 8-10 weeks, likely ending his Wooden Award campaign and senior season altogether.

Catching the interest of NBA scouts after his breakout 26-point performance in the first round of the 2009 NCAA Tournament against Kansas, McCollum earned national attention after scoring 30 points to guide Lehigh past Duke in the postseason last year. Rocketing up draft boards, McCollum was a potential early entrant for the 2012 NBA Draft, but opted to return to school to earn his degree. Teaming with North Texas' Tony Mitchell to draw 57 NBA scouts to Denton, Texas in December, it is safe to say that McCollum had already overcome Lehigh's low-major status to gain the full attention of decision-makers at the next level, which diminishes the effects his injury may have had on his exposure and subsequent draft stock.

Video Analysis:



At 6'3 with a 6'6 wingspan, McCollum emerged as a prolific, versatile combo guard with a shoot-first mentality early in his collegiate career. A fluid athlete who lacks top-end speed and explosiveness, McCollum has done it all for Lehigh over the last three and a half seasons, carrying the scoring load for long stretches against relentless pressure.

Known for his ability to create his own offense one-on-one and using ball-screens, McCollum's jump shot has always been a significant part of his game. With nearly 60% of his shot attempts coming from the perimeter both this and last season according to Synergy Sports Technology, McCollum's value proposition at the next level has changed this season as he's made 50.6% of his jumpers and 51.6% from of his threes, a big jump from the 36.6% and 34.1% he made last year.

Despite the improvement in his numbers likely being inflated by the limited sample of games we have to look at (12 total), the consistency of McCollum's mechanics, whether he's pulling up off the dribble, shooting off the catch, or using his step-back are more controlled and consistent than they were early in his career. He still takes some difficult, off balance shots, but his 63% true shooting percentage ranks him as the most efficient point guard prospect in our top-100 nonetheless, reflecting just how impressive he's been as a senior.

In addition to his improved shooting, McCollum continues to show the ability to get into the paint using changes of speed and direction to keep defenders guessing. Possessing a good first step, but lacking blow by quickness and elite leaping ability, McCollum isn't as prolific at the basket as he is from the perimeter, but he shows good body control and a willingness to draw contact. Finishing at a 56.8% clip at the rim and averaging 6.1 free throw attempts per-game, the two-time Patriot League Player of the Year can make plays around the rim given the opportunity and excels in fast paced games where he can push the ball and catch the defense scrambling.

A crafty shot creator with a high skill level and basketball IQ, McCollum shows good court vision, but is not a natural facilitator for the Mountain Hawks, nor is he asked to be one. The Ohio native does make very good decisions pushing the ball in the open floor, and has impressive ball-handling skills, leaving plenty of room for optimism that he could fill a role that calls for both scoring and distributing as a NBA point guard long-term.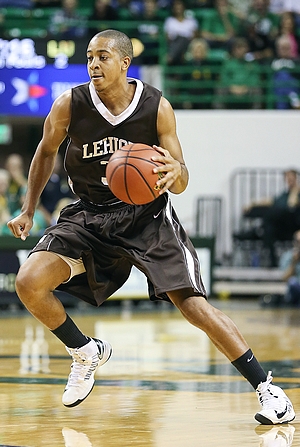 US Presswire



Averaging 3.6 assists and 3.3 turnovers per-40 minutes pace adjusted, McCollum will need to improve his ability to create for his teammates on the pick and roll if he intends to become a more viable NBA floor general. Looking for his own shot and turning the ball over a high rate by being too aggressive pressing to turn the corner coming off of ball screens, McCollum has some tools to build on should he be asked to be a lead guard at the NBA level, but has plenty of areas to work on and experience to gain at the moment as well. At the same time, the improved spacing and faster pace of the NBA will undoubtedly help him, as will having better teammates around him and not being in a situation where he needs to score as much as he currently is.

On the defense end, McCollum has always been noted for his ability to rebound and create turnovers by being active in the passing lanes5446img. Ranking among last season's national leaders in steals per-game (2.6) and guard leaders in rebounds per-game for (6.5), McCollum has struggled to replicate that same success this season, seeing his numbers dip to 1.4 steals and 5 rebounds per-contest.

Despite the dip in his productivity on the stat sheet, McCollum remains a very good rebounder for his position, especially on the defensive end where he aggressively tracks the ball off the rim to provide support for Lehigh's big men and is much more apt to pursue caroms than leak out in transition. Similarly, McCollum still shows a knack for reading the eyes of the ball handler and jumping into the passing lanes, but gambles far less than he did in previous years.

McCollum has solid defensive fundamentals on the whole, doing a nice job closing out shooters, finding a happy medium when defending the weak side, and seldom giving up on plays. His lack of great physical tools limit him in one-on-one situations against quicker or taller players at either guard position, and he struggles at times fighting through screens, but plays with good intensity for a player asked to do so much on the offensive end.

A potential lottery pick who could either be used as a spark plug scorer off the bench or asked to make the transition to the point guard position full time at the next level, McCollum will be one of the more intriguing players to keep tabs on during the draft process. With his wildly successful collegiate career likely coming to a close, McCollum can set his sights on the individual workouts and combine testing he'll take part in later this spring where he'll have to a chance to solidify himself as one of the best guards in this draft class.

[Read Full Article]

---
Trending Prospects (3/22/2012)
March 22, 2012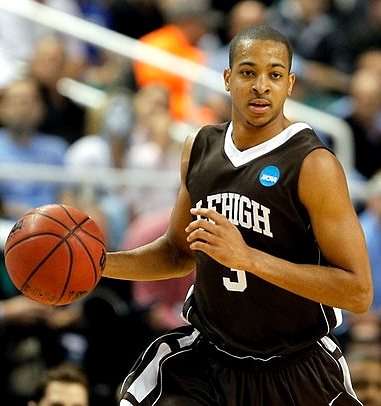 AP



Derek Bodner

Playing in relative obscurity to the basketball viewing public in the Patriot League, junior guard C.J. McCollum was introduced to the national audience with an incredible 30 point, 6 rebound, 6 assist showing as Lehigh upset 2nd seeded Duke in the first round of the NCAA tournament.

It wasn't McCollum's first appearance in the national spotlight, as the Mountain Hawks played Kansas tough the first round of the NCAA tournament during McCollum's freshman season, a season that saw him lead all freshman in scoring at 19.1 points per game. But for a player on the fence about declaring for the NBA draft who had previously struggled in his limited appearances against top competition, this was exactly the kind of coming out party McCollum needed to put his name in the basketball worlds collective conscience, and a perfect recap to what has been a very good bounce back season for the focal point of the Lehigh offense.

McCollum is a 6'3" lanky combo guard with solid length. Coming into Bethlehem, Pennsylvania as a 160 pound freshman, McCollum has done a good job of adding strength to his now 190 pound frame, although he still must get stronger in order to effectively compete with NBA guards. McCollum isn't particularly explosive around the rim, but he's a quick, fluid and very smooth athlete with terrific ability to change speeds and utilize hesitation moves to create offense for his team.

McCollum has improved as a passer, averaging 4.2 assists per 40 minutes pace adjusted, by far a career best. Most intriguing has been his court vision coming off pick and rolls, particularly useful considering his ability to generate his own offense in those sets and the likelihood he will be placed in that situation at the next level.

That being said, McCollum is first and foremost a natural scorer. His 25.8 points per-40 ranked him 6th amongst NCAA prospects, while he was able to improve his efficiency significantly from his somewhat disappointing sophomore season, as his 2-point percentages rose from 43% to 50%, his true shooting percentage rose from 52% back up to 57%, and his three point percentage settled in at a much more respectable 35.3%.

McCollum is very comfortable shooting off the dribble, with a combination of pull-ups and step back jumpers that allows him to get shots off over bigger defenders. This allows him to be effective as a scorer off pick and roll sets, which will likely be his bread and butter in the NBA. This year he's also used that attention to set his teammates up better, a key ingredient to allowing him to become a better setup man than he has been in years past.

McCollum has also improved his mid-range game, shooting a solid 38.2% on those attempts, a vast improvement over the 27.3% he shot as a sophomore, according to Synergy Sports Technology. The development of a lethal pull-up jumper has been crucial for somebody who isn't a terribly explosive finisher at the rim, and makes him tougher to defend.

One area where he still at times struggles has been as a spot-up shooter, shooting just 35.5% on catch and shoot opportunities. Much of this could be attributed to the defensive attention opposing teams pay to him, as the majority of his catch and shoot opportunities are contested, something that should change as he moves to being more of a complementary player at the next level. He shot a more respectable 40% on uncontested catch and shoot opportunities, against 32.6% on contested shots, although this is on somewhat of a limited sample size, as McCollum has been the focal point of the Mountain Hawks offense since the moment he set foot on campus. He has also had some success shooting coming off screens, lending more credence to the belief that he could see some time playing off the ball if paired with another playmaker in the same backcourt.

In terms of creating off the dribble, McCollum has good, controlled ball-handling skills and does a very good job of changing direction and speeds, allowing him to get into the lane virtually whenever he wants. He's not the greatest finisher at the rim due to his average explosiveness at the rim, but he has good body control and touch around the hoop, and this year saw his field goal percentage around the basket increase substantially, to 50.5%, up from 35.6% the prior year.

He'll likely never be a Derrick Rose type finisher at the rim due to his average strength and explosiveness, but his willingness to go get into the paint and draw contact will serve him well. McCollum's 8.2 free throw attempts per 40 minutes pace adjusted ranks 6th in our database amongst top-100 prospects, further illustrating how much of a complete all-around scoring weapon he's become.

Another area where McCollum excels is in transition. Extremely fast with the ball in his hands, his excellent defensive rebounding ability (7.6 defensive rebounds per 40 minutes pace adjusted, #1 in our database amongst guards) combined with his ability to generate turnovers (3.1 steals per 40 minutes pace adjusted, #1 amongst all college prospects) provides him ample opportunities to get out and run.

On the defensive end, McCollum is still somewhat of a mixed bag. He is clearly undersized, both in length and in strength, to defend the shooting guard position. He also has a tendency to put himself out of position when gambling, although with the amount of steals he generates, this was likely by design. But the effort and especially the anticipation skills are there, and in a smaller role where he's not forced to shoulder an entire college team's offense, he has the potential to be fairly effective, especially defending point guards.

It's hard to take too much out of a short tournament run, but for a player who has clearly been one of the most productive guards in all of college basketball, McCollum success -- and the success of the team -- against Duke was an eye opening performance. While McCollum won't have the offensive freedom he had at Lehigh, he shouldn't have too many problems finding a role in the NBA, at the very least as a spark off the bench, something that is very much in need in today's NBA.

With his overall offensive ability and his excellent work ethic, it's hard to believe McCollum won't at least get the chance to prove he belongs if he decides to enter the draft this year. The success of smaller school players like Jeremy Lin and Stephen Curry—who he very much resembles—should work in his favor, and he's more than talented enough to do the rest, if given the opportunity

[Read Full Article]

---
Top NBA Draft Prospects in the Non-BCS Conferences, Part 5 (#21-25)
November 9, 2011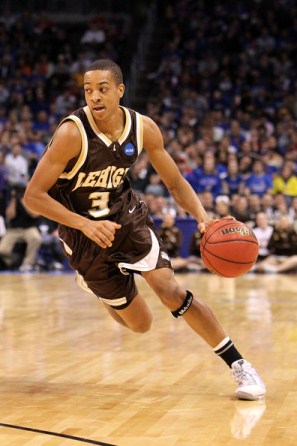 Icon SMI



Jeff Rush

C.J. McCollum had one of the best freshman seasons in the history of the Patriot League, leading all freshmen nationally in scoring, winning conference Rookie of the Year and Player of the Year awards, and taking his team to the NCAA tournament. As a sophomore he again led his class nationally in scoring, but both his team and his game seemed to regress. He is still one of the most prolific scorers in the nation, but needs to regain the efficiency he showed during his freshman season to continue to hold the attention of NBA scouts.

McCollum is a natural born scorer who can fill it up in every different way at the college level, and is capable of getting hot and hitting incredibly difficult shots from all over the floor. Undersized for a shooting guard at 6-2 or 6-3, he is not a great athlete by NBA standards, although he shows good length, fluidity and quickness. With that said, he does not have the explosive leaping ability needed to compensate for his lack of size and finish over taller defenders.

Another concern is his lack of strength, as he is listed at just 165 pounds, sports a very skinny frame, and does not seem to have put on a significant amount of weight in his first year in college, which makes it difficult for him to finish at the rim while taking contact. For him to reach his full potential, McCollum must maximize his physical tools in order to take full advantage of his skill set.

Since the first moment he stepped on the court for Lehigh McCollum has been the focal point of Lehigh's offense, and he does a tremendous job of changing pace to create space in order to get his shot off against defenses designed to stop him. He has a solid handle and does a very good job of shooting the ball off of the dribble using a variety of step back moves as well as his quick release to create looks for himself. However, it was clear that being forced to take and make difficult jump shots had a major effect on McCollum's efficiency in his sophomore year, while his current role raises questions about his position at the next level.

One of the reasons that McCollum was so effective as a freshman was his ability to knock down shots from behind the arc, converting 42% of his 3-point attempts. That rate dropped by nearly 11% as a sophomore as he was forced to take much tougher shots in the half court, something that's more difficult for him at his size.

Inside the arc, McCollum's efficiency dropped off as well, with his 2-point percentages going from 48% to 43% as a sophomore. He has a difficult time finishing over length around the basket, making him very reliant on his mid-range pull-up jumper when creating his own offense. This is a shot that will never be a high percentage opportunity in the college game, regardless of how talented a scorer he is.

McCollum compensated for his struggles in the half court somewhat by getting out into transition and getting to the free throw line at a slight better rate. He shot 8.0 free throw attempts per-40 pace adjusted and made 84.5% of his attempts.

The most unique part of McCollum's game is his ability to rebound the ball, his 8.3 rebound per-40 pace adjusted ranked second nationally amongst shooting guards in our database, with him being the only guard in the top 5 that is listed at 6'2 or shorter. He does most of his rebounding on the defensive end, where he likes to push the ball up the floor quickly and create opportunities in the open court.

McCollum is not a great defender, preferring to gamble in the passing lanes using his long arms to create turnovers and ignite Lehigh's fast break. He ranks is in the top 5 nationally in steals per-40 pace adjusted according to our database, which helps to cover for some of his deficiencies in guarding the ball at this level.

As an undersized shooting guard from a non-BCS conference who is not asked to run the point often, McCollum is already at somewhat of a disadvantage as a NBA prospect. He does have a pretty good feel for the game, but is more comfortable making plays for himself than getting good shots for his teammates. McCollum is likely too small to play shooting guard in the NBA, so he's going to have to develop his playmaking ability somewhat. It is also imperative that he gets stronger in the next couple of years in order to be more effective playing through contact and finishing at the rim. He does a good job of getting to the basket using guile and aggressiveness, but he needs to do a better job of completing the play once he gets there.

McCollum hasn't fared terribly well outside of the Patriot conference in his first two seasons statistically, something he'll have to do a better job with if he's to convince scouts that he can make the transition from low-major scorer to NBA combo guard. He will have to greatly improve on these numbers and he will have opportunities against St. Johns, Iowa State, Fordham, and Michigan State to show that he has the ability to play well against bigger and longer athletes in his junior year.

[Read Full Article]

---
Top NBA Draft Prospects in Non-BCS Conferences, Part Three (#16-20)
November 7, 2010
Matthew Kamalsky

The most prolific freshman scorer in Division I last season, Lehigh's C.J. McCollum earned little buzz for averaging nearly 20-point a game playing in a small conference. Heralding from the same Glen Oak HS that produced Kosta Koufos, McCollum was not a highly ranked recruit a year ago, but that didn't stop him from leading Lehigh to a NCAA Tournament appearance and scoring 26 points, albeit on 7-21 shooting, against top-seeded Kansas. While McCollum still has a lot to prove from a NBA perspective, it is worth noting what he showed last season.

Lighting up the scoreboard on a nightly basis in Patriot League play, McCollum showed a versatility on the offensive end that could become even valuable to him as his body matures and his skills improve. Standing 6'3, McCollum is undersized for a shooting guard, but he has long arms and three years to show the development in his playmaking ability that would allow him to run the point at the next level. His quickness appears only average, but he changes speeds well and is very smooth with the ball in his hands. McCollum's biggest weakness physically is his lack of great strength. He gets off the floor fairly well when he has time and space, but his slight frame makes him a bit turnover prone when he operates off the dribble in the lane, limits him when he attempts to finish in a crowd, and makes him a mediocre one-on-one defender.

McCollum's ability to improve his frame and become a bit more dynamic athletically will be integral to his development as a player and prospect. An aggressive and savvy offensive threat for a player his age, McCollum showed the ability to knock down shots from the perimeter as well as the midrange and use his deceptive first step and quick jab steps to get into the lane off the dribble. However, he doesn't have the strength or lateral quickness to defend at a high level, even though he shows a fine effort level on that end of the floor

Despite struggling from the perimeter in Lehigh's surprise tournament appearance, McCollum proved to be a highly effective shooter from beyond the arc. He wasn't overly efficient for stretches last season, but seemed to get into a rhythm in conference play. Ending the season shooting 42.1% from beyond the arc, McCollum proved to be a solid spot-up threat, showing absolutely tremendous touch from the perimeter. McCollum's jump shot is a thing of beauty when he has time and space, he could stand to force less contested shots from the perimeter, as he tends to adjust his mechanics and isn't as efficient with a hand in his face as a result.

As it stands, McCollum gets most of his possessions working off the ball, seldom running the pick and roll, but showing a knack for knocking down shots running off of screens in the sets Lehigh uses to free him up. He also proves to be a pretty capable shooter off the dribble, taking almost as many jump shots from inside the arc as he does from beyond it. A steady ball-handler, McCollum does not have the blow-by quickness to create his own shot at will in one-on-one situations, but does a good job using his defenders momentum to his advantage and often opts to take the ball to the rim in isolation situations.

When McCollum attacks the rim, he fares surprisingly well despite being pretty predictable with his drives and lacking great leaping ability and strength. McCollum flashes a deft floater that could be useful to him down the road when he looks to take his offensive arsenal to the next level. His ability to score around the rim and off the dribble against more athletic defenders is something scouts will inevitably put under the microscope down the load.

Watching McCollum in Lehigh's game against Kansas during the 2010 NCAA Tournament provided an interesting glimpse of what he brings to the table against high level competition. Matching up against Kansas's highly athletic backcourt, McCollum d struggled to get an open look from the perimeter, but got to the line for 13 free throws and held his own despite seeming overmatched physically. Seldom seeing an athletic 7-footer like Cole Aldrich or a guard quite as athletic as Tyshawn Taylor in the Patriot League, McCollum's biggest obstacle moving forward from a NBA perspective will be answering the inevitable questions about the quality of competition he plays on a nightly basis.

Lehigh's non-conference schedule includes games against Penn State and USC this season, offering a few more opportunities to see McCollum compete against BCS competition. Like Seth Curry, McCollum surely could have used his outstanding freshman season to take his game elsewhere, but decided to return to Lehigh. His showdown with Talor Battle will be one worth watching, and it will be interesting to see if McCollum can take the step from small-college star to NBA draft prospect. With three more years to work with, McCollum is a player we'll undoubtedly be revisiting down the road.

[Read Full Article]

---