Cameron Ridley
Recent Tweets
All Tweets
DraftExpress: Top NBA prospects in the Big 12 #s 6-10 Cameron Ridley Georges Niang Perry Ellis Prince Ibeh Tarik Black\n http://t.co/mbXcQrbe1B
2013-09-27 16:36:13
DraftExpress: Regarding realistic expectations, Cameron Ridley is a good candidate for that. Really struggling here in Chicago athletically & skill-wise.
2012-03-27 11:03:03
DraftExpress: DraftExpress: Interviews w/ Kyle Anderson, Robert Carter, Cameron Ridley, & Anthony Bennett from Boost Mobile Elite 24: http://t.co/TZrfNpNg
2011-09-25 11:42:23
DraftExpress: DX 2012 HS scouting reports: Kris Dunn, Cameron Ridley, Gabe York, Shaq Goodwin, Sam Dekker, Amile Jefferson and more: http://t.co/UrRrUxx
2011-09-08 10:11:00
DraftExpress: Taking in some of high school guys now. Andre Drummond, Shabazz Muhammad, Isaiah Austin, Cameron Ridley, Rodney Purvis all on same roster!
2011-08-05 02:45:12
Team: Texas, Junior
Physicals
Positions
Rankings
Misc
H: 6' 10"
W: 262 lbs
Bday: 10/27/1993
(20 Years Old)

Current: C
NBA: C
Possible: C

Pick: 57 in 2015 Mock Draft
Rank 90 in Top 100 Prospects
Rank 14 in NCAA Juniors
RSCI: 14

High School: Bush
Hometown: Fort Bend, TX

Predraft Measurements
| Year | Source | Height w/o Shoes | Height w/shoes | Weight | Wingspan | Standing Reach | Body Fat | No Step Vert | Max Vert |
| --- | --- | --- | --- | --- | --- | --- | --- | --- | --- |
| 2011 | Amare Stoudemire Camp | NA | 6' 10" | 262 | 7' 4" | NA | NA | NA | NA |



Basic Per Game Statistics

- Comprehensive Stats - Statistical Top 25s
| Year | League | Name | GP | Min | Pts | FG | FGA | FG% | 2Pt | 2PtA | 2P% | 3Pt | 3PtA | 3P% | FTM | FTA | FT% | Off | Def | TOT | Asts | Stls | Blks | TOs | PFs |
| --- | --- | --- | --- | --- | --- | --- | --- | --- | --- | --- | --- | --- | --- | --- | --- | --- | --- | --- | --- | --- | --- | --- | --- | --- | --- |
| 2013/14 | NCAA | Cameron Ridley | 35 | 25.6 | 11.2 | 3.8 | 7.0 | 54.5 | 3.8 | 7.0 | 54.5 | 0.0 | 0.0 | &nbsp | 3.5 | 5.7 | 62.6 | 3.3 | 4.9 | 8.2 | 0.4 | 0.5 | 2.2 | 1.6 | 2.9 |

Player Page&nbsp&nbsp| Player Stats | Mock Draft History | Related Articles&nbsp&nbsp| Add to My Draft Express&nbsp
&nbsp
Top NBA Draft Prospects in the Big 12, Part 4 (#6-10)
September 27, 2013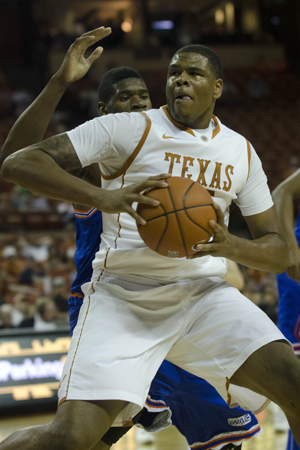 US Presswire



Joe Treutlein

Cameron Ridley had a somewhat underwhelming freshman season at Texas relative to his lofty pre-college recruiting rankings, not being an especially productive or efficient player overall on a team that finished with a 16-18 record and couldn't even qualify for the postseason NIT, let alone the NCAA Tournament. Still, the 6'10 center got some nice experience under his belt, starting 19 of 33 games while being effective with defense and rebounding, leaving the door open for him to take a step forward as a sophomore.

Standing 6'10 with excellent length and a large and strong frame, Ridley certainly looks the part of an NBA big man at first glance. Like when we profiled him in high school, he still is not a very impressive athlete in terms of quickness and explosiveness, not being especially fast running the floor and not being a very good leaper either. While Ridley is not an out-of-shape player by any means, he probably could see some slight gains in the athleticism department by further chiseling out his body and maximizing his strength and conditioning, and that's certainly something he should explore doing to maximize his potential.

On the offensive end, Ridley is a player who strictly operates within five feet of the basket, and with good reason (as evidenced by his 33.8% FT%). Ridley does the vast majority of his scoring on dump-off dunks and lay-ups around the basket or putbacks from offensive rebounds, being pretty effective in both regards by virtue of his excellent size, strength, and soft hands. He shows little problems finishing with power, usually having no issues elevating enough for dunks (he doesn't have to get very high given his standing reach), even when he gets the ball a few feet away.

Ridley's ability to finish with touch is less consistent, as he struggles at times in this area even from just 3-5 feet from the basket. He has respectable jump hooks and mini turnaround jumpers in his arsenal that he can use from time to time, but his accuracy is not great and he just doesn't seem to have a great feel for putting the ball in the basket on finesse moves. His back-to-the-basket game is similarly raw in terms of his footwork and arsenal of moves, and at this stage he is a very inefficient player on anything other than simple lay-ups and dunks directly at the basket.

On the defensive end, Ridley is less raw and more of a complete player, being an effective man-to-man and help defender, along with a very good rebounder. He isn't the fastest player running the floor, but shows good effort in half court sets, showing solid weakside awareness and taking advantage of his size and length to block a very solid 3.2 shots per 40 minutes pace adjusted. His man-to-man post defense may be the strongest area of his game at this stage of his development, as he shows solid fundamentals while making excellent use of his size and length, while even being surprisingly adequate in moving his feet to stay in front of his man.

On the negative side, Ridley looks like a complete fish out of water on the rare occasion he has to defend pick-and-rolls, not showing the best change of direction abilities or awareness hedging and stepping out onto the perimeter, but this isn't very surprising given his age and the type of player he is.

The other area Ridley excels with at this stage is rebounding the ball, where he's pulling in a solid 10.4 boards per 40 minutes pace adjusted, a mark he can certainly improve upon with his physical attributes. Given there are many areas of his game where Ridley will likely always be a liability, getting the most he can on the glass will be key to his long-term prospects, and something he needs to make a priority with his game.

Looking forward, Ridley is someone NBA teams will surely be keeping tabs on given his size, and it doesn't hurt he was ranked a top-15 player coming out of high school and is already starting for one of the most recognizable programs in the country. Maximizing his abilities in the three areas of his game he's already a competent player - inside scoring, defense, and rebounding - should be his highest priorities, but getting the most out of his athletic abilities and developing into a respectable free-throw shooter also would help. Regardless, given how raw he is, Ridley is someone who likely will be in Austin for a few more years, so he still has plenty of time to put things together.

[Read Full Article]

---
Boost Mobile Elite 24: Interviews (Part One)
September 25, 2011
[Read Full Article]

---
adidas Nations: Top 2012 High School Prospects
September 7, 2011
Jonathan Givony

An old school, no-frills type big man that any college coach would love adding to their frontcourt rotation, it's not difficult to see on first glance what the recruiting services like about Cameron Ridley (#6 Scout, #21 Rivals, #8 ESPN). Standing a legit 6-10, with extremely long arms, big hands and an NBA caliber frame, Ridley is a true load inside the paint, and doesn't have any misconceptions about the type of player he is.

Not terribly quick or explosive, Ridley is comfortable making a living inside the paint, where his big frame, soft hands, nice touch, strong fundamentals and solid toughness allow him to make a significant impact at this level.

Ridley isn't the most skilled or technical player at this stage, but he's capable of scoring in a couple of different ways, be it with some basic post moves, a 15-foot mid-range shot, or a turnaround jumper he gets off with a very high release point. He grabs offensive rebounds with terrific timing, positioning and soft hands, not being afraid to put a body on an opponent and move him around with superior strength. Despite his lack of overwhelming athleticism, Ridley is able to get the job done inside the paint due to his basic skill-set, energy level and sheer length, which makes him a pretty rare commodity at the collegiate level.

Defensively, Ridley uses his body well inside the paint and shows nice timing as a shot-blocker, something that may not necessarily translate to higher level competition due to his below the rim style of play. When forced to step outside the paint, he struggles badly, as his lack of lateral quickness makes it very difficult for him to move his feet adequately, which makes it hard to see him playing any other position except center in the long-term.

In the short-term, it's easy to see why Ridley is such a sought after collegiate prospect. However, he's going to have to prove that his average athleticism will not hinder him from making an impact at the NBA level, something we'll reassess after he suits up at Texas.

[Read Full Article]

---