Chris Douglas-Roberts
STRENGTHS:
- Floater
- Scoring instincts
- Ability to create own shot
- Ball-handling skills
- Ball-handling skills w/either hand
- Change of gears/Hesitation moves
- Perimeter defense
- Aggressiveness
- Confidence
- Physical Toughness
- Strong Intangibles
- Work ethic
- High-level productivity
- Ability to finish around basket
- Body control
- Core strength
- Excellent first step
- Explosiveness
- Size for position
- Undersized
- Wingspan
- Improved perimeter shot
WEAKNESSES:
- Decision making
- Mid-range game
- Out of control at times
- Unorthodox style
- Assist to turnover ratio
- Strength
- Excellent rebounder
- Limited number of 3-point attempts
- Pull-up jumper
Recent Tweets
All Tweets
Jabari Brown has a little Chris Douglas-Roberts style swagger going for him. Better body and definitely a better shooter though. Impressive.
2010-08-26 17:52:04
RT @WojYahooNBA Milwaukee trades NJ the 44th pick for Chris Douglas-Roberts, league source tells Y!. Now Jersey hold Nos. 3, 27, 31 and 44.
2010-06-22 23:41:02
Top 25s - Full List
Team: Clippers
Physicals
Positions
Rankings
Salary
Misc
H: 6' 7"
W: 200 lbs
Bday: 01/08/1987
(28 Years Old)

Current: SG/SF
NBA: SG
Possible: SG

RSCI: 42

Agent: Leon Rose

High School: Northwestern HS
Hometown: Detroit, MI
Drafted: Pick 40 in 2008 by Nets
Best Case: Jerry Stackhouse
Worst Case: Marquis Daniels




Basic Per Game Statistics

- Comprehensive Stats - Statistical Top 25s

Player Page&nbsp&nbsp| Player Stats | Related Tweets | Mock Draft History | Related Articles&nbsp&nbsp| Add to My Draft Express&nbsp
&nbsp
Orlando Summer League, Day One
July 8, 2008
Douglas-Roberts looked very comfortable making plays in New Jersey's dribble-drive motion offense, which just happens to be the same offense his team ran in college. He made a number of very impressive plays offensively, particularly in one on one situations where he was able to create shots for himself and pull-up off the dribble for a traditional mid-range shot or his trademark floater. He rarely went all the way to the basket, but instead preferred to elevate as soon as he had space to operate—which works well for him. He was extremely aggressive and at times showed that same loose handle dribbling the ball right in front of his defender that worried some NBA execs on draft night, but at the same time he got the job done offensively the way he always does, and took one small step forward in terms of proving that he went much lower in the draft than he should have gone.

[Read Full Article]

---
Cross-Country Workout Swing, Part 5, A.T.T.A.C.K. Athletics, Chicago
May 25, 2008
Considering that he did not take part in the scrimmage and we mostly got a chance to watch him shooting jumpers on his own, there really isn't a great deal of new information to add to the extremely intensive evaluations we've done on him over the course of the past two seasons, which weigh a lot more heavily in our mind considering his overall body of work.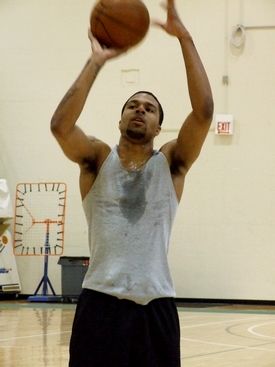 Jonathan Givony, DraftExpress



Douglas-Roberts' frame looks pretty toned, and he seems to have added a bit deal of weight from what we could tell. He's got a very good wingspan as well, and is an extremely confident player on the court. He shot the ball very well in the first day of workouts we took in, and then not quite as well in the second. His ball-handling looks a bit loose at times in this open setting, even though he wasn't particularly turnover prone at the collegiate level. Athletically, he is good, but probably not amongst this draft's best.

The bottom line is, Douglas-Roberts probably isn't the greatest workout player you'll find, which is not surprising considering his highly unorthodox style of play. He is a lot more impressive in the stuff that actually counts—the real games. Teams will be a lot more impressed breaking down his tape and seeing the 25 points per game he averaged per-40 minutes, the 54% he shot from the field, or the 41% he shot from behind the arc. They'll also be impressed by the way he speaks and conducts himself off the court—smoothly and extremely confidently, just like he does on it. Check out the interview we did with him in Chicago for a perfect example of that.

Procopio's thoughts on Douglas-Roberts: He's a very effective basketball player, he really has the ability to shoot the ball. He'll be able to come off pin-downs and screens in the NBA and be a very good spot-up shooter, and that will open up drives for him. A guy who can shoot the ball like he can will be in the league for as long as he wants. He is a great floater, and is just a very smart all-around player. He's not a one-trick pony. He's a player you can throw in the game and ask to get baskets for you because he knows how to read defenders. He's learning every day, and is very efficient."

[Read Full Article]

---
NCAA Tournament Performers, 4/2/08-- Part Two
April 2, 2008
Although he's getting nowhere near the same NBA draft attention as his teammate Derrick Rose, Chris Douglas-Roberts is having every bit as good a season, if not much better when taking the entire year into account. Recently named a first-team All-American, and on the heels of back to back 25 points games in the Sweet 16 and Elite Eight to help propel Memphis into the Final Four, he's forcing NBA scouts to adjust to his unorthodox game. Douglas-Roberts puts up some of the best all-around numbers of any wing prospect in this draft, but many people still have a hard time getting over his awkward, hunched over posture on the court, his skinny frame, and unconventional ball-handling and scoring style. "Nothing he does is pretty," told us one respected NBA executive, "but he finds a way to but the ball in the hole, even though he moves like he's 60 years old."

Does CDR, as he's called, have the physical tools needed to play heavy minutes as a swingman in the NBA? "He's not an athletic freak, but to me that's not really a concern," tells us the same NBA talent evaluator—"he makes one or two plays every game that make you go 'holy ****'--finding a way into the lane and then absolutely tearing the rim off. Being the best player on possibly the best team in America has to say something…"

The numbers are pretty staggering when you look at them and compare what he's doing with his peers in this draft class. On a per-40 minute pace adjusted basis, Douglas-Roberts ranks in the top five in scoring amongst realistic shooting guard prospects, as well as #1 by a large margin in FG%, top five in 3-point percentage, top 5 in free throw attempts, top 5 in PER, top 5 in points per possession, top 5 in true shooting percentage, top 5 in effective field goal percentage, and 8th best in turnovers per possession.

While his numbers are up across the board from last season to this, what's even more interesting is just how much Douglas-Roberts has changed his playing style…According to Synergy Sports Technology's quantified player reports, jump-shots (mid-range and 3-pointers) only accounted for 24% of CDR's offense last season, of which he converted only 35%. This season, jumpers account for 46% of his offense, and he is converting on 43% of them. He looked fairly limited last season in the fact when he put the ball on the floor, he strongly preferred going right (61%), while this season he's almost even at 49% right, and 51% left. Last season, when he started slashing, it was pretty obvious that he was going all the way to the rack—as he only pulled up off the dribble 12% of the time. This season, that number has risen to 58%. Even though he takes it all the way to the rack slightly less often, he still gets to the free throw line at a better rate, and converts on his shots at the rim on a phenomenal 64% clip, compared with "just" 57% last season.

Douglas-Roberts has his limitations. He's not the type of player you isolate out on the perimeter and ask to go to work creating his own shot, as his first step just isn't that great. He is very good when receiving the ball in motion, though, as Memphis' offense is patently known for, with a hand-off or an NFL style option/lateral pass. Once you get him going in space, he's tremendous due to his terrific body control, slithery nose for the rim, solid vertical leap, ability to dribble and finish with either hand, creativity and all-around tenacity. He's the type of player who just refuses to be contained, but rather than driving head-first into brick walls, also has terrific instincts for how to get his shot off effectively. You would think that his lack of bulk would hinder him from finishing around the rim, but that just doesn't seem to be the case, largely because of his will.

His in-between game is definitely the part of his game that has improved the most this season. Rather than pull-up off the dribble in traditional fashion like most players, he instead prefers to use some very crafty floaters with range that extends all the way out to the free throw line, sometimes using the glass. It's an unorthodox way of scoring, but it really works, as he releases the ball just too quick for opposing players to contest or block. He can shoot it "normally" too, as he sometimes does, and gets pretty good results here too.

From behind the arc, Douglas-Roberts has improved substantially this season as well, knocking down over twice as many 3-pointers, while improving his percentages from 33% to nearly 42%. He still doesn't attempt that many shots from that range, just over 2 and a half per game, but it's hard to fault him considering that he shoots 58% from inside the arc, and gets to the free throw line 5 and a half times per game. His 3-point stroke looks pretty fluid, although it's not particularly quick, and it seems that in time he should be able to develop NBA range at least with his feet set, even if this will probably never be his bread and butter.

On the other end of the floor, Douglas-Roberts is an integral part of one of the best defenses in all of college basketball. He has great size for the wing position at 6-7, to go along with an excellent wingspan, and is just as tenacious here as he is one the offensive side. His lateral quickness is not top-notch, although his tough, pesky nature helps compensate for most limitations he might have on this end.

Douglas-Roberts is widely expected to declare for the draft this year, and definitely has a strong case to be drafted in the first round, possibly even the top-20. His versatile offensive skills, combined with his size, length, outstanding instincts and overwhelmingly impressive numbers lead you to believe that he will have a long and successful NBA career, particularly when you take into account his intangibles, which are reportedly outstanding. He has a strong work ethic, is an excellent teammate, is very well-spoken, and has a will to succeed and win that can't be taught. A big game this weekend in the Final Four would certainly not hurt his cause, though.

[Read Full Article]

---
NCAA Weekly Performers, 12/05/2007 -- Part One
December 5, 2007
Chris Douglas-Roberts is off to a stellar start in his Junior season for Memphis, with his points per game average up over six points to 21.8, while he's only averaging 28.2 minutes per game so far. The numbers alone aren't what's impressive, though. It's how he's doing it.

Douglas-Roberts spent much of his offseason putting in extensive work on his mid and long-range jump shot, and the early results are promising, as he's hit 8 of 16 from behind the arc. Douglas-Roberts' shot looks better, too, as he's showing great release speed and more consistency with his motion. He still pushes the ball forward quite a bit, but it's not a major issue with his release speed, and is something that can be altered over time. Douglas-Roberts is also showing much greater confidence with his outside shot, looking comfortable spotting up or pulling up off one or two dribbles.

Douglas-Roberts still is at his best when he's taking the ball to the basket, using crossovers on the perimeter and spin drives in the lane to create high-percentage shots. If these few early games are not an aberration, it appears Douglas-Roberts has diversified and altered his style of play, not taking it all the way to the basket as frequently, but mixing in a lot more floaters inside ten feet of the basket, and trying to go around defenders rather than into them more often. Douglas-Roberts has continued to show good touch around the basket with both hands, and his one-handed push-shot floater is a thing of beauty.

Because he's making more of an effort to go around defenders, Douglas-Roberts is getting to the free throw line at a lesser rate, but his points per field goal attempt haven't gone down, as his shooting numbers are up across the board, even though it's based on a fairly small sample size.

Douglas-Roberts is also making a more concerted effort on the boards, especially on the offensive end, showing he doesn't need the ball in his hands to contribute there. He still doesn't really show the point guard skills many know he has from his high school days, but that's a consequence of Memphis' offense more than anything.

On the defensive end, for whatever reason, Douglas-Roberts looks a step slow laterally in the early going, having some trouble staying in front of quicker opponents on the perimeter. He's still playing good off-ball defense and fundamental on-ball defense, while putting in the necessary effort, but his quickness doesn't look as good as it has in the past.

With his play thus far, Chris Douglas-Roberts is putting himself firmly in first round draft discussions as well as First Team All-America discussions this year. His point totals have fluctuated noticeably between games this season, as with Memphis' outstanding talent and depth, he isn't always called upon to score 20+ points, but if he can maintain his current production for the rest of the season while continuing to show an improved perimeter game on the offensive end, he should be in lottery talks in the draft should he choose to declare.

[Read Full Article]

---
Chris Douglas-Roberts: "The NBA Isn't Going Anywhere"
November 21, 2007
After a strong 2006-07 season in which he was one of Memphis's top offensive options, Chris Douglas-Roberts has had an explosive start to his junior season. The 6'6" guard has posted averages of 23 points and 7 rebounds in his first four games and has emerged as the veteran leader of this very talented Tiger team. Douglas-Roberts was nice enough to take time out of his busy in season schedule to talk about the start of the season, Memphis's back-to-back Elite Eight trips, playing with new teammate Derrick Rose and the possibility of an NBA career.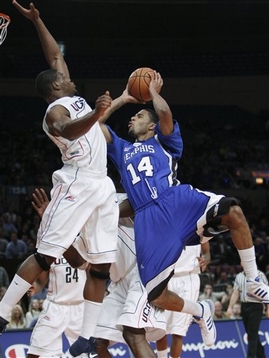 AP



Memphis plays one of most unique offensive systems in the country. How much of it is scripted around pre-determined sets, and how much is left up to the improvisational skills of whoever is pushing the ball at any given moment?

Our offense is an instinct offense. I call it controlled rec ball. Our 1-4 players are capable of scoring off the dribble, so that's what our offense basically is. Beat your man off the dribble if you can...if you can't, pass it to somebody else to drive it. We run a European style offense with really athletic players. If you can't play, you can't run this offense. We do not run the conventional style of basketball.

How long until you guys hit your stride and start dropping 100 on opponents?

Haha, we won't break the century mark every game, but there will be a couple when we score in the hundreds. Teams will try and slow the game down by playing zone, so we can't score that many points.

Does Coach Calipari [a former NBA coach with the Nets] ever make comparisons between things you guys are doing at the collegiate level with the way things are in the NBA?

We try not to mention anything about the NBA at Memphis. We just focus on being good college players. That's what makes us special, because our minds are all the same. We just focus on us (Memphis). When its time for the NBA, then we'll think about it.

Are there any NBA teams or players in particular that you guys watch and emulate?

Well I compare us to the playoff Warriors. They play similar to us. The Warriors team that almost swept the Mavs last season. Because both Coaches just let the players play their games. Plus my favorite player is Stephen Jackson.

How satisfied are you with your play this season so far?

When it comes to my game I'm never satisfied. I always feel I can get better. Even though I have improved a lot, I always want to get better...I'm always thinking of ways to improve my game. So far I feel I've played ok this season, but I'm my biggest critic.

What was the part of your game that you worked the hardest on over the offseason, and how much of a chance has the world gotten to see that so far?

In the offseason I really worked hard on my perimeter and mid-range shooting; I also worked on my body. I worked out two times a day in the summer. Earlier in the day I'd lift, and later in the day I'd just shoot until I was dead tired. I didn't count shots or shots made. I just shot until I couldn't shoot anymore. And from lifting I gained 15 pounds of muscle. I don't know if the world has seen either because the season has just started, but it will!

For someone who looks a bit on the skinny side (the undershirt doesn't help), you play awfully strong with the ball. Is that something you really focus on?

I naturally play strong with the ball. There is no player who likes turning the ball over, so I make sure I protect it. When I was growing up in Detroit, we didn't call fouls, so if you weren't strong with the ball, you couldn't play. So in order for me to play, I made sure I was strong with the ball. Growing up on the West side of Detroit will toughen anybody up. You won't survive over there if you aren't tough. As for the undershirt, I've been wearing it forever now. There is no way I can take it off now, I feel naked without it.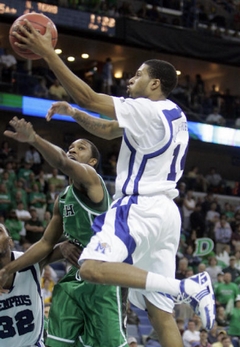 Memphis Athletics



Do you think you'll ever be able to become a prolific NBA-range 3-point shooter, or is your bread and butter in the pros always going to revolve around your slashing game?

There aren't too many prolific NBA three point shooters in the league. I can be a consistent 3 point shooter, though...but my game is slashing and being a good ball handler for my size. My ball handling skills really help me get in the lane and create shots for myself. If any pro teams are interested in me, I'm sure it's because of my slashing ability. That'll always be my bread and butter.

Coming out of high school, there was talk that you were more of a combo guard rather than a true swingman. Is it wrong to say that we haven't gotten to see much in terms of point guard skills out of you so far?

My point guard skills haven't gone anywhere. I'm just playing my role on my team--to help us win. We have great point guards on this team, so I really don't have to show any of my point guard skills. I really don't have a position. I'm just a guard who can score. I really couldn't label myself as a natural swingman. I'd say I'm a shooting guard with some point guard skills.

You've been listed at 6-5 earlier in your career, to 6-6, and now even 6-7 on Memphis' official website. What is your true height?

I was 6'5 in high school and my freshman year at Memphis I was 6'6. Our trainer measured me at the beginning of this season and I was 6'7. I won't be 21 until January 8th so I'm still growing. I'm a legit 6'7 now.

Last year, when everyone and their mother started entering the draft, did you begin to have some thoughts about maybe testing the waters yourself?

Haha, I'm not one of those players who enters the draft knowing they're not ready to be pros. So when everybody started entering, I just worked out even harder. I never considered entering, because I knew I wasn't ready. That's a life changing decision that you only get one chance to make. I'll never rush it. The NBA isn't going anywhere, and my main reason for coming back was to win a NCAA Championship.

Obviously it's extremely early, but you've probably at least given a little thought as to what you need to do to put yourself in position to play in the NBA next year, right?

Of course I've given it some thought. In order for me to be a pro, I have to dominate my position every game I play in college. If I can't do that, I won't stand a chance with the 2's in the league.

After being bumped out of the NCAA tournament in two consecutive years in the Elite Eight, what kind of experience did you gain that will help you and your team make it over the hump this season and make the Final Four?

There aren't too many teams who've been to two consecutive Elite Eights. I feel by doing so, we know what it takes to advance to the Final Four. I firmly believe in the "three times the charm" phrase. If we get back to the Elite Eight, we will advance this year. It's National Championship or bust.

This year, more so than the last two, Memphis is getting a tremendous amount of hype as a national title contender. Does the extra attention concern you?

The extra attention doesn't concern us at all. We brought this pressure on ourselves. As players, we want the pressure. We didn't like being underdogs or under the radar the previous two seasons. However, we know that we won't let all the attention stop us from playing with that chip on our shoulder. We're still Memphis now, we're not a BCS school.

There have been individuals in the past who have been critical of your conference schedule, saying that it doesn't stack up with those of other highly ranked teams. What do you say to that?

I can't argue with that at all. Conference USA doesn't stack up to other conferences. But our conference isn't weak at all. Conference USA will have at least three teams in the tournament this year. UAB, Houston, and Southern Miss compete with us every year. Any given night one of those teams can beat us. We didn't blow every team out in our conference. Most of those games were close, because we're every team's big game. We have the bull's eye on our back.

With so much talent on this team, what do you see your role as?

On this team I'm one of the leaders. My team looks for me to score as well. I just play whatever role I can for us to win every night. I may have a different role any given night. But when we need a bucket, I'm the guy they look to.

What is it like playing with a player like Derrick Rose, who was so hyped coming into the season?

It's a joy playing with Derrick. Hype or no hype, he's a great player to play with. We don't pay attention to the media that much at Memphis, we just play. There isn't a team in the country who wouldn't want Derrick Rose as their point guard. I love it.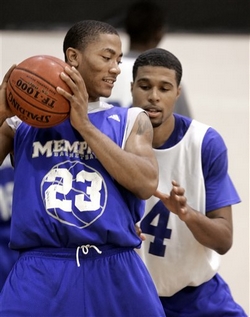 Derrick Rose guarded by Douglas-Roberts (AP)



Do you look at a site like ours as being something of a distraction, considering that we focus so heavily on individual play, but knowing that really your team's overall success is likely going to play a huge role in how high you get drafted?

I can honestly say I'm probably the ONLY college player who doesn't pay attention to draft sites. I NEVER look at them, nor do I google myself. I just go play basketball. Those sites can be a distraction if you look at them. I just focus on my TEAM. Individual is for the summer time. During the season it's all about team. I'll think about the NBA draft after the season is over.

[Read Full Article]

---
Top NBA Draft Prospects in the 'Other' Conferences (Part Two: #6-#10)
November 2, 2007
Probably ranked a bit low in hindsight after evaluating his game footage more extensively, there is really a lot to like about Chris Douglas-Roberts as an NBA prospect, especially when taking his physical attributes and production into consideration.

A 6-6 (although listed at 6-7 by Memphis) pure wing with a nice wingspan and outstanding athletic ability, Douglas-Roberts passes the eye test and then some on first glance. He has a fantastic first step, explosive leaping ability, excellent body control, and the core strength needed to put it all together on the floor. Douglas-Roberts has a somewhat lanky frame, but he plays extremely strong with the ball, being incredibly tough to deny angles to the basket, and very aggressive and confident when it comes to creating offense for himself.

The go-to option for an Elite Eight NCAA tournament team last season whenever they needed a basket, there is no reason to believe that Douglas-Roberts won't continue to establish himself as one of the premier scoring wing players in the country as a junior. On a per minute basis, "CDR" as he's called was the 5th best returning scoring sophomore in the NCAA amongst all draft prospects, which is impressive considering the team he played for when you look at the talent they had on their roster. It will be interesting to see how much the arrival of another very talented ball-handler in Derrick Rose will affect him. Rose is an unselfish and very pure playmaker, but he does need the ball in his hands to be effective, just like Douglas-Roberts.

Douglas-Roberts' bread and butter lies in his slashing game. He is not only an outstanding athlete, but is also an excellent ball-handler with either hand, allowing him to be almost ambidextrous with the way he creates (and finishes) his own shot, making him that much more lethal as a shot-creator. He knives his way through the lane with great purpose--featuring a terrific array of crossovers, jukes and body fakes--drawing contact and finishing extremely well at the basket, sometimes with a pretty floater, and sometimes with a highlight reel caliber dunk. Douglas-Roberts was considered a point guard prospect in high school back in Michigan, and he was one of multiple ball-handlers in Memphis' up-tempo offense who could get the team into their offense. His point guard skills aren't as immediately recognizable these days, though, as he appears to have a clear-cut scorers mentality.

Douglas-Roberts is a very tough player as you'd expect from a Detroit-born guard, and at times Memphis will even post him up a bit to take advantage of mismatches. He's strong and aggressive enough to carve out space for himself down there, and will even flash a little jump-hook shot to finish a play himself.

Where his toughness really comes out, though, is in his defensive ability. Douglas-Roberts has both the tools (size, length, lateral quickness) and the mentality to be a disruptive presence. He is a pesky, physical defender who sticks to his man and does not let up. He will come up with some steals and even the occasional block at times.

Despite all the positives, there are still some pretty noticeable drawbacks to Douglas Roberts' game as well. The most obvious one would be his perimeter shot—as he hit only 19 3-pointers last season on a 33% clip. His shot isn't broke, but the mechanics do need work, as his jumper looks different almost every time he takes one and often comes out as a push-shot. He's not a consistent threat from behind the arc even when left wide open, and this is something that is really holding him back from being considered a top-tier draft prospect at the moment.

As much as Douglas-Roberts is a slasher, you'd like to see him develop a better pull-up jumper he can utilize from mid-range when the lane is clogged. He much prefers going to his floater, which possesses range out to about 12 feet, but would be well served by adding a fluid pull-up shot he can execute off the dribble as well—which most NBA shooting guards have in their arsenal. According to Synergy Sports Technology's quantified stats, Douglas-Roberts goes all the way to the basket on 88% of his drives, which at times leaves him penetrating deeper into traffic than you might hope. This is fine at the Conference USA level, but won't translate as well to the NBA.

All in all, though, it's hard not to get the sense from evaluating his video in depth that we might have been sleeping on Douglas-Roberts a bit over his first two years at Memphis, due to their off the radar conference slate and stable of perimeter talent. That's going to change now going into his junior season, where we feel he could really develop into a major draft story. He's got the talent and the physical attributes, and if the preseason predictions are any indication, could be part of a NCAA tournament Final Four run, giving him exactly the boost he needs.

[Read Full Article]

---