Chris Wright (Dayton)
Recent Tweets
All Tweets
DraftExpress: Another Portsmouth update. Chris Wright (Dayton) has withdrawn, replaced by Portland's Luke Sikma. Updated Rosters: http://bit.ly/g8TRsl
2011-04-03 05:22:13
Top 25s - Full List
| Rank | Category | Total |
| --- | --- | --- |
| 25 | PF/g | 2.9 |
| 16 | PF | 103 |
Team: NON-NBA College Team: Rishon Le-Zion
Physicals
Positions
Rankings
Salary
Misc
H: 6' 7"
W: 219 lbs
Bday: 09/30/1988
(27 Years Old)

Current: SF/PF
NBA: SF/PF
Possible: SF/PF

RSCI: 57

Agent: Alex Saratsis

High School: Trotwood-Madison
Hometown: Trotwood, OH

Predraft Measurements
| Year | Source | Height w/o Shoes | Height w/shoes | Weight | Wingspan | Standing Reach | Body Fat | No Step Vert | Max Vert |
| --- | --- | --- | --- | --- | --- | --- | --- | --- | --- |
| 2010 | LeBron James Camp | NA | 6' 7" | 219 | 6' 9" | NA | NA | NA | NA |
| 2010 | Kevin Durant Camp | NA | 6' 7.5" | 219 | 6' 9" | NA | NA | NA | NA |
| 2009 | Vince Carter Camp | NA | 6' 7" | 217 | 6' 7" | NA | NA | NA | NA |
| 2009 | LeBron James Camp | NA | 6' 7" | 217 | 6' 7" | NA | NA | NA | NA |



Basic Per Game Statistics

- Comprehensive Stats - Statistical Top 25s

Player Page&nbsp&nbsp| Player Stats | Mock Draft History | Related Articles&nbsp&nbsp| Add to My Draft Express&nbsp
&nbsp
Atlantic 10 Conference Scouting Reports
March 17, 2011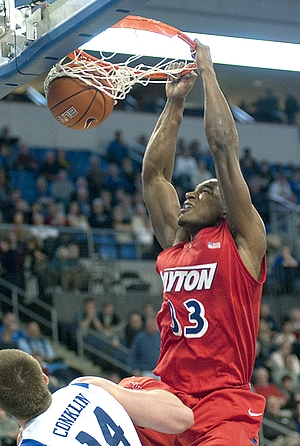 Icon SMI



Kyle Nelson

It is both easy and frustrating to evaluate Dayton senior Chris Wright. On one hand, Wright has absolutely stagnated since his sophomore season. He rarely produces consistently and has developed very little of the perimeter offense that he has showed in tantalizing flashes throughout his career.

On the other hand, Wright is an excellent athlete, and at 6-8 and 220-pounds, shows prototypical size and strength for the NBA small forward position. Furthermore, as was the case in his final college game, a 21-point and 13 rebound effort in an NIT loss to Charleston, he can contribute in spite of his lack of skill when he is aggressive and focused.

From a skills perspective, Wright is still very much the same player we've written about on numerous occasions since high school. He is most effective when cutting to the basket or scrapping around the rim, but he has developed his slashing game somewhat this season.

Despite predictably going right on almost two-thirds of his possessions, his first step, strength, and explosiveness allow him to get to the basket with relative ease, even if he does not have the greatest touch around the basket to finish. He is at his best when he is aggressively attacking the basket and drawing contact around the rim. Though he is not a great foul shooter, he gets to the line at an excellent rate when he puts his mind to it, finding ways to score despite his average ball-handling skills.

Unfortunately, Wright often defers to his jump shot, which is a shame considering he lacks solid shooting touch. According to Synergy Sports Technology, Wright converted just 30 of 100 jump shot attempts and on film, it is easy to see why. His mechanics are cramped including an inconsistent release point that lacks follow through. Though his below average wingspan may factor into his shooting woes, there are plenty of players with similar physical profiles who have developed as shooters. Wright must work hard during the pre-draft process to correct his mechanics and become a reliable spot-up shooter, especially if he fully transitions to the perimeter at the next level.

Wright's overall awareness, however, has noticeably improved throughout his time at Dayton and though he is still turnover prone, many of his turnovers are due to his shaky handle and his tendency for overambitious play rather than the questionable decision-making that plagued his early career.

He has also emerged as a fairly versatile defender in his senior season, capable of guarding quicker perimeter players and scrapping in the post. His overall effort and focus have improved considerably, even though he still struggles to hedge on pick and rolls and sometimes shows a lack of awareness on rotations. Wright has always been a great rebounder and he averaged a career high 11.5 rebounds per 40 minutes pace adjusted this season, indicative of his versatility and his potential to produce at the next level.

Ultimately, Chris Wright is still very much a raw prospect, lacking much in terms of a perimeter skill set. His elite size and athleticism remain intriguing, however, and if he can continue to show energy and effort on both ends of the floor, his potential may land him a spot in the second round of the draft if he impresses a team enough in workouts. Though his career at Dayton has ended, there is no doubt that he will opportunities to prove himself to scouts during the pre-draft process.

[Read Full Article]

---
Top NBA Draft Prospects in Non-BCS Conferences, Part Two (#11-15)
November 2, 2010
Matt Kamalsky

A player we've written about extensively over the past few seasons, Wright is one of the most explosive athletes in college basketball. His physical tools allowed him to make an instant impact as a freshman in the A10, and while he's had some excellent games over the years and seems to have made some small improvements to his game, Wright's weaknesses remain consistent with what we've noted in the past. After declaring for the draft last spring, Wright determined that he wasn't projected where he wanted to be and that an additional year of development on the college level wouldn't be a bad thing. There is no denying that he has the physical tools to play in the NBA, but his ability to help the Flyers build on their NIT Championship last season and show that he can become efficient from the perimeter will play a key role in draft stock heading into next summer.

As we've mentioned time and time again, Wright is an elite physical specimen. He's quick, strong, and is capable of effortlessly playing well above the rim. Unfortunately, his role has stagnated and he hasn't developed the perimeter repertoire that would allow him to exploit his athleticism as a full time small forward. A bit of a tweener at this point, Wright's physical profile would look even more promising if he developed the reliable shooting ability that would put him in position to slide over to the small forward spot full time.

Wright's jump shot remains a major work in progress. Though he made some clear strides from his sophomore to his junior year in his ability to shoot of the dribble, the Trotwood-Madison product still has a long way to go. His form is a bit more consistent than it appeared to be when he arrived at Dayton, but Wright still forces some difficult looks from the midrange, allows his form to vary when he has a hand in his face, and is not a serious threat to catch and shoot from beyond the arc. His ability to knock down shots with range will be essential to his ability to exploit his solid first step down the road.

While his jumper will be important to his NBA prospects, Wright does most of his damage inside the arc at the moment. He shows a good activity level working the high post and the wings against zone and man defenses alike, is able to attack seams with simple straight-line drives off the bounce, and is a highlight waiting to happen every time he gets some room to gather himself around the basket in catch-and-finish situations. Though Wright could stand to become a more capable ball-handler, his biggest issue around the rim is one that we identified during the NCAA Tournament back in 2009: he tends to take a lot of short range shots moving away from the rim when defenders deny his penetration. Should Wright force defenders to respect his range or become a bit more reliable from the midrange, he could take a lot of pressure off of his ability to make high degree of difficulty shots around the rim.

Defensively, Wright has continued to make some subtle strides, doing a better job keeping the action in front of him and using his athleticism to make an impact as a result. He was more physical for stretches last season, and had some tremendous defensive performances because of it, but needs to bring that same effort every night. Already a great rebounder thanks to his physical tools, Wright certainly has intriguing defensive upside at the next level.

Wright's ability to parlay that upside into a selection in next summer's NBA draft will be heavily reliant on his ability to define his position and have a breakout year. He's seemingly been treading water for some time apart from some incremental improvements in his skill-level, and a big step forward would do wonders for him, as his athleticism by itself makes him an interesting prospect. With one year left to make an impression, Wright is definitely a player to keep tabs on.

[Read Full Article]

---
Notes on the 2010 Atlantic 10 Tournament Quarterfinals
March 13, 2010
Most notably, however, last night marked 6'8 combo-forward Chris Wright's exit from the tournament. Wright struggled with his shot, but used his quick first step, strength, and athleticism to attack the basket, putting points on the board despite his sub par shooting night.

His aggressiveness and assertiveness with the ball in his hands were a welcome sight, even though his shooting mechanics, ball handling, and perimeter instincts still need significant work. It seems as though he is slowly but surely on his way towards transitioning into a wing or legitimate combo-forward at the next level. He will have to prove himself defensively despite his lack of ideal length, but his above average lateral quickness, size, and quick hands should help ease the transition.

At this point, Wright's future plans are unknown. When we asked him about his plans for this summer and for next year, he responded, "That's not something that I'm worried about right now." Regardless, he showed the positive and negative aspects of his game and found a way to contribute regardless of whether or not his shot was falling.

[Read Full Article]

---
NCAA Tournament Performers, 3/25/09- Part One
March 25, 2009
After missing the middle-half of last season with an ankle injury, Chris Wright returned for his second year poised to make a big splash in the A-10. The super athletic forward had his ups and downs in conference play, assuming quite a few of the possessions left behind by graduated point guard Brian Roberts. Though his numbers may not jump off the page, Wright's game has made some strides since last season, and his new role for the Flyers should accelerate his long-term growth. After posting 27 points and 10 rebounds in Dayton's NCAA tournament upset of West Virginia, the young forward certainly deserves a reevaluation –especially when you consider the transition he's made this season.

Wright's biggest strength lies in his tremendous physical profile –which has, and could become even more valuable as he continues to improve his perimeter game. A bit stuck between positions this season after functioning almost exclusively as a power forward last season, Wright would be undersized at the four on the next level, but has ideal size for a wing. In addition to a well-developed frame, Wright is also one of the better athletes in college basketball. He's quick off his feet, incredibly explosive, and displays a terrific first step that has helped him score from the perimeter despite lacking much in the way of guard-skills.

Those physical assets alone made Wright a productive and efficient player as a freshman, when he shot 60.2% from the field as a role player. This season, Wright has seen his touches increase significantly, and though that increase has hurt his efficiency, much of the difference can be attributed to the fact that he has spent significantly more time out on the perimeter this year. Last season, Wright scored a lot of his points by being active without the ball, crashing the offensive glass, running the floor in transition, and being opportunistic when his teammates created looks for him. While he still gets many of his points in that fashion, his offensive opportunities now consistent of significantly more spot up and one-on-one opportunities. After functioning essentially as a catch-and-finish player last season, he is now beginning to become a more dynamic option on the offensive end.

Though Wright hasn't been as productive as he was against West Virginia on a regular basis this season, his tournament performances are a microcosm of what he excels at at on the offensive end. His first step allows him to get to the basket against most perimeter defenders, and though he desperately needs to work on his ball-handling ability, his knack for getting to the rim allows him to use his frame to get to the line and do some damage slashing inside. Despite his ability to create some looks for himself at the rim, Wright still needs to improve his finishing ability. He won't hesitate to dunk in traffic when he can gather and explode, but he tends to take a lot of short range shots moving away from the rim when defenders deny his penetration, and lacks the footwork to be an effective shooter off the dribble. Though he displays some range and catch-and-shoot ability, his offensive repertoire is still a major work in progress, but he's going to have every opportunity to improve on the job next season.

On the defensive end, Wright gets by on his physical gifts, but could definitely stand to show more discipline and generally improve his fundamentals. He's quite a shot blocker for a player his size –showing the ability to make athletic plays on and off the ball, and is also active in the passing lanes. Despite his physical stature, Wright doesn't always play physical on-ball defense, and should take the time to reach his defensive potential considering how beneficial that could be to him when he's making the transition to the next level.

Just a sophomore, Wright has plenty of time to blossom as a prospect. Head Coach Brian Gregory seems content to let him go through his growing pains on the perimeter, which could pay big dividends to both parties in the long run. While he's still got a lot of improving to do, Wright is a player to keep an eye on next season, when considering the draft may make sense considering his junior status.

[Read Full Article]

---
Top NBA Draft Prospects in the Non-BCS Conferences (Part Two: #6-15)
November 13, 2008
Despite playing just 15 games during his freshman season due to a fractured ankle, Chris Wright (Dayton) made quite an impact in his time on the floor for the Flyers, thanks to his fiery competitiveness and high flying ability around the rim. With less than half a season under his belt, Wright really didn't get the opportunity to develop like most freshman do over the course of a full year, but he still showed tools that made scouts scribble him into their notebooks as a name to keep an eye on for the future. It is very much worth noting though that Dayton got off to a 14-1 start with Wright in the lineup, and floundered to a 7-9 finish after his injury.

From a physical stand point, Wright is a phenomenal prospect. At 6'8" and nearly 230 pounds he has fantastic size for a perimeter player to go along with a big wingspan. Wright is a great athlete across the board. He is extremely fast in the open floor, able to beat plenty of smaller players up the court with or without the basketball. He shows a quick first step, being able to get to the basket on a regular basis in the half court set when his ball-handling skills aren't an issue. Once he gets in the lane, Wright is extremely explosive, showing tremendous leaping ability. We are talking about a top notch athlete, arguably the best in the Atlantic-10.

Wright's game is built around getting near the rim. He rarely shoots from the outside and when he does, he doesn't fare very well. The fact that he shot 80% from the free throw line last year does give some hope for the future as far as his perimeter game is concerned, but the 1 for 5 he shot from beyond the arc shows that he still has quite a ways to go. Wright has to rely almost entirely on his quickness to take defenders to the basket, as his ball handling skills are very limited at this point. The inability to dribble with his head up combined with his incapacity to change directions with the ball explains why Wright was one of the worst passers in our database last season, and turned the ball over at a very high rate. He garnered less than one assist for every five turnovers he doled out, which gives him the dubious distinction of ranking dead last amongst all players in the assist to turnover ratio category.

When Wright does get the ball around the basket it is a mixed bag. When he drives the lane he shows great body control in the air, but forces the issue much more than he should. He certainly needs to do a better job with shot selection. He seems to have his most success at this point when he reads the defense and cuts to the basket. Wright showed a knack last season for knowing when to dive down from the perimeter when teammates got into the lane.

The most encouraging sign for Wright offensively that we have seen so far is his immense hustle. He really works hard, particularly when down low trying to establish position or hitting the glass. Wright's 11 rebounds per 40 minutes is 7th amongst all returning players from last season's freshman class. The offensive glass in particular proved to be a successful area of the floor for Wright (7 vs. Toledo, 5 vs. High Point).

It was tough to get a real sense of how Wright stacks up defensively, as Dayton played a lot of zone when he on the floor. From what we have seen though, Wright has terrific tools, as he shows pretty very good lateral quickness and also uses his tremendous length to his advantage when defending on the perimeter. He loses focus sometimes in the zone and gets lost on his defensive rotations. More experience on the floor this year will help to alleviate some of these learning issues.

In Wright we are talking about an extremely gifted athlete, with loads of upside. With that said, he has a very, very long way to go in his development. Nearly every skill based aspect of his game needs to be greatly improved before we can begin mentioning him as an immediate NBA prospect. Improving his range, ball-handling skills and shot selection will all go a long way to making him a better player. At this point, Wright is more of a 4 than he is a 3 at the college level, but eventually moving out to the perimeter will benefit him greatly as far as his professional future is concerned. He is a player that we will certainly be keeping an eye on this season and beyond.

[Read Full Article]

---
Nike Jordan All-American Classic: Main Event Recap – Yellow Team
May 1, 2007
Chris Wright did an excellent job filling up the highlight reel here, as he'd consistently done during the practices and scrimmages leading up to the game, but he didn't do much else on the offensive end, not showing off a consistent outside shot or any reliable ball-handling skills. Wright scored mostly in transition, making some athletic jams and lay-ups, but also scored on some putbacks in halfcourt, as well as off a pick-and-roll in the halfcourt. He made one nice up-and-under mini-drive to the hoop in the halfcourt, but he missed the lay-up off the glass. Wright did a good job using his athleticism on the boards in the game, but still has a ways to go in developing his all-around game to be more than just a great finisher. With his athleticism, he has some potential, and he should get plenty of opportunities for playing time at Dayton, where he will have an environment where he could try to grow into more of an all-around player.

[Read Full Article]

---
Nike Jordan All-America Classic: Friday Practice
April 21, 2007
Chris Wright, the 6'7 one heading to Dayton, pretty much only did what he does best, using his explosive athleticism to finish in transition, doing so more than a handful of times on an assortment of jams and lay-ups, including one alley-oop catch. He also hit a fade-away 10-foot jumper from a halfcourt set and got a putback tip-in as well.

[Read Full Article]

---
Nike Jordan All-American Classic: Thursday Practice
April 20, 2007
Chris Wright, not to be confused with the other Chris Wright on the Blue Team who is heading to Georgetown, quickly stood out as one of the most explosive athletes here in attendance. Wright had plenty of explosive finishes in this practice, throwing down multiple jams cutting to the basket in the half-court and catching alley-oops in transition. He also hit a few outside shots, some from three-point range, making some of them while on the move. Wright didn't exhibit much in terms of ball-handling here, just showing the ability to finish at the rim and shoot outside jumpers, so his long-term position is a bit up in the air.

To give you an idea of Wright's athleticism, let me describe one of the more exciting plays of the day, just due to its sheer absurdity. Gary Johnson, a 6'7 PF headed to Texas, was playing on the squad opposite Wright's. Johnson got inside position in the post on Wright, sealing him out and catching an entry pass about five feet from the basket. Johnson, trying to draw an and-1 opportunity, up-faked with the ball and then quickly ducked down before going up with his shot attempt, hoping to draw contact from Wright. Wright, from a near standstill, bit for the fake, but rather than crashing into the ducking Johnson, he literally leap-frogged over his head! Johnson scored the basket, but he didn't draw the foul. I'm not sure how this skill will come in handy for Wright on the defensive end, but it's not something you see every day and was impressive nonetheless.

[Read Full Article]

---