Clint Capela
Recent Tweets
All Tweets
DraftExpress: Here comes the run on internationals we've been talking about at the end of the first. 25 (Clint Capela) & 27 (Bogdan Bogdanovic) already
2014-06-26 22:27:46
DraftExpress: Clint Capela gets drafted 25th by Houston. Very good pick but let's see if they keep it.
2014-06-26 22:15:26
DraftExpress: Clint Capela at the NBA Draft with his agents Jeremy Medjana and Bouna Ndiaye http://t.co/1cDciyC14h
2014-06-26 19:06:58
DraftExpress: Clint Capela is keeping his name in the draft according to his agent @Boundiaye.
2014-06-16 08:07:27
DraftExpress: DX A detailed video analysis of how Clint Capela and Jusuf Nurkic performed in their two head to head matchups http://t.co/JqUWoo6lY7
2014-06-11 16:45:10
Team: Rockets
Physicals
Positions
Salary
Misc
H: 6' 11"
W: 222 lbs
Bday: 05/18/1994
(21 Years Old)

Current: PF/C
NBA: PF
Possible: PF

Agent: Bouna Ndiaye
Current Salary:$1,189,200

High School: Institut Nacional du Sport de Lexpertise
Hometown: Geneva, Switzerland
Drafted: Pick 25 in 2014 by Rockets

Predraft Measurements
| Year | Source | Height w/o Shoes | Height w/shoes | Weight | Wingspan | Standing Reach | Body Fat | No Step Vert | Max Vert |
| --- | --- | --- | --- | --- | --- | --- | --- | --- | --- |
| 2014 | Hoop Summit | NA | 6' 11" | 222 | 7' 4.5" | 9' 2.5" | NA | NA | NA |
| 2013 | Eurocamp | 6' 9.5" | 6' 10.5" | 211 | 7' 3.5" | 9' 2.5" | NA | 27.5 | 31.5 |



Basic Per Game Statistics

- Comprehensive Stats - Statistical Top 25s
| Year | League | Name | GP | Min | Pts | FG | FGA | FG% | 2Pt | 2PtA | 2P% | 3Pt | 3PtA | 3P% | FTM | FTA | FT% | Off | Def | TOT | Asts | Stls | Blks | TOs | PFs |
| --- | --- | --- | --- | --- | --- | --- | --- | --- | --- | --- | --- | --- | --- | --- | --- | --- | --- | --- | --- | --- | --- | --- | --- | --- | --- |
| 2015/16 | NBA | Clint Capela | 18 | 19.1 | 8.5 | 3.7 | 5.6 | 65.3 | 3.7 | 5.6 | 65.3 | 0.0 | 0.0 | &nbsp | 1.2 | 2.4 | 48.8 | 2.6 | 4.2 | 6.7 | 0.5 | 1.0 | 1.4 | 0.8 | 2.1 |

Player Page&nbsp&nbsp| Player Stats | Mock Draft History | Related Articles&nbsp&nbsp| Add to My Draft Express&nbsp
&nbsp
Situational Statistics: the 2014 Power Forward Crop
June 21, 2014
Considering his incredible physical gifts, it's not much of a surprise that Clint Capela got a huge portion of his offense on cuts to the basket (31.2% of his offense) and from put-backs (16.3%). This heavy utilization of extremely efficient opportunities (Capela shot an incredible 73.8% on cuts and 65.5% on put-backs) is one of the primary reasons that Capela was the most efficient player in this group at 1.12 points per possession overall.

Capela's length, explosiveness, and touch around the hoop make him a very good finisher around the hoop, where an incredible 84.9% of his opportunities came from, far and away the most out of anybody in this group.
The work he still needs to put in shows up when Capela stepped away from the hoop, as he only attempted 0.3 jump shots per game, connecting on only 21.4% of the very small amount of jump shots he attempted. Despite this, Capela shows some potential in the pick and roll game due to his fluidity and touch around the hoop, and should he ever develop a reliable jump shot he will be even tougher players to defend in this group crashing to the rim after setting ball screens.

[Read Full Article]

---
2014 Nike Hoop Summit Video Interviews: Clint Capela, Nikola Jokic
April 15, 2014
[Read Full Article]

---
2014 Nike Hoop Summit: International Measurements
April 8, 2014
Clint Capela
Weight: 222 lbs.
Height (w/ shoes): 6'11"
Wingspan: 7'4.5"
Standing Reach: 9'2.5"
Hand Width: 10"
Hand Length: 9.6"

[Read Full Article]

---
NBA Draft Prospect of the Week: Clint Capela
January 21, 2014
Swiss big man Clint Capela is in the midst of an outstanding season in Pro A France, ranking among the top rebounders, shot-blockers and finishers in the league, despite being one of the youngest players actually receiving playing time.
---
-NBA Draft Prospect of the Week: Thanasis Antetokounmpo (Video Scouting Report)
-NBA Draft Prospect of the Week: Shabazz Napier (Video Scouting Report)
-NBA Draft Prospect of the Week: Bogdan Bogdanovic (Video Scouting Report)
-NBA Draft Prospect of the Week: Joel Embiid (Video Scouting Report)
-NBA Draft Prospect of the Week: Julius Randle (Video Scouting Report)
-NBA Draft Prospect of the Week: Jabari Parker (Video Scouting Report)
-Revisiting Nikola Mirotic (Video Scouting Report)
-Revisiting Alexis Ajinca (Video Scouting Report)
---
Capela is on a huge upswing since his Chalon team elected to fire head coach Mickael Hay and replace him with Jean-Denys Choulet, going 9-3 in league play since his hiring. Adding in his numbers from the highly competitive EuroCup, he's averaging 18.5 points per-40 on the season, while shooting an astounding 69% from the field, as well as 13 rebounds and 3.2 blocks per-40.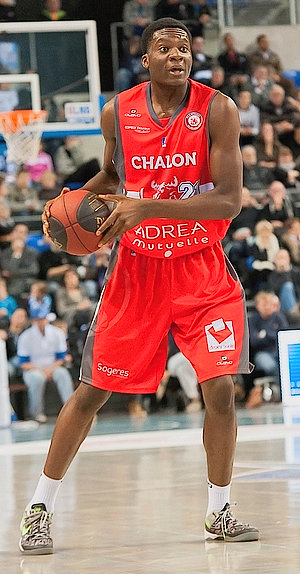 Seb-G/pb86.fr



Capela is coming off his best game of the season, a 18 point, 9 rebound, 2 block outing in 27 minutes against Strasbourg, where he shot a perfect 7 for 7 from the field.

His team narrowly missed qualifying for the French Leaders Cup at Disneyland Paris, which is somewhat of a blow for NBA scouts hoping to evaluate him in person alongside the other top seven teams in the league, but he's rumored to be strongly in the mix for an invite to the Nike Hoop Summit in Portland this April, which could serve as his coming out party for those who are not yet familiar with him.

Capela's strong play in France has encouraged us to take a comprehensive look at his very distinct strengths and weaknesses as a prospect, which we've done in the following video scouting report courtesy of Mike Schmitz.



All of our video scouting reports this season can be found here.

[Read Full Article]

---
Emptying the Notebook: Elite International Prospects Scouting Reports
October 19, 2012
Jonathan Givony

Strengths:
-Tremendous physical attributes
-Great frame
-Long arms
-Huge hands
-Terrific athlete
-Excellent timing as a rebounder. Goes after every loose ball with purpose
-Very quick first step
-Very good finisher around the rim
-Great potential defensively

Weaknesses:
-Hasn't accepted who he is yet as a player. Thinks he's a small forward
-Falls in love with his jumper, which is extremely streaky
-Average feel for the game
-Makes unforced errors
-Bad body language. Goes after his teammates

Outlook: Already seeing some playing time for Chalon, the Euroleague team from France. Possesses phenomenal physical tools. Can make a huge impact around the basket when dialed in. Has special rebounding instincts. Offensive game is very raw, but doesn't seem to understand that. Looks to have ample size to play the 4 at the pro level. Just needs polish up his skill-level and improve his basketball IQ and attitude.

[Read Full Article]

---
Nike International Junior Tournament Kaunas: Elite Prospects
February 14, 2012
Jonathan Givony

Regularly putting up huge numbers at the U-16 and U-18 Division B European Championships representing his home country of Switzerland, Clint Capela (or Clint NDumba-Capela) had a decent amount of intrigue leading up to this event. His performance here was ultimately fairly disappointing, but he did show that he has the tools to develop into a solid prospect down the road.

Capela's potential stems mostly from his phenomenal physical tools. Standing somewhere around 6-8 or 6-9, he has an incredible body for a player his age, to go along with a huge wingspan. He's an exceptional athlete on top of that, running the floor very well (when motivated) and being very explosive around the basket.

Offensively, Capela struggled to make a consistent impact at this tournament, only converting 44% of his field goal attempts and a paltry 33% of his free throws. He doesn't have the footwork to score with his back to the basket, and is far too limited on the perimeter to do anything consistent facing the rim either.

Capela's ball-handling skills are raw and his perimeter shooting ability non-existent at the moment, even air-balling a free throw at one point. Occasionally he would show the ability to beat his man from the high post off a single dribble with a quick and very long first step, but he wasn't always able to finish this moves. His basketball IQ appears to be limited, and he had trouble making simple catches at this event due to his poor hands. As the tournament wore on, he grew increasingly frustrated with his poor play, and began to display poor body language around his teammates and coaches.

Defensively, Capela has the physical tools to guard any of the opposing frontcourt positions and be an absolute dominant rebounder, but he rarely showed an inclination to give his best effort, especially when things weren't going his way on the other end of the floor. He tends to lose his focus and jog the floor lackadaisically in these moments, making some very careless mistakes.

Despite the very negative tone of this report, it's clear that Capela can easily turn things around for himself if he finds the willingness to do so. Significantly changing his approach to the game will make a big difference, as will working on his skill-level and improving his knowledge of the game. Players with his physical tools are extremely difficult to come by, so it's not out a stretch to say that he still has time to develop.

[Read Full Article]

---