Team: Ulm
Physicals
Positions
Rankings
Salary
Misc
H: 6' 7"
W: 205 lbs
Bday: 01/25/1988
(27 Years Old)

Current: SF/PF
NBA: SF/PF
Possible: SF/PF

RSCI: 99

Agent: Richard Katz

High School: Bloomfield Tech
Hometown: Newark, NJ
Drafted: Pick 42 in 2010 by Heat




Basic Per Game Statistics

- Comprehensive Stats - Statistical Top 25s
| Year | League | Name | GP | Min | Pts | FG | FGA | FG% | 2Pt | 2PtA | 2P% | 3Pt | 3PtA | 3P% | FTM | FTA | FT% | Off | Def | TOT | Asts | Stls | Blks | TOs | PFs |
| --- | --- | --- | --- | --- | --- | --- | --- | --- | --- | --- | --- | --- | --- | --- | --- | --- | --- | --- | --- | --- | --- | --- | --- | --- | --- |
| 2015/16 | Eurocup | Da'Sean Butler | 7 | 25.9 | 9.0 | 3.4 | 9.3 | 36.9 | 2.0 | 5.4 | 36.8 | 1.4 | 3.9 | 37.0 | 0.7 | 1.0 | 71.4 | 1.4 | 1.7 | 3.1 | 1.7 | 0.9 | 0.0 | 1.3 | 2.9 |

Player Page&nbsp&nbsp| Player Stats | Mock Draft History | Related Articles&nbsp&nbsp| Add to My Draft Express&nbsp
&nbsp
Da'Sean Butler: "I've Learned About Myself as an Individual"
June 17, 2010
Perspective is a funny thing. No matter how level headed a person thinks they are, real perspective can never be gained until they've seen how bad it can get.

While it's been an open and shut case for months that John Wall is the consensus top pick in this year's NBA Draft, it's even more of a runaway race for Da'Sean Butler having the most perspective of any of the prospects remaining in this draft class.

"I've learned from all of this that I can take a lot," Butler said. "I was pretty much at the highest point I could be when I was in the Final Four and then this happened."

The former West Virginia star is of course speaking of the night two months ago when his hopes of landing on an NBA roster this fall were suddenly thrown into a spin cycle. With a little less than nine minutes remaining in the Mountaineers national semi-final matchup with eventual champion Duke, Butler drove to the basket and collided with the Blue Devils Brian Zoubek. Moments later the senior forward lay on his back clutching his left knee, grimacing from the pain cause by a torn ACL.

It wasn't until the next day at an Indianapolis hospital that he learned the diagnosis. Just three months away from draft night, an injury of that severity seemed to spell the end of Butler's dream of hearing his named read by David Stern. But in a turn of character that speaks volumes about his maturity – a maturity that is far beyond his years – Butler immediately began to focus on what he needed to do in order to return to form.

"I was kind of upset about it but I realized I had a lot of work to do to get back to where I was before the injury," he said. "It was the perfect time really to make me a better player and a stronger person."

If teams made their picks based entirely on maturity or character, it's a safe bet Butler would be at or near the top of everyone's board. With that said, his body of work during the regular season was impressive enough that he still stands a very good chance of being drafted, despite not being able to participate in individual workouts.

Since suffering the injury in early April, Butler has spent time in both Morgantown and Pensacola, FL rehabbing his knee, first relying heavily on swimming pool workouts and more recently on the basketball court where he has received clearance to start running and jumping again.

While his personal focus has been physical, Butler's draft experience has been vastly different from other prospects in that he and agent Richard Katz haven't been selling what the 6-7 forward can do in the workout setting, but his existing body of work and what he brings to the table as a teammate.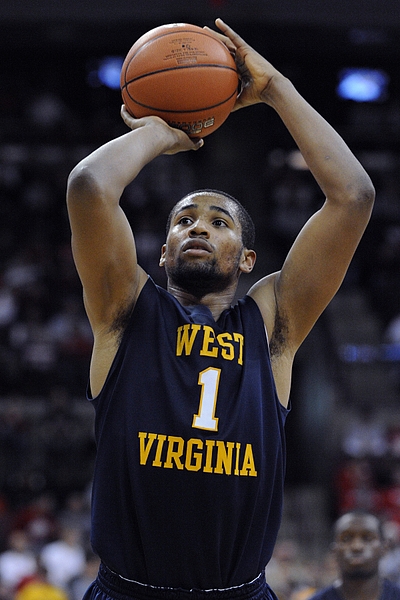 Icon SMI



While scouts and GMs turned out in droves to see what prospects could do on the floor at the NBA Combine in Chicago, Butler and Katz ventured to the Windy City on their own to sell the New Jersey native. The feedback was good.

"Teams gave me feedback as far as I would fit their system and I'm the kind of guy they'd love to have on their team," Butler said. "It wasn't so much about basketball as it was about me being a person they wanted, which is a good thing to hear."

Intangibles have been Butler's biggest selling point in his interaction with teams to date and according to him, few if any of his conversations with representatives have centered on the status of his knee. General Managers looking for answers regarding the Big East standout's ability on the court need look no further than his body of work from this past season.

Forget about the fact that Butler established career highs in scoring, rebounding and assists while minimizing his turnovers, the senior emerged as the go-to option for a team that spent the regular season ranked among the top teams in the country and made a run to the Final Four. The quality of his play this year has proved to be a great source of comfort for Butler in an otherwise trying time.

"I'm not going to say I was perfect all year, but I did well for myself, so I shouldn't have to worry about the basketball because I think I had a very good showing this season," he said. "When the injury happened I was sad because I really wanted to go show the people that I want to work out and play, but they've seen me play, so right now they just need to see what kind of a person I am. I'm not worried about that part because I know I'm a good person."

A good person who is ready to get back on the basketball court any way he can. While he won't be able to participate in the Summer League following the draft, Butler has been told that he will have a clean bill of health in time for the start of training camp.

Butler will be making his final pitches to teams in the final ten days leading up to draft night. He is scheduled to meet with The Thunder, Clippers, Trail Blazers and the Spurs, with a possible meeting with the Pacers also in the works.

Regardless of what teams come away thinking of his efforts on the court in the last year, there should be little doubt they will all come away impressed with Da'Sean Butler the person.

"I've managed to see positives throughout this entire process. Even when people are telling me I might not get drafted or something like that, hearing that and then thinking back to how I was fine a few months ago, I've learned about myself as an individual. Hearing the good things teams have to say about me just adds to my confidence."

[Read Full Article]

---
NCAA Weekly Performers, 2/19/10
February 19, 2010
Joey Whelan

We last looked at Da'Sean Butler exactly one year ago when the junior was in the midst of a career year, emerging as the top scoring option for West Virginia. Now in his final season at the college level, the combo forward is once again the top offensive weapon for the Mountaineers, but has made slight improvements in both his efficiency and his ability to facilitate the offense as he has seen his role as a playmaker increase.

The upperclassman's frame and physical attributes have been discussed at length in the past, specifically the solid size and length he possesses for his position. Given that he has undergone the gradual progression from undersized four to a perimeter player with the ability to operate against smaller players in the post, Butler has made himself an even more intriguing pro prospect in this regard. Unfortunately he remains a below average athlete, though, which may end up proving costly in the final evaluation NBA teams make on him.

As has been the case throughout his career, Butler continues to build his offense around his jump shot, with two-thirds of all shot attempts in half court sets falling into this category according to Synergy Sports Technology.

His size and somewhat awkward, high release make him a difficult player to stop from getting his shot off, but his average ball handling skills continue to hamper him from creating in isolation situations, as does his below-average quickness.

He is at his best when he can catch and shoot, something that West Virginia utilizes a great deal by running Butler off of screens, an area he excels by hitting on 60% of all shot attempts. Certainly the ability to score with a quick release will help him at the pro level, as will his perimeter shooting. While Butler's 37.9% shooting from beyond the arc may not jump off the page, it should be noted that this is a career high mark for him and is coming on more than five attempts per game, also a career high. West Virginia plays at an extremely slow pace and Butler is forced to shoulder a considerable role as a shot-creator on this point-guard deprived team, something that clearly hurts his efficiency.

What seems to have remained consistent in the senior's game is his lack of consistency to operate off the dribble. This is reflected in the fact that he opts to catch and shoot in the overwhelming number of his spot up chances. When pulling up off the dribble, Butler tends to rush his shot, often line driving his shot, resulting in just a 31% shooting average from mid-range spots, some 13 percentage points lower than he shoots in the paint or from beyond the arc.

When he does opt to go all the way to the rim, his size and strength help him a great deal to finish while absorbing contact, but his lack of explosiveness prevents him from being more efficient in this area. While he manages to get by reasonably well at the college level right now, this will become more of a glaring issue at the next level.

Where Butler definitely has turned some heads this season is with his added versatility. His single most impressive development has been as a playmaker, as Butler is averaging twice as many assists this season as he did a year ago while also significantly cutting down on the number of turnovers he commits. NBA teams are definitely going to show more interest in a 6-7 perimeter player with nearly a 2-to-1 assist-to-turnover ratio, especially considering his likely role at the next level.

Butler continues to be an adequate defender on the perimeter, benefitting from his length and good instincts. As has been discussed though, his average athleticism will make life more difficult for him against professional level opponents.

The Mountaineers leader is still very much in the mix for seniors who could hear their name called on draft night. While he hasn't made the kind of improvements in his shot-creating ability that he needed to, his increased production as a playmaker and perimeter shooter can certainly only help him. Butler will definitely benefit from a strong showing in March, where West Virginia could make a deep run, followed up by an impressive outing at the Portsmouth Invitational Tournament.

[Read Full Article]

---
NCAA Weekly Performers, 2/19/09
February 19, 2009
After playing a complementary role for the Mountaineers his first two seasons, Da'Sean Butler has stepped up firmly into his role as the team's focal point this season, leading his team in scoring with 18.3 points per game on solid efficiency (57% TS%), doing it all while he's playing a more perimeter-oriented game that will help his long-term growth.

Standing 6'7 with a strong frame and good length, Butler passes the look test for a small forward at first glance. Athletically, Butler has good coordination and mobility, but he's lacking in explosiveness at this stage, specifically vertically, which would make him a below average athlete at the small forward position in the NBA, even if it's possible he could improve with more lower body strength.

Looking at his game, Butler does most of his damage with his jump shot, which he's improved noticeably this season, as he's doubled the amount of jumpers he takes per game according to Synergy Sports Technology, while also improving his efficiency from both the three-point line and the free-throw line. Butler's jump shot is fairly unorthodox, as he brings the ball slightly overhead with a bit of a forearm hitch before he releases the ball and has a slight fade away on most of his shots, however with his elevation and extension he has a very high release point and pretty good quickness on his shot as well. In space, Butler is deadly, showing very consistent form as well as consistent results, and he also shows the ability to hit contested shots, though he's sometimes prone to opening up his form when rushed. Off the dribble, Butler is also strong in space, and he shows a decent command of shot fakes and step-back moves to gain separation, however he looks uncomfortable shooting off the dribble when closely guarded, not showing much fluidity between his dribble and shot, which shows in the results.

Butler's ball-handling abilities have always been a question mark with his game, but he's showing signs of improvement this season, even bringing the ball up the court for the Mountaineers at times. In the half court, Butler doesn't have a very quick first step, though he compensates with a good command of ball fakes and rip moves to get his defender off balance. On his drives, he's still mostly a straight-line driver, however he'll show flashes of spin moves and stepbacks in the half court, though his advanced ball-handling is still very much a work in progress.

In the lane, Butler shows good body control and the ability to pull-up from mid-range, making good use of the backboard on pull-up shots, though he's not a great finisher in traffic. At the rim, Butler is efficient when not bothered by a weakside defender, but with his lack of vertical elevation, he struggles when dealing with rotating defenders, not having the explosiveness to power over defenders, being very much a below-the-rim player in the half court.

Defensively, Butler looks comfortable defending on the perimeter, being consistently matched up with small forwards in games, showing a very strong stance, a good grasp of fundamentals, and very good anticipation and attentiveness. Laterally, Butler would be below average for an NBA small forward, but he makes up for it at this level with his other strengths, doing a good job to stay in front of his man while consistently getting his hands up to force tougher shots.

Looking forward, while Butler is having an outstanding season in one of the toughest conferences in America, he still has some work to do if he wants to find a long-term place in the NBA. Butler's ball-handling and shot creation should be a point of emphasis for him this offseason, while he should also do everything he can to maximize his explosiveness, which will be a likely point of concern for talent evaluators.

[Read Full Article]

---
Blogging Through the NCAA Tournament (Day 3)
March 22, 2008
Lost in the excitement around Joe Alexander has been a player we've been meaning to write about for a few weeks now, fellow West Virginia forward Da'Sean Butler. Going into the Duke game today, Butler has scored 16 or more points in all five of his last games. Once Alexander decides to move on, the sophomore Butler will likely emerge as a focal point in West Virginia's offense. He has the physical tools and raw skills to be able to carry a bigger load, even if he's not the most polished guy around right now. Most of Butler's offense at the moment comes off cuts to the basket and spot-up jumpers, where he shows a nice looking stroke (with small forward like elevation) and range that extends past the 3-point line. He's hitting 33/88 (37.5%) from beyond the arc this season, which is pretty respectable.

Like his teammate Alexander, Butler also likes to operate in the mid-range area or with his back to the basket, showing very nice ability to hit smooth turnaround jumpers, often using the glass. He can even put the ball on the floor once or twice and then pull-up off the dribble, a skill that shows excellent potential to develop into a real weapon with another full summer of hard work. He's a pretty active player, running the floor hard, hitting the offensive glass well, and playing solid man to man defense. To emerge as a legit NBA prospect next season, he still needs to improve his ball-handling skills, perimeter shooting ability, and generally his all-around offensive polish to make the transition to playing the small forward position full time, but he seems to be have very nice upside to help him with that task.

[Read Full Article]

---