Dario Saric
Recent Tweets
All Tweets
DraftExpress: U-19 World Championship official All-Tournament team Vasilije Micic Dante Exum Dario Saric Aaron Gordon Jahlil Okafor #fibau19
2013-07-07 16:15:23
DraftExpress: Dario Saric says Dallas tried to promise him with the #13 pick to entice him to stay in this year's draft and failed http://t.co/nQAiDpoDE0
2013-07-05 15:14:32
DraftExpress: Serbia beats Croatia 73-66 despite 30 points from Dario Saric. Will play Australia in the semifinals. Vasillje Micic 15 pts 8 reb 8 ass
2013-07-05 13:45:04
DraftExpress: Serbia-Croatia about to tip here in Prague at the U19 WCs. Should be an awesome game. How will Serbia defend Dario Saric? #fibau19
2013-07-05 11:53:35
DraftExpress: Interviews from the FIBA U19 World Championship in Prague w\/ Dario Saric Vasilije Micic and Saleh Foroutan http://t.co/obzaydb73F #fibau19
2013-07-05 07:03:55
Predraft Measurements
| Year | Source | Height w/o Shoes | Height w/shoes | Weight | Wingspan | Standing Reach | Body Fat | No Step Vert | Max Vert |
| --- | --- | --- | --- | --- | --- | --- | --- | --- | --- |
| 2012 | Hoop Summit | NA | 6' 10" | 223 | 6' 10" | NA | NA | NA | NA |



Basic Per Game Statistics

- Comprehensive Stats - Statistical Top 25s
| Year | League | Name | GP | Min | Pts | FG | FGA | FG% | 2Pt | 2PtA | 2P% | 3Pt | 3PtA | 3P% | FTM | FTA | FT% | Off | Def | TOT | Asts | Stls | Blks | TOs | PFs |
| --- | --- | --- | --- | --- | --- | --- | --- | --- | --- | --- | --- | --- | --- | --- | --- | --- | --- | --- | --- | --- | --- | --- | --- | --- | --- |
| 2013/14 | Adriatic | Dario Saric | 26 | 32.5 | 16.3 | 5.8 | 11.5 | 50.2 | 4.9 | 8.8 | 56.1 | 0.8 | 2.7 | 31.0 | 3.9 | 5.7 | 68.2 | 2.3 | 7.2 | 9.5 | 3.0 | 1.4 | 0.5 | 3.3 | 3.1 |
| 2013/14 | Eurocup | Dario Saric | 10 | 32.8 | 12.9 | 5.0 | 10.3 | 48.5 | 4.6 | 9.0 | 51.1 | 0.4 | 1.3 | 30.8 | 2.5 | 3.2 | 78.1 | 2.9 | 5.4 | 8.3 | 2.7 | 1.0 | 0.9 | 3.1 | 2.7 |

Player Page&nbsp&nbsp| Player Stats | Mock Draft History | Related Articles&nbsp&nbsp| Add to My Draft Express&nbsp
&nbsp
2013 FIBA U19 World Championship Interviews: Ennis, Milutinov, Exum
July 5, 2013
[Read Full Article]

---
Situational Statistics: the 2013 Small Forward Crop
June 20, 2013
Dario Saric has already withdrawn from the draft, which might be a good thing considering he ranked as the least efficient shooter and overall scorer, and most turnover prone player in this group. His 0.84 PPP and 22% turnover rate are a bit misleading though, as he struggled mightily when he first returned to action in the Adriatic League before looking more comfortable and settling in nicely in the far weaker Croatian League later on. It will be interesting to see how much he can improve in various areas next season.

[Read Full Article]

---
Dario Saric Scouting Report Video
June 7, 2013




More Video Scouting Reports:



-Alex Len
-Shane Larkin
-Dennis Schroeder
-Tim Hardaway Jr
-Rudy Gobert
-Lucas Nogueira
-Otto Porter
-Gorgui Dieng
-Jamaal Franklin
-Kentavious Caldwell-Pope
-Reggie Bullock
-Nate Wolters
-Steven Adams
-Michael Carter-Williams
-Cody Zeller
-Archie Goodwin
-Mason Plumlee
-Glen Rice Jr.
-Trey Burke
-Allen Crabbe
-Jeff Withey
-Shabazz Muhammad
-Mike Muscala
-Jackie Carmichael
-Erick Green
-Giannis Adetokunbo
-Nerlens Noel
-Victor Oladipo
-Kelly Olynyk
-Russ Smith
-C.J. McCollum
-Mam Jaiteh
-Ben McLemore
-Leo Westermann
-Sergey Karasev

Mike Schmitz is the video analyst for DraftExpress. Follow him on twitter and subscribe to his YouTube channel. He will be breaking down the NBA draft in digital format all year long for us.

[Read Full Article]

---
Dario Saric Interview
April 29, 2013
Interview by Nick Young



Part One



-What are you feelings about playing in the NBA next season?
-Which NBA player will you be most excited to play against?
-Which NBA player is your style of play closest to?
-Is there a particular team you feel your style fits with?
-How many times have you been to the United States? What was different from Croatia?



Part Two



-Is there any part of the United States you would want to live in?
-What was it that made you decide to enter the draft this year?
-How have you changed as a player in the past year?
-What position do you think you will play in the NBA?
-What do you need to continue working on to reach your potential?



Part Three



-How has your season been so far in Croatia?
-What are your plans for the pre-draft process?
-What are your goals for your playing career?
-Who do you think wins the NBA title this year?

[Read Full Article]

---
Nike Hoop Summit Scouting Reports: Forwards/Big Men
April 12, 2012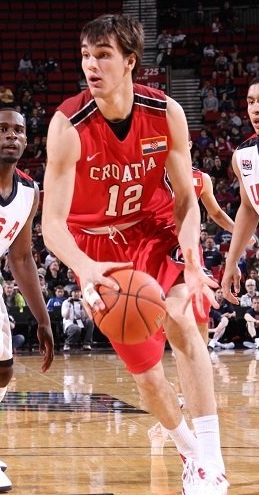 Sam Forencich/USA Basketball



Matt Kamalsky

Still not draft-eligible despite competing in his second consecutive Nike Hoop Summit, Dario Saric had a strong showing in Portland, impressing scouts with the versatility he possesses for a player his size. After participating in the event last season, it was clear that the Croatian prospect had gained a comfort level with the format and level of competition level of the Hoop Summit, playing much better than he did in 2011.

Standing 6'10 with a matching wingspan, Saric spent the majority of the week at power forward, but clearly has his future on the wing, often bringing the ball up the floor for the World Select Team. Having added 10 pounds to his still wiry frame, Saric looks more physically mature than he did the last time we saw him, even if he still has plenty of room to grow. His lack of bulk limits him at times around the basket, and while he isn't terribly explosive, he shows impressive fluidity for a player his size and a unique skill level.

As was the case the last time we watched him, Saric's most impressive skills are his ball handling ability and court vision. Though the former FIBA Europe U-16 MVP's first step doesn't allow him to blow by defenders at will, his rangy strides give him to ability to attack gaps and turn the corner off the bounce. Showing terrific savvy changing speeds and great timing attacking his defender when unbalanced, Saric did a fine job all week getting into the lane and either finishing with deft touch and excellent body-control, or finding the open man with a quick pass. Tallying 5 assists and 4 turnovers in the Hoop Summit game, Saric still has room to improve his decision-making, as he forces the issue driving into traffic at times, but his ability to create offense for his teammates off the dribble is certainly impressive for a 6'10 18-year old.

Away from the basket, Saric showed decent touch from the perimeter, but remains unreliable for stretches. Shooting the ball extremely well on the first day of practice, but not as well the next, Saric has a somewhat unorthodox release that sometimes leads to the ball coming off his hand with less than ideal rotation. When Saric was knocking down shots from the midrange and perimeter, he made plays on a regular basis in practice regardless of who was defending him, but he's still working on becoming consistent with this part of his game, which is a huge key for his development.

As a rebounder, Saric did a nice job all week, using his size and excellent hands to corral the ball off the iron at a good rate. Recording 14 rebounds against the USA Junior Select Team, Saric was able to show why he's averaged a double-double on multiple occasions at the junior level. Though his strength and explosiveness hamper him at times, his uncanny ability to read the ball off the rim allows him to overcome his limitations with consistent effort and excellent anticipation.

Defensively, Saric lacks great lateral quickness to deny dribble penetration, but is able to compensate to some degree by playing off his man and using his length to stay attached to contest jump shots. He was beaten a few times off the dribble over the course of the week, and it will be interesting to see how his defense improves as his body continues to develop.

After a quiet debut in the Hoop Summit last season, Saric looked better in practice and was one of the catalysts for the World Select Team's 84-75 victory this year. Making his Euroleague debut earlier this season, Saric is an international prospect worth tracking closely as he is a potential early entrant for the NBA draft in the coming seasons.



Dario Saric Highlights and Interviews:





[Read Full Article]

---
2012 Nike Hoop Summit: International Measurements
April 2, 2012
Dario Saric
Weight: 223 lbs.
Height (w/ shoes): 6'10"
Wingspan: 6'10"

[Read Full Article]

---
U-19 World Championship Player Evaluations, Part One
August 3, 2011
Jonathan Givony

At just 17 years of age, Dario Saric was one of the youngest players at the U-19 World Championship. Nevertheless, he had no problem asserting himself in this setting. He made significant contributions as a scorer, rebounder and passer, while playing a tournament high 36 minutes per game.

Saric is the same ultra-talented prospect we've written about on a few occasions already—a 6-10 guard with outstanding ball-handling skills and incredible fluidity. He can grab a rebound and drive coast to coast, create his own shot at will, find the open man with terrific court vision, and score in a variety of different ways. There are some cracks starting to appear in his evaluation, though, which create doubts about whether he's the can't miss prospect he's been made out to be.

Saric's style of play was very predictable at this tournament, owing in large part to the incredibly unimaginative, isolation-based half-court offense his team ran in Latvia. He had the freedom to do essentially whatever he wanted in this setting and, more often than not, chose to simply pound the ball on the perimeter trying to shake his man, then lower his shoulder and attempt to force his way to the basket. Once this option was exhausted, he'd either try to thread the needle to a teammate with a spectacular bullet pass, or pull up for a low-percentage, off-balance jumper.

Between the turnovers, the missed shots and the disappointing eighth place finish, there were some obvious moments of brilliance mixed in—usually involving Saric's ability to change of speeds or his uncanny skills of anticipation.

But there were also some doubts raised about whether he'd be able to operate successfully at the senior level in quite the same manner, seeing as he already has major issues finishing in the lane and does not appear to have the perimeter shooting skills to compensate for it.

Defensively, Saric struggled to stay in front of quicker, stronger wing players on the perimeter, and he didn't seem to put great effort into his work here, preferring to instead gamble excessively for steals.

More concerning was the poor body language he displayed at times, getting easily frustrated with his teammates, referees and opposing players, and showing something of a bad temper. There are concerns that the attention he's received at such an early age, for instance being anointed "the next Toni Kukoc" by the Croatian media, has gone to his head.

At such a young age, Saric still has plenty of time to work on his weaknesses and take advantage of his considerable talent. It's important for everyone involved to realize that the road he needs to take to reach his potential is still a long one.

[Read Full Article]

---
Nike Hoop Summit Scouting Reports: International Forwards/Big Men
April 15, 2011
Walker Beeken

The youngest player at the 2011 Nike Hoop Summit, only turning 17 during the week of the event, Croatian forward Dario Saric showed why people are excited about his future down the road. He has an excellent feel for the game and a very high skill level for a player his age at 6'10", playing as a small forward and looking very comfortable operating on the perimeter.

His body is still filling out (weighing 215 lbs in Portland), and his age showed at times, as his thin frame prevented him from competing inside and on the glass on occasion. His decision-making hasn't quite caught up to his skill level either, as evidenced by his 3 turnovers during the game on Saturday night.

The most impressive aspect of Saric's game is his outstanding court vision and passing skills for a player his size. He really stood out in one of the scrimmages during the week, throwing multiple eye-popping passes to open teammates. Although he's not terribly explosive, he's a very versatile player who is able to handle the ball on the perimeter and play a point-forward type role, which is very intriguing.

Saric made some 3-pointers throughout the week and went 1-2 from behind the arc during the game, but his shot looks a bit ugly and has some sidespin on it. He's talented enough that he's able to make some shots in spite of that, but working on his mechanics would likely greatly benefit him in the future, and being able to be a consistent deep threat to go along with his size and ability to put the ball on the floor and make plays would make him very dangerous.

Saric's physical tools could be a bit of an obstacle, as he lacks the ideal lateral quickness to stay in front of many small forwards. His size and length (6-11 ¾ wingspan) will help to compensate for that, as will his instincts and toughness, which he showed all week on the glass and in the game, where he grabbed 6 rebounds in just 14 minutes.

While it's still very early to draw too many conclusions about Saric since he's so young, he clearly showed that he has the potential to grow into a very nice player down the road. NBA scouts will be keeping a close eye on his development in the future.

[Read Full Article]

---
2011 Nike Hoop Summit: International Measurements
April 4, 2011
Dario Saric
Weight: 215 lbs.
Height (w/o shoes): 6'8.75"
Height (w/ shoes): 6'10.25"
Wingspan: 6'11.75"
Body Fat: 4.0%
Standing Reach: 9'0"

[Read Full Article]

---
European Roundup: Reliable Radosevic
November 26, 2010
One of the youngest prospects in our database at just 16 years old, Dario Saric is amongst the most promising prospects in the European game. Though he may not have matched Ricky Rubio's legendary 51 point, 24 rebound, 11 assist triple-double from the 2006 U16 European Championships, his 35 points, 11 assists, and 11 rebounds were decisive in Croatia's rout of Lithuania in the 2010 U16 final. The tallest player for the Croatian side standing 6'8, Saric showed his versatility and put his skill level on full display, leading the competition in scoring and rebounding while finishing second in assists in carrying his often overmatched team to a first place finish as its first option and primary ball-handler.

Though Saric was tested by Caja Laboral, he opted to stay in his native Croatia to play for KK Zagreb, who has made every effort to give him opportunities to gain experience. Loaned to Dubrava for Croatian League games, Zagreb has kept Saric on their roster for EuroChallenge competition, Adriatic League play, and will allow him to play against his peers for their youth team. In maximizing the amount of game action Saric sees, Zagreb hopes to accelerate the maturation of the highly-touted, young point-forward.

Much of Saric's development as a player in the immediate future will come in his decision-making. Functioning as a do-everything point guard at the U16 Championships, but working primarily off the ball as a small forward in limited minutes in Adriatic League play, Saric has a tremendous feel for the game, shows great touch from the perimeter, proves to be a solid passer, and shows a degree of versatility that is extremely rare for a player his age. Despite all that, he remains a bit turnover prone, especially when handling the ball regularly –as evidenced by the 12 turnovers he registered on top of his triple-double in the U16 Championship Game.

Just as Saric has room to improve his game, he has plenty of room to improve from a physical standpoint, a key concern regarding his NBA potential. Standing 6'8, Saric has terrific size for a small forward already, but lacks NBA caliber footspeed and the strength to take care of the ball against more aggressive defenders. Should he continue to grow, which is entirely possible, he could play multiple positions in the European game, but will need get stronger and continue to work on his athleticism to improve his ability to create offense and defend any position effectively on the NBA level.

Considering that we're talking about a player that won't turn 17 until April of next year, we would be remiss to draw any definitive conclusions about Saric at this point, as he's just scratching the surface of his potential. There is no question that he has a fantastic skill-level for a player his age and is dominant in his age group. However, he's seeing just 12 minutes per-game in the Adriatic League. We'll be monitoring his progress as his role grows both this year and in the future.

[Read Full Article]

---