DeVon Hardin
STRENGTHS:
- Jump-hook shot
- Activity level
- Defensive potential
- Lateral quickness
- Potential
- Strong Intangibles
- Understands limitations
- Work ethic
- Ability to finish around basket
- Ability to run the floor
- Explosiveness
- Frail frame
- Size for position
- Strength
- Undersized
- Wingspan
- Excellent rebounder
WEAKNESSES:
- Lacks significant offensive polish
- Ball-handling skills
- Inability to create own shot
- Ability to face the basket
- Excellent hands
- Left hand
- Questionable hands
- Foul prone
- Gets backed down in post
- Consistency
- Not ready to contribute immediately
- Lower body strength
- Free throw shooting
- Perimeter shooting ability
Top 25s - Full List
Team: California
Physicals
Positions
Rankings
Salary
Misc
H: 6' 11"
W: 235 lbs
Bday: 09/07/1986
(29 Years Old)

Current: C
NBA: C
Possible: C

RSCI: 86

Agent: Jim Tanner

High School: Newark Memorial
Hometown: Fremont, CA
Drafted: Pick 50 in 2008 by Supersonics
Best Case: Nene
Worst Case: Jamal Sampson

Predraft Measurements
| Year | Source | Height w/o Shoes | Height w/shoes | Weight | Wingspan | Standing Reach | Body Fat | No Step Vert | Max Vert |
| --- | --- | --- | --- | --- | --- | --- | --- | --- | --- |
| 2008 | NBA Pre-Draft Camp | 6' 9.5" | 6' 10.75" | 235 | 7' 3" | 9' 1.5" | 5.8 | 29.5 | 32.0 |



Basic Per Game Statistics

- Comprehensive Stats - Statistical Top 25s

Player Page&nbsp&nbsp| Player Stats | Mock Draft History | Related Articles&nbsp&nbsp| Add to My Draft Express&nbsp
&nbsp
Orlando Recap: Second Team All-NBA Pre-Draft
June 5, 2008
While he didnít have the greatest camp in terms of overall production, Devon Hardin helped his stock somewhat by reaffirming what everyone already thought-- that heís a truly outstanding athlete with an NBA ready body. His standing reach and body fat percentage tested out very well in the combine, while he posted strong numbers in the lane agility and max vertical leap as well. For a reference point, his overall numbers compare pretty favorably to Al Horford or Greg Oden from last year.

While Hardinís on-court abilities are certainly nowhere near his physical tools, he does bring some intriguing things to the table, and itís important to note heís made strides with his game in his four years at Cal, while also missing the better part of his junior season. Hardin showed the good and the bad of his game on the floor here at Orlando, showing some inconsistency and a lack of polish along with flashes of incredible things around the basket.

Hardinís post game is lacking polish in terms of his footwork, awareness, and reflexes, while he also doesnít have the most extensive arsenal of moves either. That said, he does show flashes of turnaround jumpers, hook shots, dropsteps, and step throughs, and has started to show a better understanding of countermoves this season. He doesnít have a left hand at all, and looks awkward in general going off his right shoulder, as his turnaround jumper isnít the greatest. His right-handed hook shot and dropstep are his two best moves at this point, and heís capable of executing his dropstep with incredible range and quickness when he gets it off. He shows flashes of great quickness transitioning from move to countermove as well. At this point, though, itís hard to see him doing much damage with his back to the basket in the pros, as his balance is lacking and his hands and reflexes are questionable, while his post moves in general are just not consistently effective yet.

What Hardin will be able to do in the pros is finish off pick-and-rolls, off-ball cuts, and by sealing his man on the block, utilizing his size and athletic ability in all three areas to make himself an easy target and a strong finisher. As for the rest of his offensive game, his mid-range jumper is very inconsistent and not very effective, and heís not a great free-throw shooter either, finishing at 64% this season.

Hardinís greatest potential comes on the defensive end, where he already does a few things very well, notably hedging and recovering on the pick-and-roll and switching out to defend on the perimeter, where he makes very good use of his terrific lateral quickness. Heís a good defender in the post as well, using his length and aforementioned quickness, though he could do a better job of bodying up more consistently, using his body to force the opposition into tougher shots. Where Hardin lacks the most is on weak-side defense, as heís just not the kind of shot blocker youíd expect for his size, not doing a great job on rotations. He did a very good job on the boards in college, but is inconsistent, as evidenced by his poor showing on the glass here in Orlando.

Hardin is somewhat of a project pick, but could definitely sneak into the first round if someone is intrigued with his set of tools. Being just a 21-year-old senior whoís shown a decent learning curve, itís way too early to close the book on what he could add to his offensive game, and with the raw abilities he has, teams will certainly try. Teams shouldnít be expecting much from him in the early going, though, as his skill set at the moment wonít project him to much more than a role playing garbage man type player initially.

[Read Full Article]

---
NBA Pre-Draft Camp, Day Three
May 30, 2008
Although weíre still waiting for a true breakout performance from DeVon Hardin, today was another solid outing from the Cal senior. He was again aggressive with his post-moves, converting on two very nice moves, one a drop-step and another a hook shot, and also blocked two shots on the defensive end. He did show again his poor hands by bobbling a few passes and also blowing a dunk, which may have taken away a little bit from his performance. It was nice to see how aggressive he was, though, and you certainly canít argue with his NBA body or superb athleticism.

[Read Full Article]

---
NCAA Weekly Performers, 1/10/08-- Part Two
January 10, 2008
Itís been almost a full year since the last time we saw Devon Hardin in real game action. 12 games into his junior season, Hardin broke his foot, being forced to sit out the rest of the season for Cal, but still allowing him to test the waters of the NBA draft. He supposedly had a guarantee in place from the Detroit Pistons at the end of the 1st round, but decided to return to Cal regardless, in order to get his degree and move himself further up the draft.

So far, Hardin looks a better prospect than the one we evaluated last season. Heís added quite a bit of strength to his frame, making him even more imposing physically, if that was at all possible. Heís now listed at a sculpted 250 pounds, up from 235 a year ago, and looks every bit the part of NBA center, with a massive wingspan and terrific athletic ability.

Offensively, Hardin looks better than we remember him as well. Heís finishing much better around the rim, going up and taking contact better, not rushing his shots as much as he did in the past, understanding his limitations more willingly, and doing a better job establishing position in the post. His free throw attempts are up considerably (8 per 40 minutes, compared with 5.5 last year), as is his field goal percentage (from 48% to 54%), all because of the reasons described above. Hardin is knocking down his right-handed jump-hook somewhat regularly with range out to about 8 feet, as well as his turnaround jumper, and is looking incredibly active hitting the offensive glass as well, where he can get his team a couple of easy baskets every game by just utilizing his outstanding physical tools to his advantage. When he finishes, the entire arena feels it, and thatís exactly what you want to see out of a player this size. We had concerns in the past about the tentative, uninspired manner in which he conducted himself on the court at times, but these are slowly starting to dry up the more weíre evaluating him these days. He doesnít always make his presence felt offensively the way one might hope, but itís no longer because of a lack of effort on his part.

Thatís not to say that Hardin is any kind of offensive juggernaut. Far from it, actually. Heís not the type of player you throw the ball to and expect to be able to create offense for himself, as his footwork is noticeably unpolished and heís fairly limited outside of a few feet around the hoop. Heís somewhat mechanical with his post-moves, and really struggles when forced to finish with his left hand.

This year, Cal seems to be using their center in a role that more closely resembles the one he would play in the NBA. Hardinís usage is down from 15.4% of his teamís possessions to 12.2%, but heís doing a much better job with the possessions he is given, improving his points per possession from 1.01 to 1.17. His assist to turnover ratio up is by 150%, which a very encouraging sign for a player like him.

Defensively, Hardin looks excellent at times, but could still make some small adjustments that could make him even more dangerous on this end. He did an excellent job in a game against Michael Beasley by the way when the two were matched up, swatting his shot a number of times (even twice on the perimeter), and not giving him many opportunities at all to score inside the paint. Hardinís combination of size, length, strength and athleticism is virtually unrivaled at the collegiate level, and allows him to be quite an effective threat challenging shots around the rim. He also has quick enough feet to accurately hedge a pick and roll and recover in ample time, which is very rare from a player his size. His lateral quickness also comes in handy in the post, where he can step in and take a charge, which he looks quite willing to do. Hardin is fouling at a much lower rate than he did in years past (3.3 per 40 minutes this year, compared with 4.9 last year and 5.2 the year before). Heíll still bite on the occasional pump-fake, and will at times get called for a foolish foul far away from the basket, but heís obviously making solid progress in this area, which is very encouraging. His 2.6 blocks per 40 minutes pace adjusted is certainly solid, but still only ranks him 33rd amongst draft prospects in that category.

To continue to establish his value in the draft as a potential defensive anchor, Hardin must do a better job closing out on his man in the post. He gives up too much space here at times, letting his matchups get deep position in hopes that heíll be able to outquick them going up for the block when the shot finally goes up. He got scored on quite a bit by players like Kevin Love and Luke Nevill for this reason, from what we saw. Weíd also like to see him do a better job protecting his basket making rotations to stop slashers on their way to the rim.

Another encouraging sign weíre seeing has to do with Hardinís rebounding ability. His 14.9 rebounds per 40 minutes pace adjusted ranks him 4th amongst all draft prospects in that category, and certainly is an important stat considering what his likely role will be at the next level. His hands look better, as does his timing and aggressivenessówhich will surely help his cause.

All in all, Hardin seems to be in great shape heading into the second half of his senior season from what we can tell. His team is winning at a pretty solid rate, heís done a solid job addressing many of the concerns scouts had about him, and heís producing very well in the areas he needs to most. Considering the lack of true centers in the NBA, especially those who can be considered outstanding athletes, Hardin should find himself in pretty high demand come draft day if he can keep it up. Heíll be under the microscope in this very difficult Pac-10 schedule, so making the NCAA tournament and continuing to play well will be imperative for him.

[Read Full Article]

---
Top NBA Draft Prospects in the Pac-10 (Part One: #1-#5)
September 18, 2007
After a foot injury shortened his junior season, DeVon Hardin entered draft conversations with a few good workouts and first-round rumors. Luckily for Cal, he came back for his senior season and alongside Ryan Andersen, should form one of the most fearsome frontcourts on the west coast. While it is an overstatement to say that his improvements will make or break the Golden Bears, the potential he showed last season certainly has college basketball fans and draft pundits talking.

Hardinís most intriguing features, as theyíve always been, are his physical gifts--notably his size and athleticism. Standing a legitimate 6í11 and looking every bit of 235 pounds, his body, athleticism, and ability to run the floor recall Jermaine OíNeal. While he could stand to gain a few more pounds (which should be no problem considering his frame), there are very few college athletes on his level physically and athletically.

Hardin uses these gifts well on the defensive end. He moves well in the paint and is a good man defender, capable of playing decent help defense, and blocking around two shots a game. The key to his defensive abilities, however, is focus and a lack thereof. If he could play consistent defense and maintain his focus on the floor, he could easily be the best post defender in college basketball. Because of his athleticism and size, he is a very good rebounder at the college level and averaged 8.3 boards a game in just under 27 minutes a game. He could be just as good at the next level if he continues to stay focused and box out on every play, but he wonít be as physically superior in the NBA as he is in college.

However, besides his talent to throw down emphatic dunks in transition, he is painfully limited on the offensive end. Itís a shame to see a guy with Hardinís size and athleticism shy away from fundamental post play, but he too often settles for hurried jump hooks instead of backing down his man. Developing a better left hand might serve Hardin well, also. Perhaps the most enticing of Hardinís potential, however, is his ability to knock down the open jumper. He is a good shooter both from mid-range and the foul line (82%) and hopefully will continue to improve.

If weíre looking as his impact in the PAC-10, there is no doubt that Hardin is going to be a major factor and a potential double-double performer. Against fellow post prospects, he is going to be a formidable defensive presence and should continue to be an anchor in the middle for the Golden Bears. On the NBA front, he was rumored to have a first round promise last year from the Pistons at #27, but a breakout season with steady improvements on the offensive end could land him in the lottery. All of the potential is there; its Hardinís to realize.

[Read Full Article]

---
Getting To Know: DeVon Hardin
September 13, 2007
In the latest of DraftExpress' "Getting To Know" series, Rodger Bohn sits down with charismatic Cal big man DeVon Hardin. Although having played three years of college basketball already, Hardin is a player who clearly has his best days ahead of him, if he is able to continue to develop at the pace that he has over his tenure thus far at Cal.

In terms of potential big men prospects for the 2008 NBA Draft, DeVon Hardin is in a class of his own as far as raw physical tools are concerned. Standing a legit 6'11 and blessed with an outstanding wingspan, Hardin owns ideal size for a center prospect. His well proportioned frame and broad shoulders leave strength and conditioning coaches enamored, as he has a tremendous amount of room for growth in this area. The body possessed by the Northern California native is resemblant of physical freak Dwight Howard. Already weighing 235 pounds, DeVon easily has the potential to reach a comfortable playing weight around the 260 pound mark. The combination of strength, ability to run the floor, and freakish leaping ability are simply unparalleled by any center prospect this draft has to offer so far.

In addition to his sheer physical abilities, Hardin has a developing skill set. The dunk is generally his best scoring weapon in the paint, given his tremendous strength and pogo-stick jumping ability. In the low post, he has shown the ability to consistently hit a jump hook with his right hand, and also has a turnaround jump-shot in his repertoire While Hardinís moves may be a bit mechanical, he is very consistent with his jump-hook, which has proved to be tough to stop.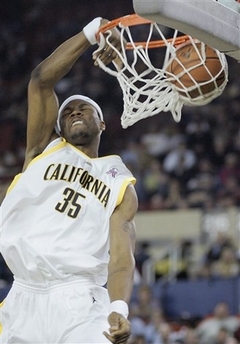 AP



Aside from his jump hook and a powerful drop step, DeVon has very little as far as post moves are concerned, leaving him a bit predictable at times. While the Cal big man has improved greatly over his stay at Cal, he is far from a finished product on the offensive end. His shooting range extends to around 17 foot mark with solid mechanics, but inconsistent accuracy. Hardin struggles mightily when faced with a double team, turning the ball over often. This is surely an area that the near seven footer will need to improve upon, as he and fellow frontcourt mate Ryan Anderson will be the focal points of the Cal offense.

On the defensive side of things, Hardin serves as the enforcer of the paint for Ben Braunís defense. His strength and leaping ability allow him to intimidate opposing offensive players who come into the lane with his shot blocking prowess. DeVon is the second leading returning shot blocker in the PAC-10, surely looking to improve upon the 1.9 rejections per game he accumulated last season. The athleticism that is displayed on the offensive end translates to both sides of the court, with DeVon exhibiting nice lateral quickness and reaction time. His brute strength translates into his rebounding ability as well. Although averaging a solid 8.3 minutes per game, he did it in limited minutes in what transcends into an average of 12.5 corrals per 40 minutes.

While there is plenty to like about the big man on the defensive end, he still has plenty of room for growth here as well. At times, Hardin gives up position far too low on the blocks, allowing opposing offensive players to catch the ball five or six feet away from the rim. Also, he has the tendency to bite for opponentsí shot fakes, leaving him out of position and prone to picking up possible fouls. Both of these areas should be improved upon with experience and advanced coaching however, but could prove to be issues with Hardinís extended role for Cal this upcoming season.

All in all, Hardin is a player who has been on the mind of NBA personnel for two years now. There just arenít too many big men in the draft that can offer his package of size, strength, and athleticism. In a league that is now predicated by strength and athleticism, Hardin is a perfect fit. The question that everyone has however, is how much more he will continue to develop and whether he will ever reach the immense potential that he has. Being a offensively raw big man at 21 years old is generally a serious blemish in the eyes of NBA scouts, however Hardinís consistent improvement leaves optimism. With the recent trend of NBA teams reaching for raw big men with nice upside (see Saer Sene and Patrick OíBryant), it would certainly not be out of the question for Hardin to land somewhere in the lottery if he is able to continue his refinement offensively.



DeVon Hardin Interview



Rodger Bohn: Coming out of high school, you were a very highly touted prospect who had the choice to go to virtually any school in the country. Why did you choose Cal?

Hardin: Mostly because it was close to home so that I could be around my family. Also, because the academics were second to none. Those were two of the main reasons that I came here.

Rodger Bohn: How big of a factor were academics in your decision to go to Cal, given that you were a 4.0 student in high school and had a really high SAT score?

Hardin: It was definitely something that I had to consider because basketball isnít a guarantee for anybody and Iím definitely going to have a degree to fall back on. A degree from Cal is something that is going to last you a lifetime, so it was a big part of the decision.

Rodger Bohn: Why did you decide to enter the NBA Draft last season, after playing only 12 games?

Hardin: I entered the draft just to basically see where I was, and where I was in comparison the other premier players in the country. I wanted to get feedback from NBA scouts, NBA general managers...not just scouts, as to what I could work on for this upcoming season. It was a consideration at one point to keep my name in there because I was getting such good feedback, but I figured Iíd go back to school for another year and if I get a solid year under my belt, I could really make some good things happen this year.

Rodger Bohn: What seemed to be the feedback that you received from NBA GMĎs and scouts in regards of what you needed to improve upon most?

Hardin: Improve my shot. Be more consistent with my shot. Consistency on offense was the main point that I got from the coaches. Physically, they say that I am very dominating over most of the big men that I was playing against in the camps. Offensively, they said I just need to develop a little finesse, and a little more touch around the basket. That was the general feedback. You canít dunk everything.

Rodger Bohn: How many teams did you work out for?

Hardin: So I traveled to eight cities, but there were a bunch of different teams that I worked out for. I think that I was exposed to at least 20 teams.

Rodger Bohn: Who was the one player that you were surprised with throughout the workout process, and why?

Hardin: There were a couple of guys that I had a good time going up against. In terms of my favorite, I would probably say Jason Smith from Colorado State. I was just really impressed by his athleticism, because I normally donít come across any big men faster then me. If he wasnít faster then me, then he was just as fast. He may not be able to jump as high, but he definitely has great foot speed. Another guy that I was really impressed with was Josh McRoberts. I was pretty surprised with his turnout in the draft. He surprised me with his athleticism. I didnít expect him to jump the way he did. He really surprised me with that.

Rodger Bohn: Talk about the workout process in general. Was there anything that surprised you about it?

Hardin: No, not necessarily because I trained very well for the workouts. A lot of people tell me that the workouts are tailored to guys like me. Iím not sure if thatís true or not, but I know that when I went in there I was in great physical condition. I was able to go in there and basically dominate whatever they asked me to do for that period of time. Most of the workouts that I went into, I came out with a really good feeling.

Rodger Bohn: How do you feel that your pre-draft experience will help you this season at Cal, and for preparing for next yearĎs NBA Draft?

Hardin: I think going through that experience is going to help me definitely in terms of my level of confidence that I have going into the season. Confidence not only in my own abilities, but the ability of my teammates and what we can collectively do. Just building that confidence in knowing that I went up against the best of the best. These are the best college players all trying out for the draft. I felt that I held my own, but in some cases I felt that I actually dominated. Not only just the confidence, but also the experience. It was more playing, and more competition to get up under your belt. I learned from the guys that I played with. Just the experience will allow me to bring more to my team.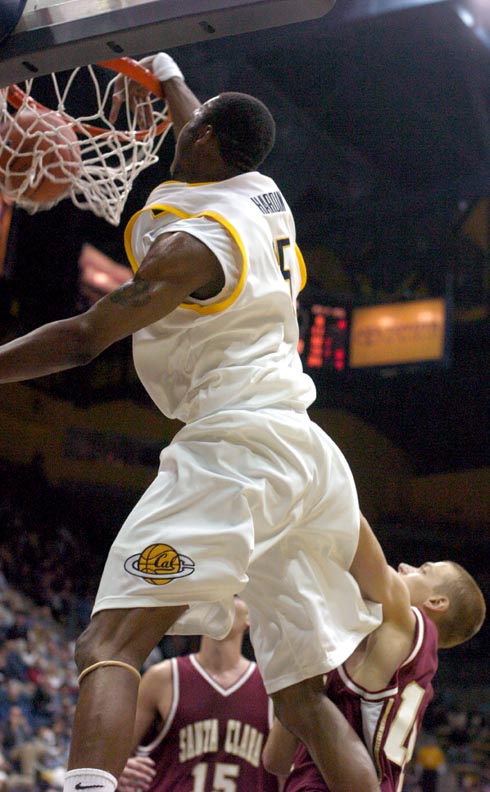 Jenna Toiwer/The Daily Californian



Rodger Bohn: What type of feedback were you receiving from NBA personnel in terms of where you would have been selected had you stayed in the draft last year?

Hardin: It was a very difficult decision. It pretty much came down to what was the best decision long term. Really, Iím not sure that I made the best decision, but I feel like a made a pretty good decision and I stand behind that. It was hard because a lot of people were saying that I had a chance of going in the middle to late first round. I heard rumors of going as high as 18 to the Warriors. All of that was good, but I think that there was a little too much uncertainty for me because you never know with the draft. In the case of Josh McRoberts, I thought personally that the guy was a first round pick, but then he ended up falling all the way to the second round. There was definitely a small level of uncertainty. Basically I looked at it as ďWill I regret my decision if I fall into the second round?Ē, and the answer was yes. I feel that if I come back for a full year and not only dominate the PAC-10, but all of college basketball this year, I would definitely limit the chances of this happening.

Rodger Bohn: What was your reaction to the San Francisco Chronicle piece that came out reporting that you had signed with an agent?

Hardin: Hey, they jumped the gun. Thatís all that it was really, that they jumped the gun. They figured that it was the 11th hour and DeVon hasnít said anything yet. Heís pretty much going to be a first round pick, so letís say he signed with an agent. It was pretty much just rumors that I believe that they might have come up with themselves. I donít really know, but I feel like they just jumped the gun and it kind of caused a lot of confusion that day because people are calling me and saying ďman we heard this happenĒ, and I told them that I didnít know anything about that.

Rodger Bohn: So how have your injuries healed?

Hardin: The injury?

Hardin: Ugh...I donít know what injuries youíre talking about man (laughs). No, I actually feel in better physical shape then I ever have before. My foot is at full strength, itís at 150%. My shoulder, I havenít even thought about that for a year. Physically, I'm stronger then Iíve ever been. I'm in the best physical shape of my life right now. I think itís they best physical condition that Iíve ever been in. I mean EVER, ever since Iíve played basketball.

Rodger Bohn: Which injury was more serious, your shoulder or your foot?

Hardin: The foot definitely scared me more. Before the shoulder, I had never been injured. I had never had an injury that took me out of games. The shoulder didnít even take me out of games, I was just out for the summer. Then with the foot, that was really the first time that I ever had to deal with an injury that sat me down and sidelined me from any kind of play. That was hard for me to deal with, and itís still hard for me to deal with now. I missed a whole year, and I still canít get that year back and all that other stuff. It happened, and I'm going to make the best of it. The foot was definitely the hardest to deal with because of the simple fact that I had never had an injury that took me out. Even with the shoulder, I could still go in the gym and shoot and stuff. With the foot, I was on crutches. I was wheel chairing it around. I couldnít do anything.

Rodger Bohn: Does it ever get frustrating to have people constantly refer to you as ďinjury proneď, given that you say that those were the only ones?

Hardin: Thatís actually the first time that Iíve heard people say Iím injury prone. Iíve never heard it being reported as ďeverybodyĒ thinks I'm injury prone. Hey, you know what, Iím built tough. I donít know about this injury prone stuff. I do a lot of injuring, thatís kind of what I do. Iím not usually on the other end. Itís funny because itís not like I go on the court and get an ďOwweeĒ. My foot broke. I donít know what else you can do about that. I think Iím a pretty tough, pretty sturdy guy. That injury prone stuff needs to go out the window. Get in the ring with me and weíll see who gets injured.

Rodger Bohn: Speaking of your strength, you look to be one of the stronger players in college. How much can you bench press?

Hardin: 325 pounds the last time I did it.

Rodger Bohn: How do you think you benefit from playing with another skilled big man in Ryan Anderson?

Hardin: Oh man, itís crazy because Iíve never really had that before. Every team that Iíve ever been with before, I've just been ďthe big guyĒ. Ryan is pretty much the same size as me, and heís a guard trapped in a big manís body. Itís great to have him right there because it takes so much attention away from me. You c can't leave Ryan open. You just canít do that. That would be dumb of you to do that on the perimeter. Then if you want to go one on one with me, weíll see what happens. It basically puts teams in a very tough position to where they have to choose who theyíre going to double off of because we have all shooters on the perimeter. We have Ryan, who can score from wherever he wants to score from. It really helps to have a big man like that playing alongside me, and I think itís going to be a really hard match-up for opposing teams.

Rodger Bohn: Have you spoken to Coach Braun about the larger role youíre going to take on this year, given that in years past you have been more of a complimentary player?

Hardin: Yes, Iíve definitely talked to my coach about that. We stay in constant communication. Youíre right, Iíve never been the go-to guy in terms of scoring. My role at Cal this year , the best way to put it, is going to make sure we win. I donít need to score all of the points, I donít need to do everything. Iím definitely going to be one of the focal points of our defense, I understand that. With my shot blocking ability, and if not block it, ability to alter shots. Then my ability to guard smaller guys. Iíve been in situations where I had to guard Nick Young from USC for the entire game. Defensively, I believe that I will be one of the focal points of the team. Offensively, Iím going to get put-backs, Iím going to go to my go-to moves, Iím going to make a highlight reel. All of that good stuff.

Rodger Bohn: Is there any one particular area of your game that youĎve been trying to improve upon?

Hardin: I donít know man. Everybody says that, huh? I donít know, and it still confuses me today. My right hand is way better then my left, or at least I thought it was until I just started going to that left handed hook because it goes in.

Rodger Bohn: Tell me what the typical training day this summer was like for DeVon Hardin.

Hardin: Ohh, man. Well it started out around 5:30 in the morning. Iíd get some sort of food in me, usually a yogurt or a nutri-grain bar. Usually in the gym from 6 till 7 working out. 7 till 8 I had conditioning. I would then go to class in, then come back in the afternoon. Back in the gym working on the skills, then weights in the afternoon, and then finally open gym at night. It was pretty intense, but you know, I donít have anything else to do.

Rodger Bohn: Do you ever feel slighted about the lack of national media attention you receive?

Hardin: Oh no, never. I donít need to beg for attention. I donít get on the front of papers, Iím not in Slam magazine or anything like that. Itís fine. I actually kind of prefer being kind of inconspicuous until the very last moment and then just popping up, like ďwhoís this guy? Oh yeah, you didnít know?Ē. The media attention, that really messes with some people. It doesnít really matter to me.

[Read Full Article]

---
Stock Watch-- Tournament Week (Part Two, Stock Neutral)
November 28, 2006
No one will ever question Hardinís natural physical tools. A legit 6-11, he has a frame reminiscent of Dwight Howard at the same age. His wingspan is imposing and his athleticism all you could ask for from a player his size. Hardin runs the floor extremely well when committed and is able to get off the ground with ease and challenge anyone that dares step inside the paint. Once he gets the ball inside the paint, he bounces off the floor in the blink of an eye to throw down some extremely impressive dunks. Heís a graceful athlete with difference-making potential thanks to his fantastic explosiveness.

The problem is, youíd expect him to do a lot more with all the tools he has at his disposal. From what we saw in Alaska, he is still very much a work in progress and probably wouldnít be considered anything more than a marginal D-League player if he were to be drafted right now.

The main concern is the fact that heís just not always very active, looking hesitant and tentative at best and lazy and uninspired at worst. Heís very robotic in his movements and is limited offensively to the point that he just doesnít look for the basket at all. When he does, he often struggles with his decision making, particularly in terms of trying to do things that heís just not capable of, as well as passing out of double teams, as his 1 to 4 assist to turnover ratio might indicate. Heís had no problem deferring to his much less heralded frontcourt mate Ryan Anderson, just a freshman, and it doesnít look like that is going to change anytime soon from what weíve seen early on. Against Marshall, he showed pretty poor hands and even missed some wide-open dunks, but against Hawaii he looked a little better when going to his left-handed jump-hook, even if that is his only real offensive move. He also showed flashes of a mid-range jumper on occasion, and did a phenomenal job knocking down his free throws thanks to his surprisingly soft touch. His best game of the tournament came in the finals against Loyola Marymount, where he got himself going with a couple of impressive dunks and really made an impact defensively with his shot-blocking ability, finishing the game with 16 points, 9 rebounds and 4 blocks. Considering the level of competition he went up against, though, itís difficult to get too excited when you take his entire tournament performance into consideration.

Defensively, Hardin can be very foul prone as he doesnít quite know how to avoid contact when going up for a block, and has a tendency anyway to leave his feet on even the slightest of pump-fakes. As a rebounder, he doesnít quite get after the glass the way youíd think a guy with his size and explosiveness would. More than anything he lacks the type of awareness and experience that only comes with time and plenty of playing time at a high level, and you have to wonder if people are jumping the boat with the kind of lofty expectations that are being put on his shoulders. With that said, its impossible not to notice the kind of potential he possesses as a 6-11 jumping jack with a monster frame and a seemingly good attitude. As long as he performs reasonably well in private workouts (which just happen to be tailor made to his strengths), heíll probably end up being drafted somewhere in the first round regardless--although heíll definitely be considered a long-term project.

[Read Full Article]

---
NCAA Tournament: Atlanta Bracket NBA Draft Prospects
March 15, 2006
Hardin is a raw physical specimen whose contributions have allowed Leon Powe and the rest of Cal to realize a successful season. At a very long 6' 11" and a lean and chiseled 235lbs of pure explosive power, DeVon has the ability to impress without putting up the numbers that typically get attention. At this stage in his career Hardin reminds of Chris Wilcox, though Cal's offense is so different the defensive similarities are about all one may get from this comparison.

The operative word with Hardin is RAW. Barring some sort of miraculous NCAA performance, expect Hardin to return to Cal next season and continue to work on his post skills. Hardin's main goals this tournament should be to block shots, dunk with ferocity and generally do anything he can as loudly as he can to stick in the back of the scoutsí minds. Hardin has a ways to go, but seems to be a nice kid and if Coach Braun alters the offensive philosophy a bit, expect Hardin to break out next season with a couple of big time games.

[Read Full Article]

---