Dmitry Kulagin
Recent Tweets
All Tweets
DraftExpress: Dmitry Kulagin (gray shirt) sitting out today's first game with an ankle injury. #adidasEuroCamp http://t.co/nTCLBN4J
2012-06-12 06:24:15
DraftExpress: The NBA Draft Early Entry deadline passed yesterday at midnight. Appears the Russians Dmitry Kulagin & Sergey Karasev did not enter.
2012-04-30 10:07:31
DraftExpress: RT @chernykh: Prospects Sergey Karasev and Dmitry Kulagin playing in EuroChallenge semifinal, live now on FIBA TV: http://t.co/E53BXSwA
2012-04-27 02:58:58
DraftExpress: Bad news: Dmitry Kulagin won't make it to the Nike Hoop Summit. Official reason is "injury." I suspect (guessing) his team won't let him go.
2012-03-30 01:13:04
DraftExpress: Evan Fournier and Dmitry Kulagin are probably the most immediate guys that need to be evaluated for this draft. Both 1st round prospects.
2012-03-26 01:14:32
Team: CSKA Moscow
Physicals
Positions
Salary
Misc
H: 6' 6"
W: 210 lbs
Bday: 07/01/1992
(23 Years Old)

Current: PG
NBA: PG
Possible: PG

Agent: Rade Filipovich

High School:
Hometown: Moscow, Russia

Predraft Measurements
| Year | Source | Height w/o Shoes | Height w/shoes | Weight | Wingspan | Standing Reach | Body Fat | No Step Vert | Max Vert |
| --- | --- | --- | --- | --- | --- | --- | --- | --- | --- |
| 2014 | Eurocamp | 6' 5" | 6' 6" | NA | 6' 7.75" | 8' 6" | NA | 25.5 | 28.5 |
| 2012 | Eurocamp | 6' 4.75" | 6' 6" | 210 | 6' 7.75" | 8' 4.5" | NA | 27.0 | 38.0 |



Basic Per Game Statistics

- Comprehensive Stats - Statistical Top 25s
| Year | League | Name | GP | Min | Pts | FG | FGA | FG% | 2Pt | 2PtA | 2P% | 3Pt | 3PtA | 3P% | FTM | FTA | FT% | Off | Def | TOT | Asts | Stls | Blks | TOs | PFs |
| --- | --- | --- | --- | --- | --- | --- | --- | --- | --- | --- | --- | --- | --- | --- | --- | --- | --- | --- | --- | --- | --- | --- | --- | --- | --- |
| 2015/16 | EURO | Dmitry Kulagin | 2 | 6.0 | 1.0 | 0.5 | 1.0 | 50.0 | 0.5 | 1.0 | 50.0 | 0.0 | 0.0 | &nbsp | 0.0 | 0.0 | &nbsp | 0.0 | 0.5 | 0.5 | 0.0 | 0.5 | 0.0 | 2.0 | 2.0 |

Player Page&nbsp&nbsp| Player Stats | Mock Draft History | Related Articles&nbsp&nbsp| Add to My Draft Express&nbsp
&nbsp
2014 adidas EuroCamp: Day Three
June 9, 2014
Dmitry Kulagin was the top performer today as he went for 18 points, 5 assists and 4 rebounds against the French U20 national team. Kulagin has struggled at times over the last two years with and has been maligned for his attitude, but there's little questioning his skill level and scoring ability. When he's dialed in as he was today, he's an extremely creative scorer and passer who can make plays for himself and others off the bounce. One of the more highly touted players in the 1992-born age group that is automatically eligible for the 2014 NBA Draft, Kulagin's stock has feel in recent years, but games like this serve as a reminder of just how talented he is.

[Read Full Article]

---
adidas EUROCAMP Day Two
June 11, 2012
Dmitry Kulagin started for the Russian U-20 team today after coming of the bench on day one, but did not fare well, getting off to a slow start and forcing the issue from the midrange and while trying to make highlight reel passes. He sprained his ankle seven minutes into the game and did not return, putting him out of action for an undisclosed amount of time and likely ending his EUROCAMP. Kulagin's performance at this year's event was not very impressive, and it is hard not to wonder how he would have fared had he spent the last few weeks preparing for this opportunity seriously rather than taking time off. NBA teams continue to admire his talent, but have the some reservations about his approach to the game, wondering about his overall focus and whether he will be able to live up to his significant potential as a 6-5 versatile and creative point guard.

[Read Full Article]

---
adidas EUROCAMP Day One
June 10, 2012
Russian combo guard Dmitry Kulagin appeared a bit out of shape, which isn't a big surprise considering he's probably been resting since his season ended roughly three weeks ago. Despite that, Kulagin's talent relative to his peers remained unmistakable. He changes speeds exceptionally well to find his way into the paint where he shows good touch on his floater and impressive court vision. His outside shot was not falling, and he came off the bench, but Kulagin was clearly one of the best players on the court for stretches. Kulagin has until July 12th to get back into shape for the U20 European Championships, and it will be interesting to see how he performs in the coming days as he's arguably the top long-term prospect at this year's EUROCAMP.

[Read Full Article]

---
Kulagin Coming Alive in Russia
February 7, 2012
Jonathan Givony

Moving from Novgorod back to his hometown of Moscow to play for Triumph (alongside fellow draft prospect Sergey Karasev) this past offseason, Dmitry Kulagin got off to a slow start in his new situation. Recently, however, he has been playing exceptionally well, living up to the terrific promise he displayed this summer at the U-19 World Championship in Latvia.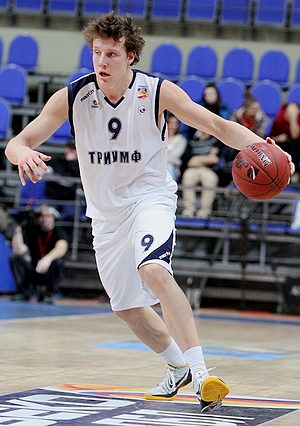 pbleague.ru



Through 30 games, across three competitions (the Baltic League, EuroChallenge and Russian PBL), Kulagin is playing a solid 24 minutes per-game, averaging 15 points (46% 2P, 32% 3P, 68% FT), 4 rebounds, 5 assists, 2 steals, 3 turnovers, and 4.2 free throw attempts per-40 minutes. His team has won their last six games in the PBL and is now in 3rd place, with Kulagin inserted into the starting lineup and playing some of his best basketball as of late.

Kulagin still hasn't fully been handed the keys to this Triumph team, which makes sense considering his age, inexperience, and the level of competition they are playing at. He shares the backcourt with 6-2 American scoring guard Tywain Mckee, who also likes to have the ball in his hands and is a somewhat streaky shooter. The two are learning to cooperate better and better as of late, even collaborating this past weekend on a terrific win over UNICS Kazan, a team that is currently 3-0 in the Euroleague Top-16.

Even playing as a combo guard, Kulagin remains one of the most intriguing young guard prospects in European basketball, showing a very NBA-friendly combination of confidence, fluidity, and talent with the ball in his hands that is very unique on this side of the ocean.

A superb ball-handler, Kulagin creates his own shot exceptionally well thanks to his ability to change speeds and directions intuitively. He beats players off the dribble regularly in isolation and pick and roll situations, doing a nice job reading the floor and deciding whether to drive and dish, pull-up for a jumper, or go all the way to the basket and finish strong. He draws fouls at a very good rate thanks to his shiftiness and aggressiveness with the ball, but needs to improve on his 68% shooting from the free throw line.

As a decision maker, Kulagin remains a work in progress, as evidenced by his 1.6:1 assist to turnover ratio and 18% turnover rate. He makes some spectacular passes that illustrate his terrific talent-level and feel for the game, but tries to do a little too much at times and can end up forcing the issue.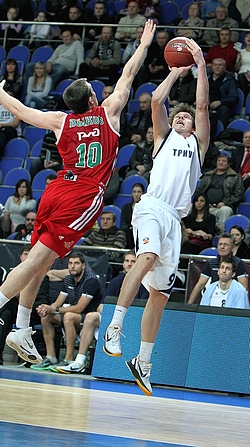 pbleague.ru



Kulagin's perimeter shooting is also improvable. He's making just 32% of his 3-pointers, but appears to have good mechanics on his jumper and the ability to make tough shots off the dribble. He tends to fade away unnecessarily at times on his pull-ups, kicking his legs out and not being on-balance. His shot-selection is average at best, which may have something to do with his less than ideal role playing off the ball at times.

On defense, Kulagin looks slightly improved as of late but still leaves something to be desired. His excellent size and anticipation skills allows him to make his presence felt from time to time on this end of the floor, particularly when he's putting the effort in, but he's still often too upright in his stance and susceptible to biting on pump-fakes and gambling in the passing lanes. Kulagin's average lateral quickness will likely make it difficult for him to ever develop into a real lock-down defender, but he'll need to keep improving on this end of the floor if he doesn't want to be labeled as a liability. To that end, improving his focus, toughness, and fundamentals will be paramount

With the weakness of this year's point guard crop, Kulagin could reportedly very well elect to throw his name into the draft to see where he stands in the eyes of NBA talent evaluators. The way Ricky Rubio is playing in the NBA thus far surely won't hurt his draft stock, as the two share some similarities in terms of their style of play.

Kulagin is eligible to play in this year's Nike Hoop Summit and is apparently interested in doing so, and will also have a chance to show himself at the EuroCamp in Treviso as part of (at the very least) the Under-20 Russian national team.

NBA teams will want to do their due diligence on the conflicting reports surrounding his background, attitude, and off-court habits, something that will be very important considering the significant transition he'll potentially need to make moving from Russia to the US, but there's little question about his talent and ability to make things happen with the ball in his hands.

[Read Full Article]

---
U-19 World Championship Player Evaluations, Part Two
August 25, 2011
Jonathan Givony

Dmitry Kulagin came alive for Russia in the most important games of the tournament. In doing so, he proved to be one of the top prospects at the event and possibly the most talented young guard in Europe these days.

Kulagin is a player we wrote about in depth last January, and he did little in this tournament to disprove the notion that he's a highly intriguing prospect for NBA scouts to follow.

Standing 6-5 with a solid frame, Kulagin is a fluid and creative ball handler/passer who can put the ball in the net in a variety of different ways. He made just three of his first 20 attempts from beyond the arc at the tournament, but he converted 11 of his next 20 attempts in the final four games to even out his stat line and give his team a major shot in the arm when it needed it most.

Kulagin made many of his shots in catch-and-shoot and off-the-dribble situations – though he was especially adept at making shots off the dribble. He showed unlimited confidence in his abilities and didn't shy away from the moment in the least bit as the games became more competitive.

The young Russian is also a capable pick and roll threat. He was able to create his own shot at will, showing an excellent feel for the game, especially in terms of finding the open man once the defense converged. His ability to make simple passes made his teammates' life much easier, and he did a great job keeping turnovers to a minimum, coughing the ball up just 12 times in 271 minutes over the course of the event. This is particularly impressive considering the amount of responsibility he was asked to shoulder.

The biggest question marks regarding Kulagin's NBA potential are on defense. He showed below average intensity and fundamentals on this end of the floor and has a long ways to go to prove to scouts that he can guard his position in the NBA.

Kulagin's lateral quickness isn't great. He tends to gamble excessively for steals, and he doesn't do a very good job fighting through screens and maximizing the tools he possesses — namely his size and strength — to compensate.

After a productive rookie season in the Russian PBL with Nizhny Novgorod, Kulagin will be moving back to his hometown of Moscow to play for Triumph. The circumstances of his transfer are somewhat under dispute, as some claim that Novgorod decided to cut him due to his affinity for drinking and partying, while Kulagin claims they were simply disgruntled that he elected not to sign a long term contract with them.

Either way, Kulagin's off-court habits will come under the microscope due to the reputation he's garnered, but it's surely not too late to change that considering that he's only 19 years old, and exceptionally talented.

[Read Full Article]

---
European Roundup: Kulagin Coming On In Russia
January 7, 2011
Jonathan Givony

The best guard at the Under-18 European Championships this past summer and a candidate for the prestigious FIBA Europe Player of the Year in the "young men's" category, Dmitry Kulagin has to feel like a breath of fresh air for Russian basketball.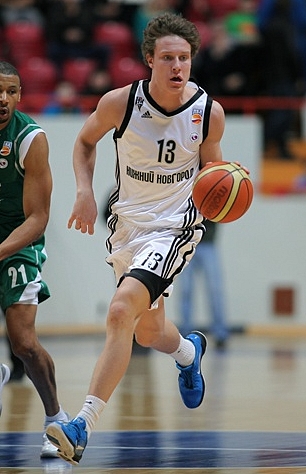 pbleague.ru



Kulagin led his Russian national team all the way to the Finals of the Under-18 European Championships this summer, where they were defeated by Jonas Valanciunas and Lithuania, who hosted the event.

This season, he's seeing big minutes in the first division with Nizhny Novgorod at age 18, and is producing in a very interesting manner. Clearly one of the most talented young players in international basketball, Kulagin is a player that NBA teams should be keeping close tabs on, despite the fact that he plays in total obscurity in the heartland of Russia.

A sturdily built 6-5 guard, with a quick first step and an extremely aggressive mentality, Kulagin is a very fluid player with good physical attributes for a European prospect.

Seeing time at both guard positions, Kulagin is a player who clearly looks most comfortable with the ball in his hands. Very effective in transition, he likes to create his own shot in isolation or pick and roll situations and has found success doing so in the Russian league this season thanks to his quick first step, change of pace ability and excellent ball-handling skills. He struggles to finish through contact at times once at the rim due to his lack of strength and average explosiveness, but has been able to get to the free throw line at a very nice rate regardless due to his aggressive nature.

Also a capable threat from the perimeter, Kulagin shows the ability to make shots with both his feet set and off the dribble. Although not terribly consistent at this point in time, Kulagin shows good ability as a shooter due to his fundamentally sound mechanics and quick release. Not very experienced, but extremely confident in himself nonetheless, Kulagin will show questionable shot-selection from time to time, even if you have to admire the fearlessness he displays.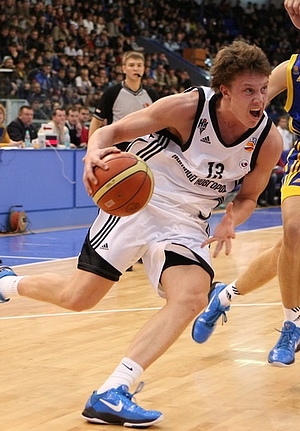 pbleague.ru



Despite his scoring prowess, Kulagin's best attributes as a prospect mostly revolve around his playmaking ability and overall feel for the game. Displaying an exceptional level of creativity and talent, Kulagin is a player for whom things clearly come extremely naturally for.

Full-court bounce passes, alleyoop lobs, no-look behind the back drop-offs— Kulagin gets the ball to his teammates in every which way possible, looking extremely impressive with the imagination he displays. He makes decisions quickly and incisively, often in highlight reel fashion, showing poise and maturity that belies his age.

Kulagin isn't a typical Russian prospect in many regards, as he shows plenty of emotion on the floor, is very vocal, displays nice toughness, and doesn't seem to shy away from responsibility at all.

Kulagin's flair for the creative doesn't come without consequences, as he is prone to making some bad decisions from time to time. That hasn't been as much of an issue as you might think all things considered, though, as he's only committed 13 turnovers in 224 minutes so far this season, or one every 17 minutes he's on the court. Nevertheless, continuing to gain experience will be crucial moving forward, something that he's been able to do in the excellent situation he's currently in in Novgorod, where he's playing big minutes in one of the most competitive leagues in Europe.

Defensively is where the biggest question marks about Kulagin's NBA potential are likely to arise. His lateral quickness appears to be just average, and at 6-5, it's tough to imagine him being able to guard opposing point guards full time.

His good size, mature frame, competitive nature, and terrific anticipation skills (especially in the passing lanes) will all help, but it's very likely that he'd be better off defending NBA shooting guards rather than point guards. Being forced to operate as a shooting guard offensively will likely take away many of the things he does best, though, so finding the right fit (both on and off the court) will be a big key for him.

Kulagin is pretty far off the radar screen of most NBA teams from what we've been able to tell, but if he continues to play as well as he has halfway through the season, expect that to change pretty soon.

[Read Full Article]

---