Donatas Motiejunas
STRENGTHS:
- Excellent skill-level
- Mismatch Potential
- Scoring instincts
- Ability to create own shot
- Ball-handling skills w/either hand
- Excellent hands
- Excellent Touch
- Footwork/Post-moves
- Turnaround jumper
- Potential
- Left-handed
- Level of competition
- Solid passer
- Ability to run the floor
- Athleticism
- Size for position
- 3-point range
- Pick and pop potential
WEAKNESSES:
- Inability to establish position in post
- Ability to defend position at next level?
- Commitment to playing defense
- Defensive awareness
- Gets backed down in post
- Consistency
- Doesn't always play hard
- Mental/Physical toughness?
- Not ready to contribute immediately
- Questionable intangibles
- Can NBA rookie scale compete financially w/other options?
- Cultural adjustment to NBA
- Strength
- Poor rebounder
Recent Tweets
All Tweets
DraftExpress: Checking in on the performances of Jonas Valanciunas, Nikola Mirotic, Nikola Vucevic, Kyle Singler & Donatas Motiejunas http://t.co/yR736erc
2011-12-19 03:56:39
DraftExpress: Two interviews w/ Jonas Valanciunas and an additional workout video of Donatas Motiejunas from the EuroCamp in Treviso: http://bit.ly/laBZpv
2011-06-17 01:46:42
DraftExpress: Word is Donatas Motiejunas did a heavy lifting session right before his workout Saturday, which is why he shot so poorly. Unfortunate error.
2011-06-13 02:38:10
DraftExpress: Watched Donatas Motiejunas work out again. Shot the ball much better. Showed his excellent agility & footwork. Left a much better impression
2011-06-13 02:28:20
DraftExpress: We added video of Donatas Motiejunas' workout at the EuroCamp yesterday. Day One recap from Treviso: http://bit.ly/kMyKTs
2011-06-12 06:22:52
Top 25s - Full List
Team: Rockets
Physicals
Positions
Salary
Misc
H: 7' 0"
W: 215 lbs
Bday: 09/20/1990
(25 Years Old)

Current: PF/C
NBA: PF/C
Possible: PF

Agent: Arn Tellem

High School:
Hometown: Kaunas, Lithuania
Drafted: Pick 20 in 2011 by Timberwolves
Best Case: Pau Gasol
Worst Case: Yi Jianlian




Basic Per Game Statistics

- Comprehensive Stats - Statistical Top 25s

Player Page&nbsp&nbsp| Player Stats | Mock Draft History | Related Articles&nbsp&nbsp| Add to My Draft Express&nbsp
&nbsp
Top European Performers of the 2011 NBA Draft Class
December 19, 2011
Donatas Motiejunas watched his draft stock rise and fall quite a bit over the years before ultimately leaving his name in the 2011 NBA draft. After spending last season with Benetton Treviso, Motiejunas expected to spend the summer competing for Lithuania as they hosted the 2011 Eurobasket, but was cut during exhibition play.

The young forward signed with Polish club Asseco Prokom who are competing in both the Euroleague and VTB United League this season. Though his team is just 4-12 on the season, Motiejunas has posted some huge games this season, which likely has Houston fans excited about his future.

Motiejunas has continued to do many same things for Prokom that he did for Benetton Treviso on the offensive end. With the departure of Alonzo Gee, Motiejunas ranks as Prokom's leading scorer in both of the leagues they compete in, and is for all intents and purposes, filling the role of #1 option for his team.

The 7-footer is spending more time on the perimeter than he did earlier in his career, and while his 32% three-point shooting is just shy of the mark he posted last year, he's attempting 3.5 3-pointers per-game, indicating an increased confidence in his jump-shooting ability. Around the rim, Motiejunas remains an agile finisher for his size, and that's been especially useful to him with his back to the basket, converting an excellent 54% of his 2-point attempts.

The biggest development we've seen from Motiejunas this season has come on the glass. Often maligned for his rebounding ability in the past, the Lithuanian big man broke the Euroleague record for defensive rebounds in a game with 18 against Union Olimpija.

While he's posted games of 1 and 3 rebounds this season, his occasional outburst on the glass has him averaging nearly 3 rebounds per-40 minutes more this season than he averaged last season. It's not a stretch to say that had he shown more of an inclination to crash the glass occasionally last season the athletic and skilled 7-footer would have been picked much higher than 20th in the 2011 draft.

For the second straight year, Motiejunas is a top interior option playing and producing at a high level against quality competition. He's had some moments of brilliance, though the inconsistency we've outlined in previous reports are still very much there as he's spending more time away from the basket.

Fiery Lithuanian Head Coach Tomas Pacesas has managed to get the most out of Motiejunas thus far, and though his team is struggling to win games (particularly in the Euroleague, where they are completely overmatched), he remains one of the top young players in Europe and it is worth keeping an eye on him as he seems to be improving on his weaknesses.

[Read Full Article]

---
Situational Statistics: the 2011 Big Men Crop
June 21, 2011
Benetton Treviso's Donatas Motiejunas is easily the highest usage European prospect in this group at 12.6 possessions per-game. He doesn't stand out in too many areas in terms of efficiency, but has some unique versatility on paper.

Motiejunas's 0.971 overall points per-possession ranks him right below the middle of the pack, but considering the young Lithuanian was the top interior option on a EuroCup and Italian league semifinals team, it is fair to say that he went up against much stiffer competition than many of the players on this list.

The differences between Motiejunas and Biyombo/Valanciunas are stark. His role included far more opportunities for him to create his own shot and his touches stretched all the way out to three-point range. Motiejunas saw only 7.4% of his possessions as the roll man in the two man game, with nearly 50% of his touches coming from spot-ups and post-ups.

With his back to the basket, Motiejunas converted a slightly below average 47.3% of his shots, and when digging deeper into his situational statistics, we can see that he had some exceptional games making plays around the rim and some subpar outings as well. His efficiency does not stand out in any one category, but he appears fairly average across the board because of his bouts with inconsistency.

The one area where Motiejunas does rank notably above average in this group is as a jump shooter. 26.5% of his shots were jumpers last season, and he scored a very good 1.01 points per-shot on those attempts. His ability to stretch the floor adds a different dimension to how he can be utilized offensively long-term.

A player that has been on the radar of scouts for years now, Motiejunas's strengths and weaknesses are well defined at this point. He's a more mature offensive player than many European big men we've encountered in the past, and if he can continue to improve his toughness and consistency, his situational versatility is going to give him an intriguing set of tools to work with at the next level, particularly when you consider his size.

[Read Full Article]

---
Valanciunas/Motiejunas Interview/Workout Videos
June 17, 2011
A workout we took in while at the adidas EuroCamp in Treviso Italy.



[Read Full Article]

---
2011 adidas Eurocamp: Day One
June 12, 2011


Many swings and many misses… Darn, already used that one. But this guy's supposed to be able to shoot, right?

Donatas Motiejunas put on his own, more surprising brick show, in a very uninspired workout.

Known as a lackadaisical shooter who can't rebound, Monteijunas negated his only strength today, being unable to make anything from almost anywhere on the floor. Granted, it's one workout and his record throughout his career speaks for itself, but still. This was ugly.

At one point he shot 4/17 when moving around the 3-point line for uncontested jumpers.

What's worse is he looked somewhat disinterested in the workout and showed bad body language.

For a player who's stock wasn't exactly on the uptick going into today, and the format of the workout was less than ideal, Motiejunas surely didn't help himself, even though its highly questionable how much of a part this extremely limited setting should play in the evaluation process.

[Read Full Article]

---
European Roundup: Dominant Donatas
December 3, 2010
Jonathan Givony

Donatas Motiejunas has found his groove.

After somewhat surprisingly electing not to enter his name in the 2010 NBA draft, Motiejunas has taken Italy by storm in his second season with Benetton Treviso. He currently ranks as the 2nd best per-minute scorer in the Italian Lega A, and is doing so in spectacularly efficient fashion, shooting 66% from 2-point range and 46% from behind the arc.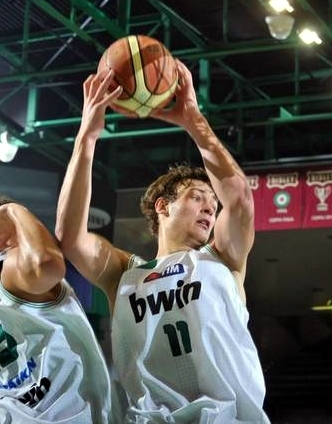 Benettonbasket.it



While we're only seven games into the season and those numbers will surely come down to earth, it's not a stretch to say that the 7-foot Lithuanian has blossomed into one of the best scoring big men in all of European basketball at the tender age of 20, and likely the most skilled power forward/center in the draft. Offensively, it's getting easier and easier to see where the comparisons with Pau Gasol are coming from.

Two things jump out at you immediately when comparing Motiejunas with how he looked last season: his comfort level offensively and improved body. He's added a solid 10-15 pounds of good weight to his frame over the summer, and is playing with as much confidence as we've seen since we first laid eyes on him when he was only 15-years old.

Motiejunas' improved frame has helped him considerably when it comes to scoring inside the paint, as he's doing a much better job of establishing post-position, and is in turn attempting much higher percentage shots and getting to the free throw line at an outstanding rate.

He's still the same incredibly skilled big man we've always known, with his terrific hands, touch and footwork, but now he's added a degree of physicality that compliments his finesse game quite well.

Motiejunas has been responsible for some extremely impressive possessions inside the paint this season, creating his own shot with a wide array of fakes and spins, using the glass beautifully, finishing with either hand, and sometimes even throwing in some swooping sky-hooks running across the lane for good measure.

He looks about as comfortable and natural as a big man can with his back to the basket, but is also fast enough in the open court that he'll get himself at least one or two easy baskets a game just by beating his man down the floor.

Another area where Motiejunas' has made notable strides is perimeter shooting. Whereas last season he converted just 21 of 58, or 36% of his overall jump-shot attempts, according to Synergy Sports Technology, this year he's doing much better, knocking down 6/13 of his 3-point attempts in seven Italian league games thus far. He's being utilized much more frequently in pick and pop situations, and is showing absolutely no hesitation whatsoever when left open on the perimeter, showing a quick release and excellent range.

Facing the basket, he still has the ability to put the ball down and beat opposing big men with a quick first step and nifty handles, even being able to change directions with the ball and execute sharp pivot moves, which you rarely see from a player this size. At times you'll see him grab a rebound and ignite the fast break himself, racing up the floor with the ball with the utmost confidence in his ball-handling ability.

He's an easy player for a coach to utilize offensively, since he can hurt opponents in so many different ways with his terrific versatility.

Motiejunas unfortunately still struggles with the two very important areas that were pinpointed early on in his career as being major weaknesses: defense and rebounding. His defensive rebounding numbers have actually gotten worse this season, now down to a paltry 3.2 per-40 minutes, which ranks him dead last in the entire Italian league amongst both power forwards and centers.

While Motiejunas' average efforts boxing out and lackluster hustle could get better with age and coaching, he just doesn't have very good instincts for rebounding, making it tough to see just how much he can improve down the road in this area. He doesn't play with very much intensity, looking lackadaisical in his approach, rarely going out of his area for rebounds, and often going after loose balls with one hand. It's here where the Andrea Bargnani comparisons appear the most accurate.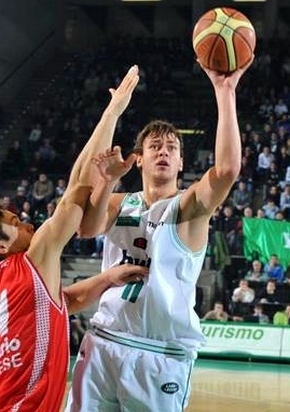 Benettonbasket.it



Defensively, we see much of the same. It's not a matter of ability –Motiejunas' physical tools and timing are outstanding— you'll occasionally see him make a spectacular block or hedge a pick and roll wonderfully, shutting down the entire play. Rather, it seems to be a question of passion, intensity, and his overall mentality.

He doesn't play with very much emotion on this end of the floor, not looking willing to sacrifice his body for the sake of his team and showing a distinct lack of purpose. He gets posted up frequently for example, not offering enough resistance to opponents trying to back him down, and not really looking overly concerned when inferior opponents score against him. He also doesn't seem to possess very good fundamentals on this end, as you often see him getting out of his stance way too quickly and he tends to get lost off the ball.

Motiejunas' body language leaves something to be desired too. He gets down on himself easily and still shows some signs of the immaturity that plagued him earlier in his career, complaining excessively and letting little occurrences on the floor throw him off his entire game. There have been some concerns earlier in his career that he may be a little fragile mentally, and these things don't do much to deter those thoughts.

Like many other European draft prospects, expectations and situation will likely play a huge role in how his NBA career pans out. If Motiejunas gets picked too high (like Milicic and Bargnani clearly were) and is put under a great deal of pressure and scrutiny, he may struggle in the early going. The type of coach that is working with him will also be key—he'll likely need some freedom to operate offensively, and a patient, supportive approach to his struggles defensively and on the glass.

Players with Motiejunas' combination of size, athleticism and skill-level don't emerge that often, but he's no sure bet to pan out. We'll be keeping track of him for the rest of the season to see how he continues to progress.

[Read Full Article]

---
European Roundup: Donatas Doing Better
January 27, 2010
With his team falling to 7-8 in Serie A this past weekend after yet another disappointing loss, we (along with many NBA executives) were forced to adjust our travel schedules for late February after Benetton Treviso failed to qualify for the Italian Cup/Final 8. Instead, we dug deep into the large quantity of film at our disposal thanks to Synergy Sports Technology, and came away with plenty of food for thought.

Since the last time we checked in on him in mid-November, Motiejunas' minutes and role have both increased for Benetton, and he's looking noticeably more comfortable in his own skin. He starts every other game on average and sees between 20-25 minutes typically depending on the matchup.

Considering the fact that he's only 19 years old and is playing essentially his first 'real' season of professional basketball, this is very impressive. His team is struggling (by their standards) as mentioned, being forced to call in Brandon Jennings' old coach in Rome, Croatian Jasmin Repesa, to try and save the ship.

Up until the coaching change Motiejunas was looking more and more confident about putting his skill-level on display. Repesa doesn't seem to be holding him back early on, already giving him 31 minutes in their EuroCup Top 16 debut (which they lost at home). The Lithuanian responded with 17 points (7/9 FG), 5 rebounds, 4 steals and 3 assists.

With added experience underneath his belt, and a growing role, Motiejunas is quickly emerging as one of the most versatile big men in the Italian league. The place that shows up the most is on the perimeter, where Motiejunas is showing outstanding potential taking his man off the dribble in creative fashion, often spinning his way through the lane for some incredibly impressive finishes.

Able to go left or right, Motiejunas is a nightmare for most big men to match up with at his size, as he possesses an excellent first step to go along with strong ball-handling skills and terrific body control maneuvering his way towards the basket.

He's getting to the free throw line at a very good rate, 6.4 times per-40 minutes pace adjusted, which ranks him in the top-10 in the Italian league amongst qualified players in that category.

Something to keep in mind is that his ability to create scoring opportunities out of isolation situations will be far more useful in the faster paced and more loosely called realm of the NBA. Italian league refs are notorious for being incredibly quick to call traveling violations (particularly on rookies like Motiejunas), and there were a number of whistles that we saw on film that would not have been ruled as such in the NBA.

Motiejunas is also looking a little better in the post these days, appearing more comfortable here now than he did in the past. His outstanding footwork combined with his terrific agility and quickness allows him to create his own shot with relative ease, often to transition into a beautiful jump-hook shot, which he can execute with either hand. His touch around the basket and overall feel for scoring remains extremely impressive for someone his age, as it's pretty clear that we're talking with an exceptionally gifted offensive player with a huge upside to continue to develop on this end of the floor.

On the downside, Motiejunas' jumper has not been falling very regularly at all, as he's converted just 8 of the 27 jump-shots he's attempted this season (6/21 3P) according to Synergy Sports Technology, and 46/76 free throw attempts, good for 60%. Looking at his shooting mechanics and the terrific touch he displays around the basket, you have to imagine that it's only a matter of time until his shots start falling from the perimeter.

While Motiejunas leaves an incredibly strong impression with the talent he's displaying on the offensive end, his work defensively and on the glass can't be described as anything less than worrisome. Possessing average fundamentals on this end of the floor, Motiejunas is somewhat of a liability when attempting to defend on the perimeter. He's extremely upright in his stance and shows very little in the ways of hustle or awareness, getting burned repeatedly in the film we took in.

His lack of strength is a major issue, but so is his extremely poor balance, as you regularly see him being knocked to the ground in every game he plays in. He gets pushed around by smaller players fairly often, giving up deep position in the post, and in turn easy baskets.

He remains an incredibly poor defensive rebounder, grabbing just 46 defensive rebounds in 448 total minutes, or one for every 10 minutes he's on the court. Although rebounds are tougher to come by in Europe than they are in the NCAA, it's tough to ignore the fact that he ranks amongst the worst defensive rebounders in his own league on a per-minute basis.

What we must keep in mind at all times is that Motiejunas is still only 19 years old, and has plenty of room to add enough strength to his very solid frame. This added bulk will help him compete much more effectively against most of the big men he'll encounter in the NBA, but it may take some time for him to fill out. At this point Motiejunas may be considering staying another season in Benetton, as he still has another year on his contract that he signed this past summer. With at least four months remaining in Benetton's hectic schedule, including the top 16 round of the EuroCup, and possibly the Italian league playoffs, there is still a long ways to go.

NBA scouts will be paying close attention in particular to Benetton's two matchups with fellow draft prospect big man Tibor Pleiss of Bamberg next week and in March.

[Read Full Article]

---
European Roundup: Motiejunas Adjusting
November 15, 2009
After transferring this summer from a tiny team competing in a small league in his local first division to Italian based Benetton Treviso, we're witnessing the first steps taken by top Lithuanian prospect Donatas Motiejunas.

So far, the transition hasn't been easy, which is to be expected considering the immense jump in the level of competition he's facing, but he has been making progress from week to week, something we'll have to continue to track as the season moves on.

Motiejunas is coming off the bench for Benetton, playing most of the frontcourt minutes (16.4 on average at the moment) left over by power forward Judson Wallace and center Sandro Nicevic. In contrast to last season, he's not a focal point for his team offensively in the least bit, mostly living off scraps in the form of pick and roll finishes, weak-side cuts, spot-up jumpers, easy finishes recieving the ball in transition, and the occasional post-up play. Considering his rookie status and the stage of development he's currently at, this is not a surprise in the least bit. This season has been a learning experience for Motiejunas thus far, one that will very likely be very beneficial as he makes the transition to first round draft pick and eventually, NBA player.

The main thing holding Motiejunas back at the moment is his lack of strength, which has been incredibly evident in all the film we've seen thus far, on both ends of the court. Motiejunas lacks the bulk to operate as effectively in the paint as his terrific skill-set and athleticism indicates he should be able to, struggling to establish position inside and having a very difficult time finishing his moves in traffic when taking contact around the rim.

Defensively, Motiejunas is getting posted up quite a bit, leading him to foul at a very high rate, and having a difficult time with his off the ball defense, looking somewhat lost on rotations. He's agile enough to step out nicely on the perimeter and hedge screens defending the pick and roll, but will require experience at this level to learn how to put his athletic gifts to proper use.

Perhaps the place where Motiejunas is struggling the most right now is on the glass, having grabbed just four defensive rebounds in 82 minutes of action through five Italian league games. It's not hard to come away with the feeling at times that Motiejunas lacks quite a bit of toughness watching him being boxed out with ease while casually going after loose balls with one hand, and this will be a significant concern for NBA decision makers moving forward if he can't find a way to pick up his play here. He looks very indifferent setting screens and stepping in to take charges, avoiding contact and not really being in a huge rush to sacrifice his body for the sake of the team.

On the positive side, Motiejunas' terrific talent-level is constantly on display, sometimes in small flashes and sometimes in very large ones. His excellent hands, extremely nimble footwork and terrific mobility are all huge assets that have clearly translated to this level of competition, and have already allowed Motiejunas to establish himself as a scoring presence even with limited possessions.

The terrific touch he displays around the rim is especially impressive. He's an incredibly natural scorer in the paint, converting on beautiful hook shots, hitting spot-up jumpers, putting the ball on the floor nicely, and converting other unorthodox shots confidently and instinctively. The fact that Benetton really has no true point guard on their roster probably isn't helping him that much, but the Lithuanian big man is talented enough to go out and get his own offense, which not many 19-year olds playing at this level of competition can say.

Benetton unfortunately was not able to get past French minions Orleans in the Euroleague qualifying stage, meaning we'll have to settle for watching Motiejunas play on Tuesdays in the EuroCup instead. He'll compete against the likes of Kevin Seraphin at Cholet and Nemanja Bjelica at Red Star Belgrade, which will at least make NBA scouts a little less unhappy.

Right now Motiejunas looks a little bit lost, clearly lacking some confidence and needing time to settle into his new role against the much stronger opponents he's facing compared with last season. It's way too early at this juncture to draw any long-term conclusions based on Motiejunas' play, so we'll just have to continue to watch closely and see how he progresses.

[Read Full Article]

---
2009 U-20 European Championship Review: Bigs
October 7, 2009
Of course we couldn't leave Motiejunas out of this section, even though he really didn't do much to deserve any accolades. Still, the tremendous potential he shows is enough reason not to simply neglect him.

Everything about his terrific physical attributes and skill-set has already been said here at DraftExpress, and is still very much there lurking in the background. The great combination of size, length, quickness and pure basketball talent makes him a really special player and clearly the tournament's top NBA prospect.

Motiejunas is a very good ball handler, thanks to his great speed, agility and terrific skill-level. He's a 7 footer who loves to slash to the basket using his great first step, which causes serious mismatch problems facing the basket. He's also a decent passer, even if he was a bit too turnover prone, often due to a lack of concentration. Even though his long arms give him an important advantage, he still misses better strength, toughness and body control to be a more dominant finisher around the rim, only converting on 43% of his 2-point attempts. He's able to execute spin moves very smoothly, but still needs to work on polishing his moves in the low post. It was nice to see him improving his ability to use his off-hand (right), both to release jump hooks and put the ball on the floor. Facing the basket, he shows terrific potential as a jump-shooter, even being capable of knocking down shots off the dribble.

Motiejunas is still unable to consistently make his presence felt on the game and show the type of leadership on the floor you would expect relative to his status on the team. The numbers he put up during this championship were very, very modest for a guy with his quality and the high expectations created around him. Likely somewhat tired from playing in the U-19 World Championships in Auckland just prior to this tournament, his poor effort and intensity level did not make him much of a threat as a rebounder or defender relative to his physical tools. His attitude left a lot to be desired as well.

Whenever Donatas Motiejunas will decide to keep his name in the NBA draft, he'll be a very high pick thanks to the tremendous potential he enjoys. Still, he can't afford to have many more showings than this if he wants to maintain that status, as there are already question marks about his mentality and mental toughness.

[Read Full Article]

---
Nike Hoop Summit, International Prospects
April 15, 2009
The most intriguing international prospect in attendance, Donatas Motiejunas managed to string together quite an impressive performance, despite playing out of position. With Aisciai Kaunas in Lithuania, the talented lefty plays exclusively at the 4/5 spots. With the lack of a true three on the roster, the World Select Team had to take advantage of his ball-skills and perimeter shooting ability, placing him out of position for most of the game. You could tell this frustrated Motiejunas early in the game, as his teammates weren't getting him the ball in the proper position. Starting late in the first quarter, the Lithuanian started to gain more comfort, overcoming his frustration to contribute nicely in the victory.

Though not the toughest player, the Lithuanian did show some nice fight in the Hoop Summit, first gathering an offensive rebound and finishing the play with a no-look pass to Tomislav Zubcic down low. The next time down, the big man took his defender to the basket off the dribble, and kicked to the wide open shooter on the weak-side. Motiejunas finished the game with 5 offensive rebounds, taking advantage of his length and agility while at the same time outworking the front line of Team USA.

Motiejunas can be described as a complete player offensively, showing the ability to play inside and out. When he received the ball in the post, he showed a very nice set of moves and fakes, and his touch can be described as quite impressive as well. His go-to move appears to be a lefty hook off a quick spin, but he can also finish with his right hand inside with great touch. Early in the game when he struggled to score, Motiejunas still managed to make a couple of very nice passes on the drive, and show very polished ball-handling skills for a 7-footer as well. The range on his jumper extends to the NBA 3-point line, and he possesses solid body control and athleticism on the dribble-drive.

Defensively, Motiejunas still needs to become a tougher player, particularly if he wants to guard post players at the NBA level. He has a solid frame, but he must continue to get stronger and focus on learning the proper leverage to keep stronger players from backing him down so easily. A greater effort from him coming on weak-side rotations would go a long way as well. The big man seems to understand how to get to the spot, but doesn't show the greatest effort in contesting shots.

Free throw shooting is another area where he could seemingly improve. He made 10 of his 14 attempts in this game, but seemed to struggle in the practices at times from the free throw line as well. On the drive, he really favors his left hand, despite his ability to score with his right hand from the post.

After his solid showing here, Donatas Motiejunas will return to Lithuania to finish out his season and decide if he wants to test the waters in this year's NBA draft. A very skilled offensive player who is already productive in his home country, he could find himself benefiting from the lack of bigs and international prospects in the 2009 NBA draft. On the other hand, another year in Europe against stronger competition could really help his long-term development, especially once he manages to improve his body. Regardless, Motiejunas seems to be a very talented prospect with a bright NBA future. A free agent after this season, he has the flexibility to find a higher level club or come right to the NBA if he wishes to do so.

[Read Full Article]

---
Nike Hoop Summit Day One (International Practices)
April 9, 2009
Donatas Motiejunas is easily the best known and most talented prospect on the international squad. Standing at a legit 7 feet tall (without shoes), the Lithuanian big currently ranks second in his home country's domestic league in scoring, and fourth in rebounding. He didn't take long to stand out early in the practice, the time usually reserved for developing skills and offensive concepts.

Motiejunas has every tool you could ask for on the offensive end. The footwork he displays in the low-post is nothing short of jaw-dropping for a player of his age, and you especially see it from the low-post. Motiejunas moves in a smooth and nimble fashion, and does a great job of selling the defender on his fakes. The sharpness and execution of these moves mirror what you'd normally see from a much older player, and it appears that he can create a shot in any given situation.

If the great scoring tools down low weren't enough, the Lithuania also shows a good number of skills away from the basket. Motiejunas shows a smooth shooting stroke, and hit a three pointer from NBA range in practice today. The international team runs frequent elbow pick and rolls, and he often gets to pop high for a 20-foot jumper, which he has shown excellent accuracy with over the past 2 days. The Lithuanian big man can do more than just shoot from mid-range, however. He seems very comfortable driving to his strong hand off the dribble, and in this setting, always finds a way to finish near the hoop.

With the plethora of offensive skills he shows on offense, a player like Motiejunas must learn to play as the focus of the defense. He has already responded to this quite well, and appears to have a great feel for the game. In the low post, he rarely forces anything, choosing to throw the ball to the open man if the defense doubles on the catch, and he always feels where the defense is coming from. On the drive, the big man always knows where the open shooter is, and has no trouble throwing the correct pass.

For all of his offensive skills, Motiejunas has a long ways to go to even become average on the defensive side of the ball. Though he shows the intelligence to know the pick and roll coverages and help defense schemes, he rarely shows the toughness to use this knowledge to his advantage. He was exposed a number of times in the post, where Milan Macvan would just back and him down, and easily finish over him. The first step to improved defense will be added strength. His frame should be able to take another 20 pounds without adversely affecting his mobility. Since he shows good toughness on the offensive end, he reasonably should be able to make an impact defensively with added muscle, but he must also show the desire to play on the other side of the ball as well. The fact that he sports such a poor wingspan, though—just 6-11, is clearly a hindrance.

Considering all his tools and current level of productivity overseas, it will be very interesting to see how he fares against the athletic front line of Team USA. The international guards traditionally tend to struggle to get the ball to the big men in this setting, so his reaction to not always being involved offensively could be interesting to watch as well. As a 1990 born player, Donatas Motiejunas will be eligible for the 2009 draft, and he seems to be the most likely candidate from this group to use a solid performance here as a springboard to the NBA draft-- though all signs now would point to another year playing overseas

[Read Full Article]

---
European Roundup: Dominant Donatas?
February 6, 2009
Not every day do you find an 18-year-old kid leading a first-division European league in scoring. Well, Donatas Motiejunas just happens to be doing that in Lithuania this season. His 21.2 points per game are good for that top position, while an average of 7.4 boards leaves him second in the rebounding ranking. Of course Motiejunas is a super-talented player oozing with potential, perhaps the most promising big man in Europe in the last few years, but nobody should be misled by those whopping numbers.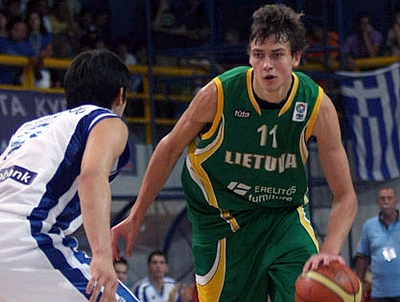 FIBA Europe



What's the trick? Well, Motiejunas is playing for a modest team, Aisciai Kaunas, where he virtually gets all the touches he wants, while the level of the Lithuanian league is very weak whenever you go beyond Lietuvos Rytas and Zalgiris Kaunas (which anyway aren't in their best shape this season). Actually, against these two teams Donatas averages only 14 points and 5.6 rebounds, and his field-goal accuracy dramatically drops from 49.2% to 24%. It's like playing in a whole different category.

We've precisely had the chance to watch him against Zalgiris, in a Cup game played a few days ago, where he reproduced his statistical struggles (6 points, 27% from the field, and 4 rebounds). Instead of the typical short and/or soft frontcourts Donatas usually faces in Lithuania, Zalgiris has some meat inside willing to play physical on their opponents, and that's where a young kid still with significant physical development ahead of him struggles. Motiejunas causes the most damage right now around the basket, taking advantage of his size, soft touch with both hands and sneaky moves, but Zalgiris' bigs never allow him to play comfortably from there. It's no big deal at this point, as he's pretty aggressive on the offensive end and will gain effectiveness as he becomes stronger.

It's refreshing to see that Motiejunas is making half of his three-point attempts, even if his shot looked pretty off in this Cup game. His court vision is also there, being able to pass the ball out of double teams, and recognizing opportunities pretty quickly. However, his scoring role isn't helping him to stockpile assists.

Perhaps the most negative aspect of his game is his defense. Never known as a good defender, he isn't surprising anyone at the senior level with his play on that end. Unlike what he shows on the offensive end, he tends to avoid contact on defense, being regularly outhustled and (logically) overpowered, while he doesn't look particularly focused on his work there. A more demanding environment (perhaps next season in Zalgiris?) will surely help him. Zalgiris does not own any rights over him, so theoretically, he could play anywhere in Europe next season.

[Read Full Article]

---
2008 Reebok Eurocamp in Treviso, Day Two
June 8, 2008
Three or four years younger than most of the players at this camp, it wasn't hard to tell how much more raw Motiejunas (12 points, 3 rebounds, 2/5 2P, 3/5 3P) is compared to the others. He air-balled a 3-pointer early on, and seemed to struggle with his lack of strength at times on defensive end and especially on the glass. He did settle in offensively as the game progressed, though, knocking down a few shots from mid-range and beyond the arc, making a very nice left-handed drive with a quick first step that he was unable to finish, dropping in a beautiful hook shot, and leaving other glimpses of his considerable potential. He obviously has a long ways to go, and thus may not be ready to contribute heavy minutes already next season for Zalgiris (and thus be able to think about the NBA draft), but there is a lot to look forward to if he stays patient and continues to work on his game.

[Read Full Article]

---
Euroleague Final Four: Nike International Junior Tournament
May 11, 2008
There was nothing surprising about Motiejunas' performance in the Nike International Junior Tournament, meaning that he delivered his usual stuff-- emerging as one of the very top performers, while looking like arguably the most promising junior seen in Madrid. Besides, his team Zalgiris was the only squad able to give a serious fight to the almighty FMP Zeleznik, following his leadership.

Motiejunas showcases a dreamed combination of length and skill set. Visibly standing in the seven-feet area, he also enjoys a nice wingspan and an excellent frame to build upon. If he's not a super bulky inside player, he's still a lengthy big with enough strength to operate in the paint and the athleticism to fuel his versatility.

In this tournament, Motiejunas operated mainly in the low post, exhibiting a superb ability to score around the rim. The Lithuanian shows very nice footwork and footspeed, the will to seek for physical contact, and a phenomenal ability to put the ball in the net with either hand. Indeed his touch with his off hand is a thing of beauty, which makes him virtually ambidextrous around the rim. The way the ball leaves his hands gives the expression 'soft touch' a whole new meaning, gently dropping it on the basket so if it hits the rim, there is a good chance it will still go in.

His jumper was another story. Usually a pretty reliable spot-up shooter, he suffered an awful tournament in this regard, even looking frustrated at times. The lefty also went for some off-the-dribble attempts, that he can also knock down with excellent mechanics, but obviously didn't work either. He did put the ball on the floor, not as often as in past occasions, but still showing his excellent quickness and coordination (he performed a few great reverse moves).

Motiejunas makes basketball look easy, not only when he goes for his points, but also finding his teammates within the flow of the game. He has no trouble delivering passes from a variety of situations, and even tries behind the back dishes and stuff like that. Defensively, he's not the most consistent player; but he showed nice activity. Obviously, he does have not any problem of mobility and length, he just needs to stay more focused and physical with his opponents (which will be easier for him as he fills out his frame.)

Anyway, the Lithuanian keeps showing a peculiar character. He gets way too easily frustrated with calls or game situations, which probably make him lose focus. Besides, he doesn't always stay equally intense, sometimes depending on the momentum of the game. Which looks pretty clear is that Motiejunas still needs to gain a degree of maturity on court.

[Read Full Article]

---
Roundup: Rollercoaster-Ride Batum On the Upside
December 19, 2007
One of the most talented youngsters in Europe (only Rubio is ahead of him out of the 89/90 classes), Motiejunas is already getting some burn with Zalgiris in the Baltic League. This weekend, he scored 19 points and grabbed 4 rebounds in the 19 minutes he spent on the floor before being fouled out in the victory against Valmiera.

We've seen Motiejunas this season in the Baltic League, but also in the NKL (Lithuanian second division) and even a few minutes in the Euroleague. It's interesting to see how he can eventually reproduce most of what he does in the NKL against superior competition. It doesn't really come as a big surprise, because given the phenomenal skill-set of his athletic seven footer, it's quite difficult to stop him when he's on fire.

Very fluid and coordinated, Motiejunas can deliver some astonishing moves for a long guy as him (actually, it's rare the game where he doesn't). He's a very versatile big man who can shoot with three-point range, and put the ball on the floor with either hand, and who doesn't avoid mixing it up inside and can skillfully finish around the basket with both hands. He sometimes comes up with guard-esque moves, especially in the NKL, where he enjoys more liberty. For example, we saw him driving the ball on a fast-break and finishing with a perfect right-handed bounce pass behind the back for an assist (he's a lefty), or attacking his opponents off the dribble to dish the ball to an open teammate showing excellent passing ability.




Playing against stronger competition exposes his physical underdevelopment much more clearly. It's relative, anyway, as he's decently strong for a 17-year old kid, and he shows a very nice frame. But anyway. it limits his ability to play in the low post, as he suffers to operate while taking contact with his back to the basket, and also his rebounding ability gets severely shorthanded, as he mighty struggles to keep his position.

On the other hand, he still can exploit his jumper, which he executes with beautiful mechanics, use his quickness against his opponents in off-the-dribble moves, play off the ball to get open looks near the basket, use his spin moves (he displays very good foot work) and jump-hooks whenever it doesn't require banging his rivals, or take advantage of his length to intimidate his opponents.

However, as great as his potential is, Donatas' effort doesn't always seem equally intense. It goes a bit beyond the typical inconsistency of a youngster like him; sometimes he gets too comfortable and confident, forgetting to put in effort and stay focused on the game. It's interesting to note, for example, how he was very willing on defense in his first BBL appearance, but in later games, his intensity struggles eventually came up.

[Read Full Article]

---
U-18 European Championship: The Bigs
September 5, 2007
After Rubio and Koufos, there's not a single player from this championship who comes remotely close to Donatas Motiejunas in terms of potential. He displays an impressive combination of size, skills, athleticism and room to keep improving. Getting really close to seven feet, Motiejunas is a very versatile big, rather fundamentally sound, who can face the basket, play in the low post and run like a wing.

As we discussed last May during the Euroleague Junior Tournament, Motiejunas has greatly developed physically from the super-skinny kid that showed up last year at the U-16 European Championship. He has gained some strength that allows him to play near the basket, but still he's a slim guy with work to do. Still, his frame looks very solid, and he shouldn't have problems to develop a terrific body for a power forward, not the bulky type, but strong enough.

Motiejunas looked almost unguardable at times during the championship. Either taking advantage of his superior length or superior quickness, he was regularly a nightmare match-up. He's a player who can step out to the perimeter, showing range in his shot out to the three-point line. Still, this time he barely tried from deep distances, sticking to mid-range attempts, from where he can even display pull-up jumpers. It's not his most consistent skill, as he still struggles to regularly hit his shots, particularly the further he tries from the basket, but his mechanics look fairly nice. He was more prolific putting the ball on the floor to attack his opponent. His first step and quickness can be impressive for a guy of his size, being able to go both ways, and having the ability to eventually come up with a directional change during the drive. Still from the perimeter, he's a very useful pick-and-roll guy, given how quick he can roll towards the basket and his excellent size to catch the ball high and finish with a dunk.

If we come closer to the basket, it was pretty usual to see him asking for the ball in the mid post, in order to again use his quickness turning towards the basket looking for a layup extension with either hand. Down low, even if Donatas doesn't show the most orthodox and polished post moves, his footspeed and ability to knock down hooks, again with both hands (although a bit low released with his right), paves the way for him. It's pretty interesting to stress the relatively very skilled right hand Donatas enjoys, let's remember, a left-handed player.

The concerns arise when talking about his character and attitude on court, as he sometimes looks like a bit of a cocky guy. He showed a tendency to get in foul trouble, which comes to reflect his struggles controlling his own emotions and reactions. He's a very expressive guy, quite hot-blooded, who easily falls into provocations, and who might like to provoke himself. He got into a verbal fight with the Spanish audience during the game against Spain that he could have perfectly avoided. On defense, he's not the hardest working player, and sometimes neither physical enough. Still, with his wingspan and superb mobility, he shouldn't have troubles to get the job done once he gains enough strength. He did a pretty good job rebounding the ball, cashing in off his length and athleticism.

If Motiejunas keeps seriously working on his game, there's no reason why he shouldn't become a great player. We could even say, the sky is the limit for him.

[Read Full Article]

---
U-18 European Championship: Colossus Koufos
August 10, 2007
Although not by any means on the same level of Rubio, Donatas Motiejunas is a very intriguing big man with the tools to eventually become a lottery prospect. He just confirmed the good impression he drew in May in Athens, at the Euroleague Junior Tournament. The physical change from last summer is nothing short of remarkable, having become a much stronger player that shows a terrific body to work with. Also his game has evolved in the same direction: from a perimeter oriented guy with a full-time face-up game, he's now a versatile big man who can shoot, slash, play in the low post or without the ball, while having become a bit of a more physical defender. He's long, he's athletic, he's skilled and he's hot blooded. Perhaps too much?




His incidents in the game against Spain are not an exception. Motiejunas looks a bit of an immature kid, sometimes acting like a spoiled young star and reacting on the court with little poise, for example easily getting into foul trouble. Let's hope he can learn to handle his own hot character. Otherwise, he would spoil a big part of his vast potential.

[Read Full Article]

---
Euroleague Final Four Nike Junior Tournament
May 11, 2007
The apple of most scouts' eyes here in Athens, Donatas Motiejunas dropped some serious glimpses of upside on his way to winning MVP honors for the tournament. It's not difficult on first glance to notice the appeal, as he has great size, excellent athletic ability, and plenty of skills both facing and with his back to the basket.

Motiejunas is a fairly narrow power forward with decent lower body strength but plenty of work to do on his upper body. He shows really nice quickness putting the ball on the floor and spinning towards the basket aggressively, and is terrific getting off his feet going after offensive rebounds and emphatic dunks. Offensively, his touch is very good on his jump-hook or turnaround jump-shot, and he has range on his shot that extends all the way to the 3-point line (although this is not his best strength yet). He can create for himself nicely from the perimeter thanks to some nice ball-handling skills for a player his size, and will dunk the ball with ease anytime he gets the opportunity to off a cut or in transition. Once very much left-hand dominant, he's beginning to show more and more skills with his right hand every time people see him.

If all these skills sound extremely impressive from a guy who will surely top out at over 7 feet by the time he's done growing—they surely are, even if they are only shown in spurts. The problem is that he also shows a certain disdain for taking contact at times, a somewhat questionable attitude around his teammates, and definite problems defensively and as a rebounder. Motiejunas already has a bit of a prima-donna attitude with the way he complains to the referees and hangs his head when things don't go his way, which is pretty worrisome coming from a kid who is that young. He must improve his body language and do a better job hitting the glass and taking his responsibilities as a defender more seriously. If he can get himself on track (everyone who saw him last year said his attitude was 180 degrees different), the sky is really the limit as far as his potential is concerned.

[Read Full Article]

---
U-16 European Championship: Rubio Rules
August 19, 2006
In a championship where the key word is potential, very few players bring to the table as much as Donatas Motiejunas. At 6-11, he fuels our perception about this tournament by displaying remarkable size. Despite being born in 1990, he's yet to celebrate his 16th birth anniversary, which is exposed by his great rawness. Motiejunas is as long as he is skinny, showing a very immature body that still might keep growing. His frame is not the best around, but should be good enough for a power forward. Indeed that's what he looks right now. He's an athletic guy who displays excellent lateral quickness on defense, especially taking into account his size, and he basically evolves facing the basket.





Still showing poor accuracy and great inconsistency, the Lithuanian forward has three point range and some ability to release his shot off the dribble from the mid range area. He can easily put the ball on the floor from the perimeter, although he could use some work on his first step. Very left handed, he usually goes left in his drives. Near the basket, he gets regularly outmuscled, but the kid displays some nice intensity. To round up the intrigue, he shows some feel for the game, meaning that he's no any physical freak with no clue about how to play.

Motiejunas already played with Zalgiris Kaunas in the Euroleague junior tournament held during the Final Four a few months ago. His performance there against older rivals, even if inconsistent, left hopes for a blossoming at the cadet category that actually hasn't happened, partially frustrating the options of Lithuania to get far into the tournament.

[Read Full Article]

---