Durrell Summers
Recent Tweets
All Tweets
DraftExpress: BDA workout: Chris Singleton, Klay Thompson, Willie Reed Justin Burrell Marcus Relphorde Mark Payne Durrell Summers Miro Bilan Carl Ona-Embo
2011-05-26 12:56:51
DraftExpress: DX Trending Prospects: Updated scouting reports on Jereme Richmond, Trey Thompkins, Damian Saunders & Durrell Summers: http://bit.ly/eFgXOj
2011-02-28 09:26:19
Today's NBA Draft early-entrants: Keith Benson (Oakland), Mike Davis (Illinois) Returning: Scotty Hopson, Kalin Lucas, Durrell Summers
2010-04-16 21:12:01
Kalin Lucas and Durrell Summers returning to Michigan State. Spartans will be picked in top-5 in preseason rankings? http://bit.ly/dbJkPA
2010-04-16 14:10:01
Unfortunately that's not saying much in this game RT @goodmanonfox Gord. Hayward is 2nd most athletic player on floor behind Durrell Summers
2010-04-03 19:43:04
Team: Westchester
Physicals
Positions
Rankings
Salary
Misc
H: 6' 5"
W: 199 lbs
Bday: 04/02/1989
(26 Years Old)

Current: SG
NBA: SG
Possible: SG

RSCI: 31

Agent: Keith Kreiter

High School: Redford
Hometown: Detroit, MI

Predraft Measurements
| Year | Source | Height w/o Shoes | Height w/shoes | Weight | Wingspan | Standing Reach | Body Fat | No Step Vert | Max Vert |
| --- | --- | --- | --- | --- | --- | --- | --- | --- | --- |
| 2015 | D-League Elite Camp | 6' 3.5" | 6' 4.75" | 199 | 6' 11" | 8' 5.5" | NA | 31.5 | 39.0 |
| 2011 | Portsmouth | 6' 3.5" | NA | 189 | 6' 11" | 8' 4.5" | NA | 33.5 | NA |
| 2010 | Paul Pierce Camp | NA | 6' 6" | 196 | 6' 8.5" | NA | NA | NA | NA |



Basic Per Game Statistics

- Comprehensive Stats - Statistical Top 25s
| Year | League | Name | GP | Min | Pts | FG | FGA | FG% | 2Pt | 2PtA | 2P% | 3Pt | 3PtA | 3P% | FTM | FTA | FT% | Off | Def | TOT | Asts | Stls | Blks | TOs | PFs |
| --- | --- | --- | --- | --- | --- | --- | --- | --- | --- | --- | --- | --- | --- | --- | --- | --- | --- | --- | --- | --- | --- | --- | --- | --- | --- |
| 2014/15 | DLEAGUE | Durrell Summers | 23 | 20.7 | 10.0 | 3.5 | 7.7 | 45.5 | 2.9 | 5.7 | 50.8 | 0.6 | 2.0 | 30.4 | 2.4 | 3.3 | 73.3 | 1.9 | 1.4 | 3.3 | 0.9 | 0.7 | 0.2 | 1.3 | 1.8 |
| 2014/15 | DLEAGUE | Durrell Summers | 19 | 19.6 | 10.8 | 4.4 | 8.6 | 50.9 | 4.2 | 7.7 | 54.1 | 0.2 | 0.9 | 23.5 | 1.8 | 2.1 | 87.5 | 1.1 | 1.7 | 2.8 | 1.3 | 1.2 | 0.2 | 1.5 | 1.6 |

Player Page&nbsp&nbsp| Player Stats | Mock Draft History | Related Articles&nbsp&nbsp| Add to My Draft Express&nbsp
&nbsp
Trending Prospects (2/24/2011)
February 24, 2011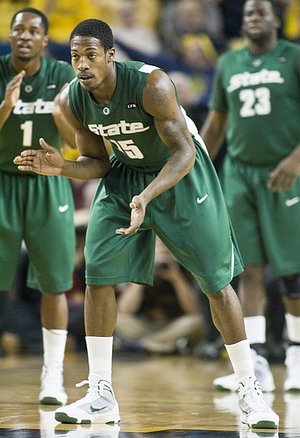 Icon SMI



Joseph Treutlein

Steadily improving his production each of his four years in college, Durrell Summers is almost through his senior season, yet still boasts a very modest statline even at 29.5 minutes per game. A player who's seemed to be on the verge of breaking out many times throughout his career, Summers is still mostly the same player he was a few years ago from a skills perspective.

Having a solid season about on par with what he did as a junior, inconsistency remains the name of the game for Durrell Summers, who's had some very dramatic turns over the course of the past few months. Having a great streak early in the season where he scored double figures in twelve straight games, he's done a 180 degree turnaround of late, failing to reach double figures in six straight games, including a zero point showing in a loss to Ohio State.

A player with a highly defined role on the offensive end, that being spot-up perimeter shooting, Summers is prone to falling off the map when his shot isn't falling, as he just doesn't contribute much consistently in any other areas on this end of the floor. According to Synergy Sports Technology, an amazing 186 of Summers' 234 (79.4%) half-court shot attempts were of the jump shot variety, with him taking just 48 around the basket. Further hurting his anemic inside game is the fact that his two-point field goal percentage has plummeted to a four-year low of just 40.2% this season, and is getting to the free throw line at a career-low rate of 3.2 times per-40 minutes pace-adjusted.

Looking at Summers' jump shooting, he's a very capable shooter who does a great job moving off the ball, coming around screens, and being in good stance for a quick catch-and-shoot when the ball comes his way. He has a high and quick release along with solid overall mechanics, though a slight tendency to jump into his shot makes it tough to get off good contested looks at times.

Shooting 37% from behind the arc on 5.4 attempts per game (and posting similar efficiency numbers most of his career), Summers is a very good college shooter, but for a player who's offensive game begins and ends with his jump shot, there are questions about if he's good enough to get by in the NBA. Many notable college gunners get to make a role adjustment heading to the NBA, shifting to more catch-and-shoot and less off-the-dribble shots, but Summers already fills that role, with 151 of his 186 jumpers coming of the lower difficulty variety. Not having that projected uptick to fall back on combined with the deeper NBA three-point range will make it tough for Summers to maintain his efficiency at a good but not great 37%.

Looking at the rest of Summers' scoring game, he actually has some good tools at his disposal, namely his bouncy elevation around the basket and outstanding length, but his woefully underdeveloped ball-handling and tendency to shy from contact don't highlight those traits very well. Projecting to the next level, Summers at least will need to develop a more competent off-ball cutting game, as he has the potential to be a dynamic slasher and offensive rebounder using his tools to get to the basket within a team's offense. He also will need to show better shot-making ability around the rim, as he currently is usually intent to just throw the ball in the direction of the basket rather than focusing on getting up a good look.

Defensively is where Summers will really need to make his living if he makes it in the NBA, as he great tools for a shooting guard with his lateral quickness, length, and ability to change directions fluidly, while having the fundamentals and effort level to go along with it. He shows a good stance off the ball and does a great job using his length to pester the opposition on the ball, being a tough match up in isolations. He's prone to being taken off the dribble against explosive first steps but is excellent when he gets in stride with his man, using his length to block and contest shots in the lane well. He also shows fluid hips and sticks with quick changes of direction very well.

Looking forward, Summers will have an uphill battle to make it in the league if he continues to play the way he has recently. Another strong performance in March as he had last season could definitely help himself and potentially sway teams making late decisions. The expected relative weakness of this draft class should help him get into consideration more easily, and his shooting, physical tools, and defensive ability gives him a chance of making it as a role player. Going into a situation where he can stick to his strengths in a running, open system with an emphasis on open jumpers would be best for him, and may be critical to his chances.

[Read Full Article]

---
Top NBA Draft Prospects in the Big Ten, Part One (#1-5)
September 1, 2010
Matt Kamalsky

2010 proved to be a rollercoaster ride for the Michgan State Spartans. Losing Kalin Lucas early in the NCAA Tournament, Tom Izzo's squad fell just one shot short of a return trip to the National Championship Game. Much of the team's tournament success can be attributed to the inspired play of Durrell Summers. After being benched earlier in the season for a lack of defensive intensity, the Detroit native was all business after a series of meetings with Tom Izzo and his teammates and was quick to announce his intention to return to MSU. Heading into his senior season, Summers has some work to do to solidify his draft stock, but if his play in the tournament is any indication, he may have finally turned the corner in his development.

The name of the game for Summers remains his consistency. Whether it was his intensity on the defensive end, his jump shot, or his shot selection, the talented senior still struggled mightily at times last season. His reliance on his perimeter game for a player with his athleticism, lack of midrange shooting, and suspect ball handling ability remain concerns, but for the second straight year, Summers used the NCAA Tournament to remind scouts why he has been billed as a potential first round pick at various points in his career. Taking Tom Izzo's advice to heart, Summers looked like a different player in March. While his weaknesses were still apparent, his effort level defensively sparked his offense and allowed him to use his athleticism in transition and get into a rhythm early each game.

With Chris Allen headed to Iowa State, Raymar Morgan moving on to Israel, and Kalin Lucas returning to school, Summers has the opportunity rebuild his resume with more possessions next a high-quality point guard. Last season, he failed to use his momentum from the previous NCAA Tournament run to improve his draft stock despite seeing more opportunities working off screens in Michigan State's offense and being a bit more productive inside the arc. Summers' play next season could be the limiting factor on Michigan State's success, especially if he can't stay out of Coach Izzo's doghouse.

As it stands, Summers will rank as one of the better shooting guards in the senior class. From an NBA perspective, his ability to fit into an offense as an off-screen threat and spot up shooter give him value in addition to his merits athletically. If he can be more aggressive as a slasher, make the easy pass instead of taking a tough shot, and consistently use his excellent defensive tools, he could make a strong case for himself heading into the 2011 draft. The talent is there, as we've seen time and time again, but this is Summers' last chance to prove that he can impact a game every time he steps on the floor.

[Read Full Article]

---
Top NBA Draft Prospects in the Big Ten, Part Two (#6-10)
August 31, 2009
Matt Kamalsky

A year after coming up short in the National Championship, Michigan State comes into the 2010 campaign looking to fill the voids left by Goran Suton and Travis Walton. With most of their backcourt still intact, Durrell Summers returns to East Lansing for a third season positioned to garner some of Walton's vacated minutes and improve upon a solid, albeit inconsistent sophomore year. A highly touted prep player coming out of the Detroit's storied AAU program, The Family, the Spartans will need Summers to step up just as much as he'll need to take advantage of his opportunities to put himself in the draft conversation.

A long and athletic wing with a wiry frame, Summers was MSU's most dynamic big-play threat last season. Though fellow junior guards Kalin Lucas and Chris Allen made some impressive plays in their own right, Summers has a fearlessness to his game that makes him a threat to take and make big shots, whether they come in the form of aggressive drives in transition or clutch shots from the perimeter down the stretch.

Considering Summers was only the fourth highest per-game scorer on Michigan State's roster, this penchant for the big play is a microcosm of his performance last season. Functioning mostly as a scorer off the bench, Summers proved capable of going off on any given night, posting three number of 20+ point games when his shot was falling, but showed that he can also disappear for stretches as well, posting less than 5 points in eleven games on the year.

These bouts of inconsistency have a lot to do with the way that Summers scores his points. With almost 70% of his total shots coming off of jumpers according to Synergy Sports Technology, Summers relies incredibly heavily on his ability to hit shots from deep. To quantify just how significant this reliance is, we can observe the huge jump in the number of three-pointers he attempted in comparison to overall field goal attempts from his first to second year. As a freshman, 18% of Summers' field goal attempts were from beyond the arc, while that number jumped to a gaudy 44% as a sophomore.

Displaying nice arc on his jump-shot and the ability to hit catch and shoot jumpers on the move, Summers is a solid spot up threat, though his form has its flaws. Despite showing nice footwork out on the perimeter, he's prone to floating a bit to the left on his release and will sometimes change his follow through to help himself get his shot off over defenders. These occasional lapses hurt his consistency at times, but don't detract from the fact that he's a very capable shooter.

In addition to his merits as a shooter from deep, Summers will also knock down some jumpers from inside the arc, though he looks much more comfortable coming off of screens to shoot than he does when he has to take a dribble to create space. This has a lot to do with his lack of ideal ball handling ability. Summers isn't a bad ball handler, but he doesn't show the polish or explosive first step that would help him get to the rim effectively. This inability to create easy looks at the rim isn't a major issue for Summers at this point, since he's very good at getting up the floor and filling the lane in transition and recognizing opportunity to duck in down low in half court sets, but his prospects as an NBA player will have a lot to do with his ability to attack his man of the dribble, get to the line, and diversify his perimeter-heavy offensive arsenal.

Summers's ability to add strength will be key to his improvement offensive, but could help him just as much, if not more, defensively. Long and aggressive with his hands, Summers won't back down from an assignment defensively when he's dialed in. However, opposing coaches do a solid job of taking advantage of his weaknesses. Lacking the physical strength to effectively get through screens or gain position in the post, Summers frequently finds himself chasing his man off the ball and struggling to deal with physical contact. His length allows him to bother shooters, and he's quick and disciplined enough to keep his man out of the lane, but his physical strength hurts him in certain matchups and he doesn't always show great intensity.

Moving into his junior year, the name of the game for Summers will be consistency. His ability to hit the three and play tough defense will dictate his playing time and contribute to MSU's success. However, his ability to become more than a jump-shooter, break out of his shell as a roleplayer, and improve his ability to create for himself and others will play a major role in how he's perceived at season's end. Surrounded by a number of other draft prospects, Summers may not ever get the chance to showcase his skills to the extent that players at small schools would, which means he'll have to prove his worth as a potential NBA player by doing all the other things his team needs in order to win games.

[Read Full Article]

---