Team: Bulls
Physicals
Positions
Rankings
Salary
Misc
H: 6' 4"
W: 191 lbs
Bday: 02/28/1989
(26 Years Old)

Current: SG
NBA: SG
Possible: SG

RSCI: 24

Agent: Mark Bartelstein
Current Salary:$948,163

High School: East Chicago Central
Hometown: East Chicago, IN
Drafted: Pick 55 in 2011 by Celtics

Predraft Measurements
| Year | Source | Height w/o Shoes | Height w/shoes | Weight | Wingspan | Standing Reach | Body Fat | No Step Vert | Max Vert |
| --- | --- | --- | --- | --- | --- | --- | --- | --- | --- |
| 2011 | NBA Draft Combine | 6' 2.5" | 6' 4" | 191 | 6' 9.5" | 8' 3.5" | 7.6 | 32.0 | 34.5 |
| 2009 | Paul Pierce Camp | NA | 6' 4" | 189 | 6' 7" | NA | NA | NA | NA |



Basic Per Game Statistics

- Comprehensive Stats - Statistical Top 25s
| Year | League | Name | GP | Min | Pts | FG | FGA | FG% | 2Pt | 2PtA | 2P% | 3Pt | 3PtA | 3P% | FTM | FTA | FT% | Off | Def | TOT | Asts | Stls | Blks | TOs | PFs |
| --- | --- | --- | --- | --- | --- | --- | --- | --- | --- | --- | --- | --- | --- | --- | --- | --- | --- | --- | --- | --- | --- | --- | --- | --- | --- |
| 2015/16 | NBA | E'Twaun Moore | 15 | 18.1 | 5.4 | 2.3 | 4.9 | 47.3 | 1.9 | 3.9 | 50.0 | 0.4 | 1.1 | 37.5 | 0.3 | 0.7 | 45.5 | 0.1 | 1.6 | 1.7 | 1.1 | 0.6 | 0.1 | 0.6 | 1.3 |

Player Page&nbsp&nbsp| Player Stats | Mock Draft History | Related Articles&nbsp&nbsp| Add to My Draft Express&nbsp
&nbsp
Situational Statistics: the 2011 Wing Crop
June 22, 2011
E'Twaun Moore grades out well statistically, as his 1.0 PPP overall ranks fourth of all wings, and he's doing it on an impressive 17.6 possessions per game. Moore is the most sure-handed of all wings, as his 9.2% TO% is easily best in the class, especially for someone using that many possessions.

Moore is excellent in the pick-and-roll, where his 0.97 PPP ranks second overall. Moore's 7.7 jump shots per game are third most in the class, though his 1.0 PPS on them ranks just eighth. He makes a solid 40% of his 3.8 catch and shoot jumpers per game (4th), and 38% of his pull-ups (4th).

There's a case to be made that Moore is one of the most underrated players in this draft class, and his showing in this sampling does nothing to discourage that notion.

[Read Full Article]

---
Moore than "Just a Good" College Player
May 25, 2011
E'Twaun Moore is a winner.

Always has been.

As a senior at East Chicago Central High School he guided the Cardinals to a 4A state championship over a North Central team led by future lottery pick and Los Angeles Clipper Eric Gordon. His 107 wins in four seasons at Purdue ties him for the most in program history with teammates JaJuan Johnson. He has been a part of four NCAA Tournament teams, two Sweet Sixteen teams, a regular season Big Ten championship and a Big Ten Tournament title.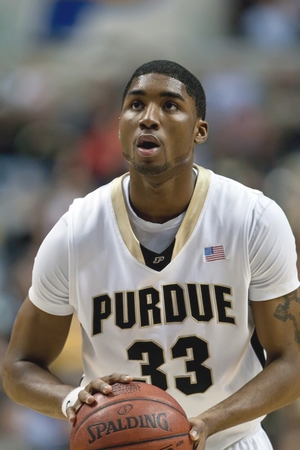 Icon SMI



Yet, when the third leading scorer in Boilermaker history looks back on his illustrious career two words ring louder than the rest: what if?

How would Moore's legacy in West Lafayette change had forward Robbie Hummel not suffered a torn ACL in back-to-back seasons? How much further could Purdue have advanced in the NCAA Tournament? Would the four-year standout be viewed differently by NBA scouts had he played in a Final Four?

"It's just something you have to live with," says Moore. "I definitely think we're a better team than the results may say otherwise."

Not that Purdue struggled mightily without the services of Hummel, who watched from the sidelines as Moore helped lead the program to back-to-back 25 win seasons and three NCAA Tournament wins in his final two years.

"I think he probably reflects back now and wishes we had a little more luck in that area, but certainly not while it was happening," says Purdue head coach Matt Painter. "I think he was able to make the most of it and I think it helped him in the long run, dealing with that kind of adversity and being held accountable for the extra slack that needed to be picked up."

Moore's numbers improved significantly in each of his final two college seasons, culminating in a senior year in which he averaged 18 points and five rebounds while shooting 40 percent on three-point attempts. His diverse scoring nature, continually improving shooting and prowess as a wing defender on one of the premiere defenses in the country made him one of the most complete players in the Big Ten during his final year.

He and JaJuan Johnson formed one of the most lethal scoring duos in the country at nearly 40 points per game, yet there was always a sense that they were coming up short. The omnipresent specter of lost Final Four hopes was personified by Hummel's healing knee watching from the sidelines, a sense that no matter how good Purdue was playing under Moore's leadership, they would never quite meet the bar that so many had set so high.

In many ways those Boilermaker teams serve as a perfect microcosm of the battle he and Johnson now face to achieve their dream of playing in the NBA – overlooked talent that remains lethal. Both earned a slew of postseason accolades, both starred in a conference considered among the best in the nation. Neither is getting serious talk as anything more than a late first round prospect, a fate that carries even more uncertainty in the present in the face of the looming lockout.

"I think I am being overlooked, but I couldn't really say why," says Moore. "Maybe people didn't see a lot of me during the regular season, or they just haven't seen a lot of what I can do well. I'm more athletic than what people think, that's something I think I'll show in workouts."

Painter, who knows the guard's game as well as anybody, sees Moore's value not in individual traits that are often highlighted in the scouting process, but rather the collective body of work. What he lacks in above average size (6-foot-4 in shoes), he makes up for in smarts. What ground he cedes to defenders sans an explosive first step, he takes back with craftiness.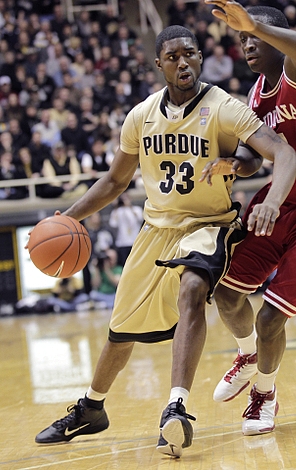 Icon SMI




Consistency, Painter says, may be the key to it all though.

"Guys that are that consistent in college for a long run usually wind up being the same way in the NBA. I think when it comes down to it, when you get him into a competitive setting, he's productive and not just scoring the basketball either. He's a winner."

"He beat a lot of guys in college who at the time were considered better. Now he's probably going back into that same boat where people may think he comes up a bit short in some areas, but when it comes down to it, he wins and he produces."

And he understands the game.

The value of character and intelligence are often overlooked by many outsiders in the draft process each season, with more appealing traits like size and wingspan drawing headlines. Yet the rise of players like New York's Landry Fields and San Antonio's Gary Neal, players grounded in the understanding of their role and limitations, provides evidence that there is something to be said for these characteristics.

An Academic All-American, Moore brings a unique skill to the table in a sea of individuals desperately trying to differentiate themselves from the pack.

"I understand the X's and O's of the game," he says. "I know how to set other people up – being smart definitely adds to the game."

But is it enough to earn him an NBA contract? Moore is firmly planted in the second round in the latest draft projections, a slot that doesn't come with the initial security of a guaranteed contract, but often yields one later in the process. It also means that teams and scouts feel upwards of 40 players in the current draft class are more deserving of a pro career than the Purdue star.

It's a reality that the humble 22-year-old faces with a steely resolve. When asked about his draft status, Moore simply acknowledges the surprising production the second round has produced in recent years and turns the attention back to improving another facet of his game. Moments like this offer a fleeting glimpse in the psyche of a talented young man fighting to achieve a goal in uncertain times.

"He'll act like it rolls off his back, but it bothers him," Painter says. "I think that's what drives him. He's always been that guy who is very good, but there are a few names mentioned before him. I think that's always motivated him to work and he's going to keep using some of those negative comments as motivation."

"He's always been that way."

[Read Full Article]

---
NBA Combine Interviews: Jimmer Fredette, Alec Burks, Charles Jenkins
May 21, 2011
[Read Full Article]

---
Trending Prospects (1/27/2011)
January 27, 2011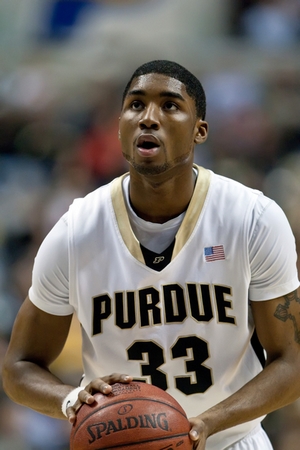 Icon SMI



Walker Beeken

Purdue's E'Twaun Moore has quietly put together one of the better four-year careers of any senior in college basketball this season. The Boilermaker's shooting guard has continued to show gradual improvement in all facets of his game, and while he's not the type of player who will likely wow many NBA scouts with his physical tools or upside, he's been far too productive to ignore.

With the loss of Robbie Hummel for the season with a knee injury, Moore has had to carry a larger load offensively than anticipated for Purdue, and so far he's had mixed results. Due to the Boilermakers lack of other offensive playmakers on the perimeter, Moore often finds himself attempting to create more offense than his skill set probably lends itself to, which has resulted in some inconsistency.

We've noted before that Moore lacks the ideal physical attributes for a prototypical NBA shooting guard, standing at 6'4" with just a decent frame and average athleticism, but he does possess very good scoring instincts and a nice feel for the game. This enables him to create his own shot and score effectively in one of the toughest conferences in college basketball, despite his physical limitations.

Coach Matt Painter uses Moore in a number of ways offensively in attempts to free him for shots, and Moore has shown to be a versatile shot-maker, capable of being run off screens or spotting up for catch-and-and shoot opportunities, or as the ball-handler in isolation or pick-and-roll sets. He plays at a nice pace and has a smoothness about his game, utilizing pump fakes, changing speeds, and an effective step back dribble that he uses to create space for his jump shot.

As a shooter, Moore seems to still be making strides, despite some erratic performances from game to game. While his overall field goal percentage is pretty much in line with his previous three seasons, he's shown improvement in a couple key areas. He's knocking down a solid 40% of his 3-point attempts, which is back up from the 34% he shots his past two seasons (he shot 44% as a freshman). He's also converting on 40% of his catch-and-shoot opportunities, which is a significant improvement from last season. Since Moore's game is built around his jump shot, and he won't be asked to create as many shots for himself at the NBA level, these are very encouraging signs.

Moore's lack of physical tools is more evident on dribble penetration. He has noticeably improved his handle over his four years at Purdue, but he lacks the explosive first step to blow by his man. He is crafty enough to find ways to score in the lane at the college level, shooting a respectable 55% on shot attempts in the basket area, but his lack of size and elevation would be more of an issue in trying to finish over longer, more athletic defenders in the NBA.

On the positive side, Moore has shown to have solid decision-making skills, rarely forcing the issue and playing within himself, despite often having to shoulder much of the scoring and creating responsibilities for Purdue. He regularly makes the correct read on pick and rolls, finds shooters on drive-and-kick situations, and has increased his assist rate and cut back on his turnovers this season, ranking in the top 10 of all players in our database in assist-to-turnover ratio.

Defensively, we've noted that Moore does a very good job covering the wing positions at the college level. Purdue plays a 3, or sometimes even a 4 guard lineup due to their lack of size without Hummel, and Moore has shown the ability to defend different types of players, and has even improved his rebound rate from 4.9 to 7 rebounds per forty minutes pace adjusted. When projecting how he'd fair defending NBA shooting guards, it's clear he'd be at a disadvantage physically in most matchups, but his positioning, effort, smarts, and toughness should help to compensate for that, as will his pedigree playing for one of the best defensive teams in college basketball the past four years.

Looking forward to Moore's NBA prospects, much of it will likely be dependent on finding the right situation. His physical tools are subpar by NBA two-guard standards, but he has a solid feel for the game and all around skill set, highlighted by his ability to knock down perimeter shots, defend, and fit into a system. His intangibles also appear to be superb, as indicated by the fact that he's an Academic All-American. We've seen there is a niche out there for shooting guards of his mold who can come off the bench and fill a role, such as Gary Neal, and that should earn him plenty of looks from NBA scouts as they search for players to fill out their roster.

[Read Full Article]

---
Top NBA Draft Prospects in the Big Ten, Part Three (#11-15)
September 6, 2010
Kyle Nelson

Though his teammates JaJuan Johnson and Robbie Hummel are better known in scouting circles, senior shooting guard E'Twaun Moore made quite a mark in the Big 10 last season. As Purdue's leading scorer for three consecutive seasons, Moore has improved steadily since he stepped on campus, and has emerged as one of the most productive guards in the Big 10. Unfortunately, he failed to elevate his game when Purdue lost Robbie Hummel to a season-ending knee injury, shooting just 32% from the field and 26% from beyond the arc. With just one year of college eligibility remaining, Moore has much to prove before scouts consider him a legitimate NBA player.

For one, Moore hardly looks the part of an NBA shooting guard. Standing around 6'4 at best with just average length, Moore will be undersized at the next level and must work on adding strength to his lean frame. Additionally, he is just an average athlete, without ideal explosiveness and quickness off of the dribble. Moore is certainly not unathletic, but he will have to adapt his style of play in order to overcome his physical limitations at the next level.

At the collegiate level, Moore is a talented scorer, equally capable in the half court offensive sets as he is in transition. After hovering around 17 points per 40 minutes pace adjusted in his freshman and sophomore seasons, Moore averaged 20.9 as a junior while shooting a career high 45% from the field.

This is not to say, however, that his production will immediately translate to the NBA. While Moore has steadily improved his shooting percentages from inside of the arc, his 3-point shooting percentage has plummeted since shooting 43% as a freshman. His shooting mechanics are inconsistent at best and he must work on developing a more fluid shooting motion while maintaining a high release point. While he is more than capable of scoring in bunches, he is very streaky, rarely shooting the ball well in consecutive games and connecting on just 35.5% of his jump shots according to the data at our disposal.

Moore's slashing game does not look as though it will translate to the next level as he lacks a quick first step, the strength to finish in traffic, and ideal touch around the basket. He also is a bit predictable as he drives left 60% of the time and has a fairly high dribble. He is not the greatest finisher at the collegiate level and he will likely have even more trouble scoring in the lane against bigger and more athletic defenders at the next level.

While Moore's offense is a mixed bag, he is a very good defender. Moore displays good fundamentals and awareness, maintaining his stance and chasing his man over screens. He does a good job of closing out on shooters and he almost always gets a hand in his man's face. He is both a good team defender and individual defender at the collegiate level, by far one of the Big 10's best, but there are questions about how his lack of ideal physical tools will translate to the NBA. Quicker slashers have little trouble beating him off of the dribble. His fundamentals and high basketball IQ should help him adjust, however, even if he could struggle from a physical standpoint at times on the defensive end.

Moore has the scoring instincts to emerge as a collegiate star and a contributor at the next level, but he was inconsistent and lacked poise down the stretch. While he is a very good defensive player at this point, he must improve his versatility on the offense end before considering himself a legitimate NBA prospect. Becoming a more consistent shooter is essential, but so too is learning how to produce with fewer possessions. With Purdue primed once again to make a deep run in March, E'Twaun Moore will have plenty of opportunities to endear himself to NBA scouts and differentiate himself as a legitimate prospect.

[Read Full Article]

---
Top NBA Draft Prospects in the Big 10 (Part Two: #6-10)
September 13, 2008
E'Twaun Moore, a lanky 6'3 combo guard, had quite the freshman season for the Boilermakers, leading them in points per game while finishing second in both rebounds and assists as well. He also played his best ball of the season in conference play, with his scoring never dipping below 9 points in any game, while he also got in the 20's a handful of times.

On the offensive end, Moore's game starts with his jump shot, which is dangerous up to right outside NCAA range. Moore shot a blistering 43% on the year from beyond the arc, shooting off screens, spotting up, and off the dribble frequently. He has a good, consistent shooting motion with his upper body, boasting a high and quick release, but he does run into some problems on occasion. Mainly, he has a tendency to not always get his legs into his shot, sometimes barely even bending his knees, making his shot rely heavily on his upper body, which leads to inconsistency and some really bad misses. These instances happen most when he's rushed with a hand in his face, and is definitely something he should work on.

Strength in general is a bit of a problem area for Moore, as he definitely hasn't filled in his frame yet, though he seems to have more room to do so. He shies from contact at the basket and doesn't go all the way intro traffic much in general, often relying on an array of right-handed floaters, runners, and pull-up jumpers in the lane or from mid-range. He converts on these with decent success, but he does seem to force quite a few of them, and his lack of ability to finish around the rim hurts him. He doesn't have the greatest vertical explosiveness, which also doesn't help.

Athleticism in general is not Moore's greatest asset, as while he's not a bad athlete, he lacks a certain amount of fluidity and explosiveness, and his first step with the ball is underwhelming. His dribble is controlled but not very advanced, showing little in terms of advanced moves or quick change of direction ability. The right-handed shooter surprisingly is stronger with his left off the dribble, going that direction on 75% of all plays according to Synergy Sports Technology. To illustrate his woes going to the basket, Moore only gets 0.85 points per possession going left to the basket, and an even worse 0.65 PPP going right. Despite shouldering the biggest offensive load of any player on the team, Moore got to the free throw line at the worst rate of any Purdue player on a per-minute basis.

An area Moore does do very good in is transition, where he plays very smart, getting to open space on the floor on the wings when he has the ball or doesn't, leading to a lot of open three-point shots in rhythm. He also does a better job finishing in traffic here, not having to rely on his first step and explosiveness as much.

Moore shares ball-handling duties in Purdue's offense, and he racks up a decent 2.6 assists per game, mostly running pick-and-rolls, something he's really exceptional at. His reads are outstanding and he hits his teammates popping out or going to the basket, on a variety of different cuts, while also knowing when he should pull up for the shot himself. He gets a decent amount of assists through ball movement and in transition as well, but doesn't really have the handles at the moment to be a great drive-and-dish distributor or primary ball-handler.

Defensively, Moore plays with good focus and intensity, always fighting hard on and off the ball, showing a pretty good stance. At a lanky 6'3, Moore often has a higher center of gravity than the point guards he defends, and he often is behind in lateral quickness as well. Despite this, he does a good job of staying in front of his man, even if it looks slightly awkward at times, as he has good reflexes and positioning. He uses his length well on this end of the floor as well, contesting shots on drives and jump shots.

Moore had a very strong freshman season and only got better as the year went on, so he could be primed for a breakout sophomore season. Improving his slashing ability and focusing on always keeping his legs in his jumper should be among his priorities, while adding some muscle wouldn't hurt as well. In terms of NBA potential, Moore would appear to be a few years away, and because he's not an overwhelming athlete, he's going to really need to hone all of his skills to improve his chances at making it.

[Read Full Article]

---