Emir Preldzic
STRENGTHS:
- Ability to play at different speeds
- Craftiness
- Point Forward
- Ability to put ball on floor
- Ball-handling skills w/either hand
- Ability to get in passing lanes
- Aggressiveness
- Basketball IQ
- Fundamentals
- Ability to create for others
- Size for position
WEAKNESSES:
- Ability to get to free throw line
- Efficiency
- Ability to defend position at next level?
- Ability to fight through screens
- Lateral quickness
- Style may be better suited for Europe
- Unorthodox style
- Ability to finish around basket
- Explosiveness
- Strength
- Inconsistent shooter
Top 25s - Full List
Team: NON-NBA College Team: Darussafaka
Physicals
Positions
Salary
Misc
H: 6' 9"
W: 220 lbs
Bday: 09/06/1987
(28 Years Old)

Current: SF
NBA: SF
Possible: SF

Agent: Misko Raznatovic

High School:
Hometown: Sjenica, Serbia
Drafted: Pick 57 in 2009 by Suns
Best Case: Theodoros Papaloukas
Worst Case:

Predraft Measurements
| Year | Source | Height w/o Shoes | Height w/shoes | Weight | Wingspan | Standing Reach | Body Fat | No Step Vert | Max Vert |
| --- | --- | --- | --- | --- | --- | --- | --- | --- | --- |
| 2007 | Hoop Summit | NA | 6' 8" | 200 | 6' 8.75" | 8' 7" | NA | NA | NA |



Basic Per Game Statistics

- Comprehensive Stats - Statistical Top 25s
| Year | League | Name | GP | Min | Pts | FG | FGA | FG% | 2Pt | 2PtA | 2P% | 3Pt | 3PtA | 3P% | FTM | FTA | FT% | Off | Def | TOT | Asts | Stls | Blks | TOs | PFs |
| --- | --- | --- | --- | --- | --- | --- | --- | --- | --- | --- | --- | --- | --- | --- | --- | --- | --- | --- | --- | --- | --- | --- | --- | --- | --- |
| 2015/16 | EURO | Emir Preldzic | 7 | 22.1 | 5.9 | 1.7 | 5.4 | 31.6 | 0.9 | 2.1 | 40.0 | 0.9 | 3.3 | 26.1 | 1.6 | 2.6 | 61.1 | 0.4 | 3.7 | 4.1 | 4.4 | 0.6 | 0.1 | 1.6 | 0.9 |

Player Page&nbsp&nbsp| Player Stats | Mock Draft History | Related Articles&nbsp&nbsp| Add to My Draft Express&nbsp
&nbsp
European Roundup: Emir Preldzic Blossoming in the Euroleague
December 30, 2008
Somewhat overdue for a mention is the terrific play of 1987-born Slovenian forward Emir Preldzic this season, acting as somewhat of a go-to guy for an important Euroleague team like Fenerbahce-Ulker Istanbul, the reigning Turkish league champions.

Will Solomonís departure to the NBA, coupled with season-long injuries to Gordan Giricek and Omer Asik, along with very underwhelming performances by American players Marques Green and Devin Smith created a situation where someone needed to step up. Not a bashful guy by any means, Preldzic has taken on quite a large share of his teamís offense, sometimes acting as the #1 option, alongside power forward/rebounding machine Mirsad Turkcan.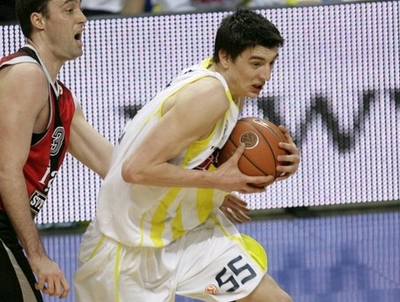 Reuters



Quite amazingly for a player of his age, at his height (6-9), and particularly at this level, Preldzic is utilized almost exclusively in a point-forward type role. He regularly brings the ball up the floor, calls out the set plays, and gets the team into their offense, which often ends with the ball in his hands. Almost half of his possessions (according to Synergy Sports Technologyís quantified player report) come from pick and roll situations, with another 20% coming from one on one/isolation type situations. Clearly he is Fenerbahceís most creative force, which tells you quite a bit about the skill-level this 21-year old possesses, but also might help explain why the team is just a combined 12-7 in the Euroleague and Turkish league, which is very down this season.

Preldzic plays a very European, Theodoros Papaloukas type-role for Fenerbahce, showing excellent ball-handling skills with either hand attacking his matchup, and showing excellent timing on his drives. His first step is somewhat underwhelming, but he makes up for that with the aggressiveness, high skill-level, and excellent feel for the game he brings to the table. His ability to change speeds is excellent, and like Papaloukas, he plays the game at a pace that is entirely unique to him. He likes to lull his man to sleep with a slow and deliberate dribble, and then blow-by him at the exact moment that he catches him off-balance.

Once in the lane, Preldzic is a bit limited in his ability to finish at the rim, as he lacks a degree of explosiveness and is not very strong either. He is a very crafty guy though, often coming up with some very tough finishes off the glass, but is not particularly efficient, as his 42.5% shooting from the field in the Euroleague and Turkish league combined would attest. Considering how much bigger, longer and more athletic big men are in the NBA, there are some legitimate question marks about how this part of his game will translate to the next level. The fact that he already manages to draw just under three free throws per game is not a great sign already.

Clearly his best attribute at the moment revolves around his passing ability. His four plus assists per game (quite a high number in Europe considering how stingy statisticians are) make him one of the better passers youíll find at his position on this side of the ocean, and accurately reflect his excellent basketball IQ and fundamentals. He does a great job finding open teammates off the dribble, particularly on the pick and roll, showing a great sense for passing the ball exactly to the spot underneath the basket that his big man will end up at after setting the screen, often with great flair. The game seems to come very easily for Preldzic, which is what makes the way he might develop over the next few years so intriguing. His high-risk/high-reward style of play almost makes him fairly turnover prone though -he coughs the ball up on nearly 20% of his possessions.

One thing he absolutely must improve on if heís to reach his full potential is his perimeter shooting. His stroke is extremely streaky at the moment, particularly with his feet set, where heís extremely unreliable. His release point is very inconsistent, as he has a tendency to shoot the ball on the way down or while leaning forward. He is actually a much better shooter off the dribble, being capable of making some really tough shots--almost just throwing the ball in the hoop--another indication of his excellent talent, but not very friendly to his 3-point shooting percentages (17/51 combined, or 33%) or his ability to help his team win games.

Defensively, Preldzic is mostly a mixed bag at this point. On one hand, his excellent size, intensity and feel for the game allow him to make a nice impact when heís focused, particularly in terms of contesting shots out on the perimeter. He gets in the passing lanes at a great rate and is also a fairly productive rebounder. His average lateral quickness makes him somewhat of a liability against quicker wing players, though, and he has a tendency to get lost off the ball and gamble excessively for steals, which makes his team's entire half-court defensive concept collapse. Teams love to post him up or force him through screens because of his lack of strength, and his average frame and 6-9 wingspan (measured at the Nike Hoop Summit) donít help him in this regard.

All in all, Preldzic is clearly a superb talent for high-level European basketball moving forward, and is someone NBA teams will seriously consider investing a draft pick on in the second round because of his somewhat rare combination of size, skills and versatility. He looks nowhere near a finished product at this point, and thus there is always the possibility that he continues to develop (particularly as a shooter) and becomes a nice asset down the road. As far as his long-term NBA potential, though, there appear to be some physical limitations and concerns regarding his style of play that may hold him back until he manages to improve.

[Read Full Article]

---
Roundup: Verginis Carrying PAOK on his Back
January 3, 2008
Moving away from Slovenia to land in a Euroleague team was a risky move by Emir Preldzic, as he was still a relatively underdeveloped player, particularly in the physical department. However, in Fenerbahce, under the guidance of a youth-friendly coach in Bojan Tanjevic, he has been granted regular playing time while he matures and adjusts to a superior level of competition. Indeed, his season had gone pretty unnoticed, right until this past week, when he has delivered back-to-back remarkable performances for his team. In a very easy game against TTNet Beykoz, he had 17 points, 2 assists and 2 steals, while going for 18 points, 2 rebounds and 2 assists in the important victory against one of the top domestic teams, Turk Telekom.

Itís become very obvious that Preldzicís intrigue revolves around his combination of length and skills. Heís a 6-9 small forward, although still rather skinny and just about a decent athlete. His lack of physical build is pushing his game out to the three-point line, from which he shows two very different faces: a 14.3% shooter in the Euroleague, and a 47.8% sniper in the Turkish championship. All in all, even if heís still not greatly consistent, he has the manners of a solid shooter for the near future, showcasing very fluid mechanics in his usually spot-up attempts.




In a team like Fenerbahce, with no clear-cut point guards, Preldzic can eventually officiate as a point forward, as heís a fundamentally sound player with nice court awareness who evolves with certain flair on the court. Preldzic can drive the ball, looking particularly comfortable in the open court, where he can easily execute direction changes that show a very nice body control. Itís not as easy for him in the set offense; heís a nice ball-handler, but without the physical strength to contain his opponents and without some explosiveness to light them up, he canít fully trust his dribbling ability, especially with his left hand. Indeed, even if he can put the ball on the floor with both hands to attack his match-up, he struggles to get rid of them unless he enjoys a previous advantage. Anyway, heís an able kick-out passer, although he sometimes hesitates, which might lead him to mistakes.

On defense, heís not greatly quick in with his lateral movement, but he makes up for that with his length, which often prevents his opponents from attacking him by itself, and nice activity. His rebounding is still improvable, as his lack of bulk severely slows him down in this department. Generally speaking, itís likely that Preldzic will improve at a similar rate that his body develops physically. He will then be able to execute certain things that he struggles with right now. His frame is not particularly great, but he should be able to add some decent weight. NBA-wise, his size makes him attractive, but given his lack of elite athleticism and strength, he will need to show something more before drawing real interest from the American pros. Still, the potential is there, and heís a pretty intriguing guy.

[Read Full Article]

---
Roundup: Pekovic, Euroleague Week One MVP
October 31, 2007
Emir Preldzic might be moving to Alpella soon, Fenerbahce-Ulkerís farm team, in the near future. The Turkish team is in great need of a real point guard and his departure would make room for a new (foreign) signing. The Slovenian small forward has been actually receiving some consistent playing time, showcasing some of his intriguing skills, but also his physical immaturity. For a Euroleague team that wants to challenge Efes Pilsen in the Turkish League, Preldzic might still be a bit raw.

We had a chance to take a look at him in the game Ulker played against Real Madrid. It was a rather easy victory for the Spanish squad, only looking closer in the final score because of a late comeback. Precisely the lack of playmakers resulted in Preldzic officiating as point forward for several minutes, something heís capable of doing, and showcasing some of his nice ball-handling, promising slashing skills and off the dribble passing. However, his lack of physical maturity isnít helping him to deal with opponents; he doesnít feel comfortable on court as he suffers from all types of contact. Also, he didnít look good with his perimeter stroke, although his few attempts were rather forced shots, while itís pretty clear that heís not the greatest athlete around. Preldzic lacks some explosiveness, although he could gain some as his body matures.

[Read Full Article]

---
Nike Hoop Summit World Team Player Recap (Part Two)
April 13, 2007
As a semi-experienced Adriatic League player, Preldzic displayed some interesting skills that make him a potential candidate to be drafted in the future. He possesses good size and length for the small forward position, but has a fairly skinny frame, and seems to be an average athlete. In the practices, Preldzic seemed to be very streaky with his jumper. Sometimes he appeared to be a great shooter, but then he would miss about 10 shots in a row that would leave you wondering how he just knocked down his previous 6.

Off the dribble, Preldzic has the ability to get to the basket when going right, but struggles to finish when forced to go against more athletic players. He generally likes to use his off arm to create extra space, which leads to a good number of offensive foul calls against the Slovenian forward. When attempting to go left, he seems to lack both the ball-handling and finishing ability necessary to reach the rim.

In scrimmage situations, Preldzic showed a nice feel for the game, on both ends of the floor. A lot of younger players forced the issue on the court, but for Emir Preldzic, basketball seems to come easy. Defensively, he struggled to stay with Nicolas Batum one on one, but he played help defense with great effort and fundamentals.

Preldzic spent much of the game on Saturday on the bench while struggling with his perimeter shot during the time spent on the floor. His first two points of the game were scored at the basket, where he managed to slip into the open spot in the paint. From behind the three point line, most of the looks Preldzic received were guarded catch and shoot opportunities. On the one occasion he tried to shoot the long range shot off the dribble, but his accuracy seemed to suffer even more.

Overall, Preldzic has the toughness and basketball IQ you like to see in a young player, but his streaky shooting and skinny frame have to raise some concerns. As the second oldest prospect on this yearís international team, Preldzic could potentially attempt to test his NBA draft stock next year before he becomes automatically eligible in 2009. At this point, Emir Preldzic seems like the type of player an NBA team would take in the late second round and leave in Europe for some years (maybe all) of development, but heís been a bit of a late bloomer, so weíll need to see what kind of trajectory his career heads in from this point on.

[Read Full Article]

---
Nike Hoop Summit Practices-- World Team (Day 2)
April 5, 2007
Slovenian small forward Emir Preldzic has good size, though he has a skinny frame and lacks athleticism. Throughout the practices, his biggest strength was his ability to hit a jump shot. He can make shots off the dribble, and he has great range on his shot extending out beyond the international three point line. The weak point for Preldzic comes off the dribble, where he lacks the quickness and first step to blow by the opposing defender. He also struggles to use his left hand both on the dribble and finishing near the basket.

[Read Full Article]

---
New Pearls in the Adriatic Sea
October 31, 2006

Despite being 6-foot-9, Preldzic plays as a full-time small forward, which is rare in Europe for a player to play strictly on the perimeter at this size. One would assume that he has problems playing defense, since his usual matchups are 3-4 inches shorter, but that is really not the case. Actually, Emir has earned his playing time more with his defensive effort than his offensive output, which has been inconsistent so far. Preldzic has quick feet and moves well laterally, being able to draw charges and bother opponents with his length and quick hands. He is very active in the rebounding department, averaging 7.1 boards per game (3rd in the League). Emir anticipates where the ball will land and reacts accordingly, using his excellent length and above average leaping ability to get to the ball.

On offense, Emir shows quite impressive ball-handling skills, being able to create shots for himself as well as for his teammates. He is very crafty with the ball, both in terms of posting up smaller players on the block as well as getting by them with his face to the basket. Although he is not overly explosive, Preldzic can get enough separation thanks to his size, ball-handling skills and intelligence. He is a very good passer, always recognizing the holes in the opponent's defense.

Emir shows two major weaknesses at this point: his body and his perimeter shooting. He is underdevelop physically, lacking strength in both the upper and lower body, which hurts him when he tries to mix it up inside as well when finishing in traffic. Preldzic has a Tayshuan Prince type build, and it is very unlikely that he will able gain the appropriate bulk to become a legit inside player.

He is also an unreliable shooter, not showing the necessary touch to convert at a higher rate. He is shooting a terrible 19% from three-point land (7/36) and 43% from Free-Throw line (10/23). In the early going he's been forcing things with his three-point shot, even though it's obvious this is not his strength (he achieved similar results at U-20 Championship), taking 5.2 long range shots per game. He has a quick trigger, but lacks a consistent release point on his shot.

Preldzic is nevertheless a hot commodity, though, being a true small forward at 6-9 with very promising defensive skills as well as the ability to create off the dribble on the offensive end. Being just 19-years old, Emir has plenty of time to expand his game and body, and certainly has enough potential to land in the first round in 2008 or 2009. Playing only his rookie season at the Adriatic League level, Preldzic will only get better as he sees more time on the floor.


[Read Full Article]

---
A Look Back At The U-20 European Championships (Part Two)
September 22, 2006
Nobody counted on Slovenia to seriously compete in this tournament, as well as very few people knew anything about this kid. In the end, a bronze medal and a well-earned spot in the All-Tournament Team rewarded the major surprises of the championship. Preldzic is a 6-8 skinny and very fundamentally sound small forward born in 1987, therefore being a first-year U-20 player. Something that distinguishes the Slovenian school is how polished their players are skill-wise, and this kid is not an exception. But also, he has a great feel for the game and an excellent basketball IQ. It seems like he always knows what to do and where he should be on court. A solid shooter, he shows excellent mechanics and range with deep three pointers, while has the ability to shoot off the dribble. He can play near the basket, and even if he doesnít show too much of a low post game, his ability to finish near the basket against opposition (using fakes, being patient and smart) is truly remarkable. A nice dribbler, he can attack his matchups putting the ball on the floor. Heís not an awesome athlete, letís say ďdecentĒ, so itís not like he can blow away his opponents at will; still, he manages to regularly step into the lane, looking for layups, mid-rangers or passes to open teammates. Preldzic is an excellent passer indeed; he has great court awareness and easily finds a good option, which also helps him not to force situations despite enjoying great scoring ability (20.3 points per game, second in the competition). His terrific sense of positioning was rewarded with huge rebounding averages (9.4 per game, second in the championship), and great averages on steals (2.4 per game, tournament leader). A kid to seriously keep under the radar; despite his gross stats, heís still physically very immature, and could evolve into something really special.

[Read Full Article]

---