Greg Smith
Recent Tweets
All Tweets
DraftExpress: In today's NBA teams have to get creative finding cheap useful backup bigs (ex Thabeet Koufos Greg Smith) to manage the cap effectively.
2013-01-09 13:12:45
DraftExpress: DX from the Showcase in Reno Talking to one of the D-League's best stories Houston's Greg Smith http://t.co/K9bywkXu
2013-01-08 14:37:03
DraftExpress: From the D-League Showcase in Reno revisiting Greg Smith's story one of the biggest finds from last year's D-League http://t.co/K9bywkXu
2013-01-08 01:19:49
DraftExpress: Players I thought would get drafted but didn't: Ben Hansbrough, Michael Dunigan, Greg Smith, David Lighty, Diante Garrett, Demetri McCamey.
2011-06-24 01:21:10
DraftExpress: Here's our breakdown (with video) of Kawhi Leonard & Greg Smith after watching them work out in Vegas w/Joe Abunasar: http://bit.ly/lw29Rr
2011-05-16 03:28:26
Top 25s - Full List
| Rank | Category | Total |
| --- | --- | --- |
| 21 | FG% | 58 |
Team: Rockets College Team: Mavericks
Physicals
Positions
Rankings
Salary
Misc
H: 6' 9"
W: 253 lbs
Bday: 01/08/1991
(24 Years Old)

Current: C
NBA: C
Possible: C

RSCI: 131

Agent: Mitch Frankel
Current Salary:$948,163

High School: Westwind
Hometown: Fresno, CA

Predraft Measurements
| Year | Source | Height w/o Shoes | Height w/shoes | Weight | Wingspan | Standing Reach | Body Fat | No Step Vert | Max Vert |
| --- | --- | --- | --- | --- | --- | --- | --- | --- | --- |
| 2011 | NBA Draft Combine | 6' 8" | 6' 9.25" | 253 | 7' 2.5" | 8' 10.5" | 7.4 | 29.5 | 36.0 |
| 2011 | Nets Workout | 6' 8.5" | 6' 10" | 251 | 7' 3" | 8' 11.5" | 6.4 | 28.5 | 35.5 |
| 2010 | Amare Stoudemire Camp | NA | 6' 10" | 249 | 7' 1.5" | NA | NA | NA | NA |



Basic Per Game Statistics

- Comprehensive Stats - Statistical Top 25s
| Year | League | Name | GP | Min | Pts | FG | FGA | FG% | 2Pt | 2PtA | 2P% | 3Pt | 3PtA | 3P% | FTM | FTA | FT% | Off | Def | TOT | Asts | Stls | Blks | TOs | PFs |
| --- | --- | --- | --- | --- | --- | --- | --- | --- | --- | --- | --- | --- | --- | --- | --- | --- | --- | --- | --- | --- | --- | --- | --- | --- | --- |
| 2014/15 | NBA | Greg Smith | 43 | 8.5 | 1.9 | 0.7 | 1.1 | 61.2 | 0.7 | 1.1 | 61.2 | 0.0 | 0.0 | &nbsp | 0.5 | 0.9 | 51.3 | 0.6 | 1.2 | 1.8 | 0.2 | 0.2 | 0.3 | 0.3 | 1.2 |

Player Page&nbsp&nbsp| Player Stats | Mock Draft History | Related Articles&nbsp&nbsp| Add to My Draft Express&nbsp
&nbsp
Greg Smith: I Have a Big Chip on My Shoulder for Not Getting Drafted
January 7, 2013
Following an inconclusive two-year stint at mid-major Fresno State, Greg Smith took a risk in the summer of 2012 by declaring for the NBA draft. Many would've bet some team would take a flier on the still developing big man in the second round at least, but no team did.

After the summer, with the lockout in full stride, Smith had to take a roundabout route to the NBA, with the D-League's Rio Grande Valley Vipers his final pit stop. Smith, like many others before him, used the D-League as a launching board to quickly establish himself as a player who slipped through the cracks, and one teams should take a second look at.

Posting a decent sample size of very impressive pace-adjusted numbers early in the D-League season last year, Smith caught the attention of the Houston Rockets, who he'd spent 10 days with in training camp a few weeks earlier. It wasn't long before the Rockets offered him a three-year contract and added him to their growing stable of developing young players, and it's come to pay off for them in a big way thus far this season.

Smith is averaging nearly 15 minutes per game for the Rockets while posting the third highest FG% in the entire NBA and fitting in seamlessly to the Rockets' potent pick-and-roll attack. The 21-year-old big man also looks like a different player on defense and the boards than he ever did in college, clearly buying into the Rockets' high-effort culture and making their investment look like it's going to pay off.

We had a chance to catch up with Smith earlier this week to talk about his journey to the NBA, the time he's putting in developing for the Rockets, his record-setting hand size, and his growing penchant for throwing down monstrous dunks.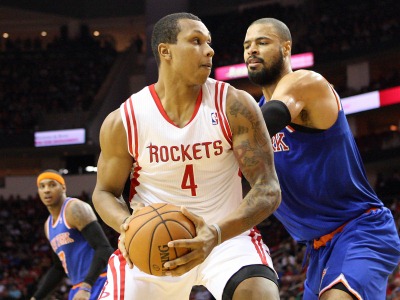 US Presswire



JT: To start off, for people not familiar with your background, can you talk about the path you took getting from Fresno State to the NBA?

GS: Fresno State was a small school. I came up with fairly good numbers, averaged around 11 or 12 points and eight rebounds. We didn't have a very good season, went about 15-16 or something like that. I then entered the draft figuring I could be a pick in the mid-first round, or second round. Just getting picked anywhere would've been good for me.

I did 22 workouts for 22 teams and went to Chicago for the draft combine, and then when draft night came, I didn't get drafted. It was kind of a disappointment, but also a blessing to learn that everything isn't given to you; you have to earn it. So that made me think about what I had to do make it to the NBA eventually. So I just started working harder and spent more time at Impact with Drew and Joe Abunassar.

Then I got a call from my agent about going to play in Mexico during the lockout. At first I didn't want to play in Mexico. Something about it, I just didn't want to go there, but then I decided I was going to go out there and play, five or six months out there, and when I first got there, it was a difficult thing for me, being away from my family and in a different country. It was right next to the United States, but it's a different culture and everything, so it was kind of weird at first, but then I learned a lot about myself - growing up and maturing. And I played there for about four months, and the first month it was kind of hard playing, because I just didn't think it was going to be good for me, but I learned a lot playing against grown men who don't care who you are or what your name is and this and that. They played hard, and I learned that in the first month, then I got used to it and started playing good, learning my game more.

Then once the lockout ended, I came back during training camp, signed with the Houston Rockets, and was there for a week and a half. I played two preseason games - I didn't play a lot of minutes, but they already had their 15-man roster, so it was kind of tough for me to slide in there, so I got cut the day before Christmas, went home to be with my family, and just thought to myself "I should be on an NBA roster right now." Whether it was playing or developing or something.

Then the Rockets called me and said they wanted to put me on their D-League team and see if you develop and we can talk in the future, so I said, you know what? Instead of going overseas, I think I'm going to play in the D-League and showcase my skills and maybe any team could pick me up.

So I'm in the D-League, and I was there for maybe about a month and a half, and I started getting calls from my agent that I was playing well and a lot of teams liked me. Then the Rockets called and offered me a contract, and that really motivated me to work hard, because they gave so much time and faith into me, helping me develop. Because even though they cut me, it still was a good feeling that they kept an eye on me. It's not like they cut me and didn't discuss it any more. They kept an eye on me and offered me again, and that's why I'm thankful for them as an organization. And that make me strive more to work out and improve my game and continue to develop and be the best man I can be on the team.

That's where I'm at right now. I've just been working hard. I've been here the whole summer and the preseason, the whole summer - I only went home for a week. I was working with the coaches, getting a feel for what they want from me, and now it's paying off a lot.

JT: Do you have an regrets now coming out of college as a sophomore, given that you didn't get drafted?

GS: I would say, early on, when I first came out of college and didn't get drafted, I had a lot of regrets. I was thinking if I should've stayed another year or two years or came out after my freshman year. There are a lot of things on your mind when you don't get drafted, because you think you should be - you know, that a team should've fallen in love with you, but then once you start growing up, like as of right now, today, I have no regrets of leaving college because I feel like it was the best decision for me to leave, because I felt like with my skills, with my body type, I would've been in college for a year or two and I don't think I would've gotten any better because I was bigger than a lot of guys, and it was getting kind of easy. My team wasn't really - and you know, we didn't have a lot of superstars, and we didn't have the best competition, so it wasn't like I could just go out there, I could dominate, but it wouldn't help me or benefit me getting better as a player and a person and maturing. I was at home, I was with my family, so I got a lot of things, so it kind of held me back. I feel like right now, at this point, that was the best decision for me to leave at that time. Then to not get drafted, it shocked me and made me work harder and have a better work ethic, be hungry, and want to be better as a person and a player. It helped me a lot. No regrets.

JT: How do you feel it helped you become a better person and player?

GS: Basically, just learning more about yourself. Growing up, everybody, whatever you say, they agree with or this and that, they say you're a superstar and you're going to get drafted and stuff like that. But you learn you have to grow up and mature and take life serious and that there are speed bumps in your life. That's what I've been dealing with those whole time, and it helped me out becoming a better uncle to my nieces and nephews, better cousin to all the kids who look up to me, being a better father to my daughter. It makes me be better because I understand how life is and how life's too short and you have to work hard to be what you want. Playing in the NBA is my dream, so I learned I have to work hard to get there and you can't take any shortcuts to get there.

JT: So on the court this season, you've been featured very heavily in the Rockets' pick-and-roll game (and with great success), whereas looking back at your college tape, you actually did very little of that at Fresno State. How you have been able to make that adjustment so quickly?

GS: Coming out of high school, my coach really drove home to all the players to be really good at a lot of things and not just one thing, so he had me working on a lot of things, like the pick-and-roll. And we took the time to watch film on not just the post players rolling and stuff, but watching the guards come off the picks and how they read it. So as you learn that stuff, how the guards come off the pick-and-roll and read it, you learn more as a roller, and that's what really helped me out.

At Fresno State, our system wasn't really about pick-and-roll, but it was important to my game to understand the system and watching my favorite player, which was at the time Amare Stoudemire. It helped me a lot watching him with Steve Nash, and how he rolled, or slow-rolled to the middle of the lane to catch it, and finish off the pass or the lob. It helped me a lot watching film and practicing a lot on it. It's really my game. That's really what I am - a pick-and-roll player, and I feel like I'm good at that.

JT: So on the other hand, in college you were actually featured a lot with your back-to-the-basket game, but that's not something that's really been used much with the Rockets so far. Is that something you believe you can contribute with more in the future?

GS: Yes, I believe so. I think the organization knows that I have a good offensive game, on the block, facing up, with my back to the basket, and they know that, and that's why we're still developing it and working on it, because in the future, I think they really like me in the long run, to be a player on the team for a long time. So we don't want to rush three things, and try to like add three things to my game that I already have. Just keep developing slowly, being a pick-and-roll player who can finish on the block, I have a one or two dribble to the middle jump hook, which I've been doing since I was in maybe sixth grade, so it's not really that hard when you've been doing it for that long. I think in the future a lot of teams and players will start knowing that I have a lot of offensive game, but for right now, nobody knows but me and my team, and that's the crazy thing about it, but it will come out in the future.

JT: What's your experience been like playing for Kevin McHale, one of the most fundamentally sound post players ever? Do you get the chance to work with him on your skills at all?

GS: Yeah, I do sometimes. He gives us a lot of pointers on how to use our feet and angles and everything about when the defender is guarding you, how to use up and unders. He's one of the greatest big men of all time. You cannot knock that; he's a great player, he knows how to score. I was watching one game where I think he scored like 48 against Detroit and I seen all the moves he put, and it's crazy, but then he comes in and he tells you you have the footwork and the angles, but you've got to use it to your advantage. And about putting a shoulder to the defender's chest and making him back down to get the bucket. It's great playing for him. He helps a lot.

JT: Looking at your stats, you're actually rebounding the ball better in the NBA than you did in college, even before accounting for the much higher level of competition. Is that something you've put more of a focus on since being a pro?

GS: Yes. I think that rebounding is a lot different from college to the NBA. In college, I wouldn't say it's easier or harder, but, I don't really know how to explain it. I just know in the NBA, it's more of a mental thing. You have to want to get the rebound. You can't just go out there and say I want to get the rebound, it's coming my way, I'll get it. You have to have the mental attitude to go out there and get the rebound. I'm out there playing against guys like Dwight Howard and Marc Gasol and Zach Randolph. You have to battle, they want to push and shove, and all that, so it helps me a lot to have my strength, because I know I'm strong enough, but they're strong, too, so it helps me a lot to go out there and be like "I'm not going to lose this battle. I'm going to win this battle and get this rebound." And that's why I think my numbers have gotten better.

JT: A lot is often made about the size of your hands, which were the largest ever recorded at the NBA combine. Do you feel that gives you a big advantage on the court?

GS: It does, because I grew up in a family where I was the only person to play basketball. Everyone else played football, and everyone, I believe all six uncles I have played receiver, so I got a lot of practice catching the ball, and I think that helps me a lot with catching the ball on the court. And I have big hands, which helps me even more, because I can catch the ball with one hand or two. So I'm on the court, I know I'm snagging a ball off a rebound or a bounce pass or whatever it is, I'm catching it. I rarely drop a pass, and that's what my teammates love about me. They know they can have the confidence to throw the ball wherever and I'm gonna catch it.

JT: Since college, which of your skills do you feel you've improved the most with?

GS: Since college, I would say my motor, and my ability to get off the ground a little faster. Because in college I was just mainly using my strength a lot. I was all strength, just powering guys out the way and using that. Now I use my quickness, and just basically getting my motor running, being relentless on the glass and running-wise.

JT: You mentioned your quickness and running. Have you noticed a big difference being part of an NBA strength training program?

GS: Yes, a big difference. They have us in there every day, before games working out on certain things, throughout the whole season. That's what I like about it.

JT: Do you feel you still have more room to grow athletically? Is that something the Rockets' staff emphasizes with you?

GS: I believe so. They tell me a lot. I'm not even done growing, that's the crazy part about it. They know that my body's still maturing to grow up, and that my muscles are still coming and my shoulders are getting wider. And I'm losing a lot of fat and gaining more muscle, so I'm getting stronger, and it's helping a lot.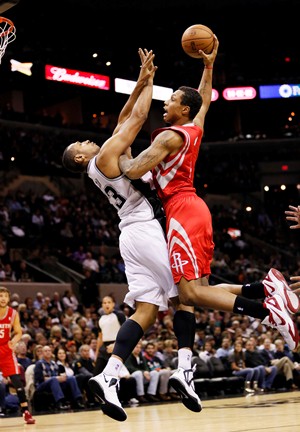 US Presswire



JT: In watching your game tape, you seem to dunk the ball on a very high number of your possessions. Is trying to finish so often with dunks something you focus on?

GS: One thing I've heard from every coach I've had throughout my whole life, well since I start dunking, was "If you dunk the ball, it's the highest percentage chance you're going to make the shot or get fouled," so if I try to dunk the ball every time, I'm either going to get a bucket or get fouled and shoot free throws. So that's just one thing I learned when I was younger. So now every time I catch the ball, I just want to dunk everything.

JT: The Rockets are known for their advanced statistics department. Do you get to see any of that as a player? Do the coaches ever give you suggestions or say things such as "The stats say you should do more of this, or less of that, or anything of that nature?"

GS: The coaches won't tell me much about stats and stuff like that, because they don't want you to over-think. They just tell you directly, you know, like watching today's game, you need to be on help-side quicker, or you need to be up more on your screen coverages, so they let you know what you've been doing right and what you've been doing wrong.

JT: When you signed your contract with the Rockets last year, it was only half-guaranteed for this season, and I don't believe it's guaranteed at all for next season. Did they talk to you about the things you need to do as a player to stick around?

GS: Yes. They told me to work hard, mature, and not having any letdowns or off-the-court issues. Basically just come to work every day and not be late, work, develop. And they love my passion for the game, so I think I'll stick around for a long time.

JT: Do you have any chip on your shoulder about not being drafted? Is proving the people who passed on you wrong a source of motivation for you?

GS: Yes, it's a lot of motivation. I have a big chip on my shoulder for not getting drafted. You know, if I came out freshman year of college, I was tempted to leave because a lot of people said I could've went mid first round or lottery and had a lot of potential, so going into my second year and not getting drafted, I felt people took their eye off me. And right now, I'm thankful the Rockets gave me a chance, and now I want to show every other team in the NBA why they should've have passed on me and why the Rockets got a good player.

JT: Do you think maybe it's a bit of a blessing in disguise the way things turned out, given you landed with a team so focused on player development and that are seemingly very committed to your development?

GS: Yes, it's a blessing in disguise. I think God put me here and led me to this path and threw me all those struggles to get here and realize and understand why I'm here. I really understand it now, and I'm blessed for it.

JT: When you compare you not getting drafted to the way you're having success on the court for a playoff team, do you think you've improved considerably from your time in college or is this more a matter of you just having the opportunity to show what you can do?

GS: I would say both. Having the opportunity to play right now, and showcase my skills, and also developing and getting better. Last year I didn't get to play in many games, so I had a quiet year, but this year I'm getting to play more and I'm getting to go out there and showcase a lot of what I can do. And the coaches have so much confidence in me, so whenever I go out there I play with confidence, and I think I will get better as time goes on.

JT: What's the area of your game you're working on the most right now to improve?

GS: I would say my face-up game and just trying to improve my game overall, on offense and on defense. I can play a lot of defense because I'm strong down low and I can hold my own, but I just want to get better with my quickness with blocking shots, and getting off the floor to dunk the ball a little faster.

JT: What do you think your biggest weakness is right now as a player?

GS: My biggest weakness? Not being as quick, and being able to learn the NBA game and system a little faster, the speed and pace of the game, that's what my weakness is right now.

JT: Where do you see yourself five years from now as a player? What will be different?

GS: I could see myself as a starting power forward or center for any team in this league, hopefully the Rockets. I could be a good player you can count on, a good player who can average good numbers and help a team win. And five years from now, I believe I could be an All-Star player.

JT: How about this season? What do you think your team is capable of?

GS: I believe my team is capable of making the playoffs and having a run for it, I really do. We have nice pieces. I know we're young, and we're still getting our chemistry together, but with James Harden and Jeremy Lin starting to play real good right now, and Chandler Parsons adding more to it, and Omer Asik - he's crazy how he can get 15 to 18 boards almost every game, and finishing down low and playing good defense, so I think our team has a good chance of doing a lot of things. I won't say we're going to win a championship right now, but I believe this season we're going to do a lot of good things.

[Read Full Article]

---
Analyzing the 2011 NBA Combine Measurements
May 21, 2011
We made a note in our recent west coast workout report about just how big Greg Smith's hands are. Upon further review at the combine, his hands are one-foot wide, easily the top mark we've seen since the combine began measuring hands. This quantifies the way Smith (6-8 without shoes, 7-2 ½ wingspan, 252 pounds) can routinely snatch the ball out of mid-air and palm it away from his body.

[Read Full Article]

---
West Coast Workout Swing Part One: Joe Abunassar's Impact Basketball
May 15, 2011
One of the first underclassman to elect to enter and keep his name in the NBA draft, Greg Smith was also one the first to start his training at Impact. That became abundantly clear right away when looking at Smith's frame. He's maximized himself physically over the last few months, looking big, strong, and lean. We were unable to see Smith in competitive action since he was back in the gym a day after a team workout, but he showed some unique things in the time we were able to watch him.

Perhaps the most ridiculous spectacle we saw all week came in Smith's post drills. Dwarfing most of the players here with his size, Smith also has exceptionally large hands, and on a number of occasions, simply snatched the entry passes directed his way out of midair, palming the ball away from his body as if it were a grapefruit. A prime example of what we're talking about comes just after the 1:00 mark in our workout video below.





The workout we watched was part of what amounted to a rest day for Smith who flew in late the night before to be in attendance. He started off with some shooting drills where he continued to work on his mechanics. The Fresno State product is still in the beginning phases of the development of that part of his game.

In post drills, Smith worked on his footwork and finishing ability. Though we didn't get to see him in competitive action, his sheer size and strength is impressive and should serve him well as he continues to become more fluid and polished with the ball in his hands.

[Read Full Article]

---
Trending Prospects (2/10/2011)
February 10, 2011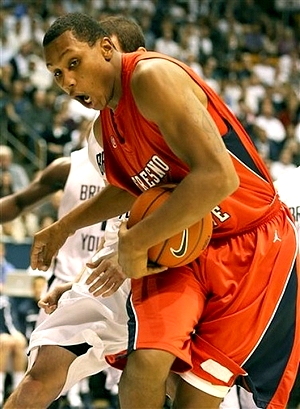 AP



Kyle Nelson

Center Greg Smith had an impressive freshman campaign, but he has failed to distinguish himself as a sophomore for the 11-12 Fresno State bulldogs.

At 6'10 with solid length and a stocky 250-pound frame, Smith is big enough to play either post position at the next level. While he is not overly quick or explosive, he is a solid and coordinated athlete with above average mobility given his size.

Smith was expected to assume greater offensive responsibilities with the departures of Paul George and Sylvester Seay, but, he has actually seen his role reduced. His production has dropped from 16.7 points per 40 minutes pace adjusted as a freshman, to just 15.2 as a sophomore. His lack of production is particularly frustrating not only given his physical advantages in the post at this level, but also considering the skill level that he shows with his back to the basket.

Smith receives over 40% of his offensive possessions on post-ups, where he continues to show the same combination of soft hands and basic footwork. His 59.8% 2FG represents how efficient he is as a post scorer. He looks particularly comfortable this season executing a spin move to his left hand.

For the most part, however, his skill set has not improved since last season. He must continue to work on expanding his game, primarily getting more comfortable going right and developing more advanced footwork. Furthermore, while he has gotten to the line at a slightly greater rate this season, he is still an abysmal foul shooter to the tune of 54.5% while showing very little potential as a spot-up shooter at this stage.

Smith shows improved decision making abilities, however, cutting down on his turnovers and fouls while displaying improved passing and off-the-ball movement. Unfortunately, his motor still runs hot and cold, which leads to periods of ineffectiveness and invisibility on the offensive end. This, in addition to Fresno State's miserable offensive execution, likely explains his mediocre production and usage rate.

Inconsistency defines Smith's defensive performance, as well. While his size, bulk, and solid mobility should help him stand his ground in the post with relative ease at this level, he struggles with focus. Far too often, his man beats him with a simple fake or countermove and Smith is forced to foul to compensate for his poor effort.

While he is still a below average rebounder given his size and athleticism, he noticeably improved on the defensive boards on his way to a far more respectable 9.6 rebounds per 40 minutes pace adjusted. Nevertheless, it is in this area where his lack of activity and effort are most evident and he still has a lot to prove to scouts.

For these reasons, Smith remains both a legitimate prospect and an extremely frustrating player. He should be dominating mid-major collegiate competition with his physical advantages and ability to play with his back to the basket. Fresno State's shaky game plan and disorganized offense certainly isn't helping matters, but scouts will be watching to see if he can compensate by producing through hustle and sheer effort.

[Read Full Article]

---
Top NBA Draft Prospects in Non-BCS Conferences, Part One (#1-10)
October 30, 2010
Jonathan Givony

A pleasant surprise amongst last year's freshman class, Fresno State's Greg Smith emerged from relative obscurity at the high school level to string together a very productive season.

Smith's virtues as an NBA prospect are pretty easy to see on first glance, as he brings great size to the table to go along with a nice wingspan and a big, strong frame. Smith looks the part of a legit NBA center from a physical standpoint, which when combined with his excellent hands, puts him in a rare class of prospects right off the bat.

Offensively, Smith shows an intriguing skill level for a young big man. He does most of his damage inside the paint, often operating with his back to the basket, where he's quite a capable threat. He scored at a nice rate as a freshman, 16.7 points per-40p, got to the free throw line regularly, and was very efficient (58% FG) in his somewhat limited role in a very disjumbled looking Fresno State offense. He showed some at times last season, having the ability to put the ball on the floor a bit and utilizing some basic spin moves to get his shot off with very soft touch. There is definitely some things to work with here you take into account his chiseled frame and soft hands.

On the negative side, Smith struggles with contact and doesn't finish above the rim in traffic very often, as he's not the quickest or most explosive big man you'll find amongst NBA prospects. He's mobile, but does not possess off the charts athleticism. He lacks any type of face-up ability at this point in time, attempting just a handful of jumpers last year and shooting 58.6% from the free throw line.

Smith is also not a very good rebounder at this stage, which is a bit disappointing considering his physical attributes and level of competition he plays at in the WAC. He can rebound in and around his area, but seems to lack the quickness and explosiveness to go out and extra possessions on a regular basis. Playing harder and being more physical boxing out, especially on the defensive end, would go a long way in solving this issue.

Still nowhere near a finished product at this point, Smith's lack of experience really gets exposed on the defensive end, where he shows poor fundamentals and awareness, and regularly gets taken advantage of, often resulting in foul trouble. He loses his focus and gets beaten off the dribble very easily on the perimeter, and also lets smaller, weaker players post him up and push him around.

Where freshmen tend to struggle the most in making the transition from high school to college is often with dealing with the increased level of physicality and intensity, and Smith is clearly no exception.

Unfortunately Smith tends to gives up on plays easily and generally doesn't put very much effort in on the defensive end either, which only compounds the problem, and helps explain his paltry rebounding numbers. Clearly he has very good physical tools, and the potential to be a solid defender down the line, but at this stage, he looks nowhere close to that.

With Paul George off to the NBA and Sylvester Seay graduated, Smith should become a focal point in Fresno State's offense, and will surely draw intrigue from NBA scouts. While he surely doesn't look close to being ready to compete for minutes in the NBA, it also wouldn't be much of a shock if he came out soon either, as players with his tools tend to be valued pretty highly. We'll have to see what kind of progress he makes this year.

[Read Full Article]

---