Team: Miami FL
Physicals
Positions
Rankings
Salary
Misc
H: 6' 2"
W: 186 lbs
Bday: 03/04/1985
(30 Years Old)

Current: PG/SG
NBA: PG
Possible: PG/SG

RSCI: 68

Agent: Andrew Vye

High School: Miami Christian Academy
Hometown: San Juan, Puerto Rico
Drafted: Pick 52 in 2006 by Clippers
Best Case: Leandro Barbosa @Full Potential
Worst Case: Will Solomon




Basic Per Game Statistics

- Comprehensive Stats - Statistical Top 25s

Player Page&nbsp&nbsp| Player Stats | Related Articles&nbsp&nbsp| Add to My Draft Express&nbsp
&nbsp
Private Workout: Hollins, Johnson, Diaz, Kelly, Williams, Jeter
June 9, 2006

Facing questions about his size and lack of a true position, Diaz came out sizzling this afternoon, proving once and for all that there should be no questions about his ability to put the ball in the basket. While his shooting results during Mondayís workout were somewhat inconclusive, Diaz showed picture perfect form here. His entire motion is completely effortless, with a high, quick release and perfect spin. He missed only a handful of shots the entire workout, from the beginning of the warm-ups to the end of the competitive two-on-two.

It was in the competitive portion of the workout where Diaz showed truly special scoring ability. He scored off the dribble in a variety of ways - whether it was flipping up soft floaters just over the outstretched arms of a hard-charging Ryan Hollins or pulling up off the dribble against Pooh Jeter, everything went in and everything looked pretty. Jeter tried hard to stay in front of him, but Diaz did a great job of using jab steps and fakes to create space, and even when Jeter did manage to cut him off, he was helpless against Diazís dazzling pull-up jumper. Diaz gets incredible elevation on his midrange jumper, and his form remains dazzling. He keeps his body in perfect control, and his release doesnít change. To put it simply, there are few players in the NBA that can pull up for this kind of elevated jumper with such success. In the end, Diaz hit 9-10 shot attempts in the 2-on-2. Considering the difficulty of the contested 3-pointers, floaters, and dribble drive jumpers he was taking, Diaz showed off downright spectacular scoring ability in this workout.

Of course, after all of this, the questions about size and true position have yet to be addressed. Diaz can make himself a lot of money if he can prove that he is a legitimate point guard, and had a chance to flaunt his floor general abilities in the competitive portion of this workout. Unfortunately, it was his scoring mentality that rose to the forefront. Diaz generally made good decisions, but they almost always ended with him shooting the ball. Alexander Johnson was getting good position on Hollins, and he probably didnít get as many looks as he should have. There were a couple of nice passes, but Diaz generally held on to the ball a bit too long and didnít read pick and rolls quite quickly enough. If Diaz is going to play the two, he is going to have to toughen up a bit. His body is quite toned and muscular, but he has a slight frame and didnít respond well to physical confrontations in this workout. It is easy to see him getting pushed around when matched up against NBA wings.

Make no mistake about it, Diaz put on a spectacular scoring show here. His ability to maintain his shooting touch in the air and on the move is first rate, and there will be a place for this in the NBA. If Diaz is able to prove that he can play some lead guard, a much wider range of suitors will emerge.

[Read Full Article]

---
Private Workout: Alexander Johnson, Guillermo Diaz, Jeremy Kelly
June 6, 2006

Another impressive specimen, Diaz has a nice set of physical tools to compliment his mental approach to the game. The most noticeable difference in the player he was in college to what we see now is clearly the coolness and confidence in which he carries himself. Gone is the chaotic and herky-jerky ping-pong ball that got by almost solely on his raw talent and physical attributes, and in his place we see a much more polished overall player who has been given plenty of new toys to work with and appears to be enjoying playing with them immensely.

Diaz is clearly a top level athlete in this yearís draft. His body control in mid-air is excellent, and his speed and initial explosive step are plus NBA attributes. Diaz is extremely fit and it showed in his endurance work. Diaz can easily elevate off of two feet and throw it down while directly under the basket, something most players who are 6í2Ē can only imagine. Diazís ball-handling skills are much improved, which helps to keep his dribble crisp and low to the ground and makes him much more of a consistent threat attacking the basket off the dribble.

As far as skill sets, Diaz has the ability to handle and penetrate like a point guard. It was impossible to see whether or not he has the decision making aptitude for the position, but he can certainly play both ends of the court as a 1 as far as penetration, handle, and lateral quickness are concerned. Even though he didnít have the greatest conversion rate on his jumpers, Diazís form and touch looked very natural and extremely smooth virtually every time. All reports weíve gotten have indicated as much, with Diaz continually being praised for his shooting wherever heís worked out. With mid-range, motion, 3 point, and left hand/right hand finishing ability, the whole package is there offensively.

While we didnít get to see the awe-inspiring explosive leaping ability that Diaz has shown in the past, much of this had to do with the setting and the lack of need to elevate without purpose. Coach Thorpeís take on this when asked was quite poignant. Thorpe said that for a player who has spent a good portion of his life putting tremendous wear on his legs due to professional volleyball, it is better to save these displays for when they are truly needed. This goes hand in hand with the more heady and under control player weíre seeing compared with his style of play just a few months ago.

The most telling thing about Diaz and his future success in the league will be just how much ability he has as a lead guard. As a combo guard who uses his scoring to spear-head the rest of his game, Diaz projects more as a spark off the bench in the mold of Leandro Barbosa. But, if Diaz has the court awareness and mentality to effectively set others up before himself and can utilize his dynamic offensive repertoire to supplement the rhythm he establishes for his team, Diaz could be an excellent scoring point, ala Chauncey Billups. Regardless, heís an NBA player and will be for some time. The only question is how highly NBA teams value what he brings to the table and how much upside they see in him to continue to improve.

[Read Full Article]

---
Interview: Guillermo Diaz
May 2, 2006

Charlie Bury: If I am an NBA GM with a first round pick, why should I draft you?

Guillermo Diaz: Because I can score in many different ways. Iím a scorer, but I'm also a passer. I can be a point guard and at the same time I could be a combo guard. I can score in a lot of different ways and I can make the game easy for a lot of people. So thatís what Iím working on right now.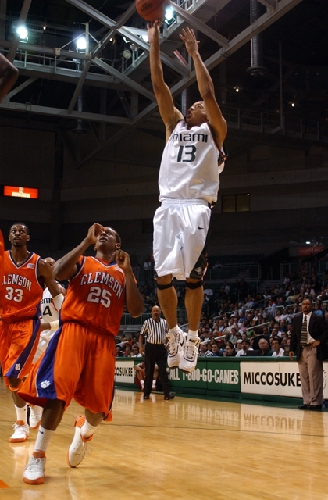 University of Miami Athletics



Charlie Bury: You started playing basketball when you were 17 right?

Guillermo Diaz: Yeah Iíve been playing basketball all my life, but I never took it that seriously because I was always focused more on volleyball. But at age 17 I started to take it seriously and started to enjoy it a little bit.

Charlie Bury: Tell us a little bit about your volleyball career.

Guillermo Diaz: It was great. It was at a point that I was thinking to quit basketball for the rest of my life. I just gave (basketball) one chance to see how I was going to do in the States my senior year in high school. And after that year it was okay, it was actually pretty nice. So then I decided to keep playing basketball. But my volleyball career was really nice. I achieved a lot of things and my volleyball skills were real high, it was very good.

Charlie Bury: Did your volleyball skills help make the transition into basketball any easier?

Guillermo Diaz: Yeah in volleyball itís a lot of different reactions, jumping and how to move quickly laterally and stuff like that. So it helped me a lot in my leaping ability and ability to move quickly with and without the ball

Charlie Bury: Do you ever get a chance to play volleyball anymore?

Guillermo Diaz: No, I just focus on one sport at the moment. Thatís something that Iíve never done before, so thatís what Iím trying to do now. Just focus on one sport and try to get the best out of it.

Charlie Bury: The University of Miami snatched you up pretty quickly in the recruiting process. What made you decide so early that Miami was for you?

Guillermo Diaz: I was thinking more with my family, so my family could come and see me. Plus my English wasnít very good at that point, so I was thinking Miami because of the language. Plus the weather, itís like Puerto Rico and its close for my family to come see me. Other than that, it turned out great. I was playing with D. Rice (Darius Rice) who was an NBA prospect and I knew playing with somebody like that was going to help me.

Charlie Bury: You mentioned you wanted to be in a nice climate similar to Puerto Rico. How would you do being drafted by a team in a cold weather city like Minnesota?

Guillermo Diaz: Well, I just need to get used to it like I did when I first got here (the United States). In life people face some stuff thatís difficult and different, and you just got to get used to it. Iím not going to be there just for the weather, Iím going to be there for business and just to play basketball. Thatís what Iím going to be there for. Thatís what I was thinking when I first came here. This is basketball, so forget about everything else. Basketball is my priority.

Charlie Bury: You played with two other undersized guards in the starting lineup. Do you think that hindered your development at all?

Guillermo Diaz: I played with two guards and it was kind of hard sometimes because all three guards were able to do most of the same things. I wasnít able to handle the ball that much. But I was trying to make people know that when I handle the ball I like to create for others. Sometimes I was creating for other people and sometimes I was just creating my own shot, but it was kinda hard to do because we were kind of similar and we all did the same things. It was kind of difficult.

Charlie Bury: How is your knee? Did you have to change your style of play because of the injury?

Guillermo Diaz: No no, it was because I was kind ofÖI didnít have any confidence after the injury. Now that Iím working out, Iím back like the old Guillermo. So Iím very pleased with the work that weíve been doing and Iím excited. I wasnít really confident. Now I have my confidence back and I started getting more and more confident, so Iím just dunking like I used to. Now my knee is better. I wasnít confident enough to be doing a lot of stuff while I was injured.

Charlie Bury: What did you do to get that confidence back?

Guillermo Diaz: Just pushed myself. Sometimes when you donít push yourself that much, of course youíre not going to get any part of your body stronger. Thatís what Coach [David] Thorpe is doing, just pushing me and pushing me to be the player that I was before the injury. He is pushing me every day to just be excited.

Charlie Bury: Tell me a little bit about what Coach Thorpe has you doing. Whatís your daily regime when youíre working out? Are you playing against other players, or are you by yourself?

Guillermo Diaz: Iím by myself. Iím working on a lot of dribbling situations and on my shot. Iím doing a lot of stuff that is great for me and Iíve seen the changes, and Iím getting a lot better. Coach Thorpe is doing a great job and Iíve never had somebody teach me the things heís doing. Itís something that I feel great doing. Itís something that I wake up every morning knowing that Iím going to work with a guy who always has a good attitude and thatís what motivates me to get better every day. Heís doing a lot of stuff that is great for my game.





Charlie Bury: When do you start private workouts for NBA teams?

Guillermo Diaz: I donít know yet. Not exactly sure when. Weíre just going to keep working out now and they are going to let me know when workouts start. But I donít know at this point.

Charlie Bury: Who was the toughest guy you ever had to guard in college?

Guillermo Diaz: When I first got to UM, we played against Connecticut. That was the year that Ben Gordon and Okafor won (the NCAA championship). He was the toughest guy, Ben Gordon.

Charlie Bury: Miami is known as a football school. How was the fan support when you were down there?

Guillermo Diaz: They are good people but of course the strongest sport is football so they really didnít follow that much basketball. But these past two years there were a lot of fans in the arena that gave a burst to all the players. Everything changed and there were a lot of fans. People were everywhere asking you stuff. It was real nice the last two years. At the beginning it wasnít that much. People didnít know about our team. But at the end it was getting better.

Charlie Bury: How have those fans reacted to your decision to turn pro?

Guillermo Diaz: The people I have talked to were supportive. I havenít seen anybody negative. Of course youíve got to look sometimesÖthis is my life and I need to make tough decisions sometimes. But most of the people have been supportive. I havenít seen anybody being negative about it.

Charlie Bury: You decided to sign with an agent pretty quickly, when many guys in your position take advantage of the rule allowing underclassmen to ďtest the watersĒ. How come you decided to sign with an agent and give up your eligibility?

Guillermo Diaz: Signing with an agent was better for me, because it let me put more focus on my basketball skills and working on things that Iím not very good at, so I can learn them before I go to NBA workouts. This process goes quick, so you need to give yourself the best chance youíve got. I signed with an agent and put more work into my game so when I go into the workouts I will most certainly do well. When I go to the next step, Iíll know a lot of stuff already that others who started later might not.

Charlie Bury: What was the agent selection process like for you? How did you go about picking an agent?

Guillermo Diaz: My dad has been helping me in my career, and he was the one who brought me to Miami. So he knows a lot of people and he was meeting with a lot of guys. He recommended this guy and I met him, and for me it was nice and it was nice for everybody, so thatís why I picked him.

Charlie Bury: In todayís NBA with the new rule changes it seems like every team has a combo guard. You mentioned Ben Gordon; guys like him, Eddie House, Maurice Williams have all had success in the league. Do you see yourself as more of a scoring guard like those guys, or as more of a point guard?

Guillermo Diaz: I can be both. I can play as a point guard because I like to pass. But I will do both, man. I can score if you want, I can do anything. I can do anything on the court, whatever the team needs.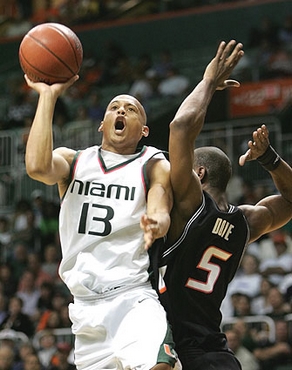 AP



Charlie Bury: Who would you compare your game to?

Guillermo Diaz: The style of my game is a little like Ben Gordon and Gilbert Arenas. That kind of style, a scorer who can finish strong, is athletic, and can shoot.

Charlie Bury: What NBA team do you think best suits your style? What type of coach would you like to play for?

Guillermo Diaz: The style that I would play would be the Phoenix Suns, that style. The run and gun and get up and down. My team in college, we didnít run that much so I got used to that a little bit. So I can do both, set offense or just go a lot of fast break. But I think a great fit is Phoenix. Their team just gets up and down and runs. Theyíre athletic and run the court.

Charlie Bury: What are you hearing from scouts or your agent as to how high, or how low you might be going in this draft?

Guillermo Diaz: Iím not paying attention to any of that stuff. I just got to work hard on my training right now and prove to people when I go to these individual workouts that Iím a good player.

Charlie Bury: Tell me about basketball in Puerto Rico. The national team has really been on the upswing the last couple of years. Is basketball becoming more and more popular in Puerto Rico?

Guillermo Diaz: Yeah, it has always been popular but now a lot of kids will come to the States to play college basketball and go back to play in Puerto Rico, so we have better players now with more skills. Now a lot of people have started playing basketball. Everywhere you go in Puerto Rico there is a court full of guys just playing pickup. Itís getting a lot more popular now. Baseball is the biggest sport in Puerto Rico, but now basketball is in the top two.

Charlie Bury: Do you have a relationship with any of Puerto Rican guys that are in the NBA now, like Carlos Arroyo or Peter John Ramos?

Guillermo Diaz: Yeah I know Carlos Arroyo a little bit.

Charlie Bury: Has he given you any advice about the draft process and what you should be looking out for?

Guillermo Diaz: Last time we talked, he told me like my brother would: ĎNow is your chance. You just got to go out and take it. You donít always get two chances. You got to take this one like itís that or your life. You have to work hard and know that nothing is going to be easy now. From here to the end, itís not going to be easyí. So I need to work hard and forget about what I have in front of me and just do the best for me, Guillermo.

Charlie Bury: Getting back to when you were saying you chose Miami because you thought it was a good fit for you and your family. Do you think your Hispanic heritage might be able to help you out in terms of marketing, and do you want to play in an NBA city with a large Puerto Rican community?

Guillermo Diaz: Oh of course, yeah. Of course. There are not that many Hispanic players in the NBA, so it would be great to play in front of a large Hispanic population. Now we see a lot of European guys, but we donít have that many Hispanics in the NBA. So it would great to be in a place that I could just be a part of a city. You know, represent Hispanics, thatís how it is.

Charlie Bury: Who are some Puerto Rican guys that we might be sleeping on?

Guillermo Diaz: Dennis Clemente is the one. He played with me at Miami. Heís a guy who is real fast. He has a lot of ability to change speeds and he has handles and scoring. He can do a lot of stuff that a lot of people canít do. He is the one people are sleeping on. You will see him next year.

Charlie Bury: Alright Guillermo, thatís it. Thanks so much.

Guillermo Diaz: Okay. Alright man, take it easy.

[Read Full Article]

---
Guillermo Diaz NBA Draft Scouting Report
April 2, 2006


Strengths


In terms of physical attributes, weíre talking about one of the most athletic players in the draft; featuring a 42 inch vertical leap, excellent strength, terrific quickness and an explosive first step. Few players can stay in front of him in college basketball, and he uses this to create his own shot dozens of times in every game he plays in.

Offensively, there are very few spots on the court that Diaz is not capable of scoring from, showing a terrific combination of perimeter shooting, slashing ability and shot creating skills, and a very nice in-between game to compliment that. His aggressive shot-creating style of play appears to be tailor made to the NBA, much more than it was in the NCAA where defenses could guarantee a victory simply by doing whatever it takes to shut him down.

Diaz has a picture perfect stroke from beyond the arc, featuring terrific elevation, a quick release, deep range and a beautiful high-arch on his jumper. He can hit shots both from static positions and off the dribble, and appears to become better and better as the game wears on, showing little hesitation to hoist up shots at any point. His numbers here (36.4% from 3-point range) donít do justice to the kind of shooter he really is because of his teamís offensive system and the number of contested shots he was forced to take at the end of the shot clock every single game.

If his man is crowding him on the perimeter, Diaz will blow right past him with the greatest of ease thanks to his phenomenal first step. He has a very strong crossover he can go to as well as a variety of hesitation moves and head/body fakes, showing significant improvement in his ball-handling skills over the past year. Heís become much better at creating space for himself, which means that he doesnít have to just barrel his way into the lane like we saw all too often last season. Even when he does, though, Diaz has wonderful body control and an incredible vertical leap to make spectacular plays look easy. Itís here where Diaz looks most like an NBA player, contorting himself, finding the smallest of openings to split double teams, spinning wildly and using his strength to finish gracefully high off the glass, often with contact. Diaz is a tough and hard nosed player who does not mind challenging bigger and stronger players at the rim in order to get to the free throw line.

If the lane is just too crowded to force his way into, Diaz has developed a very nice mid-range game this season to make things easier on him. He has the ability to stop on a dime and just explode off the floor, getting to the apex of his jump to where he is almost parallel to the rim and then showing great touch and concentration to knock the shot down.

In terms of passing or point guard skills, he didnít have many opportunities to get more than just a few minutes at the point each game so itís hard to judge, but when he did he would at times show a very nice feel for the game in terms of his unselfishness finding the open man and making the extra pass. His court vision isnít bad; underdeveloped would probably be the better way to describe it. Diaz is likely a better passer than most people realize, but he was in the wrong system to show that playing next to two other undersized shooting guards on the perimeter and no legit big men at Miami.

Defensively, Diaz doesnít seem to place nearly as much of a priority on this part of his game as he does on the offensive end. His quickness, strength and footwork mean he has plenty of potential to develop here, but this isnít an area where he really excelled in college due to his lack of intensity here.

Off the court, Diaz is a quiet guy who draws rave reviews from his coaching staff for his work ethic and attitude. Considering that heís only been playing organized basketball for 4 years, his feel for the game is excellent and his potential to continue to improve his skills is still tremendous. In terms of the guard prospects in this draft, there may not be anyone with a ceiling as high as his.



Weaknesses


The biggest question mark about Diazí pro potential is his position at the next level. At 6-2 (and a fairly small 6-2 at that), he is most certainly a point guard in terms of size, but his skills do not stack up with what you would expect from a playmaker and he has very little experience running the point. He does not appear to have an amazing wingspan either to make up for his average size.

You never quite know what you are going to get with him, as his motor is very inconsistent. He often takes too long to assert himself in games, deferring to teammates and only begin to take over when his team needs him most. In other occasions he will get out of control, forcing the issue excessively, being turnover prone and demonstrating poor shot-selection.

He often makes things much more difficult on himself than they actually should be, getting too cute in the paint going for a Dwayne Wade type spectacularly difficult finish rather than securing the simple two points. He could still stand to improve his ball-handling skills, as well as develop a more consistent floater or runner he can go to in the lane to finish in traffic. Even though heís already an excellent shot-creator, there is still plenty of room for him to improve his efficiency and continue to add polish to his perimeter game, especially in terms of experience, as he gets by more on instincts and improvisation skills than set plays or real coaching.

Defensively, as noted in the strengths section, Diaz doesnít take enough pride in this part of his game, lacking a bit in the intensity area, gambling a little too much for steals and often letting slower players blow right by him. There are a number of excuses you can make for him; heís forced to expend so much energy on the offensive end on almost every possession, heís often asked to guard shooting guards or small forwards because of the two fellow tweener shooting guards that make up Miamiís backcourt, he doesnít have great fundamentals considering his lack of experience, etc etc, but at the end of the day he will have to show that he can hold his own on this end to find success at the next level. Considering his potential tweener status, itís important for him to improve significantly in this area, as heíll likely be asked to defend both point guards and shooting guards in the NBA and will need to muster up every bit of effort he can to make sure his coach keeps him on the floor.

On and off the court, Diaz is a very quiet and nonchalant player. Rarely will you see him get worked up about anything except maybe a bad call, looking just as cool, calm or some would say apathetic when his team is up in a big game as he does when they are down by 20 points or more. His leadership skills in particular could be much better. Considering that he was Miamiís absolute best player and go-to guy at all times, he did not assert himself in the huddle or in terms of demanding more from his teammates on the floor as you would expect a star player to.

Diaz and Miami never made the NCAA tournament in his three years in Coral Gables, coming tantalizingly close his sophomore year before collapsing down the stretch. The coach that recruited him, Perry Clark, was fired right after his freshman year, and the team lost almost their entire recruiting class, including Kansas big man C.J. Giles. New head coach Frank Haith did a nice job with the little he had in his first year of tenure, but the entire team regressed significantly this season and never appeared to be playing up to their full potential. Many wondered why Haith insists on recruiting players who are best suited for an up-tempo style of game, but then force them to grind it out the entire shot-clock. Hundreds of times this season weíd see a situation where the shot clock gets under 10, the team passes the ball to Diaz on the perimeter, and everyone clears out while watching him go 1 on 5. Sometimes he would pull out his magic and find a way to score, but more often than not he ended up having to settle for an incredibly difficult shot that rimmed out.

Individually, Diaz didnít have the type of season he probably thought he would when he decided to return for his junior year. His production dropped off in terms of points, rebounds and FG%, but his assists and assist to turnover ratio improved significantly. Part of this had to do with tendonitis in his knee that robbed him of much of the explosiveness we saw from him previously. NBA draft websites donít have full access to his medical records and doctors to personally evaluate him, so itís hard to say how serious this is or how it might affect him. We do know that he had arthroscopic surgery last summer, which is considered fairly inconsequential, and that he did not appear to be in the same excellent shape this season as he was last year.




Competition


Diaz was a world class volleyball player in Puerto Rico (named MVP of the 2003 Under-18 World Championship in Thailand) before he decided to come to Miami for his senior year of high school to attend Miami Christian under Puerto Rican pipeline feeder, Coach Art Alvarez (now of the Miami Tropics AAU team). The half season he spent playing high school basketball in the states (he was eventually ruled ineligible) was his first taste of organized basketball. Miami decided to sign Diaz very early on after arriving in Florida, before anyone else could really catch wind of him.

Despite his extreme lack of experience, Diaz was still Miamiís third leading scorer as a freshman at just under 12 points a game, shooting 46% from the 3-point line. Despite putting up impressive numbers for a freshman he still flew completely under the radar until he exploded in his sophomore season, taking the ACC by storm on his way to averaging 18.6 points a game on just under 46% shooting. As a junior, Diaz struggled a bit as mentioned after losing much of his explosiveness recovering from knee surgery. He averaged 17.2 points and 2.9 assists compared with 2.0 turnovers, while shooting just 41.6% from the field.




Outlook


Diaz is an interesting prospect in this draft whose stock wildly fluctuates depending on who you are talking to. His stock was at an all-time high last year after absolutely taking the ACC by storm and nearly taking Miami to the NCAA tournament almost by himself. After being convinced by his coaching staff to come back for his junior year he did not improve his numbers or win totals the way many had hoped, partially due to the knee surgery he had over the summer which forced him to change his style of play.

Now that he is in the draft and hired an agent, it will be interesting to see how heís evaluated. He does not fit the mold of your typical point guard or shooting guard prospect in terms of his combination of size and skills. With that said, he does appear to fit the direction of what the NBA is rapidly turning towards with the rule changes that eliminate hand-checking and has made the life of scoring guards infinitely easier. Itís reached the point that nearly half the teams in the NBA have gone towards playing two smaller guards on the perimeter (usually one point and one combo) for at least parts of games, which forces defenses to change their game plan and has made the term ďcombo guardĒ much less of an insult that it was in the past. The success of combo guards like Dwyane Wade and Gilbert Arenas at the forefront, followed by players like Mike James, Jason Terry, Ben Gordon, Cuttino Mobley, Jamal Crawford, Juan Dixon, Fred Jones, Eddie House, Salim Stoudamire, Charlie Bell and of course the modern pioneer, Bobby Jackson, backs this up. If GMs and especially coaches see potential in Diaz to be a 6th man or 3rd guard in this mold that can come off the bench and allow his team to change the flow of the game with his offense, his stock will rise and he has a chance to work his way strongly into the middle of the first round. If they view him as a tweener who will have to be converted into a true point, he could very well go in the 2nd round.




[Read Full Article]

---