Henry Sims
Recent Tweets
All Tweets
DraftExpress: Undrafted: Kevin Jones, Drew Gordon, JaMychal Green, J'Covan Brown, Tu Holloway, William Buford, Nihad Djedovic, Casper Ware, Henry Sims
2012-06-28 11:03:29
DraftExpress: DX All-Portsmouth Invitational Tournament Team: Kevin Murphy, Kyle O'Quinn, JaMychal Green, Henry Sims and Kim English http://t.co/L5IzcXhD
2012-04-16 02:02:14
DraftExpress: Portsmouth Sports Club, led by Henry Sims, Devoe Joseph, Kevin Murphy and Kyle O'Quinn advance to the finals w/a 76-74 win.
2012-04-13 08:39:24
DraftExpress: Very good first PIT semifinal. Lots of players had nice moments including Henry Sims, Ramone Moore, Kyle O'Quinn & Devoe Joseph.Team efforts
2012-04-13 08:31:31
DraftExpress: Why stop there? At minimum, he's Patrick Ewing. RT @marlostatus: U think Henry Sims has more potential than Greg Monroe? @DraftExpress
2012-03-08 04:48:55
Team: Grand Rapids
Physicals
Positions
Rankings
Salary
Misc
H: 7' 0"
W: 241 lbs
Bday: 03/27/1990
(25 Years Old)

Current: PF/C
NBA: PF/C
Possible: PF/C

RSCI: 55

Agent: Todd Eley
Current Salary:$915,243

High School: Mount St. Joseph
Hometown: Baltimore, MD
Best Case: Josh McRoberts
Worst Case: Shavlik Randolph

Predraft Measurements
| Year | Source | Height w/o Shoes | Height w/shoes | Weight | Wingspan | Standing Reach | Body Fat | No Step Vert | Max Vert |
| --- | --- | --- | --- | --- | --- | --- | --- | --- | --- |
| 2012 | NBA Draft Combine | 6' 10" | 6' 11.75" | 241 | 7' 4" | 9' 0" | 7.7 | 26.5 | 29.5 |
| 2012 | Portsmouth | 6' 10" | NA | 251 | 7' 4" | NA | NA | 23.3 | NA |



Basic Per Game Statistics

- Comprehensive Stats - Statistical Top 25s
| Year | League | Name | GP | Min | Pts | FG | FGA | FG% | 2Pt | 2PtA | 2P% | 3Pt | 3PtA | 3P% | FTM | FTA | FT% | Off | Def | TOT | Asts | Stls | Blks | TOs | PFs |
| --- | --- | --- | --- | --- | --- | --- | --- | --- | --- | --- | --- | --- | --- | --- | --- | --- | --- | --- | --- | --- | --- | --- | --- | --- | --- |
| 2015/16 | DLEAGUE | Henry Sims | 3 | 27.0 | 15.7 | 5.3 | 10.0 | 53.3 | 5.3 | 9.3 | 57.1 | 0.0 | 0.7 | 0.0 | 5.0 | 5.7 | 88.2 | 2.7 | 5.7 | 8.3 | 1.0 | 1.0 | 0.3 | 1.7 | 4.3 |

Player Page&nbsp&nbsp| Player Stats | Mock Draft History | Related Articles&nbsp&nbsp| Add to My Draft Express&nbsp
&nbsp
NBA Combine Interviews: Sullinger, Melo, Sims
June 21, 2012
[Read Full Article]

---
DX All-Portsmouth Invitational Tournament Team
April 16, 2012
A key cog alongside Kyle O'Quinn, Henry Sims was a presence on both ends of the floor as well, playing with terrific energy. Though Sims is certainly not an elite athlete or a finished product offensively, he made the most of his 7'4 wingspan and impressive frame, blocking a number of shots, pursuing the ball off the rim aggressively, and finishing around the basket. Struggling to rebound the ball at a high level as a senior, Sims's effort-level was a positive here, as he made an effort to go after caroms that he did not seem intent on chasing as a Hoya. Sims did not consistently knock down his jump shots, but he did show the same unique passing ability we saw from him at Georgetown. His high basketball IQ made him a terrific complement to the players around him here, and at 6'10 with a strong frame and excellent length, his budding skill-level stood out among some of the other big men in attendance, particularly when considering he was one of the youngest players in attendance.

[Read Full Article]

---
2012 Portsmouth Invitational Tournament Measurements Released
April 13, 2012
While possessing many characteristics skill-wise of a power forward, Henry Sims is definitely tall enough to play as a center in the NBA at 6-10 without shoes, 251 pounds and a 7-4 wingspan.

[Read Full Article]

---
Trending Prospects (12/9/2011)
December 9, 2011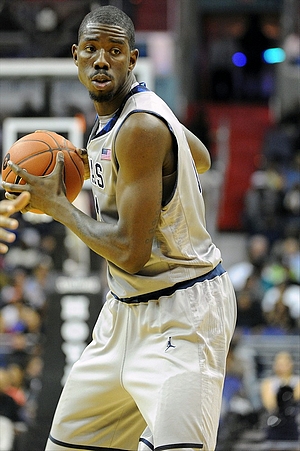 Icon SMI



Joe Treutlein

Henry Sims has had a long and slow journey to the national scene in his four years at Georgetown, slowly earning more minutes and improving his numbers each season, and is now showing some consistent flashes that deserve attention given his physical tools.

Despite being fairly highly regarded coming out of high school (#34 Scout.com, #49 Rivals), Sims didn't see much playing time in his first two seasons at Georgetown, and only averaged 14 minutes per game as a junior.

Standing 6'10 with a well-built, broad-shouldered upper body and an adequate lower body, Henry Sims is a decent athlete for his size, excelling more with mobility and coordination than explosiveness or quickness, but doesn't run the floor particularly well. He has good length, and despite his already solid overall bulk, he probably could still add some more, specifically in his lower body.

On the offensive end, Sims shows intriguing flashes in a variety of areas, though he hasn't really mastered any individual aspect of his game. He sees most of his touches operating in the low post at this stage, where he has a solid mix of finesse moves, but still is a little rough around the edges.

From the low block, Sims relies on an assortment of drop-steps, hook shots, and turnaround jumpers, showing the ability to turn off either shoulder and finish with either hand, though his touch isn't great with either. He has a strong tendency to extend his drop-steps under the rim, where he likes finishing with reverse lay-ups, doing a good job utilizing his length to create separation. Sims struggles operating through contact and doesn't really have a go-to move at this stage, showing inconsistent results with all aspects of his finesse game, and it's not likely teams at the next level would look for him to create his own offense in the post.

Sims' perimeter game isn't utilized as frequently, but could be more useful to him in the long-term, and he shows some excellent flashes already both with his dribble-drive and perimeter jumper. Sims does a good job putting the ball on the floor and driving to the rim both from the perimeter and turning into his opponent in the mid and high post, showing rangy strides and a decently controlled dribble for a player his size.

He will occasionally shift the ball between hands or make a subtle change of direction to get an angle on a defender, but primarily only operates on straight-lines. His biggest problem here is he doesn't do a good job finishing at the rim in these situations, not really possessing the ability to take the ball off the dribble for a high-percentage lay-up attempt due to his small hands, and having a difficult time powering through opponents due to his average strength, toughness and explosiveness.

Sims' mid-range jumper is similarly still developing, and not something he relies on very often. His shooting form is decent enough, and he has hit five of his nine jump shot attempts this season according to Synergy, but he still needs to improve his consistency here. He's also shooting 77% from the line this year (on 31 attempts thus far), which is a big upgrade from the sub-60% he's shot in the three previous seasons. If that number holds up and he continues knocking down mid-range jumpers for the rest of the season, it will be very helpful for his stock going forward.

Sims, like most Georgetown big men, also excels with his passing, showing excellent feel and vision operating from the perimeter, high post, and low post alike. He frequently makes passes to open cutters and shooters, doing a great job in the facilitator role for the Hoyas offense, to the tune of an outstanding 6.8 assists per-40 minutes. Not only does this rank him as the best passing big man in the NCAA right now, he is currently garnering assists at a rate that rivals any power forward in our database in the last decade.

The most troubling aspect of Sims' game from an offensive perspective is the contributions he makes operating off the ball, not really excelling in cuts or on the offensive glass, generating very little of his overall offense this way. Given his still unpolished skill level and likely role if he were to make it to the NBA, he'll need to make better use of his size and tools in these aspects of his game, which is critical for most role-playing bigs. Sims plays as mostly a below the rim player at this stage, only really showing the ability to consistently power up from standstill positions, and that could be troubling to him at the next level, though maximizing his lower body strength could help him, especially in this aspect of his game.

On the defensive end, Sims is still a work in progress. His attentiveness and effort level are both solid, but his lack of toughness, lower body strength and ability to get leverage hurt him defending the low post, where he's prone to being backed down by more physical players. Sims is not a particularly fluid athlete, which makes it difficult for him to bend his knees and get in a low stance to deny position.

For this reason he also looks uncomfortable on the perimeter, often giving big space to his man both contesting jump shots and defending pick-and-rolls, something that could be exploited at the next level. While offensively Sims should have no problem playing the power forward spot at the professional level, his poor lateral quickness would likely make it difficult for him to defend perimeter oriented big men who can attack off the dribble.

Perhaps the biggest problem for Sims defensively, though, is his extremely poor rebounding ability. For a player in his mold, this could be a major issue in looking to the next level, as he will really need to perform much better here.

Looking forward, Sims has some intriguing tools from an NBA perspective, with his size, length, and developing offensive skill set, and is obviously still improving given how late of a bloomer he is. How Sims performs down the stretch in conference play and if he can shore up some of his weaker areas, namely rebounding and defense, will likely be critical to his stock, but he's certainly a player who should get a good look at the Portsmouth Invitational Tournament and possibly in workouts and the NBA summer league.

[Read Full Article]

---
2008 Spalding Hoophall Classic -- Best of the Rest
January 22, 2008
Henry Sims (#43 Scout, #62 Rivals) had the most dominant performance of any prospect here in Springfield, scoring 32 points and nearly leading his team to a shocking upset victory over Oak Hill Academy. He is all you can ask for physically out of a 6í10 high school senior, blessed with broad shoulders, decent lower body strength, and very long arms. Athletically, the Baltimore native runs the floor exceptionally well and has above average leaping ability. When you combine this with his great motor, you begin to understand why he is a top recruit nationally, despite not having a super refined skill set.

Against Oak Hill, Mt. St. Joseph established Sims as their go-to-guy from the tip. He received countless touches in the post, where he was able to use quick drop steps to put points on the board. Once Oak Hill began combating him with double teams, he responded well by making the proper reads and finding teammates for open looks at the basket. Henry showed off his soft hands by catching everything thrown to him and grabbing a ton of offensive rebounds, which he usually converted at the rim. Heís not the most skilled or fluid player in the world, but he really gets the job done at this level. When not around the basket, he displayed a promising jump-shot from 17 feet and in. Although he did not shoot the ball from the perimeter at an outstanding clip, he established himself as a presence out there with his ability to hit the short jumper or put the ball on the floor once and take it to the rim.

Sims used his long arms and good timing on the defensive end to alter many shots, doing his best to marginalize the impact of Oak Hillís posts. He boxed out well inside and likely would have had more rebounds if his team did not allow the Oak Hill guards to crash the glass so much. The potential is definitely there for this athletic big man to develop into a defensive presence at Georgetown.

Henry is part of a Hoya recruiting class that includes two other power forwards, Greg Monroe and Chris Braswell. With Vernon Macklin returning next season, there is definitely going to be a battle for playing time in the Georgetown frontcourt. Simsí ability to play the center slot will give him a better chance to see the floor as a freshman, and he will certainly be a player that NBA scouts will keep their eye on over his tenure in college.

[Read Full Article]

---
LeBron James Skills Academy Day Three
July 10, 2007
Sims was surprisingly productive throughout the first two days of camp, finishes everything inside and making his presence felt on both ends of the floor. The long, athletic big man really did some damage on the offensive glass, exhibited great hands, and seemed to be a guards dream with his ability to convert their drop-off passes inside for assists. Henry has a motor that does not stop running at all, and with continued development on the low blocks should be able to receive a considerable amount of playing time as a freshman for the Hoys.

[Read Full Article]

---