Isaiah Thomas
Recent Tweets
All Tweets
DraftExpress2: RT @DraftExpress DX Free Agent Scouting Vids Parsons Gordon Hayward Monroe Isaiah Thomas Stephenson Bledsoe Melo LeBron http://t.cu2026
2014-07-06 07:32:05
DraftExpress: DX Free Agent Scouting Vids Parsons Gordon Hayward Monroe Isaiah Thomas Stephenson Bledsoe Melo LeBron http://t.co/V7lvIsPumz
2014-07-03 20:21:36
DraftExpress: DX Free Agent Scouting Videos Greg Monroe Isaiah Thomas Lance Stephenson Eric Bledsoe Carmelo Anthony LeBron J http://t.co/V7lvIsPumz
2014-07-02 11:10:19
DraftExpress: On DX Free agent video breakdowns of Isaiah Thomas Lance Stephenson Eric Bledsoe LeBron James & Carmelo Anthony http://t.co/8CEcXODATy
2014-07-01 21:47:36
DraftExpress: New on DX Isaiah Thomas 2014 Free Agent Scouting Video http://t.co/Y0O89i1zua http://t.co/KJankT1eoP
2014-07-01 14:59:58
Top 25s - Full List
Team: Celtics
Physicals
Positions
Rankings
Salary
Misc
H: 5' 10"
W: 186 lbs
Bday: 02/07/1989
(26 Years Old)

Current: PG
NBA: PG
Possible: PG

RSCI: 112

Agent: Sam Goldfeder
Current Salary:$7,238,606

High School: South Kent
Hometown: Tacoma, WA
Drafted: Pick 60 in 2011 by Bulls

Predraft Measurements
| Year | Source | Height w/o Shoes | Height w/shoes | Weight | Wingspan | Standing Reach | Body Fat | No Step Vert | Max Vert |
| --- | --- | --- | --- | --- | --- | --- | --- | --- | --- |
| 2011 | NBA Draft Combine | 5' 8.75" | 5' 10.25" | 186 | 6' 1.75" | 7' 7.5" | 6.7 | 31.5 | 40.0 |
| 2011 | Deron Williams Camp | NA | 5' 11" | 189 | 6' 1.5" | NA | NA | NA | NA |
| 2011 | Nets Workout | 5' 9" | 5' 10.5" | 187 | 6' 1.5" | 7' 8.5" | 6.3 | 29.0 | 38.5 |
| 2009 | Deron Williams Camp | NA | 5' 9.5" | 182 | 6' 0" | NA | NA | NA | NA |



Basic Per Game Statistics

- Comprehensive Stats - Statistical Top 25s
| Year | League | Name | GP | Min | Pts | FG | FGA | FG% | 2Pt | 2PtA | 2P% | 3Pt | 3PtA | 3P% | FTM | FTA | FT% | Off | Def | TOT | Asts | Stls | Blks | TOs | PFs |
| --- | --- | --- | --- | --- | --- | --- | --- | --- | --- | --- | --- | --- | --- | --- | --- | --- | --- | --- | --- | --- | --- | --- | --- | --- | --- |
| 2015/16 | NBA | Isaiah Thomas | 16 | 30.6 | 21.2 | 7.2 | 16.9 | 42.6 | 4.9 | 9.9 | 49.1 | 2.3 | 6.9 | 33.3 | 4.5 | 5.3 | 85.7 | 0.4 | 1.7 | 2.1 | 5.9 | 1.6 | 0.0 | 2.8 | 1.8 |

Player Page&nbsp&nbsp| Player Stats | Mock Draft History | Related Articles&nbsp&nbsp| Add to My Draft Express&nbsp
&nbsp
Isaiah Thomas 2014 Free Agent Scouting Video
July 1, 2014
Analyzing the strengths and weaknesses of restricted free agent Isaiah Thomas, an analytics darling and one of the best point guards available on the market.


---
More Free Agent Videos:


-Lance Stephenson
-Eric Bledsoe
-LeBron James
-Carmelo Anthony

All of our video scouting reports can be found here

[Read Full Article]

---
NBA Combine Interviews: Marshon Brooks, Andrew Goudelock,Isaiah Thomas
May 24, 2011
[Read Full Article]

---
Analyzing the 2011 NBA Combine Measurements
May 21, 2011
Isaiah Thomas (5-8 ĺ without shoes, 6-1 ĺ wingspan) measured out taller than Devan Downey (5-8 Ĺ without shoes, 6-0 Ĺ wingspan), but smaller than Keydren Clark (5-9 without shoes, 6-2 Ĺ wingspan) and Jerome Randle (5-9 ľ without shoes, 6-0 wingspan) amongst undersized prospects we've encountered in recent seasons. If picked, he would be the smallest player ever drafted in our database besides Nate Robinson.

[Read Full Article]

---
Trending Prospects (1/27/2011)
January 27, 2011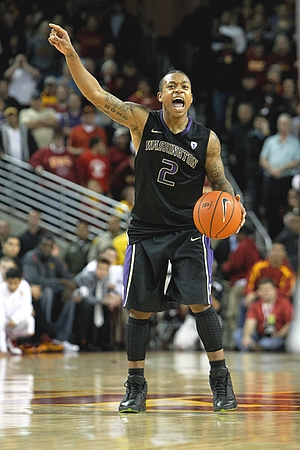 Icon SMI



Joseph Treutlein

Playing as a combo guard and shooting guard most of his first two years in college, Isaiah Thomas' pure point guard abilities have always been somewhat of a question mark, but it appears things are starting to change. Since Abdul Gaddy went down with a torn ACL about a month ago, Thomas has been thrust into the point guard role for Washington, and the early returns have been outstanding.

Averaging a ridiculous 9.1 assists per game over the past seven games while not sacrificing any of his scoring, Thomas has fully embraced his role, playing the best basketball of his entire career. While the 5-9 guard still certainly has some question marks surrounding how his game will translate to the next level, he's gotten off to a great start quelling those doubts.

Looking at his point guard abilities, Thomas has matured substantially since we last profiled him, showing much better instincts and outstanding court vision. This 180 degree change in production and mentality as a playmaker makes all the difference in evaluating his draft stock, as it was nearly impossible to envision him making it in the NBA as a 5-9 shoot-first combo guard.

Operating at his best in transition, Thomas always keeps his head up and is capable of making hard, precise passes on the move, frequently threading the needle through the defense for spectacular plays.

In the halfcourt, Thomas is at his best operating out of the pick-and-roll, where his extremely low center of gravity and elite change of direction ability makes him a huge threat splitting double teams. He shows good ability making passes out of these situations, while also excelling on both short and deep drive-and-kicks. He does tend to show some problems making entry passes, however, being limited in potential angles at his size.

Thomas is still prone to holding onto the ball and over-dribbling at times, to be expected given the drastic role change he's undergone in three seasons, but he also shows good ability to make quick reads and get his team right into their offense, unsurprising given Washington's 14th ranked tempo according to kenpom.com.

As far as Thomas' own offense goes, he shows pretty much the same skill set as he did when he stepped onto campus as a freshman, though he's done a good job improving his decision-making over time, resulting in a steady increase in scoring efficiency, with his true shooting percentage rising from 51% as a freshman to 58% this season.

Most dangerous taking his man off the dribble, Thomas has an exceptional first step and even better ability to change directions with the ball, boasting a great crossover and very good control in the lane. He is fearless in drawing contact, getting to the free-throw line at a very high rate, though he struggles scoring over help-side defenders and gets bailed out on foul calls at this level far more often than he will in the pros.

Relying heavily on a finesse game scoring in the lane, Thomas uses a lot of floaters and runners to get the job done, which is probably inevitable at his height. While Thomas' ability to score points around the basket is one of his strengths at this level, it's not hard to see it becoming a weakness in the pros, where the change in size and athleticism will have a strong effect on his game.

As a shooter, Thomas has done a good job steadily improving his three-point scoring efficiency his three years in college, being a respectable spot-up shooter from deep and solid coming off screens as well. He shows a significant tendency to jump into his shots to generate power, much more noticeable as he gets closer to NBA three-point range, something that can be problematic when he's pressed for time.

Off the dribble, Thomas is a very unreliable shooter, struggling to get the separation needed to get off his shot, as he needs more room given his height and his tendency to jump forward. To his credit, however, these problems are far less noticeable when he's operating out of pick-and-rolls, as the threat of his speed combined with the screen allow him to generate more space for his shot.

Defensively, Thomas' size poses some obvious problems, the most evident of which is the relative ease opponents have shooting over him, even though he does the best he can to contest shots. Thomas' effort level and fundamentals have improved substantially on this end during his time in college, and his lateral quickness and ability to change direction are both excellent.

He probably excels the most sticking to his man off the ball and playing prevent defense, being very hard to shake given his ability to change direction combined with his outstanding quickness, though this strength will probably be muted some at the next level against larger, quicker opponents. Off the ball, he shows great anticipation for steals, but his size and length limits him from making as many impact plays as he otherwise could.

Looking forward, Thomas has done a great job addressing many of the key concerns with his game over the past two seasons, and with Abdul Gaddy out for the season and Washington having another 11 games on their schedule before postseason play begins, Thomas has a ton of opportunity to continue showing off his game. His prowess and comfort level in the pick-and-roll combined with his outstanding speed off the dribble give him a definite chance to make a living in the NBA, especially if he continues to play at the level he has recently.

[Read Full Article]

---
Top NBA Draft Prospects in the Pac-10 (Part Two: #6-10)
September 16, 2009
Matthew Kamalsky

Thomas would rank considerably higher on this list if he were a few inches taller; nonetheless, the Tacoma native has earned some buzz after a simply outstanding freshman campaign for the Huskies. Displaying a knack for getting in the lane, but lacking a degree of consistency as a shooter, Thomas was his teamís most dynamic player, leading Washington in scoring at 15.5 points per-game en route to Pac-10 Freshman of the Year honors. Not held back by his size at the college level, Thomas will be the clear-cut leader for Lorenzo Romarís troops with the departure of Jon Brockman and Justin Dentmon to graduation. With additional shots opening up, Thomas will be a player to watch as he builds his draft resume and carries his team.

Wearing the same number that Nate Robinson did when he terrorized Pac-10 defenders, it is hard not to see the similarities between the two players. Both diminutive scoring guards with tremendous quickness, Robinson and Thomas share a common physical profile, though Thomas is a bit heavier than Robinson and not as explosive a leaper. While thatís a simple comparison to make, the eerie similarity between the pairís numbers gives it a lot more weight. Considering Thomas was living up to Robinsonís as a legacy says a lot about what he brought to the table last season.

Using roughly 17 possessions per-game according to Synergy Sports Technology, Thomas assumed a considerable offensive load from the day he stepped on campus. Functioning as both a point guard and shooting guard for stretches, the lefty showed the ability to score from the inside and outside alike.

When playing off the ball, Thomas proved capable of hitting spot-up shots with decent consistency, showing good elevation and a quick release on his jumper, though heís a bit streaky at times, and doesnít always finish his follow-through when he has a hand in his face. Though Thomasís size hurt his ability to hit shots with a hand in his face, his low three point percentage (29.1%) reflects a general lack of consistency that heíll need to work on moving forward. The same can be said for his free throw percentage (68.1%), which is highly improvable as well.

One thing that scouts wonít be questioning is what Thomas can do when he puts the ball on the floor. Displaying an absolutely outstanding first-step, excellent speed in transition, and a knack for creating space to get off his shot from inside of 15-feet, Thomas doesnít show great consistency with his pull-up, but uses a nice array of floaters, show-and-goís, and up-and-unders to score in the lane. Especially shifty around the basket, Thomas proves capable as a finisher despite his size, though he gets his shot blocked pretty frequently, heís able to use his quickness and the ability to finish acrobatically to get the job done amongst the trees. Fearless when he goes to the rim, Thomas forces some looks over defenders, but gets to the line at a tremendous rate as well, ranking amongst the top-20 players in our database in free-throw attempts per-40 minutes at 8.3 attempts.

When he isnít looking to score, Thomas displays some point guard ability. Though heís a natural scorer, looking for his shot when he penetrates or operates on the pick and roll, heís able to handle the ball under pressure, but his passing still leaves a lot to be desired. Not likely to be mistaken for a distributor, Thomas shows decent court vision when he doesnít have tunnel vision to the rim, and will need to improve his drive and dish ability to take full advantage of his quickness and passing.

Defensively, Thomas is limited in the same ways that most players his size are. His lack of length hurts his ability to force turnovers at the rate his quickness and anticipation would allow, and while heís able to deny penetration, he canít provide much resistance when his man looks to shoot. Not able to deter many spot up attempts with his size, Thomas needs to focus on his defensive stance and not get caught staring at the ball as he tends to. He may never be much of a defender, but heíll have the opportunity to make some improvements over time.

In terms of his NBA potential, Thomas will have a lot of questions to answer. Nate Robinsonís leaping ability was a driver behind his success, and while Thomas shares his speed, it will be tough for his to transition his mid-to-short-range scoring to the next level. In order to compensate for that, Thomas needs to improve the consistency of his outside shot and point guard skills considerably, otherwise heíll have to fight the perceptions about combo guards his height. Regardless of how he develops, Thomas is an exciting player to watch, and one worth keeping an eye on.

[Read Full Article]

---