Jalen Reynolds
Recent Tweets
All Tweets
DraftExpress: Too early to say, but love 'em for Xavier. Athletes. RT @Hindery: Thoughts on the eventual pro prospects of Jalen Reynolds & Semaj Christon?
2011-11-19 03:43:00
DraftExpress: Definitely got the players to do it. Jakarr Sampson Aaron Thomas Jalen Reynolds & Semaj Christon all long, strong, nasty athletic dudes #nps
2011-11-19 03:07:29
Team: Xavier, Junior
Physicals
Positions
Rankings
Misc
H: 6' 10"
W: 232 lbs
Bday: 12/30/1992
(22 Years Old)

Current: PF
NBA: PF
Possible: PF

Rank 81 in Top 100 Prospects
Rank 39 in NCAA Juniors
RSCI: 121

High School: Brewster Academy
Hometown: Livonia, MI




Basic Per Game Statistics

- Comprehensive Stats - Statistical Top 25s
| Year | League | Name | GP | Min | Pts | FG | FGA | FG% | 2Pt | 2PtA | 2P% | 3Pt | 3PtA | 3P% | FTM | FTA | FT% | Off | Def | TOT | Asts | Stls | Blks | TOs | PFs |
| --- | --- | --- | --- | --- | --- | --- | --- | --- | --- | --- | --- | --- | --- | --- | --- | --- | --- | --- | --- | --- | --- | --- | --- | --- | --- |
| 2015/16 | NCAA | Jalen Reynolds | 6 | 21.7 | 10.0 | 3.3 | 7.3 | 45.5 | 3.2 | 7.0 | 45.2 | 0.2 | 0.3 | 50.0 | 3.2 | 4.3 | 73.1 | 3.3 | 5.8 | 9.2 | 1.3 | 1.2 | 1.2 | 2.0 | 3.2 |

Player Page&nbsp&nbsp| Player Stats | Related Articles&nbsp&nbsp| Add to My Draft Express&nbsp
&nbsp
Top NBA Prospects in the Big East, Part Six: Prospects #11-15
September 15, 2015
Matt Kamalsky

After being ruled ineligible in his first year at Xavier and then carving out a small rotation role as a redshirt freshman, Jalen Reynolds took a step forward as a third year sophomore.


US Presswire



Standing 6'10 with a long wingspan and a chiseled 232-pound frame, Reynolds looks the part of a NBA big man. He doesn't have great size for a center, which is the position his skill set seems best suited for at the moment, but his combination of mobility, length, strength, and explosiveness leave some room for optimism that he could the five at the next level.

At this stage, Reynolds's game revolves around his ability to make the most of his terrific physical tools. They're a major reason he improved his points per 40 minutes from 11.8 as a freshman to 19.7 as a sophomore. Shooting an impressive 63% around the basket and 54% in the post, Reynolds is a bouncy finisher who can convert plays explosively above the rim, absorb contact inside, and bully his way to the rim in the post. He'll get his shot blocked on occasion because he's so aggressive, but his desire to dunk anything he can inside is a plus.

Away from the basket, Reynolds can hit an occasional jump shot, but perimeter attempts made up only 7% of his total field goal attempts, while he shot just 66% from the line a year ago. Something similar can be said about his abilities on the block, where he shows some flashes of finesse scoring ability and advanced moves, but sticks to a fairly basic repertoire. Not possessing a particularly strong feel for the game, it will be interesting to see if Reynolds's offensive skill set continues to develop, as he won't be able to play quite as much bully-ball as he does in college when creating his own shot at the next level.

Apart from his scoring, Reynolds is also a solid rebounder and possesses nice potential as a defender. Averaging 12 rebounds per-40 minutes pace adjusted, the Michigan native is active and physical on the glass on both ends of the floor. His physical tools allow him to have some pretty spectacular possessions using his length to bother shooters or his strength to defend inside, but he is very foul prone, averaging 6 fouls per-40 minutes pace adjusted, and lacks great fundamentals. Getting beat off the dribble at times defending away from the rim despite his fairly impressive lateral quickness for a big man, and not always knowing where to be when in Xavier's zone, Reynolds has room to grow on this end.

The challenge for Reynolds at this stage is his lack of great polish. One of the oldest players in our junior rankings, Reynolds will turn 23 just before New Year's Day. His significant improvement from his freshman to sophomore year leaves some room for optimism, but he'll have a lot to prove over the next two years given the track record of older players in the NBA draft.

[Read Full Article]

---
Top NBA Prospects in the Big East, Part 2: Prospects #6-10
October 2, 2014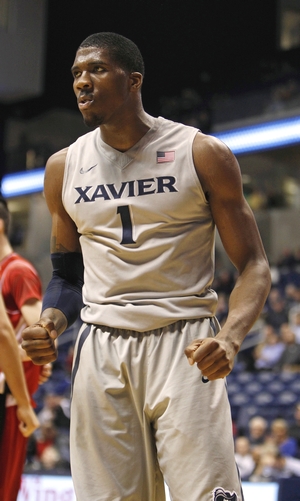 US Presswire



Josh Riddell

Jalen Reynolds returns to Xavier for his second season of action after redshirting his freshman season due to academic reasons. After losing Semaj Christon to the NBA, the Musketeers are a team that will be in somewhat of a transition as they look for a new go-to offensive player. Reynolds will look to fill a supporting role for coach Chris Mack and show that he can fill such a role for a NBA team.

After playing double digit minutes in eight of his first nine games last season, Reynolds ran into some off court trouble, which saw his minutes reduced for a large portion of December and January before being suspended for two games .

Reynolds is an exceptional athlete, with an excellent combination of speed and strength for his frame. Measured at 6'9", he may be a bit undersized for a player who makes a living strictly in the paint, but the rest of his physical tools compensate for any disadvantage. He has a terrific frame that should only continue to fill out with age, but is already pretty impressive.

Not a major focus of the offense, Reynolds didn't get too many opportunities to show any offensive strengths, as he's a very limited shot-creator. From the limited sample of offensive possessions though, none of Reynolds' offensive skills leapt off the page. Much of his offense came in the paint, as he attempted only six jump shots, according to Synergy Sports Technology. He does not project to be a capable jump shooter, as his fundamentals are greatly flawed and he will need a complete overhaul of his shot to step outside the paint. He did finish well around the rim, finishing 55.6% of 54 attempts at the rim, according to Synergy Sports Technology.

Confined to being a paint player, the majority of his offense came from post-ups and while he showed some ability to overpower weaker players, he doesn't have advanced footwork that will help him score against NBA level defenders. He was able to use his strength to get position against smaller defenders but when faced with a tough matchup, didn't have a way to beat his defender and had to settle for tough turnaround jump shots. He showed that he could score with basic drop steps and by gaining position, but most of this came due to matchup advantages and he struggled against defenders that could match his physical tools.

Reynolds was able to provide value on the offensive glass, as he averaged 5.1 offensive rebounds per 40 minutes pace adjusted, sixth-best among returning PFs who played at least ten minutes per game. His explosiveness and quick leaping ability allows him to then finish his offensive rebounds putbacks. He will need to focus heavily in this area to provide value this season by competing on the offensive rebounds on a nightly basis.

While Reynolds is a good offensive rebounder, he hasn't put the same focus into the defensive side. He does a decent job of boxing out but at times looks like he is just going through the motion instead of trying to move his opponent out of position, which he needs to focus on to not get jumped over. He doesn't always attack the glass, which doesn't allow him to rebound outside his area. With his limited offensive skills, becoming a dominant defensive rebounder is an area he will need to focus on this season to help his team and demonstrate potential to a NBA team.

Playing against post scorers, Reynolds competed defensively but was at a disadvantage either through his height or his average basketball IQ. Continuing to get stronger while maintaining his explosiveness will be helpful and he has solid footwork to help him become an adequate post defender. His other physical tools should hopefully make Reynolds a useful defender but he will need to come with a constant motor every night to compete when he is lacking physically against his competition.

It's still too early to project Reynolds' draft stock, as he just completed his first year of collegiate basketball, which was interrupted by some off-court issues. Reynolds' struggles getting eligible for college makes him one of the oldest players in the sophomore class, as he turns 22 in December and is even older than some college seniors. Reynolds' physical tools give him a chance to play at the highest level, but he will need to make sure he can stay on the court this year while becoming a bigger piece of the Xavier rotation, as he's already somewhat behind the curve age-wise. If he does this and accepts the role handed to him as a rebounder and defender, while showing an ability to score in the post, by the end of the season the picture may be a little clearer.

[Read Full Article]

---
2011 National Prep Showcase: Best of the Rest
November 27, 2011
Joe Treutlein

A still developing player on a very deep and talented team, Jalen Reynolds (Unranked ESPN, Scout, Rivals) wasn't highly featured in his team's games this weekend, but still managed to show some intriguing things.

Standing 6'9 with very good length, a chiseled frame and strong athleticism, Reynolds has some nice physical tools for a power forward prospect, but is still very much a work in progress skill-wise.

Offensively, Reynolds is largely inconsistent, showing flashes of skills in a variety of areas, but not appearing to excel in one in particular. His post game is lacking much in terms of polish and despite showing flashes of decent ball-handling for a big, the same can be said for his dribble-drive. His spot-up mid-range jumper appears to be his most potent skill at this point, and he makes use of it as a threat in the pick-and-pop game, but it wasn't featured often with his team's depth.

The most troubling aspect of Reynolds' game at this stage, however, is his inconsistency in displaying his motor on the offensive end, often going through the motions and not fully utilizing his physical tools to make an impact. Reynolds isn't especially aggressive on the glass or on cuts to the basket, and with his still developing skill level, will need to do a better job in these areas going forward.

Reynolds actually doe show a somewhat more consistent energy level on the defensive end, where he has some intriguing tools with his length and lateral quickness, though his fundamentals and awareness in all regards are still a work in progress.

[Read Full Article]

---