Blogging Through the Euroleague Final Four
May 2, 2009
Since scoring 30 points in a playoff game against the Dallas Mavericks almost exactly one year ago, Jannero Pargo has embarked on one of the strangest journeys any established NBA player has been through in recent memory.

After signing a one-year, 3.5 million dollar contract with Dynamo Moscow, Pargo was forced to leave mid-season for Olympiacos following the financial instability that hit many Russian league teams with the worldwide economic crisis. Since then, he seems to have struggled to find his niche on the team, and was barely a factor at all in this Euroleague Final Four, as he's suffering from a sports hernia that he will need to have surgery on once the season is over. Since the doctors say that he can't injure himself any more than he already has, Pargo has decided that he want to play and give the teams as much as he can give them.

Pargo actually started the game for Olympiacos, and had time to miss one shot, commit one turnover and commit two fouls in the first three minutes before watching the rest of the contest from the bench.

"This is how it's been in pretty much every game I've played in," a visibly frustrated Pargo told us in the locker room following the game. "It's tough to deal with. It makes it hard to play aggressive and be productive. But this is the role I've been given, so I just need to play the best that I can."

Despite the inconsistent minutes in Greece, and the issues with getting his payments on time in Russia, Pargo wasn't willing to call his season in Europe a bust.

"The experience hasn't been great, but it hasn't been bad either. From a basketball perspective, Dynamo Moscow was actually great for me. I loved playing for David Blatt and Dan Shamir. I really felt like I was becoming a better player over there.

Here in Olympiacos things haven't been that bad either. I've learned a lot from watching guys like Yotam Halperin—who is a very smart player—and Papaloukas. My game has gotten better here."

I couldn't help but ask Pargo whether he had been watching the way his former team—the New Orleans Hornets—had been booted out of the playoffs last week.

"I watched it. Definitely. I'm pulling for those guys. Those are my good friends."

Any thoughts on the way they went out?

"I was embarrassed. The effort was so different than it was last year."

Asked whether he felt like he would have made a difference had he still been on the team, he didn't seem to have any doubt.

"I do feel like that. There is so much pressure on Chris Paul, I could have helped with that. He needs to make plays all game long, in every game, for 82 games, and then in the playoffs. I feel like I could have taken a lot of pressure off him. With me there, he can sit on the bench a bit more and not be so worried. I could give the second unit a big boost. We can also play together—we work really well together. I think he got really tired, and having someone to ease the pressure would have made a huge difference."

Surprisingly enough, Pargo isn't ruling out returning to Europe next season, and really didn't even seem fazed by the subject.

"Not at all. I'm definitely not ruling out Europe. Greece is a great country, Russia is a great country. For my family this has been great. They treat me well and the basketball is fine too. I wish I was playing a little more, but that's about it."

Pargo reminded me that he took a different route to becoming an established player than most NBA veterans.

"I've been all over the world now, and I played in a lot of different places in the States too. I went to Junior college in Kansas, and then to college at Arkansas. It's different for different people I guess. I'm not the richest guy in the world, but I'm doing OK."

So any idea where you might be playing next season?

"I have no idea. It depends who's interested. Money is not going to be the sole factor in the decision process. A lot of people think it is. I feel like I proved last year that I'm an NBA player. I don't have anything more to prove at this point. The timing of this economic crisis has been unfortunate, but I think I can still get a good deal in the NBA."

When pressed about exactly what happened last summer with the Hornets, where they reportedly made a 3-year contract offer for 9 million dollars that they later rescinded, Pargo shed quite a bit of light for us on the topic.

"The offer was on the table, and they asked me to wait. They were looking to make a trade, trying to clear more money, so they asked me to wait. The offer was supposed to be on the table until I decided to take it. Once I decided to take it, that's what they said that the offer is no longer on the table. I was never asked about anything.

I'm not bitter. I'm not angry. I understand that it was a business decision. I did turn down other NBA offers while I was waiting for them. The Spurs made an offer for 2 million. Atlanta made an offer for 2.5 million. I turned them down to go to Dynamo Moscow."

Regarding potential tension that the way the Hornets conducted themselves in the negotiation process was rumored to have caused, particularly with Chris Paul, Pargo wouldn't deny any of that.

"Chris and I are good friends. We work really well together. We could have had a great season."
[
Read Full Article
]
Blogging Through Europe 2008 (Part Four: Russia-2)
December 8, 2008
The roster isn't too shabby either. When mentioning that five former NBA Draft picks are present on this roster, it's interesting to note that that does not include arguably the most talented player on the team—NBA veteran Jannero Pargo. Bearing some similarities to the Josh Childress experiment discussed in this blog last week, this is yet another interesting case study, a player who clearly could have stayed in the NBA and been an important rotation player wherever he landed, but instead decided to try his luck overseas.

Just like Childress, Pargo's success or failure will be studied closely by NBA players weighing similarly large offers from European teams, as well as by the teams themselves, who will have to think long and hard of the risk/reward of spending huge sums of money to bring over important NBA players.

So far--ten games in--he seems to be faring pretty well, averaging just under 14 points in 26 minutes per game as the team's starting point guard. He's shooting 44% from the field, 40% from beyond the arc and 86% from the free throw line, dishing out 4.7 assists compared to 2.5 turnovers—while establishing himself as the team's clear-cut go-to guy.

Anyone that watched the New Orleans Hornets' series against the Dallas Mavericks in last year's NBA Playoffs knows what a complete offensive weapon Pargo has become.

He is a smart, skilled, silky smooth and incredibly potent combo guard, capable of making shots from anywhere on the court, often by stopping on a dime and creating great separation from his defender with his terrific pull-up jumper. His ball-handling skills are befitting of his upbringing on the streets of Chicago, and he gives European defenders fits with his ability to juke, fake, change speeds and get his shot off at will.

He runs the pick and roll wonderfully, playing the game at his own speed and being equally effective with the drive and dish as he is turning the corner. When allowed to set his feet from beyond the arc he rarely misses, while he always gives a good effort on the defensive end as well—being as competitive and intense as you would likely expect considering the underdog nature of his basketball career.

With that said, not everything has gone smoothly in Pargo's transition to Europe thus far, as we were often able to see in the three games we took in while in Moscow. Shot-selection has always been an issue for Pargo throughout his career, and this has been a problem here as well at times, as evidenced by his somewhat pedestrian shooting percentages inside the arc. Pargo rarely gets all the way to the basket, getting to the free throw line just under three times per game on the season thus far. He at times has a tendency to go off on his own and freeze out his teammates, which just doesn't fly in Europe the way it might in the NBA regular season. He's not a selfish player, but his mentality is clearly that of a scorer's, which the coaching staff is still working out how to take full advantage of without disrupting the flow of the offense.

Without the restrictions of the Russian rule (which forces teams to have two Russian players on the court at all times), Pargo might be able to see more time off the ball alongside Hollis Price. But because of the makeup of the roster, that isn't always possible at the moment.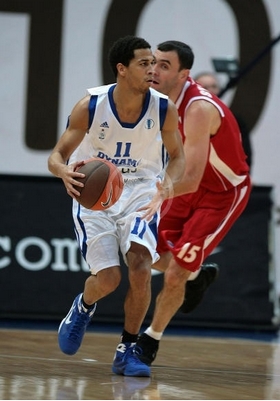 EuroCupBasketball.com
While Pargo's on-ball defense looks stellar for the most part—he puts terrific pressure on the ball and displays a great combination of smarts and lateral quickness staying in front of his man—he struggles mightily defending off the ball. The concept of a zone defense looks entirely foreign to him, and he has very poor awareness reading the opposition's movement and anticipating what's going to happen next, particularly guarding the pick and roll.
The concept of maintaining 100% focus for every minute a player is on the floor is much more scrutinized in Europe than it is in the NBA regular season—games are shorter here, the pace is a bit slower, rotations are bigger, the season is not 82 games, and every possession thus demands a little more intensity and concentration.
Always known as being somewhat feast or famine—unstoppable when he's on, but too streaky and unpredictable to always know what to expect, the coaching staff here doesn't have the luxury of sitting him and bringing
Chris Paul
back into the game if things aren't clicking for Pargo on a given night. The Hornets miss Pargo dearly—that much is obvious this season—but European basketball is a different animal, and therefore, any player would need time and patience to make the adjustment. The global financial crisis, which affected Russian basketball as much any league in the world, has not helped matters at all, and the players here have been forced to be patient while things get worked out on that front.
With all that in mind, Pargo seems to be faring quite well.
[
Read Full Article
]
NBA Scouting Reports, Southwestern Division (Part Two)
May 27, 2008
Overview: A tremendous scoring combo who is a good stylistic compliment to Chris Paul. Possesses only average size and physical strength for the point guard spot. Shows good quickness and lateral speed. Won't play above the rim, but can get there occasionally. Plays with a scorer's mentality, and isn't known for his playmaking skills. Incredible shot-maker from the perimeter, but is a bit streaky. Never gets rattled, and never loses sight of what he brings to the table. Will play tough defense. Tough player in general with outstanding intangibles. Has become a useful role player. Spent time at Neosho County Community College before playing for Arkansas. Signed with the Lakers as an undrafted free agent, but had to spend time in the minor leagues before returning to the NBA. His playoff performances with the Bulls and then the Hornets were huge for his career. Fits in well with the Hornets. Younger brother Jeremy is a guard at Gonzaga.

Offense: A good offensive point guard who will run the pick and roll and hit spot up shots from the perimeter. Displays a very fundamentally sound shooting stroke and can stretch the floor after he initiates the offense. Good catch and shoot guy. Just as capable off the dribble. Would much rather pull up than attack the rim due to his lack of size and leaping ability. Has the quickness to create separation off the dribble. Can absolutely take over a game at times with his stroke, and change the complexion of the contest—making him a tremendous option to bring off the bench as a change of pace guard. If his shooting stroke isn't on, though, he can become a liability. Never been known as a terribly efficient player throughout his career, partially due to his struggles converting shots around the rim. Not quite as good as a pure point guard as he is as a scorer. Has improved significantly throughout his career in that respect, though. Used to be very turnover prone. Handles the ball well, and while he may not be a great creator, he is a very solid passer. Very rarely gets to the free throw line. Handles pressure well, and can hit his free throws at a very high rate. Plays within himself, which is a trait that took him time to develop. Extremely confident.

Defense: A very good defender who uses his quickness to hawk the ball, but does not have great length at 6-2. Can be a real nuisance for less athletic point guards. Moves his feet extremely well and maintains a low stance. Will get too aggressive sometimes and get beaten off the dribble, but not often. Commits some fouls by nature of his assertiveness. Does his best to keep the ball out of the lane. Not a risk taker, but plays with a physicality that allows him to be a very good defensive point guard. Struggles when forced to defend shooting guards, though, which happens fairly often. Not strong enough at times to fight through screens on the pick and roll. Lacks the height to contest shots and make an impact on the glass, but will run down long rebounds and do his best to get a hand up when he can.
[
Read Full Article
]