The Top Ten Performers at the 2016 adidas Nations College Games
August 6, 2016
#8) Jaron Blossomgame, 6'7, Small Forward, 22.8 years old, United States, Clemson

EWA: .5
PER: 22.7
TS%: 62.2%
12.3 PTS, 3.5 REB, .5 AST, 2-4 3P%, 7-10 FT%, 57.1 FG%

Jaron Blossomgame was one of the more intriguing prospects at the Adidas Nations, just days after having another strong showing at the Nike Basketball Academy. He is just a couple months removed an impressive showing at the NBA Combine, where he later opted to withdraw his name from the NBA Draft and return to Clemson for his senior season. Blossomgame projected as a likely second round pick, but will have a chance to build on his All ACC First Team season, and potentially improve his stock for next years' draft.

Blossomgame looks the part of a NBA combo forward, as at 6'7, 214 with a strong frame and excellent athletic ability, he won't have any issues holding his own physically. He plays with a great motor, and knows how to utilize his physical tools, flying in on the offensive glass, running the floor hard in transition, cutting actively off the ball, and bullying his way to the rim out of the post. He shot the ball very well from deep last season, hitting 44% on 3.3 attempts per game, but he has a bit of a low release and shoots it from his chest, something he may need to adjust down the line. He can handle it in a pinch, and is capable on aggressive straight line drives to the rim, but could definitely benefit from a more advanced handle, as he looks to make the transition to more of a small forward at the NBA level. He has not really shown yet that he is a playmaker for others, and can force some passes on drives to the rim.

Given his physical tools he has, Blossomgame can impact the game on the defensive end, especially with his ability to guard multiple positions. He's long, strong, tough, and quick laterally which allows him to guard quicker guys on the perimeter and bigger guys on the block. At times he can get overaggressive on the defensive end, something that should be adjusted with solid coaching over time.

Blossomgame very well could have been taken in this year's draft, and spent most of the season on the bench or in the D-League, but he opted to return to Clemson for his senior season. He'll be the leader of an improved Clemson team, where he will have the chance to build on last season and this summer's success. NBA teams are actively looking for multi-positional forwards in his mold these days, and he has the physical tools, perimeter shooting, defensive prowess and overall versatility to fill that role down the line.
---
Interview from Adidas Nations
[
Read Full Article
]
NBA Combine Day Two and Event Recap
May 14, 2016
Jaron Blossomgame, Junior, SF/PF, Clemson
16 points, 10 rebounds, 0 assists, 1 turnover, 2-3 2P, 3-3 3P, 3-4 FT, 24.4 minutes

At 6' 7" with a 6' 10" wingspan, a projectable 214-pound frame and impressive leaping ability, Blossomgame was on the NBA radar during his time at Clemson with one major question: can he make shots? Blossomgame answered some questions during his junior year by knocking down 45-of-102 threes, yet given the sample size and his low release point, Blossomgame still had some questions to answer coming into the combine.

During Friday's game (and the shooting drills) the Alpharetta native certainly did everything he could to prove that his stroke is far from broken and could turn into a weapon in time. Blossomgame knocked down all three of his 3-point attempts, two of which were heavily contested. The ball came out of his hand smoothly with a slightly higher release point than we've seen in the past.

Blossomgame also did a solid job attacking in a straight line both in the half court and in transition. He's not much of a ball handler, and isn't comfortable pulling up or distributing on the move, but the shooting stroke and straight-line slashing was certainly encouraging for the 22-year-old redshirt junior.

Blossomgame has the tools to play some small-ball four and defend multiple positions. He checked three different positions on Friday with mixed results, but it's hard to find guys with his size, length, frame and bounce who can make an open shot. He's a plus-rebounder for his position and does some of the little things you like to see from a potential role player.

Blossomgame certainly has to continue to prove that he can shoot the ball consistently (he also threw up a bad miss early in the clock on Friday) and get better as a ball handler/playmaker, but there's no question he helped his cause as a second round prospect.

From what he reportedly told NBA teams during interviews, it's unlikely he will return to Clemson if he's assured a NBA roster spot next season. With the recent premium we're seeing on multi-positional defending combo forwards in his mold, he looks to have done enough to show he's worthy of that.
[
Read Full Article
]
Top NBA Prospects in the ACC, Part Ten: Prospects #26-31
October 16, 2015
Josh Riddell

Taking on a larger scoring role after the departure of K.J. McDaniels, Jaron Blossomgame had a breakout sophomore season for the Clemson Tigers. He nearly doubled his point output, averaging 17.5 points per 40 minutes pace adjusted while taking a major step forward in his efficiency, raising his true shooting percentage from 45% to 56%.

Blossomgame had to redshirt his freshman year due to a broken leg suffered in his senior season of high school. He just turned 22 and is one of the oldest players in the junior class and the same age as many seniors.

He looks like a prototypical NBA small forward for the most part, measured at 6'7" with an impressive wingspan. He has long strides that help him get down the floor quickly and has great explosiveness around the rim. One area that will concern NBA teams is his skinny frame, especially at his age. He has the potential to add lower and upper body strength to increase his overall strength but will need to do so quickly, otherwise scouts will wonder if it will ever happen.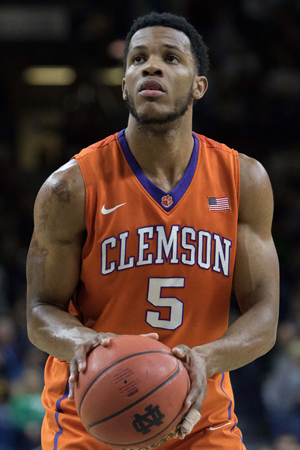 US Presswire
Blossomgame's strength offensively is his ability to convert shots in the paint. His overall two point field goal percentage was 53.7% while his conversion rate around the rim was an impressive 61.7% according to Synergy Sports. He uses his athletic tools to finish around the rim by elevating above the defense to get a clean look.
Most of his attempts in the paint are generated by straight line dribble drives. Although he doesn't have great handle, he has a nice burst with his first step that allows him to get into the lane. He can then explode to the rim and finish or if a defender is in his way, he has developed nice touch on a runner over the help. He doesn't shy away from contact, shooting 6.2 free throw attempts per 40 minutes pace adjusted,
second among ACC small forwards
.
He isn't much of a passer on his drives, creating only 1.3 assists per 40 minutes pace adjusted. He has a tendency to put his head down on drives, failing to see the open court. This will hurt him at the next level and he'll need to work on his vision to find open teammates when the defense collapses and takes away his driving lane.
He also contributes as an offensive rebounder, pulling down 3.3 per 40 minutes pace adjusted. His athleticism is a big key to his success here as well, as he uses his agility and leaping ability to sky above the rim and chase down rebounds outside his area. He also has great hands
He's struggled as a shooter in his two collegiate seasons, connecting on 25% of his three point attempts. His form isn't totally broken, so there is some potential there for him to develop as an outside shooter but it will take some time to develop a consistent stroke. His release point is inconsistent and he often hesitates right before his shooting motion, which throws off his timing. With his ability to attack closeouts, becoming a more consistent shooter will round out his skill-set and make him more attractive as a perimeter player to NBA teams.
Defensively, Blossomgame's athleticism hasn't translated to on-court success in locking down his defender. For a player of his length and quickness, he averages a paltry 0.5 blocks and 1.0 steals per 40 minutes pace adjusted. He doesn't look interested in playing defense, failing to close out on shooters or even get a hand up in the shooter's face.
He doesn't put in the effort to move his feet when guarding the ball and gets beat off the dribble easily. He then has a tendency to give up on the play, not working hard to recover. He has the tools to be a plus defender but will need to raise his intensity level to begin to contribute at the next level.
The one area Blossomgame helps defensively is rebounding, as he doesn't shy away from attacking the glass. His 7.6 defensive rebounds per 40 minutes pace adjusted continues to demonstrate his athleticism. To become a more complete defensive player, he'll have to do more than just focus on his rebounding and learn to play within the scheme of a team defense.
After leading the Tigers in scoring and rebounding last season, he'll be asked to shoulder a similar load this year. Another strong season will keep him on NBA radars and if he can improve his shooting and play with a little more effort defensively, he'll become a more serious draft prospect.
[
Read Full Article
]