Javon McCrea
Recent Tweets
All Tweets
DraftExpress: Top Non-BCS Conference NBA Prospects #16-#20 Kendall Williams Joe Jackson Tony Snell Elias Harris Javon McCrea http://t.co/UgyiqimM
2012-11-20 16:24:00
DraftExpress: Top Non-BCS Conference NBA Prospects (#16-20): http://t.co/tWCqQyyE - Javon McCrea, Kent Bazemore, Bradford Burgess, Olek Czyz, Kyle O'Quinn
2011-11-07 05:31:32
Team: Nancy
Physicals
Positions
Salary
Misc
H: 6' 8"
W: 250 lbs
Bday: 11/05/1992
(23 Years Old)

Current: PF
NBA: PF
Possible: PF

Agent: Mike Kneisley

High School: Newark
Hometown: Newark, NY

Predraft Measurements
| Year | Source | Height w/o Shoes | Height w/shoes | Weight | Wingspan | Standing Reach | Body Fat | No Step Vert | Max Vert |
| --- | --- | --- | --- | --- | --- | --- | --- | --- | --- |
| 2014 | Clippers Workout | 6' 7" | 6' 8" | 250 | 7' 3" | 8' 11" | 7.7 | 28.0 | 32.0 |



Basic Per Game Statistics

- Comprehensive Stats - Statistical Top 25s
| Year | League | Name | GP | Min | Pts | FG | FGA | FG% | 2Pt | 2PtA | 2P% | 3Pt | 3PtA | 3P% | FTM | FTA | FT% | Off | Def | TOT | Asts | Stls | Blks | TOs | PFs |
| --- | --- | --- | --- | --- | --- | --- | --- | --- | --- | --- | --- | --- | --- | --- | --- | --- | --- | --- | --- | --- | --- | --- | --- | --- | --- |
| 2015/16 | French | Javon McCrea | 6 | 21.7 | 13.0 | 6.0 | 10.8 | 55.4 | 6.0 | 10.7 | 56.3 | 0.0 | 0.2 | 0.0 | 1.0 | 1.8 | 54.5 | 3.2 | 3.2 | 6.3 | 1.7 | 0.7 | 0.8 | 1.8 | 3.0 |
| 2015/16 | Eurocup | Javon McCrea | 3 | 29.0 | 11.7 | 5.0 | 11.7 | 42.9 | 5.0 | 11.7 | 42.9 | 0.0 | 0.0 | &nbsp | 1.7 | 2.7 | 62.5 | 3.7 | 5.0 | 8.7 | 1.7 | 0.3 | 1.3 | 1.7 | 3.3 |

Player Page&nbsp&nbsp| Player Stats | Related Articles&nbsp&nbsp| Add to My Draft Express&nbsp
&nbsp
2014 Portsmouth Invitational Tournament, Day One
April 17, 2014
JaVon McCrea, 6-7, Power Forward, Buffalo
21 points, 5 rebounds, 2 assists, 4 turnovers, 3 blocks, 2 steals, 9-14 FG

Mike Schmitz

After filling the stat sheet for four years at Buffalo, Javon McCrea picked up where he left off in his first game at the PIT. McCrea proved to be the most complete player on the floor, impacting the game on both the offensive and defensive end. Despite playing out of position at small forward, the 6' 7" 250-pound big man used his chiseled frame, long arms and big hands to finish around the rim, where he shot an excellent 67.7% on the year. McCrea also made his presence felt on the offensive glass (4.6 per 40 on the year) relying on his high motor, strength and length to grab three offensive boards, including a very crafty one-handed lefty put-back.

Although he's not the most polished post player with his back to the basket, McCrea showed the ability to face up and handle the ball a little bit in the half court. He's not particularly explosive, but he uses his strength to bulldoze his way to the rim. The MAC Player of the Year also sees the floor very well for his size, evident in Wednesday's game and by his 2.8 assists per 40 on the year. McCrea proved capable of knocking down mid-range jumpers, but he'll have to become much more consistent with his less than stellar shooting mechanics to become a legitimate threat. He shoots with his left foot in front of his right and sports a slow, unorthodox release that resulted in 35.4% shooting (17-of-48) on all of his jumpers this season.

Defensively, McCrea is a playmaker off the ball, using his length and anticipation skills to rack up steals and blocks. He finished Wednesday's game with three blocks and two steals, on par with his 2.8 blocks and 1.8 steals per 40 rate that he posted during the season. McCrea is a fundamentally sound defender both in the post and on the perimeter, but his size and lack of lateral quickness makes him a bit of a tweener at the NBA level. He's able to make up for his size with his energy and physicality, but it's his 6' 7" stature and lack of perimeter skills that may keep him out of the NBA. McCrea would be a nice summer league and vet camp player, however, and should be able to have a very good career overseas.

[Read Full Article]

---
Top NBA Prospects in the Non-BCS Conferences, Part Three: (#11-15)
November 1, 2013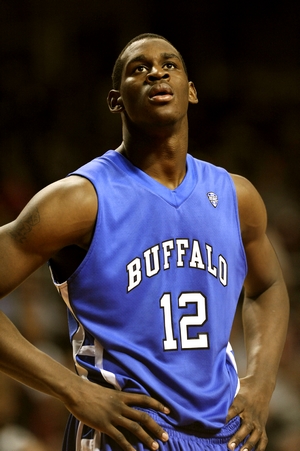 US Presswire



Matt Kamalsky

Emerging from relative obscurity to average 22 points and 12 rebounds per-40 on 63% shooting and win the MAC Freshman of the Year Award in 2011, Javon McCrea has been one of the most productive players in mid-major basketball over the last three seasons. Helping his team to 20 wins in each of his first two years at Buffalo, McCrea had a standout junior season averaging 18 points and 7.9 rebounds per-game, but the Bulls finished the year with a 14-20 record, leading to the dismissal of long-time head coach Reggie Witherspoon last March. With former Duke Star Bobby Hurley now at the helm, McCrea will look to lead his team to a NCAA Tournament bid and solidify his NBA draft stock in the process.

Standing 6'6, McCrea's lacks ideal size for the power forward position, but his outstanding length, strength, and solid explosiveness helped make him one of the more imposing big men in the MAC last season. He has little trouble using strong frame to establish position in the post, uses his combination of length and aggressiveness to create angles for himself attacking the rim, and can play above the rim when given space to gather himself.

Though his physical tools have played a role in his collegiate success, it is McCrea's instincts and touch that have made him a productive interior scorer at the college level. Using an array of scoops, drop steps, and spinning hooks to score in the post, McCrea's decisiveness when he catches the ball and ability to use both hands equally well make him a difficult match up in the post and a very capable finisher working without the ball. Shooting 65% as a finisher and 51% in the post according to Synergy Sports Technology, McCrea ranked among the more efficient first-options in college hoops, even if he was a bit turnover prone at times.

Looking ahead, McCrea's ability to score away from the basket will give him the additional versatility that will make it easier to find a role at the next level. Though he's capable of facing up and putting the ball on the floor to attack the basket against slower big men, and will hit a jump shot from time to time, he made just 32% of his attempts from the perimeter last season and doesn't have the most consistent mechanics. Showing marked improvement in his free throw and perimeter shooting since his freshman year, it will be interesting to see if McCrea takes the next step as a shooter this season.

Defensively McCrea remains a middling rebounder and struggles when forced to step out on the perimeter. He still has some of the lapses that plagued him early in his career, but has become a significantly more aggressive help side defender working lane line-to-lane line in recent seasons. Ranking 18th among prospects in our database in blocks per-40 minutes pace adjusted, McCrea may not play with the greatest intensity and fundamentals away from the rim, but is an active and staunch defender on the interior and when defending the post.

When we wrote about Javon McCrea two years ago, he was a highly efficient player filling a major role in Buffalo's rotation. Growing into one of the best individual performers in mid-major basketball, McCrea remains an instinctive, efficient, scorer. His size will always be a concern, and if he can show progress this season scoring and defending away from the rim, he is a prospect who will certainly get plenty of looks. A prime candidate for the Portsmouth Invitational Tournament, and fitting the mold of players we've seen excel at that event in the past, McCrea is a player worth keeping an eye on as the season unfolds.

[Read Full Article]

---
Top NBA Draft Prospects in the Non-BCS Conferences, Part 4 (#16-20)
November 7, 2011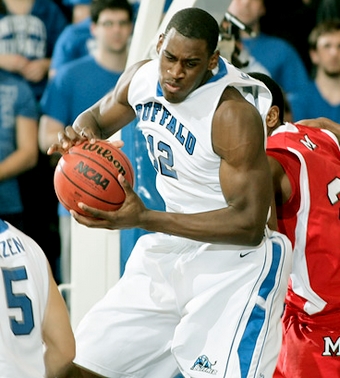 buffalobulls.com



Jonathan Givony

The youngest prospect in our college basketball database last season – he turned 18 just a week before his first NCAA game—Javon McCrea nevertheless ranked as the most productive freshman in America thanks to his combination of brutally efficient scoring (#2 in FG%), offensive rebounding prowess and propensity for generating a large number of assists, steals and blocks on a per-minute basis.

McCrea is incredibly undersized at 6-6, but makes up for that with a NBA-ready frame, gigantic hands, an (alleged) 7-2 wingspan, and tremendous basketball instincts.

Not freakishly quick or explosive, McCrea is nevertheless a very fluid and mobile athlete, showing terrific coordination and aggressiveness. He's incredibly physical on the offensive glass, simply moving opponents around in the paint with his sheer girth, and pursuing loose balls relentlessly with outstanding instincts. He often comes up with rebounds from very difficult angles, as all he seemingly needs to do is get a fingertip on the ball to corral it with his gigantic hands.

McCrea only played 21 minutes per-game last season, but used 29% of his team's possessions when he was on the court, which is a very high rate. He gets his offensive production in a variety of ways at the MAC conference level, showing good versatility already for an undersized big man.

He can back down similarly sized players in the paint with his wide frame and solid footwork, and finishes with both hands around the basket with pretty soft touch. When double-teamed, McCrea shows very good instincts as a passer, once again hinting at his unexpectedly good feel for the game.

He's also capable of facing up on the perimeter, as he's a surprisingly good ball-handler who can drive either left or right and even change directions with the ball. He shows good footwork, a nice first step, and is extremely confident with the ball in his hands, which allows him to beat opposing big men fairly often and get to the free throw line at a solid rate.

On the negative side, McCrea's lack of experience and aggressiveness works against him at times, as he can be very turnover prone. He also doesn't possess any type of jump-shot at this stage, failing to convert a single jumper last season. He only made 51% of his free throws, indicating that he still has plenty of work to do in this area.

Defensively, McCrea gets tons of blocks and steals and is capable of being a real playmaker thanks to his length, hands and terrific instincts, but he has a ways to go in order to maximize his full potential on this end of the floor.

His lack of experience is an issue here as well. He tends to suffer from mental lapses at times and isn't immune from taking plays off. His fundamentals aren't great, as he gives up position in the paint too easily, gets lost off the ball and struggles badly when forced to step out onto the perimeter. McCrea's lateral quickness appears to be average at best, which will likely preclude him from making the conversion to the small forward position, which he'd be much better suited for due to his lack of size.

He's also surprisingly average on the defensive glass, pulling down just 6.4 rebounds per-40 minutes pace adjusted, a mark that is nothing to write home about considering the conference he plays in. He chases blocks wildly at times and doesn't box out his man on every possession, seemingly showing less enthusiasm here than he does offensively, which may be partially due to conditioning issues. It will be interesting to see how he develops in this area over time.

Younger than some freshmen who are only now entering college—such as Austin Rivers, Josiah Turner, Kyle Wiltjer and Khem Birch—McCrea was a very pleasant surprise last season as a completely unheralded recruit. We'll see if he can continue to produce consistently as his minutes and notoriety increases and whether he can round out the rest of his game to make himself more attractive as an NBA prospect. His lack of size will always be an issue, but we've recently seen players like Ike Diogu, Jason Maxiell and DeJuan Blair be able to overcome that through sheer production in the past.

[Read Full Article]

---