Jeremy Lamb
Recent Tweets
All Tweets
DraftExpress: Had heard some reports that Jeremy Lamb was on the trading block (along with Perry Jones). Lack of intensity and work ethic didn't fit in.
2015-06-24 20:05:49
DraftExpress: RT @AdamZagoria: UConn's Jeremy Lamb is not among 14 Green Room guys meeting today w/ media. Source says he's meeting with a team instead.
2012-06-27 12:30:16
DraftExpress: RT @blazersedge: UConn G Jeremy Lamb on UConn C Andre Drummond's NBA potential: "It depends on if he wants to work."
2012-06-25 09:31:34
DraftExpress: Jeremy Lamb: "I've heard that I'm too laid back sometimes. Just got find ways to keep my energy up." http://t.co/64Fl77x8
2012-06-15 03:54:05
DraftExpress: Jeremy Lamb sprained his ankle in Toronto. Will cancel his Portland workout. Cleveland/Phoenix maybe too. May go back to Toronto later on.
2012-06-14 03:18:23
Team: Hornets
Physicals
Positions
Rankings
Salary
Misc
H: 6' 5"
W: 179 lbs
Bday: 05/30/1992
(23 Years Old)

Current: SG
NBA: SG
Possible: SG

RSCI: 89

Agent: Jeff Schwartz
Current Salary:$2,202,000

High School: Norcross
Hometown: Norcross, GA
Drafted: Pick 12 in 2012 by Rockets
Best Case: Kevin Martin
Worst Case: Rashad McCants

Predraft Measurements
| Year | Source | Height w/o Shoes | Height w/shoes | Weight | Wingspan | Standing Reach | Body Fat | No Step Vert | Max Vert |
| --- | --- | --- | --- | --- | --- | --- | --- | --- | --- |
| 2012 | NBA Draft Combine | 6' 4" | 6' 5.25" | 179 | 6' 11" | 8' 6" | 4.5 | 31.5 | 38.0 |



Basic Per Game Statistics

- Comprehensive Stats - Statistical Top 25s
| Year | League | Name | GP | Min | Pts | FG | FGA | FG% | 2Pt | 2PtA | 2P% | 3Pt | 3PtA | 3P% | FTM | FTA | FT% | Off | Def | TOT | Asts | Stls | Blks | TOs | PFs |
| --- | --- | --- | --- | --- | --- | --- | --- | --- | --- | --- | --- | --- | --- | --- | --- | --- | --- | --- | --- | --- | --- | --- | --- | --- | --- |
| 2015/16 | NBA | Jeremy Lamb | 16 | 24.7 | 12.8 | 5.2 | 9.9 | 52.2 | 3.8 | 6.1 | 62.2 | 1.4 | 3.8 | 36.1 | 1.1 | 1.6 | 68.0 | 0.6 | 4.5 | 5.1 | 1.5 | 0.5 | 0.6 | 0.9 | 1.5 |

Player Page&nbsp&nbsp| Player Stats | Mock Draft History | Related Articles&nbsp&nbsp| Add to My Draft Express&nbsp
&nbsp
NBA Combine Interviews: Lamb, Lamb, Mitchell
June 11, 2012
[Read Full Article]

---
Jeremy Lamb Video Scouting Report
June 7, 2012
Mike Schmitz takes a look at the strengths and weaknesses of Jeremy Lamb with the help of game film and head coach Jim Calhoun.






---




More DraftExpress Video Breakdowns:


-Perry Jones Video Scouting Report
-Thomas Robinson Video Scouting Report
-Andre Drummond Video Scouting Report
-Quincy Miller Video Scouting Report
-Tony Wroten Video Scouting Report
-Terrence Ross Video Scouting Report
-Tyshawn Taylor Video Scouting Report
-Damian Lillard Video Scouting Report


---


Mike Schmitz is a writer for ValleyoftheSuns, a member of the TrueHoop Network. Follow him on twitter and subscribe to his YouTube page.

[Read Full Article]

---
Trending Prospects (3/22/2012)
March 22, 2012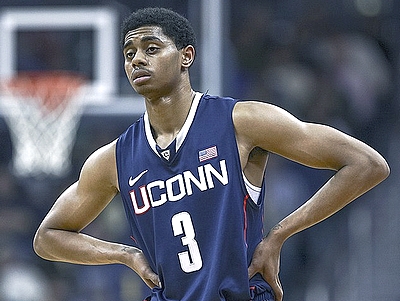 Icon SMI



Walker Beeken

Jeremy Lamb was one of the breakout stars of last year's NCAA tournament, emerging as a second scoring option next to Kemba Walker, and playing an integral role in Connecticut's surprising run to a National Championship. His impressive play towards the end of his freshman season, as well as his time spent over the summer as Team USA's leading scorer in the U-19 World Championships, had Lamb as a hot name in NBA Draft circles entering his sophomore season.

His team also had high preseason expectations, but the Huskies struggled for the majority of the season, finishing 8-10 in Big East play and losing in the first round of the NCAA tournament last week to Iowa State. While Lamb did show progress in some areas as a sophomore and was the team's leading scorer, his team's disappointing season will likely be a concern to scouts, as Connecticut's team chemistry appeared to be very poor, and Lamb didn't do much to alleviate some of the questions we've outlined previously regarding his questionable shot selection and passive demeanor on the court.

From a physical standpoint, Lamb has nice size for an NBA shooting prospect at 6-5, which he combines with a freakishly long wingspan, smooth athleticism and solid explosiveness. His thin, lanky frame still needs added strength, but he already appears to have made some strides in that area since last year, and he should continue to fill out more in time, as he's still only 19 years old.

After playing off the ball last season next to Walker and using over half of his possessions spotting up or in transition, Lamb took on a new role this season as the team's primary scorer and spent much more time with the ball in his hands.

However, with backcourt mates Ryan Boatright and Shabazz Napier also looking to take their turns creating off the dribble and taking plenty of ill-advised shots, Connecticut's offense looked very ugly at times, with Lamb often alternating between disappearing for stretches and taking bad shots trying to assert himself in the offense.

Despite these struggles, Lamb still showed why he's considered one of the most talented wing players in all of college basketball, showing more versatility as a scorer than he did as a freshman. He used over a quarter of his possessions this season in isolation sets or as the pick-and-roll ball-handler, and while he had mixed results, he also displayed his potential as a shot-creator.

He has a smooth first step and very good ball-handling skills, fluidly using change of speed and direction dribbles to keep his defender on his heels. At this stage, though, Lamb prefers to utilize his step-back jumper or use his dribble to create space for mid-range jump shots, often bailing out his defender, rather than attacking the rim. This is evidenced by how infrequently he gets to the free throw line, where he ranks 5th in attempts per-40 amongst the 21 shooting guards in our top 100 prospect rankings, as well as in the fact that 73% of his shots in the half-court come on jumpers.

With that said, Lamb was still a very efficient scorer inside the arc as a sophomore, able to use an array of floaters and smoothly pull up in mid-range, making things look easy at times. His 60% on 2-pointers this season was actually the highest of any shooting guard in our top 100.

As we've mentioned before, in addition to his talents off the dribble, Lamb is also an outstanding jump shooter. He has range well past the NBA 3-point line and can shoot the ball with his feet set, off the dribble, or running off screens. He's shown nice footwork coming off curls and does an excellent job creating space, squaring himself, and elevating to get off his jumper.

From behind the arc this season, he shot an unimpressive 34%, taking over six attempts per game, displaying poor shot selection at times and often settling for long, difficult jumpers. He clearly has the potential to be a more efficient deep shooter, but he'll need to do a better job of being more selective.

Another area Lamb can improve in is as a passer. He ranks 18th of the 21 shooting guard prospects in our top-100 rankings in assists generated on a per-possession basis.

Defensively, Lamb has the physical tools to excel, as he has good lateral quickness and instincts and is able to utilize his tremendous wingspan to cause havoc on the ball and in the passing lanes. His energy on this end looked very inconsistent this season, however, not displaying the competitiveness, fundamentals and attention to detail that will likely be demanded from him at the NBA level, particularly off the ball.

Overall, Lamb's sophomore season probably didn't have a big effect on his draft stock, as he's still considered a lottery-level talent thanks to his terrific physical attributes and scoring instincts. His team's lack of success, poor on-court chemistry and his often apathetic demeanor will likely be concerns that NBA teams will want to further investigate in the pre-draft process, but he's shown tremendous growth as a player after barely being a top 100 recruit out of high school.

Lamb has all of the tools to flourish at the next level as a shooting guard who can play off the ball and create his own offense, but teams will want to do their best to find out how likely they think he is to reach his potential and fit into a winning culture.

[Read Full Article]

---
U-19 World Championship Player Evaluations, Part Three
September 1, 2011
Jonathan Givony

Jeremy Lamb played a vastly different role on this USA Basketball squad than what we saw from him as a freshman at UConn. For that reason, the U-19 World Championship represented an excellent opportunity for NBA teams to evaluate him in a new light.

Without the dominant personalities of Kemba Walker and Jim Calhoun alongside and behind him, Lamb was free to show both the good and the bad sides of his game – he led the U.S. in scoring and field goal attempts, but the team finished a disappointing fifth in the tournament.

Lamb's talent is obvious on first glance, both from a physical standpoint and one based on skill level.

He has the wingspan of a player four or five inches taller than him and is a very smooth and fluid athlete. He's able to score in a variety of different ways and makes his presence felt in multiple facets of the game.

Lamb is first and foremost an excellent shooter, capable of making jumpers both with his feet set and off the dribble. He can come off screens or create his own looks in the mid-range area, pulling up smoothly off the bounce with a quick trigger and a high release point. He's very crafty with that part of his game, utilizing changes of speed, crafty footwork and nifty pivot moves to create space to get his shot off.

Lamb also likes to mix in floaters, hook shots and turnaround jumpers to keep defenders off balance. He shows excellent touch around the rim and terrific body control in the process. His length allows him to get these shots off from unique angles, which makes them difficult for defenders to contest.

Where Lamb needs to improve the most in terms of his offensive game is in his ability to get to the free throw line. He is such a prolific shot maker that he at times has a tendency to bail defenses out by settling for low percentage attempts, either by pulling up off the dribble in the 17- to 19-foot area, or taking difficult shots from just outside the paint trying to use the glass.

Lamb's frail frame is a hindrance in this regard. He often avoids contact in the paint, which makes it difficult for him to draw fouls. He got to the line just 23 times in nearly 250 minutes at this tournament, something we saw as a freshman to an even greater extent — in his first season with UConn, Lamb attempted only 59 free throws in 41 games.

As with his offensive abilities, Lamb showed both the good and bad parts of his defensive profile in Latvia. On one hand his terrific length and anticipation skills make him a major nuisance in the passing lanes and in man-to-man settings.

On the other hand, Lamb's laid back demeanor can get him in trouble when he doesn't put forth the intensity required to help his team come up with stops. Team USA had little to no structure or discipline on this end of floor, making it difficult to evaluate Lamb's performance here.

What we did see at times was that Lamb was out of place, not hustling, or defending with his arms to his sides -- showing average fundamentals. While his length and timing will sometimes bail him out on this end of the floor, relying on his athletic prowess probably won't work as well against a higher caliber of competition, for example in the NBA. This is certainly correctable, though.

Improving his shot selection and overall decision-making skills will be an important part of the transition Lamb needs to make from complimentary player to go-to guy at UConn this season. He doesn't show very much emotion on the court and at times gives the impression that he's playing by himself. He's somewhat single-minded (some would say laid back) in his approach to the game, and he had a tendency at this tournament to force the issue and freeze out his teammates at times. However, this likely had at least something to do with the lack of chemistry and offensive cohesion the team clearly suffered from.

Lamb will be closely scrutinized throughout the season. He has a chance to prove that he's worthy of being selected early in the first round if he can overcome some of the flaws he showed in Latvia while continuing to put up points on the board in his uniquely smooth and elegant style of play for UConn.

[Read Full Article]

---
Trending Prospects (4/8/2011)
April 8, 2011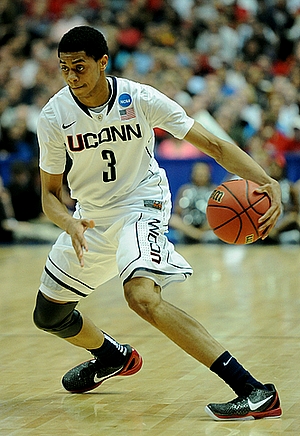 Icon SMI



Derek Bodner

While Kemba Walker was the unquestioned leader of the University of Connecticut national championship team, Jeremy Lamb's development into a consistent off the ball scorer played a pivotal role in UConn's improbable championship run.

Lamb came into the season as a mid-level recruit, not cracking the top 100 in either ESPN or Scout.com's final rankings. While Lamb began to show flashes of realizing his potential with strong showings in Big East conference play, he arguably raised his stock more than anyone over the course of the conference and NCAA tournaments, averaging 15.2 points per game over his last 11 games, all of which he scored in double figures, becoming a key secondary piece in the Huskies surprising Big East and NCAA tournament championship runs.

The first thing that jumps out about Lamb is his incredible length. Standing at 6'5" with a reported 7'1" wingspan – which, if true, would be one of the longest wingspans of any shooting guard in our database – Lamb has a unique physical profile for a shooting guard. He combines that with very good athleticism, creating an extremely intriguing prospect from a physical standpoint.

That's not to say everything is to like about his profile, as Lamb is rail thin with slender shoulders, possessing a frame that may have difficulty adding much more weight—something that could make his life very difficult early on in his NBA career.

Lamb's length makes him a potential play maker on the defensive side of the ball. With an ability to play the passing lanes, his length also allows him to play further off his man on isolation situations than normal defenders would, as he has good ability to recover, close out and contest an otherwise open jump shot. He also has the ability to recover when his man beats him off dribble penetration. UConn used Lamb's length for stretches on Shelvin Mack and Brandon Knight during their tournament run, showing off his potential defensive versatility.

Beyond his athletic profile, however, Lamb is a little erratic defensively from a technical standpoint, not entirely uncommon for a freshman playing big minutes in a primarily man to man defense. He can at times be too upright defensively, and has a tendency to lose his man off the ball. He appears to have solid lateral quickness and good intensity on this end of the court, which combined with his length provides a reasonable amount of intrigue on what he can ultimately become on this end of the court. Additionally, his lack of strength would likely be a major hindrance going up against grown men at the NBA level, likely preventing him from seeing very much playing time until he addresses this issue in a serious way.

Offensively, Lamb's game currently revolves primarily around the jump shot. Lamb's a good catch and shoot option, who should be able to extend his range out to NBA three point line. His catch and shoot game can be a little inconsistent, but with enough repetition this should be a staple of his game.

Lamb's a very good midrange jump shooter, and he does a good job coming off screens and curls, running tight off screens to get separation, and showing a quick release with good elevation, a skill that should translate well to the next level.

He has a good first step with long strides, but is currently held back somewhat by his average ball-handling skills and a lack of advanced moves creating his own shot, although he does show signs of developing a quick right to left spin move, which helps him gain separation on forays to the hoop. He heavily favors driving to his left, usually to setup a very effective pull-up jump shot.

Lamb shows decent body control and touch around the rim, but that's partially wasted as there are several factors limiting his overall effectiveness at the rim. He favors finishing with his right hand, struggles at times to finish through contact, and gets to the line very infrequently. In fact, at only 2.1 free throw attempts per 40 minutes pace adjusted, Lamb comes in as one of the five worst collegiate shooting guards in our database in that category. He offsets this somewhat by showing nice touch on floaters in the lane, showing an ability to hit them from all angles, and using the glass well from the right side.

The son of former VCU star, NBA draft pick and CBA player Rolando Lamb, Jeremy Lamb plays the part of a kid who grew up around the game. Lamb does a good job of playing within himself, has a high basketball IQ, and is reportedly a hard worker off the court.

Should Lamb return to the University of Connecticut next year he'll be returning to a drastically different role, with much larger expectations placed upon his slender shoulders. Lamb seemed to coast at times, floating around the perimeter waiting for the play to come to him. This very well could have been exacerbated by his role and playing alongside Kemba Walker.

If Lamb returns, he'll have the opportunity to show whether he is capable of being the focal point of an offense, something that looks doubtful considering his average shot-creating ability. Even so, Lamb's current skill set as an off the ball traditional shooting guard, combined with his unique physical profile, creates a very intriguing prospect and has him now firmly on the radar of NBA executives.

[Read Full Article]

---