Jimmy Butler
Recent Tweets
All Tweets
DraftExpress2: RT @SynergySST Jimmy Butler improved in almost every key area of his role offensively in terms of both volume and efficiency. http://t.co/u2026
2015-05-06 20:43:59
DraftExpress2: Jimmy Butler improved in almost every key area of his role offensively in terms of both volume and efficiency. http://t.co/F5ihiFWRe4
2015-05-06 20:26:39
DraftExpress2: Here's what I love about basketball. For every spoiled entitled big time recruit who doesn't pan out there's a Jimmy Butler.
2013-05-08 20:07:58
DraftExpress: Some guys (like Ryan Gomes Jimmy Butler) made no 3s their first year in college but they had to stay and develop a jumper which they did.
2013-02-07 12:56:11
DraftExpress: Jimmy Butler to ex-Marquette teammate Jae Crowder: don't blow off Portsmouth "you want to show you like to compete" http://t.co/vLv7P0od
2012-03-11 10:28:59
Team: Bulls
Physicals
Positions
Salary
Misc
H: 6' 8"
W: 222 lbs
Bday: 09/14/1989
(26 Years Old)

Current: SF
NBA: SF
Possible: SF

Agent: Happy Walters
Current Salary:$2,008,748

High School: Tomball
Hometown: Tomball, TX
Drafted: Pick 30 in 2011 by Bulls

Predraft Measurements
| Year | Source | Height w/o Shoes | Height w/shoes | Weight | Wingspan | Standing Reach | Body Fat | No Step Vert | Max Vert |
| --- | --- | --- | --- | --- | --- | --- | --- | --- | --- |
| 2011 | NBA Draft Combine | 6' 6" | 6' 7.75" | 222 | 6' 7.5" | 8' 5.5" | 5.4 | 32.0 | 39.0 |
| 2011 | Portsmouth | 6' 6.25" | NA | 215 | 6' 8" | 8' 5" | NA | 31.0 | NA |



Basic Per Game Statistics

- Comprehensive Stats - Statistical Top 25s
| Year | League | Name | GP | Min | Pts | FG | FGA | FG% | 2Pt | 2PtA | 2P% | 3Pt | 3PtA | 3P% | FTM | FTA | FT% | Off | Def | TOT | Asts | Stls | Blks | TOs | PFs |
| --- | --- | --- | --- | --- | --- | --- | --- | --- | --- | --- | --- | --- | --- | --- | --- | --- | --- | --- | --- | --- | --- | --- | --- | --- | --- |
| 2015/16 | NBA | Jimmy Butler | 14 | 36.6 | 20.7 | 6.7 | 14.6 | 45.9 | 5.1 | 10.9 | 47.4 | 1.6 | 3.8 | 41.5 | 5.7 | 7.1 | 80.0 | 0.7 | 4.5 | 5.2 | 3.5 | 2.1 | 0.8 | 1.7 | 2.0 |

Player Page&nbsp&nbsp| Player Stats | Mock Draft History | Related Articles&nbsp&nbsp| Add to My Draft Express&nbsp
&nbsp
Opportunity Knocks: Jimmy Butler's Rise to Stardom
April 30, 2015
By Eric Weiss & Kevin O'Connor

The NBA tends to be a no excuses league, where athletes are expected to rise above any obstacles put in their way, regardless of the circumstances. This mentality has cost countless players a chance to reach their potential, playing against stacked decks and with heads filled with unrealistic expectations cast from a long history of having the basketball gods working in their favor.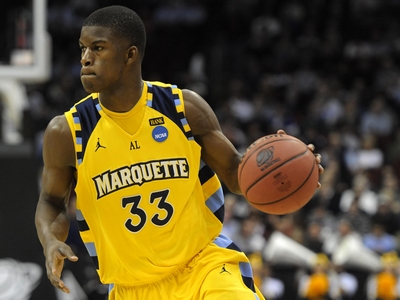 US Presswire



Chicago Bulls shooting guard Jimmy Butler could have been one of those exiled players, but he has shown a rare resiliency that is atypical of most people. From being rejected by his natural parents to being neglected by national recruiting services, Butler got used to hearing "no" much more frequently than your average star, in a sport surrounded by men who only hear "yes."

Among over 900 former collegiate and international players in the Sports Aptitude database, only 26 have an Internal Motivation rating to match Butler's. This is the upper 97th percentile of basketball players in a measure that relates to self-discipline, goal-motivation, and the drive to exceed expectations.

Over the past nine seasons, 13 out of the 15 drafted players from this category are rotation players for playoff caliber teams, nine of these players are considered "plus" defenders, and three are trending towards max contract territory -- these guys find a way to get to the top.

Who will measure similarly in this year's draft class? We will soon find out. It shouldn't surprise anyone if they end up exceeding expectations significantly relative to their draft position.



Situation Factors: Individual Story & Anticipated Role



Butler wasn't heavily recruited out of high school, so he attended Tyler Junior College. As a freshman, he led the program to their first league title in over 20 years. His play caught the eye of Marquette, Kentucky, and Iowa State, among other Division I schools. Butler chose Marquette for academic reasons, and the relationship he would form with then head coach Buzz Williams would prove to be a catalyst for his bright future.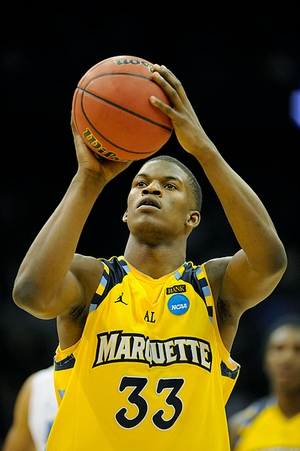 Icon SMI



"I've never been harder on a player than I've been on Jimmy. I was ruthless on him because he didn't know how good he could be," Williams told ESPN in 2011. "He'd been told his whole life he wasn't good enough. What I was seeing was a guy who could impact our team in so many ways."

What Williams may have also sensed was Butler's elevated "Self-Assuredness" and "Objective-Mindedness." In the Sports Aptitude database, only four percent of players possess his rating combination. By definition, these scales measure "insensitivity to criticism" and an ability to "act on facts and logic" while "avoiding sensitive feelings." Butler had an uncanny ability to take the hard truth and hear the message through the words, whereas other players would have folded, tuned-out, or transferred.

Butler played three seasons with the Golden Eagles, where he would take full advantage of his opportunities under Williams' guidance. While his development led to few college accolades, it did earn him an invite to the Portsmouth Invitational Tournament, where he won camp MVP and showcased every intricate skill he learned at Marquette. He epitomized what it meant to be a "glue guy" and his draft stock skyrocketed from potentially undrafted to a potential first-rounder.

The Chicago Bulls selected Butler with the 30th pick in the first-round, which seemed like a match made in heaven considering his core strengths as a player considering Tom Thibodeau's penchant for strong defense and the physical capacity to absorb large quantities of minutes.

However, Butler's path to playing time was still far from a clear picture. The Bulls were coming off of a trip to the Eastern Conference Finals in 2011 and were hungry for more offensive output, so Butler would have to bide his time before earning his meal ticket.



Chicago's rotating door of wing players was the perfect storm for Butler's personality and pursuit of his potential. He is in the "Aggressive/Compulsive" personality group, which Sports Aptitude defines as "players who fight for control with a strong competitive edge and have an uncanny knack for thriving amidst chaos."

These players, on average, have substantially better impulse control and are far less likely to allow personal relationships to influence their actions. In the right environment, this is a perfect recipe for seizing opportunity when it presents itself.

Butler played reserve minutes to begin in his second NBA season, until Deng's injuries in early 2013 opened the door for him to carve out a permanent spot in the rotation. Still, it would've been easy for the Bulls to just pigeon hole Butler into the role of "defensive-energy-guy" and leave it at that.

But with Deng approaching free agency, Butler served as a potentially lower-cost alternative. After all, he had already proven himself capable of excelling within Thibodeau's defensive system as a reserve with his energy and intensity. Butler played exceptionally to close the season and would eventually become a full-time starter through the playoffs.



Situation Factors: Team Environment & Opportunity Given



Butler had survived the gauntlet and beaten out all contenders at the wing position to date, but his arrival as a starter was only half the battle. Though his grit and physicality made him a fan favorite and his versatile lockdown defense made him a coaches' darling, his future on the offensive end was murky.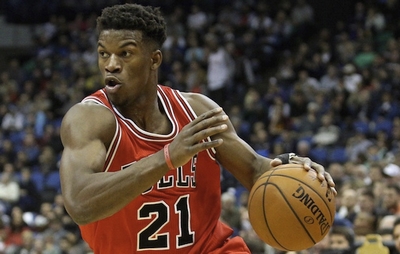 US Presswire



For a team starved for offense and facing an uncertain future with the oft-injured Derrick Rose, Butler's limited track history as a consistent perimeter shooting threat likely fed into their personnel decision-making process.

The Bulls used two first-round picks on perimeter players who projected as superior offensive options relative to what Butler had previously shown. The investment in Tony Snell in 2013 and Doug McDermott in 2014, coupled with the additions of Pau Gasol and Nikola Mirotic, suggests that the team was actively planning on bolstering its floor spacing and perimeter scoring.

This may also have played into the discrepancy between Chicago's initial contract offer and what Butler and his representatives were seeking in an extension. Butler's team at Relativity Sports, led by experienced agents Happy Walters and Steve McCaskill, knew the market would be far more favorable based on his existing skill-set and the upcoming salary cap spike (Butler is now considered a cinch to receive a max contract offer this summer), but taking his game to the next level would require a change in routine.

Despite his status as one of the premier defenders in the NBA, Butler is classified in the Sports Aptitude database as being a member of the "Bold/Combative" group, which is filled with "green light ballers" that have little conscience and are quick on the trigger. This personality characteristic clearly paid dividends when it came to competing on the court for the Bulls.

However, this category includes players that are often slow to trust and prefer to stick to their own routines. They can also have a stubborn streak and extreme level of skepticism of others, which can make them resistant to change.

The successful relationship Butler built with his agency likely helped him overcome any reservations about opening his mind and working all summer with a skills-based trainer that would focus on his shooting and ball handling. Butler doubled-down on his own belief in his skills, relinquished some control, and went to work on adding new dimensions to his game.

Working smarter and harder would lead to the largest step in his career, which was an unexpected development for everyone involved. Despite the new additions, Thibodeau had faith in Butler and put the ball in his hands more than ever by piping him all the minutes he could handle. This decision would pay off right off the bat, as Butler immediately showed significant progression as a go-to guy, which is detailed by his progression in major Synergy Sports Technology stats categories.



Butler provided the raw tools with his exceptional personality profile, the proof of which he displayed time and again throughout the situations he found himself in. When obstacles were set before him, he had the chops to take the heat and battle through adversity. When the stars aligned and provided a window of opportunity, he struck with lethal aggression. And when it was time for a change of strategy, he had the level-headedness to see the bigger picture and focus on his top priority.

In social science, the "fundamental attribution error" is a way of stating that humans have an uncanny tendency to give too much credit to an individual for their success or failure, while completely discounting the contributing circumstances. In basketball, people pay lip service to the value of a system for a player's performance, but when there is no floor spacing and a team's star player is forcing drives to make something happen, he still gets yelled at for his poor decision-making when he turns the ball over.

Butler is a testament to this truism. Though he was better equipped than most to succeed, his four-year journey to NBA stardom was littered with circumstances that were never predicted or prearranged to lead to this point. Taking the fundamental attribution error to heart, it is clear that one of the biggest market inefficiencies in the NBA is our lack of ability to account for the impact that situation has on the success or failure of a player.

There is no "magic formula" for predicting the type of rise to prominence that Butler has experienced, but using a combination of categorical personality profiling, performance analytics, and observational scouting can help us to better identify the key circumstances that help to maximize success. A more systematic approach to studying players based on their common characteristics and the similar circumstances they share is critical for understanding the science behind player development and, hopefully, clearing the way for the next Jimmy Butler to thrive.

[Read Full Article]

---
Situational Statistics: the 2011 Forward Crop
June 19, 2011
Looking through the rest of this class of forwards, a few things stand out. First is how well Jimmy Butler seems to rank in virtually every category, starting with overall offensive efficiency (6th), and continuing with turnover rate (2nd best), free throw rate (2nd) and transition scoring (2nd). If he can improve his ability to make shots with his feet set (13th, 36% FG) he will likely carve out a long career for himself considering how staunch of a defender he is.

[Read Full Article]

---
NBA Combine Interviews: Chris Singleton, Jimmy Butler, Lighty, Hopson
May 23, 2011
[Read Full Article]

---
All-Portsmouth Invitational Tournament, First-Team
April 12, 2011
Matt Kamalsky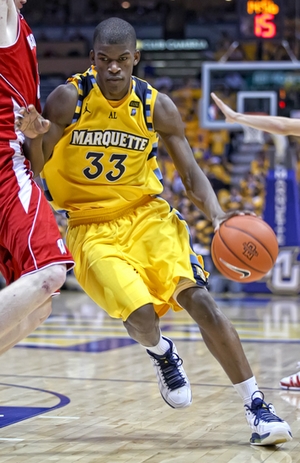 Icon SMI



Capping off a brilliant series of performances at the Portsmouth Invitational Tournament, Jimmy Butler scored 19 points in the championship game to help his team cruise to an easy victory, and win MVP honors in the process. The most consistent player throughout the course of the week, few players did as much for their stock as Butler was able to.

The Texas native is not a freak athlete, or the type of player you'll see on an ESPN highlight reel any time soon. He does not have the pedigree of a future NBA All-Star. His physical tools are fairly average, and he still needs to develop certain parts of his skill set, namely his shooting consistency from the beyond the arc, to maximize his value. However, when evaluating a player like Butler, who simply plays winning basketball, has terrific intangibles, and does all of the little things the help his team, it is important to look at what he can do before condemning him for he can't be.

Butler is a heady player who plays within a team concept. He defends, he makes the extra pass, he crashes the glass, he has a terrific basketball IQ, and his attitude is a coach's dream. A product of tireless reps in the gym and a detail oriented system, the senior has a very solid floor game, makes good decision with the ball, scraps on both ends, and maximizes the physical tools he does have.

Throughout the week, Butler flashed an improved midrange game, looking far more comfortable knocking down pull-up jumpers than he did last season. If that development is indicative of what we can expect his spot-up jump shot to look like by the end of the spring, Butler could emerge as a coveted role-player by the time the draft rolls around.

His athleticism won't allow him to create consistently one-on-one at the next level, but he's a functional ball-handler who can take what defenders give him. If he develops the ability to stretch the floor, there's no question that he'll be a nice addition to a team with a bench full of athletic scorers.

Butler may struggle with the athleticism of elite wings at the NBA level, but much like Lazar Hayward and Wesley Matthews before him, he's well versed in compensating for his limitations and takes pride in his play defensively.

Buzz Williams was in attendance at Portsmouth this week, and his mark on Butler's game is clear. Spending minutes in the post early in his career, Butler showed that he's comfortable out on the perimeter in the limited sample of games we were able to take in here. If his work ethic plays into his shooting ability from beyond the arc and it shows in workouts, Butler has the makings of a terrific rotation player. Take into account the fact that he is just 21 years old, and it is easy to see why he's caught the interest of NBA executives looking to help their team win more games.

[Read Full Article]

---
Portsmouth Invitational Measurements and Athletic Testing Results
April 12, 2011
The MVP of the tournament, and likely the top prospect at the PIT, Marquette's Jimmy Butler, measured out a solid 6-6 ¼ without shoes and 215 pounds, giving him excellent size for a NBA small forward, albeit just an average wingspan (6-8) and standing reach (8-5).

[Read Full Article]

---
2011 Portsmouth Invitational Tournament, Day Three
April 9, 2011
Jimmy Butler had another impressive showing in leading his team to victory. The Marquette product finished with 19 points on a super efficient 7-11 shooting. He was all over the place defensively, showed great timing crashing the glass, made some excellent passes, looked extremely comfortable scoring from the midrange, and did nothing to dispel the assertions that he has good role-player potential and is one of the most polished players in attendance at this year's PIT. We will feature him in a more detailed report later this week, but in the meantime, here's an interview we conducted with him after the game, which highlights many of the things NBA teams like about him so much as an "intangibles guy":





[Read Full Article]

---
Top NBA Draft Prospects in the Big East, Part Five (#21-25)
October 15, 2010
Matthew Kamalsky

An unheralded high school player, Jimmy Butler landed at Marquette after spending a year of his eligibility at Tyler Junior College. Glued to the bench and struggling to produce early in his career behind the likes of Dominic James, Jerel McNeal and Wesley Matthews as a sophomore, Butler showed great competitiveness and emerged as exceptional complement to Lazar Hayward last season. Though Darius Johnson-Odom seems poised for a big year, Marquette's success in 2011 will be influenced just as much, if not more, by the play of Jimmy Butler. Arguably the most efficient offensive wing in the NCAA last season, if Butler takes another large step forward he could garner some NBA attention.

Butler's has two major obstacles in emerging as a high-level draft prospect. First, he is not a tremendous physical specimen. Built similarly to former Memphis prospect Shawne Williams, Butler is very smooth on the court, using rangy strides to get to the rim. However, he lacks explosiveness, a strong frame, and great lateral quickness. Butler does have a long wingspan and good size for a small forward, the position he's projected to play in the NBA, but scouts will put his athleticism under the microscope as he faces NBA caliber athletes virtually every night in Big East play.

The second obstacle Butler faces in proving his mettle as a prospect revolves around the roles he's played offensively. Spending some time out on the perimeter where he showed remarkable progress as a junior, Butler spent a large portion of his minutes as a sophomore acting as the de facto power forward when injuries plagued Marquette's undersized lineup, getting almost half of his touches off of cuts and offensive rebounds. Endearing himself to Williams with his play defensively, efficiency crashing the glass, and knack for finishing opportunities his teammates created for him, Butler branched out considerably last season, but could still use more touches out on the wing to continue refining his budding perimeter game. With Lazar Hayward out of the picture, this could be Butler's first season as a high-usage threat, and his ability to maintain his efficiency with more touches is worth keeping an eye on.

The diversification of Butler's offensive arsenal made the difference for him last season and promises good things this year, as his development has given Buzz Williams the flexibility to use him in a multitude of ways on the offensive end. As a sophomore surrounded by NBA prospects, Butler attempted just 18 jump shots, knocking down just 4 of them. After a summer of hard work with Lazar Hayward, Butler made half of his 38 catch and shoot attempts last year and connected on 40.3% of his 2.1 jumpers per-game overall. Displaying an exceptionally high release and emerging as a capable threat pulling up off the dribble, Butler has a very solid shot selection, has learned to hit the corner three, is able to exploit mismatches, plays within his skill set, and could have an outstanding year if his jump shot continues to improve.

Butler's development last season, coupled with his solid basketball IQ and functional, albeit simple ball-handling repertoire allowed him to score effectively in both spot-up and isolation situations last season while not turning the ball over at a high rate. Though Butler's jumper gives him intrigue as a prospect, his ability to get to the basket is what made him such a versatile threat last season. He isn't going to blow by anyone off the dribble, but he's developed his right hand to the point that he can take what defenders give him on the perimeter. He uses his body exceptionally well to shield the ball and exploits his rangy strides to create some good looks for himself around the rim.

Able to create easy looks by attacking in one-on-one situations, crashing the glass, or ducking in when his teammates penetrate, Butler shows a knack for capitalizing on his ability to be in the right place at the right time. A very solid finisher despite the fact that he gets his shots blocked by more athletic defenders on occasion, lacks great strength, and seldom plays above the rim, Butler shows good body-control and a good feel for using angles to make plays.

Defensively, Butler shows excellent discipline. Much like Lazar Hayward last season, Butler does an excellent job of staying in position and has excellent fundamentals, but doesn't have the lateral quickness to recover when he's beat. Unlike Hayward, who could use his strength to defend much bigger players in the paint, Butler's best asset is his wingspan. Though he does his best to prevent his man from getting position, his lack of great strength hurts him in the post, but he contests shots well and can make an impact in the passing lanes. His lack of leaping ability limits him as a rebounder, but he gives ample effort cleaning the glass.

Though there is a ton to like about Butler on the college level, he has some work to do on his NBA draft stock. His physical limitations will make his play this season that much more important to his pro-prospects, but if he's able to become a high caliber shooting threat and more dynamic in one-on-one situations, he could garner some attention. A strong candidate for the Portsmouth Invitational Tournament, Butler's transition from roleplayer to potential first option will be one to keep an eye on, as he could make a splash if he remains as efficient as he has been.

[Read Full Article]

---