Joe Harris
Recent Tweets
All Tweets
DraftExpress: Top NBA Draft Prospects in the ACC (Prospects #5-9) http://t.co/pn8tNCbZl0 Jerami Grant Olivier Hanlan Dez Wells Rodney Hood Joe Harris
2013-09-10 17:39:09
DraftExpress: Top NBA Draft Prospects in the ACC (#5-9) http://t.co/pn8tNCbZl0 - Jerami Grant Olivier Hanlan Dez Wells Rodney Hood and Joe Harris.
2013-09-10 12:22:36



Basic Per Game Statistics

- Comprehensive Stats - Statistical Top 25s
| Year | League | Name | GP | Min | Pts | FG | FGA | FG% | 2Pt | 2PtA | 2P% | 3Pt | 3PtA | 3P% | FTM | FTA | FT% | Off | Def | TOT | Asts | Stls | Blks | TOs | PFs |
| --- | --- | --- | --- | --- | --- | --- | --- | --- | --- | --- | --- | --- | --- | --- | --- | --- | --- | --- | --- | --- | --- | --- | --- | --- | --- |
| 2013/14 | NCAA | Joe Harris | 37 | 28.8 | 12.0 | 4.0 | 9.1 | 44.1 | 2.1 | 4.3 | 48.7 | 1.9 | 4.9 | 40.0 | 2.0 | 3.1 | 64.0 | 0.6 | 2.4 | 2.9 | 2.3 | 0.9 | 0.2 | 1.3 | 2.4 |

Player Page&nbsp&nbsp| Player Stats | Mock Draft History | Related Articles&nbsp&nbsp| Add to My Draft Express&nbsp
&nbsp
Top NBA Draft Prospects in the ACC, Part Five (#5-9)
September 10, 2013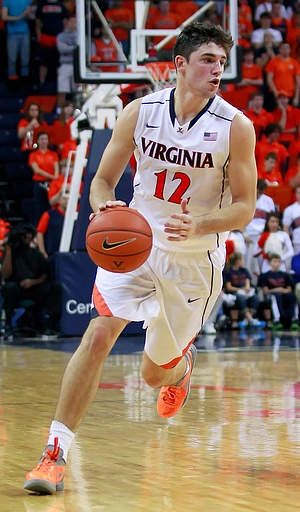 US Presswire



Matt Kamalsky

Averaging 18.4 points per-game in ACC play last season, Joe Harris ranked among the most valuable players in one of college basketball's best conferences as a junior. Producing at a very high-level in one of the slowest systems in the country until falling into a late-season slump, the 6'6 shooter was outstanding for stretches, leading an inexperienced, young Cavalier squad to 23 wins—two in the NIT—and earning a spot on the All-ACC First Team in the process.

Emerging as a fringe top-100 recruit in the class of 2010 playing for his father at Chelan HS (WA), Harris spurned a slew of west coast offers to play in the ACC, following Tony Bennett who had departed Washington State for Charlottesville a year earlier. Quickly solidifying himself as a starter and valuable shooting specialist for Bennett as a freshman, Harris took a small step forward as a sophomore, proving effective in spreading the floor for a healthy Mike Scott during the program's 2012 NCAA Tournament run.

Returning to campus last fall as the Cavaliers' clear-cut first option, Harris relished his opportunity to shine for the most part. He carried a scoring average of 16.9 points per game on 50.9% shooting into March, but struggled down the stretch, scoring 11.7 points on 32.9% from the field over his last 7 games. Despite losing his touch late, the former Washington Mr. Basketball closed the year scoring a phenomenally efficient 1.04 points per-possession according to Synergy Sports Technology. He was invited to go to training camp with the USA World University Games Team this summer, but was unable to attend due to a stress reaction in his left foot.

Standing 6'6 with below average athleticism by NBA standards, Harris does most of his damage with his jump shot. Shooting the ball running off of screens as frequently as almost any player in the country, 62% of his shot attempts come from the perimeter. His jump shooting mechanics are terrific, his release is exceptionally quick, and he is very reliable with his feet set, making 46% of his catch and shoot attempts last season.

A career 41% 3-point shooter, Harris has always been a reliable spot-up threat, but he evolved into a more well-rounded scorer as a junior. Proving to be opportunistic with his dribble and as a finisher at times, Harris is not an explosive player off the bounce or at the basket, nor is he going to create his own shot prolifically one-on-one, but he takes what defenders give him and understands how to use fakes and exploit defenders trailing him off of screens to find daylight. He's a 40% pull-up jump shooter who is a threat when dribbling into a shot, firing from beyond the arc and when pulling up in the midrange when given space inside the arc. Finishing at a 55% rate around the rim, Harris's high basketball IQ and ability to be in the right place at the right time allow him to put points on the board very efficiently on a game-to-game basis, as evidenced by his 36-point outburst on 20-shots against Duke in late February.

Moving forward, the big question for Harris's NBA future is what he can bring to the table defensively. Players with his shooting pedigree have clear value at the next level, and playing for Tony Bennett, Harris has improved on the defensive end over the last few seasons. Despite that, his lack of athleticism will be scrutinized as he makes the transition to the pro game.

With the lion share of its core returning, Virginia will likely once again rely on Harris as the focal point of their grind-it-out offense. One of the top seniors in the ACC, he'll certainly be a player to keep an eye on, as his shot making ability will certainly have the attention of NBA decision-makers.

[Read Full Article]

---