Top NBA Prospects in the SEC, Part Five (#5-9)
October 19, 2013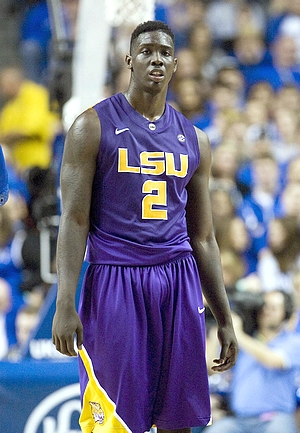 US Presswire



Jonathan Givony

A Mcdonald's All-American and two-time USA Basketball member in high school, Johnny O'Bryant developed a significant reputation early on in his career, but struggled to maintain that among concerns revolving around his conditioning and work ethic. His freshman season was highly inconsistent, as he shot just 40% from the field, but he was much better as a sophomore, increasing his scoring production while becoming much more efficient offensively, earning first team all-SEC honors in the process.

O'Bryant still has plenty to prove, though, after seeing his season end in the second round of the conference tournament following an 8th place finish in a very down SEC.

Measured at 6-9 in shoes with a 7-1 ½ wingspan and a very strong 260 pound frame, O'Bryant has solid physical attributes for a NBA big man. He's a good, not great athlete, though, which makes his conditioning all the more important in assessing his pro prospects, something he's begun to address in the past year and reportedly has continued to do so this past summer.

Typically being the strongest player on the floor, the majority of O'Bryant's offense at the college level predictably comes with his back to the basket, where he saw mostly mixed results last season. Despite possessing decent footwork and the ability to turn over either shoulder, O'Bryant is not efficient with his post game, turning the ball over at a high rate and converting just 44% of his field goal attempts in these situations.

While O'Bryant is strong enough to simply overpower many of the weaker opponents he encounters in college, his skill-level and decision making ability still leaves a lot to be desired. He doesn't have a great grasp of what his limitations are at the moment, settling for a lot of tough looks every game, and has a difficult time finding good angles to get his shot off, as he's largely a below the rim player. Barring significant improvement, it's difficult to see his post-game translating effectively to the NBA level at his size, which makes his conditioning and ability to contribute in other facets all the more important.

O'Bryant also sees a good amount of touches each game in other areas, running the floor in transition, crashing the offensive glass and finishing off cuts or on the pick and roll—all places where he seemingly has a much better chance of contributing at the next level. One of his best attributes are his extremely soft hands, which allow him to simply catch everything thrown his way, and also make him such an imposing rebounder.

Unfortunately O'Bryant is not a standout finisher around the basket in non-post-up situations either, converting a pedestrian 53% of his attempts here last season. His lack of explosiveness makes it difficult for him to finish over length in traffic, something he can likely continue to improve on with better conditioning.

Facing the basket, O'Bryant shows solid ball-handling skills and footwork for a player his size and is able to create his own shot reasonably effectively. His jumper is not a consistent enough weapon yet to threaten defenses with, though, as he hit just 11 of his 49 attempts last season, or 22%. This doesn't appear to be a fluke considering he converted just 60% of his free throws on the season, but it may be something he can continue to improve on as his career moves on, as he seems to have solid touch.

O'Bryant doesn't have great balance on his jumper, often fading away on many of his attempts and releasing the ball from different vantage points, sometimes on the way down. At times he seems to get frustrated and settles for difficult long 2-point attempts, which opposing defenses willingly concede to him considering his struggles in this area.

As a freshman, O'Bryant ranked as one of the worst passing big men in college basketball, dishing out just 11 assists in 600 minutes, compared to 66 turnovers. He improved considerably on that mark as a sophomore, more than tripling his assist rate last season, but still posted a very high turnover rate. On a talent-deprived LSU squad, he sees a fair amount of double teams, and is still learning how to deal with that effectively, something he'll likely continue to have to do this season.

Defensively, O'Bryant is somewhat stuck between the 4 and the 5 positions from a NBA standpoint, as he's undersized for a center at 6-9, but may be a little thick and not quite quick or agile enough for a power forward. The effort level O'Bryant puts forth here doesn't inspire great confidence in his ability to overcome his physical shortcomings, as he regularly gives up deep position inside the paint, and does a fairly poor job of stepping out and contesting shots. When O'Bryant is in shape and fully dialed in, he has the ability to be a very effective defender at the college level, so it will be interesting to see how he progresses in this area as a junior.

One of O'Bryant's biggest calling cards as a NBA prospect is his rebounding ability. He pulled down an impressive 5.7 offensive rebounds per-40 minutes as a freshman (12.3 total), and followed that up as a sophomore with 4 per-40 on the offensive end and 11.3 total. His long arms and excellent hands help him out significantly despite his average leaping ability, as he has terrific instincts for going out of his area for loose balls, something he does on a regular basis.

Not turning 21 until next summer, O'Bryant is one of the youngest prospects in the junior class, something that could ease some of the concerns over his uneven play his first two seasons in college with an improved showing this year. Undergoing a rocky transition between coaching staffs, LSU was not able to surround O'Bryant with very much talent the last few years, which certainly contributed to his struggles on both ends of the floor. This upcoming season should tell us quite a bit about his long-term NBA potential, as there aren't that many 6-9 big men in college basketball with his hands, touch and rebounding ability. If LSU can find a way to win some games with a more focused and efficient O'Bryant leading the charge, his draft stock could improve dramatically.

[Read Full Article]

---
Top NBA Draft Prospects in the SEC, Part Four (#11-15)
October 31, 2012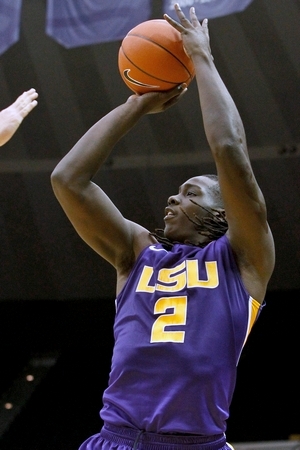 US Presswire



Matt Kamalsky

Former McDonald's All-American Johnny O'Bryant had a solid, albeit inefficient, freshman campaign for the LSU Tigers. Averaging 8.9 points and 6.7 rebounds per-game, the 19 year-old power forward overcame breaking his hand mid-season, showing promise on the defensive end and as a rebounder while struggling at times with his efficiency and decision-making offensively. With Justin Hamilton moving on to the pros, O'Bryant will need to make the most of his experience last season as he's likely to be the focal point of the undersized Tigers' interior attack.

Standing 6'9 with a 7'2 wingspan, there is quite a bit to like about O'Bryant from a physical perspective. He may be a bit undersized for his position at the next level and does most of his work below the rim, but the Mississippi native has terrific strength and had some nice moments using that to his advantage as he aggressively crashed the boards and played a tenacious brand of individual defense.

Last season, those were the two areas where O'Bryant made the most consistent contributions. One of the top-5 offensive rebounders in the entire country per-40 minutes last season, O'Bryant simply overwhelmed his match-up with strength and energy to win the race to the ball on more than a few occasions last season. That effort and physicality carried over to the defensive end quite regularly, as O'Bryant, despite lacking great fundamentals, more than held his own in the post and in one-on-one situations away from the rim against more experienced and athletic players alike.

The early returns for O'Bryant offensively were not as promising. He proved to be a capable finisher at the rim, converting 60% of his put back attempts and 53.1% of his short range shots overall according to Synergy Sports Technology, but made just 28% of his jump shots and 32% of his shots in post-up situations. O'Bryant didn't appear to have a firm grasp of his limitations, often trying to do too much at times, especially from the midrange, a major reason he finished the season shooting under 40% from the field, which ranks as one the worst rates in college basketball for power forwards.

In one-on-one situations, O'Bryant showed some potential putting the ball on the floor and attacking the rim after facing up in the post, but doesn't have a polished back to the basket arsenal, looking a bit out of control with his footwork, and proved fairly feast or famine when slashing to the basket. O'Bryant did have some nice moments cutting off the ball, finishing reverse layups at the rim, and using jump-stops to get into the paint, but will need to cut down on his 19.5% turnover rate, develop more power moves to better utilize his strength in the post, and take fewer difficult jump shots to improve his offensive efficiency in a bigger role this season.

One of the more productive freshmen in the SEC last season, Johnny O'Bryant has pretty clear cut strengths and weaknesses as a prospect. He'll have ample opportunity to showcase his development or lack thereof this season as he returns to the floor as LSU's clear-cut leader in the front court, and his play in 2013 will certainly dictate whether he gains traction as a NBA prospect down the road.

[Read Full Article]

---
FIBA U-17 World Championships: Top American Prospects
August 16, 2010
O'Bryant wasn't asked to play a huge role for this USA team as its starting center and designated energy guy, but he happily played his role and showed some nice tools in the process. Standing somewhere around 6-9, with a terrific frame, long arms and solid athleticism, O'Bryant clearly has the physical tools to justify his status as an elite prospect. He is not afraid to throw his body around in the paint (doing a good job in particular on the glass) even though his energy level did lead to some foul trouble at times. O'Bryant showed some small flashes of offense with his post game, making some nice spin moves and such. He also attempted to show off a bit of a face-up game, to somewhat unsuccessful results.

[Read Full Article]

---