Jonathan Holmes
Recent Tweets
All Tweets
DraftExpress: Players who went undrafted Jonathan Holmes Christian Wood Robert Upshaw Mam Jaiteh Michael Frazier Aaron Harrison Vince Hunter more
2015-06-26 00:21:36
DraftExpress: Still available at #50 Jonathan Holmes Christian Wood Robert Upshaw Michael Fraizer Mam Jaiteh J.P. Tokoto Cliff Alexander
2015-06-25 23:52:44
DraftExpress: Best available at 23 according to DX Top-100\n1. Rondae Hollis-Jefferson\n2. Tyus Jones\n3. Kevon Looney\n4. Montrezl Harrell\n5. Jonathan Holmes
2015-06-25 22:05:05
DraftExpress: One guy who definitely needs to enter the DX database is Texas freshman Jonathan Holmes. 6-8 athletic PF w/a great body. Can make an open 3.
2011-11-21 08:03:28
Team: Texas
Physicals
Positions
Rankings
Salary
Misc
H: 6' 9"
W: 242 lbs
Bday: 12/09/1992
(22 Years Old)

Current: SF/PF
NBA: SF/PF
Possible: SF/PF

RSCI: 86

Agent: Zach Kurtin

High School: Antonian College Prep
Hometown: San Antonio, TX

Predraft Measurements
| Year | Source | Height w/o Shoes | Height w/shoes | Weight | Wingspan | Standing Reach | Body Fat | No Step Vert | Max Vert |
| --- | --- | --- | --- | --- | --- | --- | --- | --- | --- |
| 2015 | NBA Draft Combine | 6' 8.25" | 6' 9.25" | 242 | 6' 11.5" | 8' 11.5" | 7.2 | 25.5 | 31.0 |
| 2014 | Nike Skills Academy | NA | 6' 8.5" | 254 | 6' 10" | NA | NA | NA | NA |



Basic Per Game Statistics

- Comprehensive Stats - Statistical Top 25s

Player Page&nbsp&nbsp| Player Stats | Mock Draft History | Related Articles&nbsp&nbsp| Add to My Draft Express&nbsp
&nbsp
Jonathan Holmes Workout Video and Interview
June 7, 2015
An interview with Texas forward Jonathan Holmes featuring footage from his pre-draft workouts in Chicago.

(Video may not load with Internet Explorer. Use Chrome or Firefox)
Interview and video footage courtesy of Tad Hathaway of 312 Media.
---
More Pre-Draft Interviews/Workout Videos
-Michael Qualls Workout and Video
-Alpha Kaba Workout and Interview
-Willie Cauley-Stein Workout
-Karl Towns Workout
-D'Angelo Russell Workout
-D'Angelo Russell Interview
-CAA Workout Outtakes: Towns/Cauley-Stein Dunks from LA
-CAA Workout Outtakes: Russell/Towns/Cauley-Stein Jumpers
-Justin Anderson Workout Video and Interview
-Cliff Alexander Workout Video and Interview
-R.J. Hunter Workout Video and Interview
-Bobby Portis Workout Video and Interview
-Sam Dekker Workout Video and Interview
-Kelly Oubre Workout Video and Interview
-Stanley Johnson Workout Video and Interview
-Terry Rozier Workout Video and Interview
-Rondae Hollis-Jefferson Workout Video and Interview
-Rashad Vaughn Workout Video and Interview
-Andrew Harrison Workout Video
-J.P. Tokoto Workout Video
-Jarell Martin Workout Video
-D'Angelo Russell Interview
-Quinn Cook Interview
-Frank Kaminsky Workout Video
-Robert Upshaw Workout Video
-Rakeem Christmasn Workout Video
-Myles Turner Workout Video
-Stanley Johnson Interview
-Kelly Oubre Interview
-Frank Kaminsky Interview
-Satnam Singh Interview
-Satnam Singh Workout Video
-Alan Williams Interview
-Aaron White Interview
-T.J. McConnell Interview
-Chasson Randle Workout Video
-Chris Walker Interview
-Chris Walker Workout Video
-Cameron Payne Workout Video
-Cameron Payne Interview
[Read Full Article]

---
Jonathan Holmes NBA Draft Scouting Report and Video Breakdown
May 20, 2015
Scouting Report by Josh Riddell. Video Analysis by Mike Schmitz

After making a big leap production wise from his sophomore to junior season, Jonathan Holmes came back to Texas for his senior season hoping to end on a high note and lead the Longhorns to the Sweet Sixteen for the first time. Holmes started the season on fire, but like Texas' entire team, faded as the year moved on, particularly with his outside shooting. He suffered a concussion in early February that saw him miss two full conference games, but had a strong enough season to earn a spot on the Big 12 All-Conference Honorable Mention team.


US Presswire



Holmes will now set his sights on the NBA draft and attempt to answer the questions scouts have about his NBA future in pre-draft workouts. The 6'9" forward measured out better than expected in Chicago, which should allow him to see plenty of minutes at the PF spot, with additional minutes coming at the 3 in bigger lineups. While none of Holmes' individual athletic tools leap off the page, he is a well-rounded athlete with a nice combination of quickness and strength that should help him compete against NBA players. He moves well in the open court and is tough enough to throw his weight around on the interior.

(Video may not load with Internet Explorer. Use Chrome or Firefox)

To show he can play on the perimeter, Holmes has worked on his three point range working his way up from 2.2 three point attempts per 40 minutes pace adjusted his freshman season to 6.3 his senior season, second most among small forwards in our top 100. Part of that was out of necessity, as Texas had a glut of big men this season that forced Holmes to see a good amount of minutes on the wing, which drew mixed results. But there is no question that his skill-level improved quite a bit over the course of his career, allowing him to score in a variety of different situations, be it off spot-ups, attacking closeouts, in the post, or via the offensive glass.

Holmes never became the knock-down shooter NBA scouts would have liked to see, and he ended his career shooting 33.1% on long distance shots and 33.3% on all catch and shoot jump shots this season according to Synergy Sports Technology. With that said, he demonstrates good fundamentals on his shot, with a quick and compact release that allows him to get his jumper off mostly the same way every time and should allow him to improve his consistency as his career moves on.

With that said, Holmes has been extremely streaky throughout his career, going through huge swings of effectiveness without much rhyme or reason, and the fact that he dips the ball unnecessarily on the catch and thus shoots it with a fairly low release point makes his jumper easier to contest when well defended and/or under pressure. How consistent of a shooter Holmes is able to become will play a huge role in whether or not he's able to carve out a real role in the NBA. His consistent mechanics, combined with the fact that he made 78% of his free throw attempts leaves a lot of room for optimism—particularly with better spacing and ball-movement than he enjoyed at Texas.

(Video may not load with Internet Explorer. Use Chrome or Firefox)

Holmes is not an overly creative ball-handler, and is unlikely to develop into a high volume shot-creator or passer in the NBA. He made just a handful of off the dribble jumpers at Texas, and only distributed 92 assists in 2903 career minutes.

Despite that, his situation at Texas surely didn't help matters a great deal, as he consistently was defended by smaller players, but rarely was able to take advantage of that due to the glut of frontcourt players he was usually utilized alongside of. Moving from the 4 to the 3 hurt his efficiency significantly, and having to share the floor with another paint-clogging big man saw his 2P% drop from an outstanding 58% as a junior to a middling 44% as a senior.

For a player who is not overly explosive to begin with, that was a tough development. Holmes ranked towards the bottom of all forward prospects in the various vertical leap categories tested at the NBA Combine, and his struggles finishing in traffic were much more noticeable with the lack of spacing Texas enjoyed this year. After hitting 67% of his shots around the basket as a junior (Synergy), that dropped to just 48% this past season, despite seeing far fewer attempts.

If matched up against a smaller defender, Holmes has the ability to score in the post with his strong body and soft touch. He can power through defenders of similar size or can shoot over smaller defenders, and while his footwork on the block isn't advanced, he can use his athletic tools to get a decent shot off. He could use this attack sparingly to create some easy offense in the right matchups.

Holmes is an active rebounder from his position, utilizing his athleticism and energy to grab 3.5 offensive rebounds per 40 minutes pace adjusted, second among small forwards in our top 100 and 6.1 defensive rebounds per 40 minutes pace adjusted. He has demonstrated good fundamental rebounding skills, toughness and agility to rebound outside his area over his career. He will need to focus on this aspect of his game at the professional level to provide value to his team as a rebounder from his position.

The biggest key to Holmes sticking in the NBA will likely come down to his ability to defend his position. Standing 6-9 with a 6-11 wingspan, a near 9-foot standing reach and a 242 pound frame, Holmes has solid size for a NBA power forward, but is quick enough to step out onto the perimeter and guard most small forwards as well. That gives him great versatility which is highly coveted in today's NBA, even if he'll have to show that that element of his game can translate to competing against NBA athletes.

Holmes gets into a defensive stance willingly, and slides his feet well to stay in front of attacking players. He's a physical and competitive player with plays with a high energy level and isn't afraid to dive on the floor for loose balls or throw his strong frame around. Holmes blocked quite a few shots from the small forward position this year (1.6 per-40), indicating good timing and anticipation skills, and also grabbed a ton of offensive rebounds throughout his career at Texas (4 per-40), which is also a good sign.

Holmes will need to display his versatile skill-set and rebounding ability in pre-draft workouts while showing scouts he can defend both forward positions and be a consistent jump shooter. He has been caught in between positions during his time in college, but there are major questions about whether he was utilized in a way that played to his strengths. Holmes had an outstanding NBA Combine, which opened up quite a few eyes and will likely earn him some looks even in the late first round. Players in his mold who can adequately defend both forward positions, space the floor, and play physical and competitive basketball are very much en vogue these days, which gives him a great chance to carve out a niche in the NBA long term.

[Read Full Article]

---
NBA Combine Competitive Action Recap: Day Two
May 16, 2015
9 points, 8 rebounds, 1 block, 2-4 2P, 1-4 3P, 2-6 FT, 22 minutes

Holmes didn't shoot the ball all that well on Friday (1-for-4 from 3 with the only make being a banked shot, and 2-for-6 from the line) but he once again flashed his versatility on the offensive end, showing he has the skill set to hurt defenses from multiple areas on the floor.

Holmes couldn't get his jumper going, but he was able to get to the line off of a strong straight line drive from the left wing early in the first half. Holmes did some damage in the paint as well, oftentimes operating as the roll man or attacking the rim from mid-post spots. Holmes caught and finished an Andrew Harrison drop off, got to the line after an aggressive rip through drive from the mid-post, and spun and finished a jump hook after receiving a pass from the perimeter just outside of the left block. With Holmes' ability to make shots from the perimeter (although not all that consistently) and score on the interior at 6' 9" 242 pounds, he's going to be very easy for NBA coaches to fit him into their offensive sets at either forward spot.

Holmes also did some nice things defensively, blocking a Brandon Ashley jump shot and forcing a turnover by containing the ball in the pick and roll. Holmes isn't exactly great in one area and still has room to improve as a jump shooter, but with his NBA ready body and offensive versatility he's a solid option for a playoff team looking for someone who can play a role right away as a stretch four who can play some three in a pinch. Players in his mold are very much en vogue in today's NBA, and it feels like Holmes still has plenty of upside to grow into, despite being a senior.

[Read Full Article]

---
NBA Combine Competitive Action Recap: Day One
May 14, 2015
13 points, 5 rebounds, 3 blocks, 5-14 2P, 1-4 3P, 2-3, FT, 30 minutes

The versatile forward made a handful of impressive plays on both ends that make it easy to envision him having an impact at both forward spots in the NBA. Holmes knocked down shots from the perimeter, attacked the rim in a straight line and even operated as the roll man on some occasions. Although he missed a couple of spot threes and went 1-for-4 from distance overall, the 6' 9" combo forward knocked down two tough step back jumpers (one going right, one going left) that most players his size struggle to pull off. Holmes also impressive as a straight-line driver, displaying a strong first step going to his right, and the strength to keep his defender on his hip once he turns the corner. Holmes had an impact on the defensive end as well, guarding multiple positions and blocking three shots in the process. Although he wasn't overly efficient on Thursday, Holmes did several different things that make him an attractive 2nd round prospect given his physical attributes.

[Read Full Article]

---
Top NBA Prospects in the Big 12, Part 7: Prospects #13-16
September 15, 2014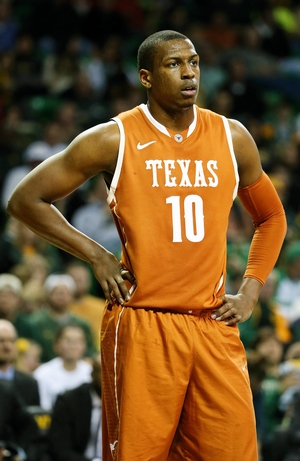 US Presswire



Derek Bodner

After flashing some promise as a freshman, Jonathan Holmes struggled to make the step forward many expected during his sophomore season. In fact, by all accounts he took a step backwards. His scoring fell, from 13.0 points per 40 minutes pace adjusted down to 12.0, his PER dropped from 17.2 to 15.3, and his efficiency suffered as well, from a 56.7% true shooting percentage down to a disappointing 51.8%.

Holmes turned things around in a major way during his junior season, which saw the 6.8" forward assume a much bigger role in the Texas offense. While Holmes only saw a modest up-tick in playing time, up to 24.3 minutes, from 20.2, his per-minute scoring jumped drastically. Holmes scored 20.3 points per 40 minutes when adjusting for pace this past season on tremendous efficiency. Whether looking at his PER (which jumped to 26.4), true shooting percentage (59.8%), points per possession (1.23), or offensive rating (118.3), Holmes had an incredibly productive season from a per-minute standpoint, while doing so at an extremely efficient level.

An area of Holmes' game that has seen considerable growth over the years is as a jump shooter. The overall amount of jump shots that he takes hasn't changed all that much over the years, but the effectiveness of the shot has. That improvement is most evident in his development as a three point shooter. While he's still not consistent from the collegiate three point line, his 33.3% shooting at 2.6 attempts per game was by far the best of his career.

However, the area where this improvement has made the most positive impact may be in Holmes' post-game. Holmes flashes a relatively simple, but effective, back to the basket arsenal. He fights for and establishes position well, presents a good window for the entry pass, and has good touch on a hook shot over his left shoulder, which he is able to shield the ball well and get it off over bigger defenders.

Holmes supplements his hook shot by utilizing his improving jump shot in post-up situations. After establishing deep post position to put himself in position for a high percentage shot, Holmes uses this position for both a turnaround jump shot over his right shoulder, and also by facing up, where he is able to either get off a clean look at a very make-able jump shot or, if his man is aggressively guarding him, can use his quickness to put the ball on the floor and get to the rim. Holmes' significantly improved effectiveness as a jump shooter, combined with his quickness, creates a fairly effective face-up threat.

The rest of Holmes' offensive game is still somewhat of a work in progress. His effectiveness as a jump shooter has led to more involvement in the pick and roll game, another area that could become a staple of his as he continues his development shooting the basketball. While he shows good promise as a face-up threat, and is able to be a weapon from 15 feet and in, his ball handling still needs improvement to fully take advantage of these opportunities, as he struggles to change direction and react to the rotating defense. He does move well off the ball, able to both find the weak points in a zone and also make himself available for passes from driving guards.

Holmes is able to make himself a factor on the glass on both ends of the court, where his pace adjusted output of 4.4 offensive rebounds and 6.9 defensive rebounds are both very good marks. On the offensive side, Holmes shows very good effort and pursuit fighting for position on the glass, and his athleticism, strength, and tenacity allow him to convert at a good clip after gathering these rebounds. On the defensive side of the ball, he shows good technique and timing.

On the defensive side of the court, Holmes generally gets in a good stance on the perimeter, and moves his feet relatively well for a player his size, while his strength allows him to hold his own down low. Although not an incredibly explosive leaper off of two feet, he shows good timing when going for blocks, allowing him to block 2.0 shots per 40 minutes pace adjusted. Perhaps most importantly, Holmes got his foul problems somewhat under control during his junior year. At 4.0 personal fouls per 40 minutes pace adjusted it's still somewhat of a problem, particularly on a young Texas squad that will need the senior Holmes to stay on the court, but it's a drastic improvement over the 6.1 and 5.7 fouls per 40 minutes pace adjusted that he committed during his freshman and sophomore seasons, respectively. He could still stand to avoid some of the reach-in and over-aggressive fouls that he tends to picks up, but last season was a positive step forward in that regard.

After a disappointing sophomore season, Jonathan Holmes had the kind of junior season that put him back on the map as a prospect, including big games towards the end of the season against talented front courts such as Kansas, Iowa State, West Virginia, and Baylor. It will be interesting to see how much he is able to build off of the improvements he made in his jump shot last year, whether he is able to become more consistent from the collegiate three point line and beyond, and whether he can continue to refine his ball handling skills to fully take advantage of the opportunities his improved shooting give him as a face-up threat. With his strength, quickness, emerging threat shooting from the perimeter, and ability to contribute on the glass, he could garner some interest from NBA teams next June, particularly if he shows more ability to operate as a full time small forward, which would likely be his natural position at the next level.

[Read Full Article]

---