Top NBA Prospects in the SEC, Part Five (#10-14)
October 21, 2013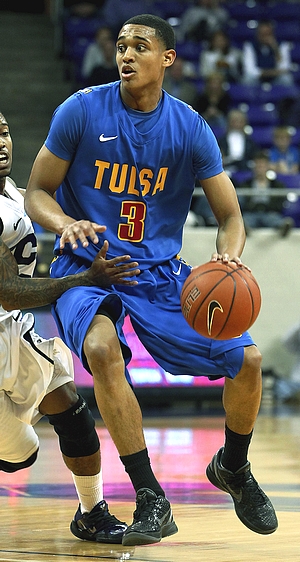 US Presswire



Joe Treutlein

Following a strong sophomore season at Tulsa in the 2011-2012 season, Jordan Clarkson sat out last year after transferring to Missouri. With three of the Tigers' top four scorers no longer with the team this season, Clarkson should have abundant opportunities to earn a significant role on the court, potentially even at the point guard position.

Standing 6'4 with a solid 6'7.5 wingspan and a decent frame, Clarkson is a good overall athlete, being pretty good with both his quickness and explosiveness, but not being a stand out in either area. He makes up for it somewhat by being a very heady and crafty player, getting the most out of his abilities off the dribble.

On the offensive end, Clarkson is a versatile inside-out threat who was relied on to create a lot of his own shots while at Tulsa, seeing most of his possessions come out of isolations or pick-and-rolls. He has great ability to get his defender off balance and create separation, having an excellent command of jab steps, ball fakes, crossovers, and rip moves, frequently using them to get himself open on the perimeter.

Clarkson relied on his jump shot slightly more than his ability to get to the basket, as he attempted shots off the dribble at a nearly 2:1 margin compared to catch-and-shoot jumpers at Tulsa. He's respectable pulling up for a shot in space, both from the mid-range and beyond the arc, but is a much better shooter with his feet set when he has the time to get off a shot comfortably. He has a minor hitch in his shooting motion, something that makes things a bit awkward on his pull-ups at times, but is no problem at all on his spot-up attempts.

Despite the fact that Clarkson saw so many of his shots coming of the off-the-dribble variety, he still shot 37.4% from behind the arc as a sophomore, a respectable number that could improve this year if he's allowed to play a more balanced role on what's likely to be a much more talented Missouri squad.

In terms of attacking the basket, Clarkson is a very skilled player who uses the tools at his disposal exceptionally well. He doesn't have the blazing first step to consistently get by his man, nor great size or leaping ability to shoot over players in the lane, but he has excellent touch around the basket both on lay-ups and runners, while he also takes good angles and shows good body control to get shot attempts off with defenders in the area.

The biggest problem for Clarkson's game projecting to the next level is how his dribble-drive game will translate, as despite his success at the college level, many of his shot attempts in these situations are made in very small windows over defenders, and even with all his strong traits, he's still just a decent finisher at this level as it is. Projecting this to the NBA where he'd be matched up against much larger and more athletic competition, it's questionable if he could succeed in the same way barring significant improvement physically or skill-wise.

On the defensive end, Clarkson shows a great fundamental base and effort level, frequently playing up on his man whenever he has the ball, but his lateral quickness is often exploited, especially when matched against smaller guards. To his credit, he does a great job recovering and staying with his man when he does give up a first step, and uses his length well to contest shots from the side and behind, but it's tough to see him not being at a disadvantage in quickness on this end of the floor at the next level.

Looking forward, Clarkson has a solid groundwork of skills with his very good shot-creating and shot-making abilities along with his inside-out offensive game, but his lack of standout physical attributes on both ends of the floor make the next level an uphill climb at this stage. Clarkson's best bet from an NBA perspective would likely be to further excel with his perimeter shooting game, which is the area least tied to his athleticism and most likely to easily translate in the pros, and he could have good opportunity to take a step forward there when he's playing what's likely a much less ball-dominant role for the Tigers.

[Read Full Article]

---