Joseph Young Interview
May 14, 2015
Former Oregon Duck, Joseph Young, discusses his preparation for the upcoming 2015 NBA Draft outside of P3 in Santa Barbara, CA.


---
More Pre-Draft Interviews/Workout Videos
-Robert Upshaw Workout Video
-Rakeem Christmasn Workout Video
-Myles Turner Workout Video
-Satnam Singh Interview
-Satnam Singh Workout Video
-Alan Williams Interview
-Stanley Johnson Interview
-Kelly Oubre Interview
-Frank Kaminsky Interview
-Chris Walker Interview
-Chris Walker Workout Video
-Cameron Payne Workout Video
-Cameron Payne Interview
[Read Full Article]

---
Top NBA Draft Prospects in the Pac-12, Part 6: Prospects #10-14
September 8, 2014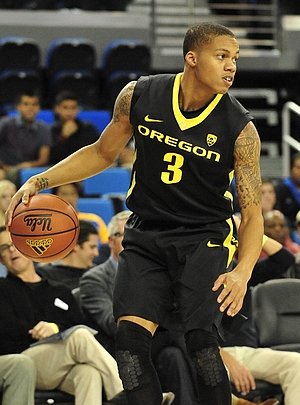 US Presswire



Jonathan Givony

The only guard on Oregon's roster with any real experience at the Division I level, Joseph Young will be relied on heavily by Dana Altman and co. to help bring the Ducks back to the NCAA Tournament for the third straight season.

Young was awarded a NCAA waiver to play immediately for Oregon less than two weeks before their opening game, despite transferring from Houston upon learning his father (former NBA first round pick) Michael Young had been reassigned from the coaching staff to a community service role. He took very little time to make his impact felt at Oregon, quickly establishing himself as one of the most versatile scorers in college basketball. He averaged a terrific 24 points per-40 minutes (second best in the Pac-12), on terrific efficiency, with the sixth highest true shooting percentage (63.5%) of any returning college player in our top-100 rankings.

Young sports below average measurables for a NBA shooting guard prospect, being charted at 6-2 in shoes with a 6-4.5 wingspan and a 178 pound frame at the Nike Skills Academy this summer. Only a handful of NBA shooting guards (think Jason Terry, Jannero Pargo, Ian Clark, Ben Gordon) are currently playing in the NBA at that size, and his lack of length and strength certainly don't help matters much. In addition to that, Young will turn 23 just two days after the 2015 NBA Draft, making him the third oldest player currently projected to be picked in our latest mock draft.

Despite all that, there are reasons to believe Young has what it takes to overcome those issues, as he's quite simply one of the most gifted scorers you'll find in college basketball.

Young has to be considered among the best shooters in the NCAA when considering his volume of attempts (5.5 per game) and conversion rate (41.5%). He has tremendous shooting mechanics, always being on-balance and sporting an ultra quick-release and deep, deep range. He's extremely dangerous whether he's spotting up with his feet set, pulling-up off the dribble, operating off dribble-handoffs and pick and rolls, or coming off screens, and can get his shot off even against taller, longer defenders thanks to his quick release and range. He's the type of player a coach can run a million different plays for out of a timeout, and someone defenses simply need to account for at all times as he plays with unwavering confidence in his scoring ability.

Unlike most lights out shooters, Young is also capable of scoring relatively effectively inside the arc as well, hitting an above average 53% of his 2-point attempts and getting to the free throw line over five times per game, where he shoots 88%, #1 in our top-100 prospect rankings. He has a quick first step and solid ball-handling ability, not looking hesitant in putting the ball on the floor if the defense overplays his jump-shot, which allows him to get to the basket at a solid clip. He's especially effective in transition, as the 1.38 points per possession he averaged in the open-court last season ranked second best in all of college basketball.

Additionally, he very rarely turns the ball over—his 7.2% turnover percentage ranks third best among all college players in our Top-100 rankings. He is solid in the pick and roll, having some crafty floaters and runners in his arsenal to overcome his lack of size when he gets all the way inside the paint, and in general is just a really skilled and instinctive scorer with a knack for putting the ball in the basket.

Where Young needs to improve is in becoming more than just a tremendous all-around scorer. He's a little bit one-dimensional in the sense that when he's not putting points on the board, he doesn't contribute much in other areas. He rarely creates much offense for teammates for example, and doesn't offer much in terms of rebounding or defense.

Young not only lacks great physical tools to offer much resistance defensively, but he also doesn't show a great deal of interest in his work on this end of the floor. He frequently gets blown by off the dribble, posted up by relatively mediocre guards, closes out half-heartedly on the perimeter, and gambles unnecessarily in the passing lanes. His fundamentals are fairly poor, as he's often just standing upright in his stance, and he doesn't fight very hard to get over the top of screens.

While it's not the end-all, be all, Young only generated a single block in the past two seasons, which is something very few college players who ended up playing in the NBA can say is part of their resume.



DraftExpress Blue

NBA Draft Picks the last 25 years who generated zero blocked shots in a single college season [min 300 minutes]

Young's combination of poor size, length and strength, along with his poor intensity level will be difficult to overcome at the NBA level, unless he completely changes his mindset. He's the type of player opposing coaches love to target as part of their game-plan already at the college level, leaving no other resort than to put him on the weakest opposing guard to minimize his shortcomings here. Unfortunately his lack of size will make it very difficult for him to guard anything but point guards in the NBA, as he'll be giving up multiple inches and possibly a few dozen pounds on most night operating at the 2.

It will be interesting to see if Young has improved at all in this area as a senior, possibly after getting stronger and getting some NBA feedback on his shortcomings after flirting with testing the draft waters last spring.

In the meantime, Young will be expected to put up big scoring numbers for Oregon as well, trying to guide a very young team which returns just one real contributor from last season besides him in a tough Pac-12 conference. NBA teams will surely be watching closely.

[Read Full Article]

---