Josh Selby
Recent Tweets
All Tweets
DraftExpress: CT beats DC 171-169. Josh Selby 48 pts, Sam Young 38, Tyreke Evans 38, Nolan Smith 35, Trey Thompkins 26 Wesley Matthews 25 Travis Leslie 25
2011-11-18 09:43:45
DraftExpress: I-95 Battle of Bridgeport cnt'd: Josh Selby, Ryan Gomes, Sam Young, Donte Greene, Jordan Williams and some other NBA guys I don't recognize.
2011-11-18 08:17:40
DraftExpress: Highest projected prospects on the board: Davis Bertans, Chandler Parsons, Travis Leslie, Darius Morris, Josh Selby, Jeremy Tyler Macolm Lee
2011-06-23 09:39:46
DraftExpress: DX: Video and interviews with Josh Selby and Malcolm Lee from their training base at Impact Basketball in Las Vegas http://bit.ly/l5AAZ6
2011-05-31 07:22:37
DraftExpress: 4th group scheduled for Minnesota workout tomorrow Charles Jenkins, Josh Selby, Shelvin Mack, Travis Leslie, Jordan Williams Michael Dunigan
2011-05-23 11:55:24
Team: Bnei Hasharon
Physicals
Positions
Rankings
Salary
Misc
H: 6' 3"
W: 195 lbs
Bday: 03/27/1991
(24 Years Old)

Current: SG
NBA: SG
Possible: SG

RSCI: 4

Agent: Andy Miller

High School: DeMatha Catholic
Hometown: Hyattsville, MD
Drafted: Pick 49 in 2011 by Grizzlies
Best Case: Bobby Jackson
Worst Case: Dajuan Wagner

Predraft Measurements
| Year | Source | Height w/o Shoes | Height w/shoes | Weight | Wingspan | Standing Reach | Body Fat | No Step Vert | Max Vert |
| --- | --- | --- | --- | --- | --- | --- | --- | --- | --- |
| 2011 | NBA Draft Combine | 6' 1.75" | 6' 3" | 195 | 6' 5.25" | 8' 2" | 7.9 | 29.5 | 42.0 |
| 2009 | LeBron James Camp | NA | 6' 3" | 183 | 6' 4" | NA | NA | NA | NA |
| 2009 | Deron Williams Camp | NA | 6' 3" | 183 | 6' 4" | NA | NA | NA | NA |



Basic Per Game Statistics

- Comprehensive Stats - Statistical Top 25s

Player Page&nbsp&nbsp| Player Stats | Mock Draft History | Related Articles&nbsp&nbsp| Add to My Draft Express&nbsp
&nbsp
West Coast Workout Swing Part Three: Joe Abunassar's Impact Basketball
May 31, 2011




Arguably the most explosive prospect among players training at Joe Abunassar's Impact Basketball, Josh Selby stood out with his ability to score the ball in one-on-one situations and with his athleticism. He reminding us of what we liked so much about Selby from watching him at the high school level, which is a welcome sign after the disappointing season he had.

After an up-and-down year at Kansas that began with a nine game suspension and was hampered by a nagging foot injury, Selby has been working out at Impact since deciding to forego his final three seasons of eligibility. One of the least experienced players in this draft, Selby is also one of the more vocal prospects we came across in in Las Vegas. Selby isn't a trash-talker, but was regularly communicating with his teammates in the three-on-three games and reaching out to his coaches for feedback—and has also been praised by NBA teams for the way he's conducted himself in interview sessions.

Since arriving at Impact, Selby has been working to improve the polish on his perimeter repertoire. Taking a backseat to the Morris twins at Kansas, Selby wasn't able to showcase his strengths in the NCAA as well as he was able to in three-on-three play in Las Vegas. Few players in this class are as explosive as the Baltimore product, and his ability to hit shots from the perimeter or use his first step to get to the rim presented a problem for the more experienced players in attendance when they were forced to guard him one-on-one.

Selby did lose the ball in traffic on occasion, and he's still working on his decision-making from the midrange and point guard skills, but it was hard not to be impressed with the raw tools and natural scoring ability he brings to the table. Considering he shot 37.3% from the field as freshman, there is going to be an inevitable adjustment period for Selby at the next level, but the 6'3 guard has as high a ceiling as nearly any player projected in his draft range.

[Read Full Article]

---
NBA Combine Interviews: Josh Selby, Nolan Smith, Shumpert, D. Morris
May 23, 2011
[Read Full Article]

---
Trending Prospects (3/18/2011)
March 18, 2011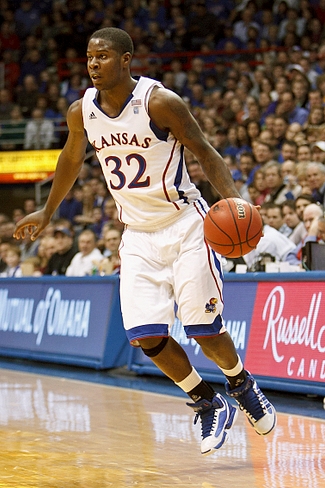 Icon SMI



Joseph Treutlein

After serving a nine game NCAA suspension to start the year, Josh Selby has had an up-and-down freshman season, with things being much more down of late. Selby hasn't surpassed seven points scored in any of his last nine games played, including two games without a single point. Playing through a stress fracture in his right foot that caused him to miss three games in February certainly isn't helping matters, but Selby's stock is still sitting at an all-time low heading into the NCAA Tournament.

Billed as an incredibly creative and explosive scorer with outstanding athletic tools coming into college, Selby has shown flashes of that potential, putting it all together for a handful of games this season, but has struggled heavily with inconsistency and turnovers.

In the half-court setting, Selby is a very dangerous scorer when he catches the ball on the move, having an outstanding first step to go along with strong change of direction ability and body control in the lane, making him very dynamic within the flow of the offense. The problem for Selby is this had made up just a small part of his game this season, as he's attacked the basket very infrequently, getting to the line and getting shots in the lane at a poor rate. He averages just 1.7 free throws compared to 7.9 field goal attempts per game, and according to Synergy Sports Technology, in the half-court setting he's attempted 95 jumpers compared to 30 shots around the basket.

Overall, he's converting just 39% of his 2-point attempts, which would be the lowest percentage of any player drafted in the last ten years, if he indeed decided to enter. Combine that with his paltry 37 free throw attempts in 22 games, and it's no surprise why Selby ranks as the least efficient scorer amongst players in our top-100 prospects ranking.

Selby's ability to create in isolation settings isn't something that has fully translated to the college level in the halfcourt, as he seems to have had some trouble adapting to the tougher defense, struggling with turnovers and not getting past his man as frequently as he was used to in high school. He's prone to committing offensive fouls by pushing off on spin moves and commonly loses control of the ball in not-so-difficult situations, something that's been exacerbated late in the season with his foot problems. His prolonged absence to start the year combined with the very short leash Bill Self has him on surely isn't helping matters, but it's clear that he hasn't been able to translate his scoring prowess at the high school level the way many expected him to.

As a shooter, Selby's done a solid job contributing for the Jayhawks, shooting a solid 36.9% on 3.8 three-point attempts per game, showing decent but occasionally sloppy mechanics and a great ability to put the ball in the basket. He's doing most of his work here spotting up, however, taking very few jumpers off the dribble and having less freedom to go out and create his own shot like he was known for the past.

Quite clearly a shooting guard and not even a combo guard at 6'2, Selby shows very little in terms of point guard abilities, almost always looking for his own shot except for rare spurts where he'll try and set up others off pick-and-rolls. His vision is actually solid when he's looking to use it, but shows very little in terms of instincts and accordingly hasn't been put in a position to run Kansas' offense for any noticeable stretches to help improve in this area.

Defensively, Selby is very aggressive both on and off the ball, showing a strong stance, active hands, and solid fundamentals. He sticks with his man diligently off the ball, keeping his eyes on his ball and the man at all times, while doing a solid job in the passing lanes in spite of his underwhelming length. On the ball, he's prone to being beat by quick first steps due to how far he plays up on his man, but shows good speed when in stride and does a good job getting his hands up to contest shots in the lane. He doesn't see many perimeter shots against him in isolation due to how aggressively he blankets his man.

Looking forward, Selby's play has fallen off heavily at the most critical time of the season, precisely when the greatest amount of NBA decision makers have been out to evaluate him. Missing the preseason, and injury problems definitely haven't helped matters, but many of his issues appear to be more deeply-ingrained, as he's had trouble consistently adjusting to this level of play. Going to a program (such as Tennessee, where he originally committed) that could have allowed him greater freedom to handle the ball and play the type of basketball he's accustomed surely would have helped ease the transition, as his situation at Kansas clearly isn't ideal.

A strong tournament performance could certainly help Selby's stock, but given the various issues he's had this season, he'll probably be best served coming back to school next year, where he should have a better chance to show off his various tools and solidify himself as a high draft pick.

[Read Full Article]

---
adidas Nations Player Profile: Josh Selby
August 29, 2010
[center[/center]Video film and production courtesy of Tad Hathaway of 312 Media

[Read Full Article]

---
2010 McDonald's High School All-American Dunk Contest Videos
April 2, 2010
It was Selby's turn after that, and he started by lobbing the ball from behind the free throw line and then catching it for a 360 two-handed slam, earning him a 63.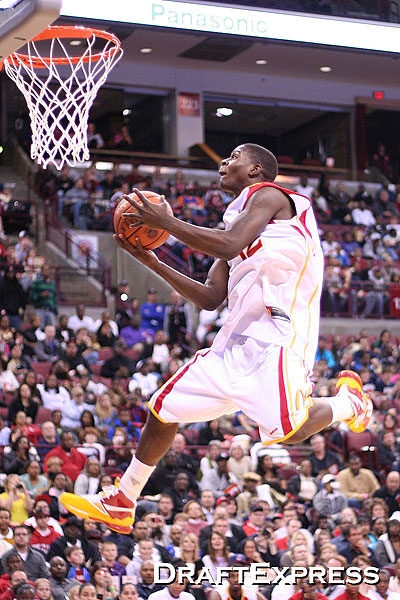 Jim Hlavac, DraftExpress



For his second dunk, Selby again bounced the ball off the floor, but this time opted to finish with the windmill, good for a 62 score.





[Read Full Article]

---
Boost Mobile Elite 24 Player Scouting Reports
August 29, 2009
Fresh off decommitting from Tennessee just a few weeks back, we made it a point to go out and take another look at Josh Selby (#10 Scout, #4 Rivals, #8 ESPN) in both Las Vegas and at the Elite 24 scrimmage. Our impressions were mostly in line with the last time we saw him much earlier in the year.

Selby is a scoring machine of a combo guard—think of a cross between Eric Gordon and Jerryd Bayless-- showing a narrow frame and somewhat short arms, but making up for it with tremendous athleticism and scoring instincts. He is about as intense a player as you'll find on the offensive end, showing an insatiable hunger for putting the ball in the basket. He is a terrific slasher and shot-creator, possessing terrific speed in the open floor and excellent leaping ability, as well as great body control and the ability to change speeds and directions on the fly.

He can create his own shot at a very high level, and does a great job creating separation from his defender with his excellent pull-up jumper, also showing 3-point range on his shot. His mid-range game is extremely advanced for his age, and is indeed one of his best attributes. He creates and makes tough shots off the dribble with the greatest of ease, and also has a very nice floater in his arsenal he likes to go to if he can't just cram a dunk down the throat of his defender. He even showed a little bit of a post-up game, just further emphasizing his versatility as a scorer.

Selby is a tough guy who doesn't take no for an answer, playing the game with a chip on his shoulder, as if he has something to prove every time he steps on the court. While that is a great quality to have, it also gets him into trouble at times, as he tends to play by himself far more often than you'd like. Selby tends to run into brick walls fairly regularly, being somewhat turnover prone and at times looking downright selfish. While billed as a point guard by most of the scouting services at this stage, he is clearly far more comfortable looking for his own shot than running a team, and probably would be better served playing off the ball at the college level if winning games is what his coaching staff is most interested in.

Selby can drive and dish and shows some raw ability to find teammates with nifty passes, but that's obviously not what he's most interested in doing. He shows questionable body language and distinct immaturity at times when he goes a possession or two without touching the ball, something that many have raised question marks about, as he's a fairly emotional guy and may be a little rough around the edges. That's the kind of stuff you may be able to live with considering how talented a scorer Selby is, but is something to look out for moving forward.

Selby was initially committed to Bruce Pearl at Tennessee, but decided to reopen up his recruitment shortly after the LeBron James Skills Academy. He claims to be wide open at this point, with schools like Kentucky, Louisville and UConn rumored to be some of his most noteworthy suitors.

[Read Full Article]

---
HoopHall Classic Scouting Reports, Part Three
January 23, 2009
One of the more impressive players here this weekend, Josh Selby (#10 Scout, #7 Rivals, #17 ESPN) put up a great stat line with 28 points on 12-for-15 shooting while also pulling in 6 rebounds and only making 1 turnover. The 6'2 shooting guard is extremely athletic with a strong frame and pretty good length.

Selby does most of his damage attacking the basket, where he is incredibly tough to stop. He uses his first step and ball-handling abilities to get past his man, but is at his best once he gets into the lane, where he exhibits great body control and creativity, scoring in a variety of ways. In his one game here alone, he scored with his left and right hand, off the glass, using reverses, through contact, with finger rolls, and even by throwing down a dunk off an athletic put-back.

Selby scored equally well in the half-court and in transition, while also dishing out a few nice passes on the break. He didn't show much of a point guard game here at all, however, playing a lot of time off the ball and usually only looking for his own offense when he did get the ball. It'll be interesting to see if he shows any point guard skills at Tennessee, but he should be able to secure minutes and produce as a scorer regardless.

Selby didn't make much use of his jump shot here, only shooting the ball 2 or 3 times on the game, and when he did he didn't have good results. His form looks solid enough, though he didn't seem to have proper balance on most of his attempts. Working on this aspect of his game should be a priority.

Defensively, Selby shows a good stance and is fairly active, making use of his good physical tools. Selby obviously has a terrific combination of athleticism and scoring instincts, and there is no question that he has all the makings of a superb college scorer very early on at Tennessee. If he develops a steady jumper and also shows some resemblance of playmaking ability, he looks like someone that could really become a top-notch prospect.

[Read Full Article]

---