Justin Holiday
Recent Tweets
All Tweets
DraftExpress: Interview and workout footage w/ Marcus Morris and Justin Holiday from their training facility in Los Angeles - http://bit.ly/kCeXxm
2011-06-20 01:54:57
DraftExpress: 2nd group scheduled for Minnesota workout today: Dogus Balbay, Diante Garrett, Justin Holiday, Jereme Richmond, Matt Howard & Keith Benson
2011-05-23 11:31:23
DraftExpress: Minnesota Group Workout, Wings: Marshon Brooks, Jereme Richmond, Travis Leslie, Tyler Honeycutt, Justin Holiday, Chandler Parsons
2011-05-17 11:21:11
DraftExpress: DraftExpress: Finding a Niche for Justin Holiday http://bit.ly/kmADqy Video breakdown/scouting report by @SebastianPruiti & @TheHoopsJunkie
2011-05-11 05:32:42
DraftExpress: Back at #PIT after quick stopover at #EYBL. Watching Justin Holiday's last outing. Doesn't seem to be his week. Not a great setting for him.
2011-04-09 01:08:21
Team: NON-NBA College Team: Hawks
Physicals
Positions
Rankings
Salary
Misc
H: 6' 7"
W: 177 lbs
Bday: 04/05/1989
(26 Years Old)

Current: SG/SF
NBA: SG/SF
Possible: SG/SF

RSCI: 108

Agent: Tony Dutt
Current Salary:$816,482

High School: Campbell Hall
Hometown: Chatsworth, CA

Predraft Measurements
| Year | Source | Height w/o Shoes | Height w/shoes | Weight | Wingspan | Standing Reach | Body Fat | No Step Vert | Max Vert |
| --- | --- | --- | --- | --- | --- | --- | --- | --- | --- |
| 2011 | Nets Workout | 6' 5.5" | 6' 7" | 177 | 7' 0.5" | 8' 9.5" | 3.8 | 28.5 | 36.5 |
| 2011 | Portsmouth | 6' 5.25" | NA | 178 | 7' 0" | 8' 8.25" | NA | 30.0 | NA |



Basic Per Game Statistics

- Comprehensive Stats - Statistical Top 25s
| Year | League | Name | GP | Min | Pts | FG | FGA | FG% | 2Pt | 2PtA | 2P% | 3Pt | 3PtA | 3P% | FTM | FTA | FT% | Off | Def | TOT | Asts | Stls | Blks | TOs | PFs |
| --- | --- | --- | --- | --- | --- | --- | --- | --- | --- | --- | --- | --- | --- | --- | --- | --- | --- | --- | --- | --- | --- | --- | --- | --- | --- |
| 2015/16 | NBA | Justin Holiday | 14 | 13.5 | 3.8 | 1.5 | 3.9 | 38.2 | 0.8 | 1.6 | 50.0 | 0.7 | 2.4 | 30.3 | 0.1 | 0.1 | 50.0 | 0.2 | 1.1 | 1.4 | 0.6 | 0.6 | 0.3 | 0.6 | 0.9 |

Player Page&nbsp&nbsp| Player Stats | Mock Draft History | Related Articles&nbsp&nbsp| Add to My Draft Express&nbsp
&nbsp
Marcus Morris/Justin Holiday Interview and Workout Footage
June 20, 2011
[Read Full Article]

---
Finding a Niche for: Justin Holiday
May 10, 2011
Scouting report by Walker Beeken, Video breakdown by Sebastian Pruiti

After playing a minimal role offensively in his first three seasons at Washington, Justin Holiday got off to a great start in his senior season, scoring at a higher rate and shooting with better accuracy from 3-point range than ever before. His newfound shooting touch was a great compliment to his outstanding defensive abilities and feel for the game, which put him on the radar of NBA scouts and got them wondering if he could become a potential role player on the wing at the next level. Being the brother of Philadelphia 76ers star point guard Jrue Holiday didn't hurt the intrigue either.

Holiday was not a threat from 3-point range at all during his first two seasons at Washington (he went 1-9 in the two seasons combined), and made only 10 of 30 attempts his junior season, so his early success shooting the deep ball was a pleasant surprise.

Holiday's accuracy from the perimeter plummeted, however, as the Huskies got into the latter part of the season. After shooting a solid 40% from behind the 3-point line through February, Holiday finished the season making just 1 of 16 from 3-point range over his last seven games, which brought him down to 36% for the season.

His ability to knock down perimeter shots with his feet set on a consistent basis will likely be a big factor in whether or not he's able to land a spot on an NBA roster, since he's very limited as a scorer otherwise. He'll undoubtedly be working hard on this aspect of his game up until draft day as he'll need to convince NBA decision-makers in his workouts that his early season shooting was no fluke. He's obviously put some work in to make the progress he has over the last few years, so it wouldn't be a surprise to see him continue to improve.

Washington played at the fastest pace in the Pac-10 and was 8th in the nation in offensive efficiency, according to KenPom.com, playing a wide-open style that suited Holiday's strengths very well. He was very effective in transition, showing that he's capable of leading the break, running to the arc for an open 3-pointer, or filling the lanes to finish at the rim.

With Isaiah Thomas acting as the team's primary ball-handler and creator in the half-court, Holiday was asked primarily to spot-up for open catch-and-shoot opportunities (37% of his offensive possessions this season were spot-up) and get baskets by cutting to open spaces and grabbing offensive rebounds, utilizing his athleticism, length, and energy. He also showed a nice feel for the game and good passing instincts, playing unselfishly and not hesitating to make the easy pass to the open man, or thread the needle to a teammate.

He is limited as a shot-creator, though, and only scored 13.7 points per forty minutes pace adjusted this season, which ranked him towards the bottom of all shooting guard prospects in our database. He has a bit of a high dribble and lacks the smoothness and polish with his moves off the bounce, but he did show flashes of potential in his ability to get to the basket or pull up and knock down mid-range jumpers, as he does have a pretty quick first step and rangy strides. He actually shot 50% on off-the-dribble jumpers this season, albeit in a small sample size, and converted on 55% of his overall 2-point attempts, displaying his efficiency inside the arc.

The Huskies were deep at the wing positions this season, however, with talented freshmen C.J. Wilcox and Terrence Ross both showing improvement throughout the course of the season and cutting into Holiday's role a bit as the season went on and his shooting went cold.


---
Justin Holiday (#22) Strengths/Weaknesses Video
Watch in full screen mode by clicking button in upper right hand corner of video
---



More DraftExpress Video Breakdowns:


-Tristan Thompson
-Brandon Knight
-Terrence Jones
-Alec Burks
-Derrick Williams
-Jimmer Fredette
-Kenneth Faried
-Harrison Barnes
-Marcus Morris
-Perry Jones
-Kawhi Leonard
-Brandon Knight
-Tristan Thompson


---


When projecting Holiday to the NBA level, part of his appeal is that he wouldn't need to make many adjustments to the way he plays in order to fill a role. Having been a lower usage player at the college level, his mindset wouldn't have to change as much as the many players who transition from being a primary scorer in college to a role player in the NBA.

He could fit nicely as a bench player who could come in and play either wing spot alongside a shot-creating wing or point guard, and be a fourth or fifth option type of player offensively, if he's able to consistently knock down perimeter jump shots and spread the floor. Being on a team that likes to play at a faster tempo would also play more to his strengths, as any opportunity for him to utilize his length and athleticism would be a bonus.

Most importantly, Holiday will be coveted by teams for his abilities on the defensive end, where he looks to have great potential as a wing defender who could cover shooting guards and most small forwards. He has nice size at 6'6" and excellent length with a 7'0" wingspan, to go along with very good athleticism.

He does have a very thin frame and needs to get stronger, as there could be a concern with how he'd fare against bigger, stronger wing players in the NBA, but he looks to be a tough, smart competitor defensively and has a real chance to be an impact player on that end of the floor, guarding the ball and getting out and being disruptive in the passing lanes.

Holiday had an opportunity to play in front of a number of scouts at Portsmouth last month but failed to impress, as he shot the ball poorly and did little to distinguish himself. That setting may not have been as conducive for him to show his strengths, though, as he's better playing within himself and playing low mistake basketball offensively, rather than trying to press and make plays or shots that he's not used to making. The fact that he was placed on a team with a number of shot-happy combo guards who were clearly looking to show off their scoring prowess obviously did not help him, which is a shame considering he was one of the top prospects at the event—which many others elected to dodge.

Going forward in the pre-draft process, Holiday will draw plenty of interest from NBA teams looking for a potential defensive stopper on the wing to round out their roster. While his offensive game is limited, and he won't be a fit for every team, if he can prove in workouts that he can be a top notch defender who can continue to add polish to his overall game and consistently make NBA 3-pointers, he'll have a good chance to get drafted next month, or at least play his way onto a roster before next season.

[Read Full Article]

---
Trending Prospects (12/9/2010)
December 9, 2010
Kyle Nelson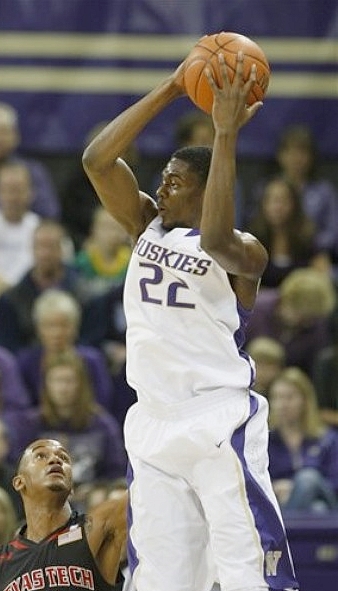 AP



It seems as though Washington senior Justin Holiday is finally living up to his potential. After three largely-unimpressive years and a solid 2010 postseason, Holiday was, at best known as either a defensive role player or Jrue Holiday's brother.

Things have changed, however. This season, he has increased his visibility with inspired and efficient play on both sides of the ball. Furthermore, eight games into the season and after good performances against Kentucky and Michigan State, he seems to be justifying the buzz building amongst scouts and fans alike.

Holiday has good size for the wing position at 6'6 with a long and wiry 180-pound frame. While he must continue to get stronger, Holiday is an impressive athlete, quick, fluid, explosive, and extremely effective in transition settings.

On the offensive end, Holiday has improved considerably since last season and, though he is still limited, he has an expanding arsenal of scoring tools. He is averaging a solid 17.9 points per 40 minutes pace adjusted, nearly twice as much scoring output as last season, doing so on 54.5% shooting. Clearly we're still at an early juncture of the NCAA season, but Holiday is definitely not the same player he was last year.

Most notably, Holiday has emerged as a legitimate perimeter threat, currently converting a blistering 53.8% of his attempts. His mechanics are solid and consistent and, though his release could be quicker, he has a high point of release. He shows proficiency in catch-and-shoot possessions, particularly when he spots up and knocks down perimeter jump shots from either corner.

While Holiday has improved as a ball handler, he is still limited in this area and far from being a threat in isolation sets. He does show potential as a slasher, however, given his quick first step and explosiveness around the basket. He has also looked more comfortable pulling up off of the dribble from mid-range on rare occasions.

With that said, Holiday isn't likely to develop into a consistent shot creator at the pro level, as his ball-handling skills remain crude and he simply doesn't display a great comfort level shouldering a heavy offensive load. He is, however, a solid offensive player who plays within his abilities and rarely makes bad decisions, which, along with his shooting ability, situates him well to fill a complimentary role at the next level.

Holiday has lived up to his billing as a defensive specialist at the collegiate level this season, faring very well in high profile match ups against Kentucky's Terrence Jones and Michigan State's Durrell Summers. With added strength, his length, lateral quickness, quick hands and energy level could allow him to develop into an elite perimeter defender down the road. He is a smart player as well, and more than makes up for his lack of bulk with his intelligence and toughness. That said, his body will need to fill out before he reaches his full potential on this end of the floor.

While Holiday's senior campaign has been equally productive and revealing from a scouting perspective, consistency is the key—as we're only eight games into the year right now. If he can sustain his energy level, offensive efficiency, and defensive prowess, Holiday could definitely emerge as a sleeper prospect in the 2011 NBA Draft.

[Read Full Article]

---
Bloodlines Run Strong at Timberwolves Shootout
January 7, 2007
The 6'6 Justin, older than his brother by a year and committed to Washington, is a surprisingly different player. Where Holiday could emerge as an elite combo guard at the NBA level, Justin is your classic skywalking slasher. He won't be creating his own shot off the dribble any time soon, but is an outstanding slasher, finishes well at the rim, and is a threat as a spot up shooter. As he gets stronger, the older Holiday will provide plenty of highlight reel fodder in the post-Quincy Pondexter era at Washington.

[Read Full Article]

---