Keith Appling
Recent Tweets
All Tweets
DraftExpress: Top NBA Prospects in the Big Ten, #6-10: http://t.co/tLQzt5Uq - Trevor Mbakwe, Adreian Payne, Brandon Paul, Keith Appling, Christian Watford
2012-09-11 09:41:07
DraftExpress: DX: Top NBA Prospects in the Big Ten, Part 3 http://t.co/Tqf28V3 Tim Hardaway Jr, Aaron Craft, Keith Appling, Adreian Payne, Melsahn Basabe
2011-09-12 01:37:23
DraftExpress: Keith Appling (Michigan St), Melsahn Basabe (Iowa), Bradley Beal (Florida), James Bell (Villanova), Anthony Brown (Stanford), Trevor Cooney
2011-05-12 12:08:45
Team: Michigan State, Junior
Physicals
Positions
Rankings
Misc
H: 6' 2"
W: 170 lbs
Bday: 02/13/1992
(21 Years Old)

Current: PG
NBA: PG
Possible: PG

Pick: 58 in 2014 Mock Draft
Rank 50 in NCAA Juniors
RSCI: 36

High School: Pershing
Hometown: Detroit, MI




Basic Per Game Statistics

- Comprehensive Stats - Statistical Top 25s
| Year | League | Name | GP | Min | Pts | FG | FGA | FG% | 2Pt | 2PtA | 2P% | 3Pt | 3PtA | 3P% | FTM | FTA | FT% | Off | Def | TOT | Asts | Stls | Blks | TOs | PFs |
| --- | --- | --- | --- | --- | --- | --- | --- | --- | --- | --- | --- | --- | --- | --- | --- | --- | --- | --- | --- | --- | --- | --- | --- | --- | --- |
| 2012/13 | NCAA | Keith Appling | 35 | 33.7 | 13.0 | 4.3 | 10.5 | 40.6 | 3.1 | 6.9 | 45.6 | 1.1 | 3.6 | 31.0 | 3.4 | 4.6 | 74.4 | 0.4 | 3.0 | 3.4 | 3.3 | 1.3 | 0.6 | 2.3 | 2.4 |

Player Page&nbsp&nbsp| Player Stats | Mock Draft History | Related Articles&nbsp&nbsp| Add to My Draft Express&nbsp
&nbsp
Top NBA Draft Prospects in the Big Ten, Part Three (#6-10)
September 11, 2012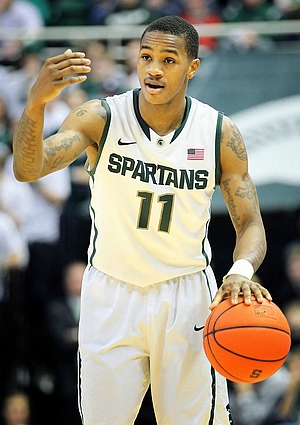 US Presswire



Jonathan Givony

After seeing his role for Michigan State's increase with the departure of Kalin Lucas between his freshman and sophomore seasons, Keith Appling will be expected to take on even more responsibilities as a junior now that half-court offensive facilitator Draymond Green is off to the pro ranks as well.

Showing a solid, but not overwhelming physical profile in terms of size, strength and athleticism, Appling is a role-playing guard who does what he's asked to offensively and is probably best known for his work on the defensive side of the ball.

Appling saw the biggest share of his offensive possessions come in transition situations last year, which is a solid indication of the role he played in Tom Izzo's disciplined offense. Seeing minutes at both guard spots, Appling typically brings the ball up the floor and then dumps it off to one of his teammates (usually Draymond Green) in the half-court, although he will sometimes get it back late in the shot-clock to create in pick and roll situations.

An unselfish guard with a team-first mentality, Appling does a very good job pushing the ball in the open court and finding teammates in drive and dish situations. In the half-court, Appling is still finding his way as a consistently effective shot-creator, especially in one on one situations, something that will be interesting to keep track of this season as his offensive responsibilities inevitably increase. He struggled with his decision making in the half-court at times last season, particularly under pressure, rendering him somewhat turnover prone.

Where Appling will have to improve the most is as an outside shooter, as he made just 28% of the 130 jumpers he attempted last season. Sporting, long, slow, deliberate shooting mechanics with both his feet set and off the dribble, opposing teams have no issues sagging off him and forcing him to beat them outside.

Appling's biggest calling card as a NBA prospect lies in his play on the defensive side of the ball. Although not incredibly big or strong, he's a tough, intense and extremely competitive guard, highly attentive and capable of putting excellent pressure on the ball. Michigan State was the third best defensive team in college basketball last season, and Appling played no small part in that.

Appling's development as an offensive player over the next two seasons will likely play a key role in how he's viewed from a NBA standpoint. If he can improve his outside shooting and show that he can be called upon to create offense reliably off the dribble, he'll be in good shape to carve out a career for himself at the professional level. He has all the makings of a very solid NBA backup point guard, provided he can continue to iron out the wrinkles in his offensive game.

[Read Full Article]

---
Top NBA Draft Prospects in the Big Ten, Part Three (#11-15)
September 12, 2011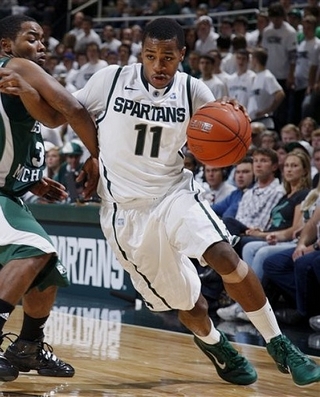 AP



Joseph Treutlein

Keith Appling had a solid debut season for Michigan State, showing a nice package of athleticism and shooting ability. With backcourt teammates Kalin Lucas and Durrell Summers both graduated and no longer on campus, Appling should have immense opportunities to expand his role as a sophomore, as someone will have to account for their missing 62.7 minutes and 23.9 field goal attempts per game.

Standing 6'2 with a nice wingspan and very good quickness, Appling has good size for a point guard but is slightly below average for a combo guard. Billed as primarily a slashing combo guard in high school, Appling made some significant adjustments to his role in East Lansing, where he settled in as a pure shooting guard specializing in three-point shooting. 95 of his 165 field goal attempts on the season came from behind the arc, and plenty more came from shooting mid-range jumpers. He rarely took the ball to the basket in half court settings.

As a shooter, Appling has an exceptionally high and very quick release, showing very good mechanics when he has time to set his feet and get on balance, and acceptable mechanics when shooting on the move. He has no problem putting the ball in the air with a hand in his face and does an excellent job gravitating to open areas behind the arc where he sets up to catch and shoot. Appling hit 41.1% of his threes (and 89.5% of his free throws), establishing himself as a very effective spot-up shooter early in his career, which gives him a nice foundation to build upon.

Looking at the rest of his individual offense, Appling was very limited as a freshman, which can likely be partially attributed to his role and partially to the rawness of this area of his game. Appling rarely puts the ball on the floor going to the basket, and when he does it's usually on a catch-and-drive as opposed to a pure isolation situation. Appling actually shows a nice first step and surprisingly goes left more than right with the ball despite being right-handed, being effective in carefully picking his spots.

His ball-handling is controlled but limited, not showing much in terms of advanced handling, and finding himself in trouble when he finds himself in tight spaces. At the basket, Appling doesn't show a propensity for high-rising elevation, but does a decent job finishing around the rim thanks to solid body control, creativity, and hints of ambidexterity on lay-ups.

In terms of point guard skills, there is really very little that can be taken from Appling's freshman season. He occasionally finds himself in the facilitator role on offense, dribbling the ball at the top of the key and making entry passes into the offensive system, but nothing in terms of driving and dishing or directly creating for others. He does a decent job on entry passes and basic flow-of-the-offense passing, showing adequate vision on the few opportunities he has to use it.

With Summers and Lucas both off the team (and fellow backcourt teammate Korie Lucious also transferring to Iowa State), there will be a massive number of minutes, possessions, and offensive responsibilities for Appling to seize. If he's capable of much more offensively beyond the limited role he played last season, it will be apparent very early in the season.

On the defensive end, Appling is impressive in both man and team defense, using his ample length and motor to play a very pesky style of defense, getting right up into his man on most possessions. He shows good lateral quickness despite a relatively high center of gravity and somewhat awkward stance, while also doing a good job to contest shots and recover from behind when he is beat. Appling's size will likely be his biggest weakness on this end of the court if he can't develop into more of a point guard, as he's clearly undersized for defending 2's and doesn't even have ideal size for a combo guard.

Looking forward, Appling had a nice introduction to the college scene as a freshman, but will likely be asked to do much more as a sophomore, and it will be interesting to see how he responds. Appling clearly brings a nice set of physical tools and shooting ability to the table as a college player, but he's disadvantaged at his size from an NBA perspective if he can't develop into more of a point guard. Still, being a quick, sharpshooting, defensive-oriented guard is a nice foundation to build upon, and Appling should have every opportunity to mature his game this season.

[Read Full Article]

---
Mcdonald's All-American Week Player Evaluations and Interviews
April 5, 2010
One of the lesser heralded prospects at this event, Michigan State commit Keith Appling didn't back down from anyone and did a nice job of acquainting himself with those who were previously not familiar with him.


Jim Hlavac / DraftExpress



A tough and speedy combo guard, Appling is a shot-creator who likes to take the ball strong to the basket, and isn't afraid to draw contact in the process. His perimeter stroke looked somewhat shaky here in Columbus, and he really didn't show much in the ways of playmaking ability, looking much more like a shooting guard than a point despite his small stature. His shot-selection and decision making were somewhat average as well, which isn't really a surprise considering his profile and the stage of development he's currently at. Defensively Appling plays hard and is very pesky guy, something his future coach Tom Izzo surely will appreciate, as he did a good job getting right into his matchup. He has all the makings of a Michigan State player and will surely fit in very well in East Lansing, although his NBA upside is obviously not as high as some of his counterparts in this class.

[Read Full Article]

---