Keith Benson
Recent Tweets
All Tweets
DraftExpress: 2nd group scheduled for Minnesota workout today: Dogus Balbay, Diante Garrett, Justin Holiday, Jereme Richmond, Matt Howard & Keith Benson
2011-05-23 11:31:23
DraftExpress: Video interviews from the NBA Combine w/ Jeremy Tyler, Michael Dunigan, Keith Benson & Jordan Williams http://bit.ly/jW6SqC
2011-05-22 07:13:10
DraftExpress: Minnesota Group Workout, Bigs: Keith Benson, Michael Dunigan, Jordan Williams, Markieff Morris, JaJuan Johnson, Jamie Skeen, Nikola Vucevic
2011-05-17 11:21:47
DraftExpress: Best names confirmed so far at the Minnesota group workout: Travis Leslie, JaJuan Johnson, Reggie Jackson, Jereme Richmond, Keith Benson
2011-05-16 11:17:02
DraftExpress: Cut him some slack people. If Keith Benson were a monster rebounder/defender AND could score like that, he'd be the #1 pick, no question.
2011-03-18 12:59:33
Top 25s - Full List
Team: Sioux Falls
Physicals
Positions
Salary
Misc
H: 6' 11"
W: 217 lbs
Bday: 08/13/1988
(27 Years Old)

Current: PF/C
NBA: PF/C
Possible: PF/C

Agent: Michael Silverman

High School: Detroit Country Day
Hometown: Cleveland, OH
Drafted: Pick 48 in 2011 by Hawks

Predraft Measurements
| Year | Source | Height w/o Shoes | Height w/shoes | Weight | Wingspan | Standing Reach | Body Fat | No Step Vert | Max Vert |
| --- | --- | --- | --- | --- | --- | --- | --- | --- | --- |
| 2011 | NBA Draft Combine | 6' 10" | 6' 11" | 217 | 7' 3.75" | 9' 1.5" | 6.1 | 31.5 | 36.0 |
| 2009 | Amare Stoudemire Camp | NA | 6' 10.5" | 215 | 7' 4" | NA | NA | NA | NA |



Basic Per Game Statistics

- Comprehensive Stats - Statistical Top 25s
| Year | League | Name | GP | Min | Pts | FG | FGA | FG% | 2Pt | 2PtA | 2P% | 3Pt | 3PtA | 3P% | FTM | FTA | FT% | Off | Def | TOT | Asts | Stls | Blks | TOs | PFs |
| --- | --- | --- | --- | --- | --- | --- | --- | --- | --- | --- | --- | --- | --- | --- | --- | --- | --- | --- | --- | --- | --- | --- | --- | --- | --- |
| 2015/16 | DLEAGUE | Keith Benson | 6 | 22.0 | 12.7 | 5.0 | 9.3 | 53.6 | 5.0 | 9.2 | 54.5 | 0.0 | 0.2 | 0.0 | 2.7 | 4.3 | 61.5 | 2.8 | 4.5 | 7.3 | 0.2 | 0.3 | 1.2 | 1.2 | 2.3 |

Player Page&nbsp&nbsp| Player Stats | Mock Draft History | Related Articles&nbsp&nbsp| Add to My Draft Express&nbsp
&nbsp
NBA Combine Interviews: Jeremy Tyler, Dunigan, Benson, Williams
May 22, 2011
[Read Full Article]

---
Analyzing the 2011 NBA Combine Measurements
May 21, 2011
Keith Benson, who at 6-10 without shoes with a near 7-4 wingspan, 9-1 1/2 standing reach and massive hands is everything the NBA dreams of in a big man prospect. Benson needs to add a good 20 pounds to his lanky 217 pound frame, but has a nice build that should fill out in time, especially considering his late bloomer status.

[Read Full Article]

---
Trending Prospects (12/30/2010)
December 30, 2010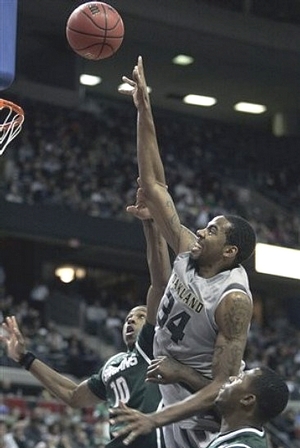 AP



Matt Kamalsky

A player we covered in-depth on multiple occasions during his redshirt junior season, Keith Benson declared and subsequently withdrew from the NBA draft last summer.

An intriguing talent with NBA size, Benson has gotten off to a fine start in his final season with the Golden Grizzlies. Facing an intimidating non-conference schedule, Benson has struggled through some bouts of inconsistency, but has continued to produce at a high level up to this point. An exceptionally gifted center, Benson is a few subtle changes away from becoming a very interesting NBA prospect.

The majority of those changes revolve around the tools he'll need to develop to translate his game to the next level. Benson has developed an impressive skill level considering how raw he was early in his career, and is averaging an impressive double-double. Still, he often leaves you feeling like he could be capable of more.

The biggest challenges the Detroit Country Day product faces in legitimizing his NBA stock and maximizing his potential value is his lack of grit and physical strength. He has exceptional size, great fluidity, good mobility, and a terrific wingspan for a potential NBA big, but lacks the type of lower body strength that would give him the ability to prevent stronger NBA big men from backing him down in the post and the polish to get by on his skill-level alone.

More of a finesse player who makes an impact with great timing and touch, Benson is not quite the banger or high energy hustle player that he will be pitted against and asked to be at the next level. He rebounds the ball at a solid rate thanks to his exceptional length and solid athleticism, but isn't one to aggressively track the ball in traffic or go outside of his area to recover a miss.

Some of that certainly has to do with his lack of strength, and if he can add 15 pounds of solid muscle to his frame he'll be all the better for it, but it would benefit him to become more of a lunch-pail-type presence on the glass and defensive end of the floor. If he can refine his physique and show a better motor, he will have no problem carving out a niche for himself in the NBA.

Benson's ability to add weight and become an interior force is important, as he isn't a strong candidate to be a high usage player due to his inconsistency, lack of a go-to-move, and average decision-making skills. However, he flashes glimpses of some extremely interesting tools offensively, including a hook shot with his off-hand, the ability to use the glass, and a knack for finishing short-range looks. With almost half of his touches coming in the post, Benson has very nice footwork and phenomenal touch, but he'll need to add weight to help himself establish position on the block in the pro-game.

Away from the rim, Benson may have some potential as pick and pop option. He's only made 7 of his 25 jumpers this season according to Synergy Sports Technology and has a less than consistent release point on his shot, but his touch seems to indicate that with time and practice, he could emerge as a threat to score from the midrange. On the whole, Benson's ability to refine a couple of areas of his offensive game will be a big step towards defining the role he's able to play in the NBA.

Defensively, Benson makes a tremendous impact at the college level with his length and shot-blocking instincts, but has some work to do to improve his NBA projections. While he doesn't hold his ground very well when getting backed down, he does an awesome job of staying on his feet and contesting shots when his man makes a move. As we noted last season, Benson is not assertive defensively, some of which can be attributed to his desire to stay out of foul trouble. He'll need to add muscle to his frame (particularly his lower body) and be more willing to initiate contact if he wants to be able to defend the center position on the next level, an important step considering he doesn't have the lateral quickness or fundamentals to step out and defend power forwards on the perimeter effectively.

Unlike the average 22-year old senior, Keith Benson has quite a bit of upside considering that many of his weaknesses are reparable. He's going to dominate the Summit League and flash some impressive NBA tools along the way, but he'll need to be more consistent, show greater intensity on both ends, add some weight to his frame, and continue refining his game to make himself a more attractive draft prospect. If he can make the necessary adjustments, Benson could be a name worth watching in March and heading into workout season.

[Read Full Article]

---
NCAA Weekly Performers, 2/3/10
February 3, 2010
Joey Whelan

When we included Keith Benson in our list of top NBA prospects from non-BCS conferences back in November, it was with both great intrigue and caution. The Oakland junior is a tantalizing combination of size, length and athleticism, but is sorely lacking in the physical strength necessary for him to utilize his natural talents. Nearly three months after we first examined his game, very little of our initial assessment of Benson has changed now well into the second half of the regular season.

While there is no doubt his near 7-foot frame and good athleticism are keeping his name familiar to pro scouts, Bensonís lack of bulk and strength are hindering him a great deal, even against collegiate competition. He continues to score at a nice rate, with the bulk of his shot attempts once again coming in the post, but his field goal percentage has taken a noticeable dive from over 62% last season to 53% this year, while taking 2.5 more shots per game than he did as a sophomore.

Weíve praised the big man in the past for his solid footwork in the post, something he continues to display regularly, but this skill is often rendered useless given the soft nature that Benson operates on the block. He continues to display a soft touch and the ability to finish with either hand, but had a noticeably harder time scoring with his back to the basket when facing elite frontcourt players.

In matchups with Kansas and Michigan State earlier in the season, Benson managed to post lines of 20 points, 6 rebounds and 21 points, 11 rebounds respectively, but did so while scoring away from the block, and his team was defeated by a combined 61 points between the two. He has drawn attention for his ability to step away from the basket and connect with consistency from as far as 15 feet, which he was able to do against slower big men such as the Jayhawkís Cole Aldrich.

Often though, when faced with stronger defenders, Benson has no choice but to face up because he is unable to prevent himself from being forced away from the lane. Working on his jumper has definitely been a priority for the junior, as he has seen a nearly 10 percent increase in his free throw shooting this season and is showing a greater comfort level facing up and firing from mid-range.

Benson continues to be a relatively productive rebounder, seeing his per-40 numbers increase for the second straight year, primarily thanks to his work on the defensive glass. Obviously his length and athleticism serve him very well here against college sized big men, but for all of the effort that he shows in this particular facet of his game, he could be even more of a force on the glass with as little as 10-15 pounds added to his frame. At this point, it is still too easy for opposing bigs to muscle him out of position for rebounds.

Defense continues to be Bensonís kryptonite, as he was very poor at this end of the floor to begin and may have even regressed somewhat this season. He has managed to cut down on the number of fouls he commits, but appears to be giving close to no effort as a defender save for his abilities to provide help side defense with his massive wingspan. He continues to be hampered by his lack of toughness, giving up position inside against average competition, showing poor fundamentals and giving no indication that he can defend at the pro level. Benson has nowhere near the strength or bulk necessary to defend true centers in the NBA, nor does he exhibit the effort or basketball IQ needed to cover power forwards.

The book is still very much out on Benson, but itís safe to say that this hasnít been the breakthrough season some were hoping for going in. We must be patient though, as heís a late bloomer, and gaining weight and strength would allow him to operate more consistently in the post and greatly improve him as a defender. His frame, though it will never be bulky, can certainly add a good amount of weight without losing any of the athleticism that makes it so intriguing.

The decrease in scoring efficiency is cause for concern, even though itís clear at times that heís showing off for the NBA scouts in attendance. It is no doubt going to be an uphill battle for this forward, one predicated largely on his ability to become physically tougher on the defensive end, but as a late bloomer with one year of college left to play, Benson still has time to improve to the point that he hears his name called on draft night in 2011.

[Read Full Article]

---
Top NBA Draft Prospects in the Non-BCS Conferences, Part Four
November 13, 2009
Jonathan Givony

Tucked away in the cozy confines of the Summit League, Oakland big man Keith Benson will vie for national attention in this his redshirt junior season of college basketball. With a schedule that includes the likes of Kansas, Michigan State, Syracuse, Memphis, Wisconsin and Oregon, he should have every opportunity to show that heís a legit NBA prospect.

Bensonís physical attributes are very unique for the conference he plays in, as he stands a legit 6-11, with good length and athleticism. He sports a very narrow frame, particularly in his lower body, but is a springy big man who runs the floor well and looks more than mobile enough to qualify as an intriguing prospect. Physically, think of a cross between Courtney Sims and Hilton Armstrong.

An extremely efficient scorer, Benson ranks 6th amongst all returning prospects in field goal percentage amongst players in our database. He has good hands and is an excellent finisher, showing nice touch, good coordination, and the confidence to make his presence felt in the paint. He can step out to around 15 feet and knock down a mid-range jump-shot, and converts a solid 67% of his free throw attempts, a place he spends quite a bit of time. Benson even shows some solid footwork with his back to the basket, being able to create his own shot from time to time, as long as his lack of strength is not a factor. He does not turn the ball over very often, as he appears to have an above average feel for the game, and clearly has the skill-set to compete at any level of college basketball.

On the downside, Bensonís frame can be a major hindrance already at the college level, as he lacks the bulk to establish and hold great position on the block, particularly against the more physically developed prospects heíll occasionally (but rarely) encounter. He struggles to finish through contact and gets pushed around with relative ease, often being forced to attempt some weak/awkward fade-aways as heís moved outside of his comfort zone. He needs to improve his left hand, but regardless, itís difficult to see his back to the basket game translating that well to an NBA setting, unless heís able to add a significant amount of bulk to his lanky frame.

As a rebounder, Benson is very productive, which is not a surprise considering his physical tools and the level of competition he plays at. He gets the job done on both the offensive and defensive glass, although he could stand to do a better job of boxing out his opponents and fighting for loose balls.

Defensively, Benson canít be described as anything less than poor in everything besides his weak-side shot-blocking ability. He gives up deep position on a regular basis to mediocre opponents, letting them score on him with ease, possibly just trying to stay out of foul trouble. His effort-level and fundamentals appeared to be mediocre in the film we took in, as he seems to lack quite a bit of toughness and hustle on this end of the floor. He does do a good job rotating from the weak-side and blocking shots thanks to his length and athleticism, but itís questionable how much that part of his game will translate to an NBA setting unless heís able to bulk up substantially.

All in all, Benson is an intriguing prospect, as he possesses rare physical tools (size, length, athleticism) for the college level to go along with a solid skill-level on the offensive end. Only being 21 years old, he still has quite a bit of upside to grow into, particularly when you consider that heís a late bloomer who only averaged 7 points per game as a senior in high school. How highly regarded of a NBA draft prospect Benson ends up being when heís done at Oakland will likely come down to how much weight teams think heíll be able to put on over the next few years. He has some very intriguing attributes, but likely wonít be able to translate his game over very effectively against NBA caliber athletes if he canít get considerably stronger. Weíll have to wait and see how things play out.

[Read Full Article]

---