Kemba Walker
Recent Tweets
All Tweets
DraftExpress: NBAers: Brandon Jennings, Kemba Walker, Jordan Hamilton, Tyreke Evans, Derrick Williams on one squad vs top high school kids. #elite24
2011-08-25 12:26:49
DraftExpress: Thanks. RT @Jeffco3: It's on one of the press releases. Kemba Walker, Kevin Love, Brandon Jennings, Tyreke Evans, and John Wall.
2011-08-24 06:27:26
DraftExpress: Right, because Walker didn't produce many wins. RT @brgulker: #WinsProduced disagrees. RT Kemba Walker is a top five player in this draft.
2011-06-23 11:14:10
DraftExpress: NBA Draft Media Day Video Interviews: Derrick Williams, Kemba Walker, Jan Vesely, Markieff Morris: http://t.co/WEvr6Is (more coming later)
2011-06-22 10:15:39
DraftExpress: RT @tomhaberstroh: Is Kemba Walker undersized? Chris Paul, Darren Collison, Jameer Nelson, Kyle Lowry, and Ty Lawson all shorter, NBA st ...
2011-06-22 09:40:42
Top 25s - Full List
Team: Hornets
Physicals
Positions
Rankings
Salary
Misc
H: 6' 1"
W: 184 lbs
Bday: 05/08/1990
(25 Years Old)

Current: PG
NBA: PG
Possible: PG

RSCI: 16

Agent: Jeff Schwartz
Current Salary:$3,272,091

High School: Rice
Hometown: New York, NY
Drafted: Pick 9 in 2011 by Bobcats
Best Case: Ty Lawson
Worst Case: Aaron Brooks

Predraft Measurements
| Year | Source | Height w/o Shoes | Height w/shoes | Weight | Wingspan | Standing Reach | Body Fat | No Step Vert | Max Vert |
| --- | --- | --- | --- | --- | --- | --- | --- | --- | --- |
| 2011 | NBA Draft Combine | 5' 11.5" | 6' 1" | 184 | 6' 3.5" | 7' 7.5" | 5.9 | 32.0 | 39.5 |
| 2011 | Deron Williams Camp | NA | 6' 1" | 179 | 6' 2" | NA | NA | NA | NA |
| 2010 | LeBron James Camp | NA | 6' 1" | 179 | 6' 2" | NA | NA | NA | NA |



Basic Per Game Statistics

- Comprehensive Stats - Statistical Top 25s
| Year | League | Name | GP | Min | Pts | FG | FGA | FG% | 2Pt | 2PtA | 2P% | 3Pt | 3PtA | 3P% | FTM | FTA | FT% | Off | Def | TOT | Asts | Stls | Blks | TOs | PFs |
| --- | --- | --- | --- | --- | --- | --- | --- | --- | --- | --- | --- | --- | --- | --- | --- | --- | --- | --- | --- | --- | --- | --- | --- | --- | --- |
| 2015/16 | NBA | Kemba Walker | 17 | 34.4 | 18.4 | 6.6 | 14.2 | 46.3 | 5.0 | 10.2 | 48.9 | 1.6 | 4.0 | 39.7 | 3.6 | 4.5 | 80.5 | 0.6 | 2.9 | 3.6 | 5.0 | 1.8 | 0.8 | 2.1 | 1.1 |

Player Page&nbsp&nbsp| Player Stats | Mock Draft History | Related Articles&nbsp&nbsp| Add to My Draft Express&nbsp
&nbsp
Media Day Interviews: Williams, Walker, Vesely, Markieff Morris
June 22, 2011
[Read Full Article]

---
Analyzing the NBA Combine Athletic Testing Results
May 27, 2011
Kemba Walker is not only a jet, but he also has huge springs as evidenced by his 39.5 inch vertical. Combine that with his better than expected measurements, and typically outstanding interviews, and Walker had a great weekend for himself in Chicago.

[Read Full Article]

---
Analyzing the 2011 NBA Combine Measurements
May 21, 2011
Kemba Walker's measurements (6-3 ½ wingspan, 184 pounds) don't quite jump off the page. Standing 5-11 ½ without shoes on, he would rank as of the five shortest point guards drafted in the top-15 in our database if current projections hold true. His wingspan is shorter than that of Jonny Flynn (5-11 ¼ without shoes, 6-4 wingspan) and Mike Conley (5-11 ¾ without shoes, 6-5 ¾ wingspan), and T.J. Ford (5-11 without shoes) and D.J. Augustin (5-10 without shoes) are the only players he has a significant height advantage on.

He is however comparable height wise with the likes of Raymond Felton, Chris Paul and Allen Iverson, and bigger than other successful point guards such as Aaron Brooks, Jameer Nelson, Ty Lawson—meaning there is a roadmap in place already for him to make it in the NBA.

Measuring in as the 2nd lightest player in Chicago this season at 184 pounds, Walker showed unique toughness for a player his size while leading Connecticut to a NCAA Championship.

[Read Full Article]

---
NBA Combine Interviews: Kyrie Irving, Kemba Walker, Brandon Knight
May 19, 2011
[Read Full Article]

---
Podcast: Talking NBA Prospects at the NCAA Tournament with SI
March 17, 2011
Will Kemba Walker be an impact player in the NBA? Can teams build around him.

[Read Full Article]

---
NBA Draft Prospect of the Week: Kemba Walker
November 30, 2010
Jonathan Givony

One month into the 2010/2011 season, there isn't a more productive player in all of college basketball than UConn junior Kemba Walker.

The New York City native took the Maui Invitational Tournament by storm last week, helping his team win the event with shocking upsets over the likes of Michigan State and Kentucky. Walker scored 90 points in 99 total minutes to take home MVP honors and officially stake his claim as the top point guard in college basketball. His production speaks for itself right now, as he currently ranks as the No. 1 scorer in the NCAA, and No. 2 in PER.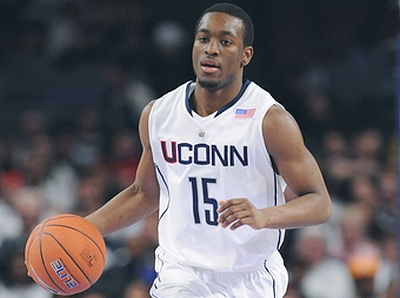 Icon SMI



With the loss of seniors Jerome Dyson, Stanley Robinson, and Gavin Edwards, Walker has nearly doubled his field goal attempts per game, but he has also experienced a remarkable spike in efficiency, making an exceptional 59% of his 2-pointers. That rate – although sure to drop as the season progresses – is impressive, but Walker's perimeter shooting is what has caught our eye the most so far. He's converting 41% of his over six 3-point attempts per game and has been absolutely terrific pulling up off the dribble in the mid-range area (sometimes using the glass) and hitting shots from beyond the arc.

Walker wasn't known as a great shooter coming out of high school, but he has put an unbelievable amount of time into improving his mechanics and increasing his range over the past few years. He's absolutely deadly now – both with his feet set and off the bounce. The fact that he can find the space to get his shot off whenever he pleases makes him that much more difficult to guard, particularly at this level. It's also made his shot fake (a frequent part of his arsenal) more credible, which has, in turn, made him an even more effective threat slashing to the basket.

Walker has always had terrific quickness and ball-handling ability, but it's only this year seemingly that he's really learned to use them at all times. Often quick to defer to teammates in his first two years at UConn Walker is embracing his role as the end-all, be-all offensive catalyst for the Huskies.

It's simply impossible for defenders to stay in front of him – both in transition and in the half-court. His aggressiveness with the ball, ability to change speed and direction instantaneously, and phenomenal body control allow him to knife through defenses effortlessly. He's not afraid to drive full steam into the paint and draw contact at the rim, either. He shows great strength and toughness around the basket and is getting to the free throw line at an exceptional rate.

The Rice High School product was known as an unselfish playmaker earlier in his career. While his stats this season may lead some to the impression that he has gone away from that, his increased production stems from necessity more than anything. UConn cannot survive without Walker scoring in bunches.

Digging deeper into his film, there are still plenty of instances where Walker's outstanding court vision and creative passing shine through. He's capable of threading the needle to teammates rolling to the basket with bullet passes, finding open shooters on the wing, and making fundamentally-sound entry passes into the post for high percentage looks around the rim.

Walker is noted for his strong intangibles and has showed improved leadership skills this season. He seems to enjoy making his teammates better and there's no reason to think that won't continue in the NBA where he'll be surrounded by more talented players. The fact that he's already a prolific pick-and-roll threat will only make his transition to the next level easier.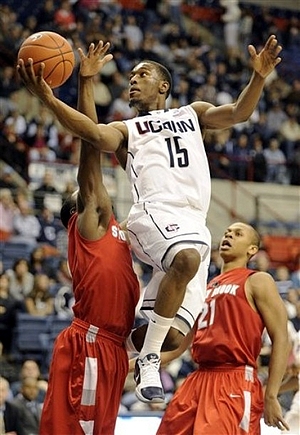 AP



He is at times criticized for questionable shot selection and a penchant for playing out of control, but Walker's turnover rate is down substantially this year. This is a very good sign, especially considering the huge role he's forced to shoulder offensively. We've seen a handful of possessions this season that reminded us of Walker's old ways, but nothing that should make NBA decision makers overly concerned. This is something to keep an eye on as the season progresses, as opposing coaches will surely be throwing everything in their arsenal at Walker in an attempt to slow him down.

Defense is the part of Walker's game that will raise the biggest question marks from NBA evaluators – not because of his actual defensive ability, but rather his size. Standing somewhere around six-feet and change, Walker will always carry the "undersized" label, even though his height rarely affects him on the offensive end. He'll match up against bigger, stronger, longer point guards in the NBA, which could make things more difficult. To his credit, though, he shows excellent lateral quickness, terrific instincts in the passing lanes and the type of toughness you come to expect from a New York City guard. Nevertheless, there is a bias amongst certain NBA-types against shorter point guards, which must be taken into account.

Walker was projected as a lottery pick going into the season, and he's rising even further up our draft board following his impressive start. He's now solidly in the top 10 and is rated as the draft's second-best point guard after Kyrie Irving. Once drafted, he'll be one of the fastest players in the NBA, and he already looks ready to step in from Day 1 and help run a team, which is something that can't be dismissed.

While some will question his limited size and wonder how his game will translate to the next level, players such as Aaron Brooks, Brandon Jennings and Tony Parker have proved that point guards in this mold are incredibly valuable assets in today's NBA.

How Walker builds on his phenomenal Maui showing, and the type of success his UConn team enjoys this season, will ultimately decide how high he gets drafted.

[Read Full Article]

---
NCAA Weekly Performers, 2/26/10
February 26, 2010
Joseph Treutlein

After a solid but unspectacular freshman season, Kemba Walker has definitely taken his game to the next level as a sophomore, even if there have been a few hiccups along the way. The 6'0 point guard has increased his production across the board, and also improved on his outside shooting, which is no longer as much of a weakness as it once was. Arguably the fastest guard in college basketball getting from one end of the court to another, Walker's Ty Lawson-esqe quickness will make him a coveted NBA prospect whenever he decides to enter the draft.

On the offensive end, Walker has really become a much more reliable outside shooter this season, namely spotting up from behind the three-point arc. Walker has great mechanics, boasting a high and quick release with a smooth, consistent motion. He's very effective with his shot both catching and shooting and pulling up in space, while he uses his excellent quickness and craftiness with the ball to create separation pretty consistently. He's only making about one three per game, but he's doing a lot of damage pulling up from inside the arc, while he's also shown proficiency with pull-up jumpers and runners in the painted area.

While Walker shows excellent ability to hit his jumper in space, things become problematic when he has a hand in his face, as his mechanics fall apart and he's prone to forcing up some ill-advised shots at times. Given the ease with which he's able to create space for his shot, it's definitely in his best interest to tighten up his shot selection, as he's capable of consistently getting himself high percentage shots from the perimeter if he makes a conscious effort to. Considering his size, it's essential that Walker continues to make strides with this part of his game down the road.

While Walker did a very good finishing around the basket last season (1.2 points per shot, according to Synergy Sports Technology), he's having a much harder time this year (0.81 points per shot). Walker does a great job getting past his man, having an excellent first step and nice change of direction ability, and though he has good vertical explosiveness at the rim, it doesn't seem to be enough to compensate for his diminutive stature, as he's getting his shot blocked frequently and having trouble with help side defenders in general. This is another area where shot selection is an issue for Walker, as he's very much prone to forcing the issue when attacking the basket, throwing up some low percentage shots in the lane. Still, his relentless, attacking style certainly has some benefits, namely the high rate in which he gets to the free throw line.

As a point guard, Walker has a lot of good tools, excelling in the pick-and-roll game and showing good court vision in general, capable of making tough passes to cutters in the lane. He does a pretty good job of moving the ball around the floor and finding open shooters, keeping his head up for the most part when initiating the offense. That said, Walker definitely shows some tunnel vision when he decides to attack the basket, usually being dead set on scoring in those situations. He doesn't show much prowess in the drive-and-dish game, and his decision-making in general has been erratic at times this season, being pretty turnover prone with the ball, both in forcing passes into tough situations and forcing his dribble-drive game.

Defensively, Walker plays aggressive, focused perimeter defense, getting into a good stance and moving his feet well to stay in front of his man. He sticks with his man well off the ball and doesn't give up on plays, while also doing a good job in the passing lanes, pulling in 2.1 steals per game. Walker's size is certainly an issue on this end of the court, however, as opponents can shoot over him and he doesn't have the greatest strength, something that is problematic when getting through screens.

Looking forward, Walker clearly has a lot of attractive qualities from an NBA perspective, namely his outstanding first step and overall quickness, his ability to get separation, his improving outside shot, and his prowess in the pick-and-roll game. His decision-making remains inconsistent, though, and that's something he'll likely need to work on to become a starting point guard in the NBA. At times he tends to defer to senior Jerome Dyson a lot more than you would hope, as UConn's offense definitely flows better when the ball is in Walker's hands as opposed to the ball-dominant and often stubborn senior.

With the point guard strength of this draft class being fairly weak outside of John Wall, Walker could be tempted to put his name in, where it'd be hard to see him falling out of the first round given the lack of other great options. With that said, it'd probably be best for his long term development if he came back to school for another year and gathered even more high-level experience, as he clearly still has some things to work on. That appears to be the direction he's reportedly leaning, but a strong NCAA tournament showing could definitely change things.

[Read Full Article]

---
College Road Report: Connecticut vs Pittsburgh
March 11, 2009
Walker has put together a very solid freshman season, playing behind senior point guard A.J. Price. He ranks 6th amongst freshman point guards in assists per 40 minutes and 3rd in rebounds per 40 minutes, an impressive feat given that he is playing point for only half of the time he is on the hardwood usually.

Though Walker won't wow anyone physically in terms of size, length, or strength, he is a very quick player who completely utilizes his speed to every facet of his game. He appears to be a very smart player, running the helm for one of the top programs in the country as a freshman. Many times throughout the season when UConn was beginning to unravel, coach Calhoun would put Walker at the point and slide A.J. Price over to the shooting guard spot, showing his confidence in his young playmaker.

Walker's offensive game primarily centers around his ability to get to the rim. Comfortable going both left and right, he possesses a devastating change of direction dribble that can collapse a defense in a heartbeat. His relatively slender frame does not deter him from finishing at the rim amongst the trees, even though he stands only a hair over six feet tall. The kid is simply fearless when going to the rim, while also maintaining the poise to run an offense and not forcing the issue. And in the cases that he is not able to score, he shows absolutely gorgeous court vision, especially in terms of drop off passes to big men.

The main problem with Walker's offensive game centers around his ability to shoot the ball. While he is not an awful shooter, most defenders opt to play off of him and make them beat him with his jumper. This is the primary area of his game that he will need to improve upon if he hopes to establish himself as one of the elite point guards in the country for next season. He's also a little bit turnover prone at this point in his career, although with added experience and having the keys to his team full time next year, this could change.

Walker really excels on the defensive end, playing tough on the ball defense and also great team defense. When not pressuring the ball, he did a very nice job of rotating and even tried taking a few charges against bigger Pitt players. Not only was it clear that Walker has the physical ability to defend, but he also understands HOW to defend, which makes him even more appealing as a prospect.

With A.J. Price graduating, the Huskies will be Walker's team for the 09-10 season, where he will likely enter as one of the top point guard prospects for 2010. Obviously it's a bit premature to start talking about his pro prospects, but draft fans should remember a player who should be one of the top playmakers in the collegiate game next season when watching the conference tournaments. His lack of size will always be considered a hindrance on both ends of the floor, but he seems to show the type of intangibles you look for to make up for that.

[Read Full Article]

---
Jordan Brand Classic Scrimmage (Day Two)
April 19, 2008
Kemba Walker is one player we noticed the previous day but didn't receive a write-up, as he just never really got going with his own offense, playing more of a facilitator role in the intrasquad scrimmage. That was not the case at all in the intersquad scrimmage, as he was probably the game's leading scorer, doing it in a very flash-free, efficient manner. He hit an incredible 5-for-5 on his three-pointers, including one straight pull-up and two pull-ups off crossover dribbles. He set up open shooters on his team, showed some nice misdirection abilities on passes, and made good decisions overall, running his team's offense. It'll be interesting to see where he fits in UConn's point guard rotation, but he looks like someone who could make an impact immediately if given the opportunity.

[Read Full Article]

---
Nike Super 6 High School Invitational at Madison Square Garden
January 15, 2008
In the mold of so many other New York area point guards before him, Walker's game is all about speed and flashiness; both were on display in his team's match up with top ranked St. Benedict's. Like Samardo Samuels, the other major marquee player in this game, Walker had a slow first half, scoring just six points, and struggling with turnovers. The future Husky came alive in the second half though, particularly in the fourth quarter where he wowed the crowd with several dynamic finishes around the basket.

At this level, Walker is definitely a scoring point guard, relying mainly on his slashing ability. He is devastatingly quick off the dribble, and combined with his excellent ball handling skills; Walker seems to be able to get into the lane almost at will. Even next year in a talent rich Big East Conference, he will still be one of the fastest players on the floor on a nightly basis. He exhibits great body control and can change speeds very well, which further helps him to shake defenders, but he did run into trouble at times against the massive front court players of St. Benedict's. Walker showed nice touch and was able to finish some acrobatic shots around the hoop, but these clearly are not high percentage shots that will drop on a consistent basis.

As far as being a scoring threat goes, Walker has two issues facing him. First is his size; his 6'2" listing is probably a bit generous, and we did see that he struggled at times to finish in traffic against bigger, longer players. The other major concern is Walker's perimeter shooting. He only attempted one three-point field goal during the game, despite having plenty of open looks; and it seems that Walker doesn't have a tremendous amount of confidence from this range. He showed some nice potential shooting off the dribble from mid-range and has nice touch, but his release point was somewhat inconsistent, which hampered his shots from falling on a regular basis.

Clearly the appeal in Walker's game is his playmaking ability. His ability to get into the lane and create open shots for teammates is very impressive, and his court vision is fantastic. Walker did everything from drive and kick to open teammates for perimeter shots on the weak side, to penetrating the lane and drawing defenders leaving teammates open for uncontested lay ups. Walker was only able to record two assists in this particular contest, because of a lot of missed opportunities by Rice on the offensive end.

On the defensive end there is plenty to like about Walker. He is a tough defender, and though he gets beat occasionally by fast perimeter players off the dribble, he does a great job of recovering quickly. He seems to have a knack of knowing where to be and generally seems to anticipate well. One cause for concern again is his height, which could allow taller guards to shoot over him at the next level.

Jim Calhoun is getting himself a speedy playmaker next year. While his scoring totals may not be very high initially, with the amount of talent that will be surrounding him, Walker's assist numbers should be. As far as a future at the professional level, Walker's size will always be a strike against him and his perimeter shooting will certainly need to improve a lot, but he clearly has the quickness, court vision and IQ to be an elite point guard.

[Read Full Article]

---