Kenny Boynton
Recent Tweets
All Tweets
DraftExpress: DX Trending Prospects (12/30): Updated scouting reports on Mike Moser, Kenny Boynton & Jarrod Jones: http://t.co/Kbfr6Z0S
2011-12-30 06:21:51
DraftExpress: Top NBA Prospects in the SEC (#11-15) - http://t.co/7jixs5lk - Renardo Sidney, Dee Bost, Kenny Boynton, Reginald Buckner, Trevor Releford
2011-10-28 05:18:11
DraftExpress: .@TheBigLead Just like Chandler Parsons, Nick Calathes, Vernon Macklin, Kenny Boynton and all of UF's other NBA prospects got a pass from us
2011-07-09 10:24:40
DraftExpress: Top NBA Draft Prospects in the SEC, Part two: http://bit.ly/dnDAwL Scotty Hopson, Renardo Sidney, John Jenkins, Kenny Boynton, Tony Mitchell
2010-09-30 08:26:56
You guys should have seen the way people used to talk about Kenny Boynton (went to HS down street from me). This guy was a top-10 recruit?
2010-03-18 14:10:03
Top 25s - Full List
Team: Boulogne
Physicals
Positions
Rankings
Salary
Misc
H: 6' 2"
W: 187 lbs
Bday: 05/12/1991
(24 Years Old)

Current: SG
NBA: PG/SG
Possible: PG

RSCI: 8

Agent: Brian Elfus

High School: Ely
Hometown: Pompano Beach, FL

Predraft Measurements
| Year | Source | Height w/o Shoes | Height w/shoes | Weight | Wingspan | Standing Reach | Body Fat | No Step Vert | Max Vert |
| --- | --- | --- | --- | --- | --- | --- | --- | --- | --- |
| 2013 | Portsmouth | 6' 1" | NA | 187 | 6' 5.5" | 8' 0.5" | NA | NA | NA |



Basic Per Game Statistics

- Comprehensive Stats - Statistical Top 25s
| Year | League | Name | GP | Min | Pts | FG | FGA | FG% | 2Pt | 2PtA | 2P% | 3Pt | 3PtA | 3P% | FTM | FTA | FT% | Off | Def | TOT | Asts | Stls | Blks | TOs | PFs |
| --- | --- | --- | --- | --- | --- | --- | --- | --- | --- | --- | --- | --- | --- | --- | --- | --- | --- | --- | --- | --- | --- | --- | --- | --- | --- |
| 2014/15 | French | Kenny Boynton | 34 | 32.0 | 14.5 | 5.1 | 11.1 | 45.7 | 3.1 | 6.1 | 50.2 | 2.0 | 5.0 | 40.2 | 2.4 | 3.0 | 79.4 | 0.9 | 2.2 | 3.1 | 2.4 | 1.4 | 0.1 | 1.3 | 1.7 |

Player Page&nbsp&nbsp| Player Stats | Mock Draft History | Related Articles&nbsp&nbsp| Add to My Draft Express&nbsp
&nbsp
Trending Prospects 12/30
December 30, 2011
Matt Kamalsky

Last time we checked in on Kenny Boynton during our 2010 preseason coverage, we mentioned how important his ability to play efficient offensive basketball on a consistent basis would be to his NBA stock down the road. So far this year, Boynton appears to have heeded that call, putting up big numbers with the type of efficiency scouts have been looking for from the highly touted guard since his freshman year.

Boynton's improved offensive efficiency is significant for his draft stock considering his physical limitations. Standing 6'2 with an average wingspan, Boynton is a natural scorer who can be an effective secondary distributor, but is ultimately an undersized shooting guard because of his shoot-first mentality and lack of dynamic playmaking ability. While he is a solid athlete with a mature frame and good first step, the Florida native is not a prolific slasher and lacks great upside defensively due to his lack of size. Taking those things into consideration, Boynton's ability to make the most of his touches offensively from the perimeter has been absolutely crucial for his professional evaluation.

After shooting 37.6% from the field as a freshman and 38.5% as a sophomore, Boynton seemed to be falling into a niche as an inefficient high-volume shooter. Considering that 60% of Boynton's total shots as a college player have come from beyond the arc, it isn't difficult to see how Boynton's reputation as a gunner was playing against him as his solid scoring output was fueled by inefficient play.

This season has been a very positive one for the young guard. Though he's playing fewer minutes and not taking too many more shots than he did earlier in his career with the arrival of Mike Rosario and Bradley Beal, Boynton is scoring at a significantly higher rate, upping his points per-40 minutes pace adjusted from a solid 17.2 as a sophomore to a blistering 23.6 through 13 games. Perhaps more impressive than his sheer productivity has been his reliability from the perimeter –he's connecting on 44% of his 3-point attempts.

The most intriguing aspect of Boynton's hot start from the perimeter has been the nature of the shots he's attempting, as he's proven to be more than just a set-shooter. Though he's still making his fair share of spot-up jump shots with his feet set, he's attempting even more shots off the dribble this season, especially when operating on the pick and roll. Whereas last year Boynton converted just 33% of his off the dribble attempts, this year they are falling 42% of the time.

Where he used to appear rushed with a hand in his face early in his career, Boynton has shot the ball with terrific rhythm so far this season regardless of the situation, and is making more three-pointers per-40 minutes than any player in the NCAA. Whether he's making a deep jumper late in the shot clock or elevating quickly dribbling off a pick, Boynton has shown that he can put points on the board in bunches.

Considering how rarely he gets into the paint in the half-court, Boynton's consistency as a shooter will remain a key part of how his scouts will perceive him at the end of the season. He's had a few poor shooting games this season, but has yet to fall into the type of lengthy slump that hurt his numbers in previous seasons. When Boynton is knocking down shots at a high rate, he looks like a clear pro, but considering his weaknesses in other areas, a sizeable downturn in his efficiency would take him back to square one and raise many of the same questions he faced early in his career. Whether Boynton declares for the draft this spring or not, it is worth keeping an eye on how he shoots the ball on a nightly basis.

Apart from his scoring ability, Boynton has shown the same solid passing ability we noted in our last report. He's making even better decisions with the ball than he did as a sophomore, improving his assist to turnover ratio for the second straight season to a solid 2.1/1, doing a nice job of making simple passes to unselfishly find the open man. His point guard potential remains limited by his average court vision and underdeveloped dribble-drive game, but despite Boynton's reputation as a scorer, he's also a serviceable passer for the Gators, which is certainly a plus considering the talent around him. He may not be a floor general at the next level, but he's more than a shooting specialist and is increasingly showing the mentality not to be a black-hole either—something that was definitely a concern earlier in his career.

Defensively, most of what we said about Boynton in our previous reports remains true. He's a hard worker whose fundamentals have improved to match his quickness, but his lack of size and length limit his upside at the next level. Whether his scoring ability compensates for questions about his ability to defend the shooting guard position at the next level remains to be seen.

No matter what parts of Boynton's game scouts put under the microscope, it is ultimately going to be his ability to prolifically and efficiently put the ball in the basket that is going to dictate how he is perceived by NBA decision-makers. It isn't likely that he'll continue his torrid shooting all year, but if he can avoid a significant slump and is still knocking down his jump shots at a 40%+ clip by season's end, he'll have made major headway towards legitimizing his draft stock.

[Read Full Article]

---
Top NBA Draft Prospects in the SEC, Part Two (#6-10)
September 30, 2010
Matt Kamalsky

Kenny Boynton's freshman season proved to be a rollercoaster ride, highlighted by a 20 point, 7 assist performance against Syracuse and mired by streaky shooting that rendered him extremely inefficient for long stretches. A consensus top ten recruit coming out of high school, the Pompano native played heavy minutes for the Gators, and while his scoring output was certainly impressive for a freshman, his sub-40% shooting was an indicator of how much room the young guard has for improvement. Florida returns most of his key players from last season, but Boynton is going to be the team's X-factor and could take the Gators to the next level and improve his NBA draft stock in the process.

Boynton's development on the court will be integral to his NBA future because of his lack of tremendous physical tools for the shooting guard spot. Despite having a mature frame for his age and great body control, Boynton is severely undersized for a NBA shooting guard and doesn't compensate with a big wingspan, which raises questions about his defensive potential. He proves to be a good athlete otherwise, possessing an impressive first step, good but not great leaping ability, and lateral speed that would make him an intriguing prospect physically at the point guard spot.

Unfortunately, Boynton would need to make some drastic changes to his game to become a viable point guard prospect and is programmed with a scorer's mentality that may be difficult for him to shake. He manages to be an effective passer at times, proving much more effective when giving up the ball in pick and roll situations than scoring it himself, but regardless of the situation, he is first and foremost looking to score the ball. That mentality has been both a blessing and a curse for Boynton over the last few years, garnering him numerous accolades as a high school player, but playing a big role in his inefficient freshman season.

Known as one of the top scorers on the AAU circuit, Kenny Boynton has always played with the swagger or demeanor of a Ray Allen or Dwyane Wade, never letting any adversity of string of misses change his approach to the game. While that made him a highly-sought recruit, it put him in a tough position when he fell into a season-long shooting slump as a freshman, as he continued to attempt difficult shots from the perimeter even when he couldn't get anything to fall.

There were two notable factors that limited Boynton's shooting success as a freshman. First, his tendency to attempt jump shots when defended hurt him considerably. Clearly taking advantage of the fact that he was given the green light by Billy Donovan, nearly 60% of Boynton's catch and shoot jump shots came in situations where he had a hand in his face according to Synergy Sports Technology. Boynton knocked down just 23.9% of those shots, but managed a much more respectable 42.6% mark when left open. Considering the he attempted as many three pointers per-40 minutes pace adjusted as almost any player in the country, and that 56% of his field goal attempts came from beyond the arc (despite converting under 30% of them) it is easy to see why his production was volatile.

Second, Boynton tends to be a little too quick with his release for his own good. His jump shooting mechanics are solid, and he gets good results when he takes his time and stays in rhythm, but on some possessions, he appears to be in a hurry to get his shot off, quickening his release and altering the trajectory of his jumpers. This is especially apparent at times off the dribble.

While Boynton could be a bit more discerning with his shot selection and work to become more consistent with his mechanics, he does have some promising offensive tools that will make any gains he makes in those areas that much more clear. Though most of his shots from the perimeter are catch and shoot attempts, he is adept at creating separation with his dribble, even if he isn't making the shots he's creating at a great rate. His quickness and strength give him the ability to get off a shot in a pinch, and if he improves his shooting percentages in the coming seasons, his perimeter arsenal will certainly pique the interest of NBA scouts.

At the basket, Boynton fares pretty well, showing excellent body control and doing a nice job using his body to shield the ball when he has a chance to gather himself and measure up his defender. He struggles when he's forced to make a play in a crowd or has to make a split second decision with the ball in the mid-post. Showing the ability to get inside off the bounce, he showed flashes of good things attacking off the dribble as a freshman, but will need to become more adept with his repertoire and touch from inside 8-feet to emerge as a more dynamic finisher since his lack of outstanding size and leaping ability limits him around the glass. Boynton attempted some floaters last season, but they weren't a reliable weapon for him. He also didn't get to the free throw line very much, which is something he will need to work on.

Defensively, there are plenty of question marks regarding whether Boynton will be able to defend his position (shooting guard) at the NBA level. Lacking great size and length, the rising sophomore struggles to contest shots when closing out, but he puts in a great effort and has solid lateral quickness. Though he still needs to learn the nuances of defending the pick and roll and be a bit more discerning in how he gives his man space both in one-on-one situations and when running around screens, most of Boynton's defensive weaknesses are correctable. Unfortunately, his size will limit his success on the next level. As it stands, he'd need to be paired with a taller point guard to accommodate him offensively without forcing him into an undesirable situation defensively.

Though Boynton plays with intensity and has a pro-type swagger to his game offensive, he has a ton of work to do to legitimize his NBA draft stock. Boynton will inevitably get a shot at the NBA –scorers of his caliber inevitably do, especially considering his pedigree. However, his ability to become more efficient will factor heavily into his ability to gain the attention of NBA decision-makers, hear his name called when he declares, and make a smooth transition to the next level. If he develops as a play-maker or improves his efficiency, he could quickly become a prospect on the rise, and it will definitely be worth keeping a close eye on his development during his second year in Gainesville.

[Read Full Article]

---
USA Basketball Junior National Teams Tryouts: Top Performers
June 20, 2009
Also providing a stark contrast in showing how much of a jump most players make in their first year of college basketball was Florida's Kenny Boynton, who was unable to make it past the final cuts when the tryout was over. Boynton started off strong in the first day but quickly resorted back to his AAU ways, jacking up bad shots left and right and struggling to get by guys off the dribble. His talent and confidence level was unmistakable, but Billy Donovan clearly has work to do in terms of showing him the right way to play.

[Read Full Article]

---
Player Evaluations, McDonald's All-American Game (East Team)
April 4, 2009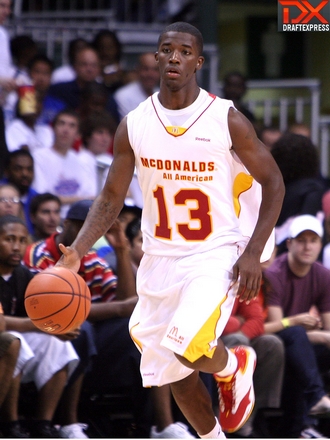 Jim Hlavac, DraftExpress



This was a pretty brutal week for the local kid Kenny Boynton (#8 Scout, #7 Rivals, #10 ESPN¬), as he was unable to get anything going in most of the settings we were able to evaluate him in, although that didn't seem to be bothering him that much. Boynton's perimeter shot wasn't falling at all, and when he doesn't have a team that is working to get him shots, there isn't a great deal he can do at the moment to contribute otherwise, as all the other parts of his game are still underdeveloped. He showed his athleticism on a few occasions, but often looked out of control forcing the issue with the ball, committing plenty of turnovers in turn. Boynton is a volume scorer who needs plenty of shots in order to be effective, which is why this probably isn't the ideal setting to evaluate him.

[Read Full Article]

---
HoopHall Classic Scouting Reports, Part One
January 20, 2009
Kenny Boynton (#8 Scout, #7 Rivals, #10 ESPN) led his team to a pretty easy victory here, scoring 28 points in 28 minutes. Boynton plays on a team severely lacking in talent, which makes it hard to evaluate him as an overall player, as he needs to be relied on to score constantly. Boynton went 9-for-25 in his one game here, also hitting 5 threes, dishing out 3 assists, and pulling in 7 rebounds. He started off the game on fire, but cooled off in the second half as his team slowly squandered their huge lead until having to scramble at the very end against an unimpressive group.

Looking at his game, Boynton is a smooth, but not incredibly explosive athlete with just average length for his size. While he's not an outstanding physical specimen, he makes up for it and then some in shot-making ability, being able to score the ball at will. He shows no hesitation to pull up from NBA three-point range, and he hit a few shots from there in this game. He can shoot spotting up or on the move, and shows no problems adjusting to a hand in his face. He's truly an excellent shot maker, hitting a handful of very tough shots here.

Boynton is also pretty strong from mid-range, showing no problem shooting on the move from a variety of angles. The biggest problem with Boynton's shooting is his streaky nature, as he can be lights out for awhile, but then go just as cold, and he doesn't make adjustments to his game when his shot isn't falling.

The biggest thing Boynton could show is more of a game attacking the basket, as he too easily settles for pull-up contested jumpers, not showing a great game getting in the lane to score. He hit a few floaters here, enough to keep the defense honest, but far preferred to jack up shots from outside.

Defensively, he's a tough competitor with a good stance and lateral quickness, and that was on display here. He also has a nose for the ball and has no problem tracking down rebounds, helping his team in that way.

Boynton should be a strong contributor for Florida from day one, but word is he's looking to play point guard there, which is strange given the fact that he hasn't shown much point guard ability in high school. Improving that aspect of his game would do a lot for his long term stock, given his size, but he could also become a more versatile scorer as well, as it's unclear whether he'll get his jumpers off with the same ease against longer, more athletic defenders. Boynton is clearly a tremendous offensive talent, and if he can learn to play in a real basketball system and become more versatile, he'll likely develop into an NBA caliber player.

[Read Full Article]

---
Initial Scouting Reports, High School Class of 2009 (Top 10 recruits)
July 28, 2008
We came away a lot more impressed watching Kenny Boynton (#8 Scout, #8 Rivals, #3 ESPN) in this AAU setting than we did while he was playing with his high school team American Heritage this past season. It's here that his frenetic style of play seems to make much more sense, and his obvious unwillingness to lose becomes much more evident. Boynton and Breakdown came away the champions of the Reebok event, which is a testament to just how effective a player Boynton is at this level.

Boynton is an extremely strong player for his age, very well conditioned, which is not something you can say about most prospects here. That tells you a little bit about his work ethic, which obviously must be very strong when you consider just how high his skill level is as well.

At this level, Boynton can't be considered anything less than a scoring machine—as he shows an incredible knack for putting the ball in the basket in virtually every way imaginable. He is first and foremost a fantastic shooter, nearly automatic on the catch and shoot with his feet set, but also more than capable of pulling up off the dribble, mainly from behind the arc. He takes and makes ridiculous shots on a regular basis—off-balance, falling down, fading away, with a hand in his face, etc. He looks completely out of control at all times seemingly, but still emerges highly effective regardless.

Putting the ball on the floor, Boynton is also able to do quite a bit of damage. He takes the ball into the paint like a runaway freight train, finishing around the basket with great body control and excellent strength, and sometimes even utilizing a nifty floater.

College coaches we spoke with say they aren't concerned with the fact that he shoots the ball nearly every time he touches it—"that's why we have hall of fame coaches working with these guys" they say. Boynton obviously has great tools that need to be honed, he doesn't seem to have received much coaching at all at this stage in his career, but his competitiveness and skill level is impressive and leaves a good deal of room for optimism. He wanted the ball late in games and showed lots of character taking over and willing his team to victory. He's even willing to defend at times, getting low in a stance and not giving up anything easy. He never seemed to tire, even after playing 9 games in 5 days. It will be interesting to see how he pans out, particularly if he decides to go play at a school like Duke, which will seemingly be a huge clash in styles.

[Read Full Article]

---
South Florida Showdown: Kenny Boynton vs. Brandon Knight
January 29, 2008
Widely considered one of the top shooting guards in the class of 2009, Kenny Boynton (#9 Scout, #7 Rivals), has a long list of schools vying for his services—including Duke, Florida, Ohio State, Texas, and many others.

We're talking about a pure scorer in the Dajuan Wagner mold, a shooting guard in a point guard's body essentially, who doesn't appear very close to making the transition any time soon. Boynton is built well for his size, standing a bulky 6-2, with long arms and very good athleticism. He has excellent quickness, but rarely takes the ball all the way to the basket, instead relying on his perimeter stroke as his main source of production.

Boynton is as pure a shooter as you'll find at this level, although his percentages probably wouldn't tell you that due to the sheer volume of shots he attempts every game. He has a terrific stroke regardless, with a quick release, excellent rotation, and range that extends well past the high school 3-point line. He can hit shots coming off screens or pulling up off the dribble, although he clearly abuses this skill. He creates his own shot extremely well, and at this level, mostly looks for a glimmer of daylight in which to pull-up from mid-range or behind the arc, showing absolutely no conscious with his shot-selection, both in the game we evaluated him against Pine Crest (missing his team's other two best players), as well as against American Christian, when American Heritage was at full strength. When he's on, though, his shot is simply a thing of beauty, capable of single-handedly keeping his team in the game as he showed in the first quarter here, with four long-range bombs in a span of a few short minutes.

Boynton plays a frenetic style, not really aided by the very little coaching he receives from the sidelines. He's a good ball-handler, but has a tendency to force the issue here as well, attempting to split double-teams wildly when trapped off the pick and roll (rather than simply find the open man), and thus being very turnover prone. The whole circus that seems to surround his team doesn't appear to be helping much—his father (a police officer, ironically) at one point came almost all the way out onto the floor screaming at the referees, the opposing coach, and anyone else that would listen after his son took an inadvertent elbow from one of the younger players on the opposing team. It was quite an embarrassing scene considering that Duke Assistant coach Steve Wojciechowski was in attendance.

Boynton seems to get frustrated very easily when things don't go his way, a trend we noticed in both games we evaluated, especially when he's being defended by tough defenders who do not give him space to get his shot off cleanly. He'll let his teammates know how unhappy he is if they dare refuse to pass the ball on any given possession, and looked very frustrated standing on the free throw line trying to gather himself—bricking more shots than he made from what we saw. His body language is extremely poor, usually walking around sporting an extremely sour look on his face, especially when things aren't going his way.

Defensively, Boynton offers very little on this end of the floor. He doesn't put in much effort at all, and clearly has poor fundamentals, gambling for steals, and giving his matchup too much space out on the perimeter. Tyreke Evans did with him as he pleased seemingly, and at some point just seemed to be toying with him, which resulted in a technical foul.

Despite all the negatives expressed here, there still might be some room for optimism regarding Boynton's future if he can somehow adjust his mentality and become more of a team player. He's a strong, tough, athletic combo guard who plays extremely hard and has terrific range on his shot, something that a lot of colleges can use, as evidenced by the impressive list of schools that are after him. He's still very young too. It's possible that a good coach can help bring out the potential he has, but it will take a few tough years in college at the very least.

[Read Full Article]

---