Kentavious Caldwell-Pope
Recent Tweets
All Tweets
DraftExpress: Top performers from the 2014 Orlando Summer league (PER) Mason Plumlee James Ennis Nerlens Noel Kentavious Caldwell-Pope Jordan Adams.
2014-07-12 22:39:05
DraftExpress: Top Performers at Orlando SL so far (50 total min+) in PER Mason Plumlee Kentavious Caldwell-Pope James Ennis Nerlens Noel Jordan Adams
2014-07-10 10:13:35
DraftExpress: With the #8 pick in the NBA Draft Detroit selects Kentavious Caldwell-Pope - so much for whole stabilizing thing. Back to unpredictability.
2013-06-27 20:24:36
DraftExpress: Video interviews with Alex Len C.J. McCollum Cody Zeller and Kentavious Caldwell-Pope at NBA Draft Media Day in NYC http://t.co/gip3gBufG7
2013-06-27 10:25:02
DraftExpress: NBA Draft Media Day Video Interviews Part One http://t.co/NyEyWnjvDS - Alex Len C.J. McCollum Cody Zeller Kentavious Caldwell-Pope
2013-06-27 00:59:12
Team: Pistons
Physicals
Positions
Rankings
Salary
Misc
H: 6' 6"
W: 204 lbs
Bday: 02/18/1993
(22 Years Old)

Current: SG
NBA: SG
Possible: SG

RSCI: 15

Agent: Rich Paul
Current Salary:$2,772,480

High School: Greenville
Hometown: Greenville, GA
Drafted: Pick 8 in 2013 by Pistons

Predraft Measurements
| Year | Source | Height w/o Shoes | Height w/shoes | Weight | Wingspan | Standing Reach | Body Fat | No Step Vert | Max Vert |
| --- | --- | --- | --- | --- | --- | --- | --- | --- | --- |
| 2013 | NBA Draft Combine | 6' 4.5" | 6' 5.5" | 204 | 6' 8" | 8' 4.5" | 6.5 | 29.0 | 34.5 |
| 2010 | LeBron James Camp | NA | 6' 6" | 185 | 6' 5.5" | NA | NA | NA | NA |
| 2010 | Paul Pierce Camp | NA | 6' 6" | 185 | 6' 5.5" | NA | NA | NA | NA |



Basic Per Game Statistics

- Comprehensive Stats - Statistical Top 25s
| Year | League | Name | GP | Min | Pts | FG | FGA | FG% | 2Pt | 2PtA | 2P% | 3Pt | 3PtA | 3P% | FTM | FTA | FT% | Off | Def | TOT | Asts | Stls | Blks | TOs | PFs |
| --- | --- | --- | --- | --- | --- | --- | --- | --- | --- | --- | --- | --- | --- | --- | --- | --- | --- | --- | --- | --- | --- | --- | --- | --- | --- |
| 2015/16 | NBA | Kentavious Caldwell-Pope | 17 | 36.6 | 13.6 | 4.9 | 12.5 | 39.4 | 3.5 | 7.9 | 44.0 | 1.5 | 4.6 | 31.6 | 2.2 | 2.8 | 80.9 | 0.7 | 2.3 | 3.0 | 1.6 | 1.4 | 0.2 | 1.1 | 1.9 |

Player Page&nbsp&nbsp| Player Stats | Mock Draft History | Related Articles&nbsp&nbsp| Add to My Draft Express&nbsp
&nbsp
2013 NBA Draft Media Day Interviews, Part One
June 27, 2013
[Read Full Article]

---
Situational Statistics: the 2013 Shooting Guard Crop
June 19, 2013
Unlike the two players ranked above him, Caldwell-Pope posted fairly high usage numbers, as his 17.6 possessions per-game ranks fifth in this group (third among high-major conference SGs), and is a reflection of just how heavily Georgia relied on his ability to put the ball in the basket last season.

His play-type usage doesn't really stand out from the crowd, as he did a little bit of everything last season, but his 5.1 combined pick and roll and isolation possessions per-game does set him apart from McLemore and Oladipo, as he used more than twice as many possessions creating his own shot in the half court than any guard projected to be selected in the first round.

Caldwell-Pope's biggest weapon when he looked to score was his pull-up jump shot. With nearly three-quarters of his shot attempts coming from the perimeter in the half court, roughly half of which were off the bounce, he scored a second ranked 1.118 points per-shot as a pull-up jump shooter, an impressive mark relative to his average 1.066 points per-shot in catch and shoot situations.

If Caldwell-Pope has a weakness on paper, it is his average finishing ability relative to his peer group. A 55.6% shooter in transition and 53.7% shooter at the rim in half court situations, he hovers right around the mean in both categories. Turning the ball over on a sample second ranked 10.6% of his possessions, Caldwell-Pope's low turnover rate certainly helped compensate for his issues around the rim last season.

[Read Full Article]

---
Kentavious Caldwell-Pope Workout Video and Interview
June 13, 2013
[Read Full Article]

---
NBA Combine Interviews: Caldwell-Pope, Franklin, Brown, Clyburn
May 26, 2013
[Read Full Article]

---
Kentavious Caldwell-Pope Video Scouting Report
May 13, 2013
[Read Full Article]

---
Trending Prospects: Kentavious Caldwell-Pope
March 8, 2013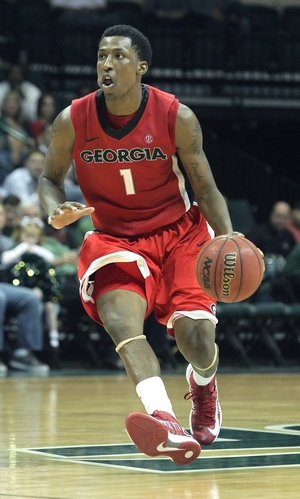 US Presswire



Joe Treutlein

After an inconsistent freshman season, Kentavious Caldwell-Pope has taken his game to the next level as a sophomore, playing largely the same exact game from a stylistic standpoint, but seeing much better results in terms of both his production and efficiency.

Caldwell-Pope has significantly increased his points (+4.5), assists (+0.6), and rebounds (+1.6) on a per 40 minute pace adjusted basis this season, while also seeing his true shooting percentage rise from 50% to 59% thanks in part to his much improved outside shot. While he only made 30% of his 3-pointers last season on nearly seven attempts per game, he's now converting 38% of attempts on exactly the same number of attempts. He's also managed to double his free-throw attempts per game from 2.5 to 5.1 while increasing his percentages at the line from 65% to 81%.

Caldwell-Pope's jump shot remains his most frequently used weapon on the offensive end, with still more than half his field-goal attempts coming from behind the arc, but he's yielding much better results this season. While he still has issues consistently keeping his legs underneath him and with taking difficult shots at times, he's significantly cleaned up his mechanics, which has allowed his spot-up shooting to catch up with his already impressive ability to put the ball in the basket off the dribble. He shows extreme ease getting the little separation needed to get off his shot from isolation situations, and his improved efficiency makes it a much more effective shot for him to take.

Able to come off screens, and very effective as a floor-spacer with his feet set, Caldwell's tantalizing ability to create and make tough shots off the dribble is likely his strongest calling card as a prospect. He's making 42% of his pull-up jumpers on the season according to Synergy Sports Tech, which ranks fifth amongst collegiate prospects.


| Name | Team | Made Pull-Up Jumpers | FG% on Pull-Ups |
| --- | --- | --- | --- |
| Nate Wolters | South Dakota State | 44 | 46.8% |
| Trey Burke | Michigan | 61 | 44.5% |
| Isaiah Canaan | Murray State | 71 | 42.8% |
| Erick Green | Virginia Tech | 73 | 42.2% |
| Kentavious Caldwell-Pope | Georgia | 42 | 42% |
| Shane Larkin | Miami | 38 | 41.3% |


Caldwell-Pope's ability to rise up and bury difficult shots can be somewhat of a curse at times as well, as he tends to rely very heavily on this part of his game and can be naturalized relatively effectively by a taller and longer defender. In the half-court, just 19% of Caldwell-Pope's shot attempts come around the basket.

As a slasher, Caldwell-Pope still remains raw, especially operating on the ball, where he shows little in the way of advanced ball-handling and even has trouble with anything more difficult than straight-line drives. He does a better job operating off the ball, where his lack of ball-handling skills don't impede his athletic gifts, but still could be much better overall in all areas finishing around the hoop. At the moment he doesn't possess the strength and toughness needed to take hits around the basket and finish, as he tends to collapse in a heap at the first sign of contact at the rim.

On the defensive end, Caldwell-Pope has the size and athleticism to be a very effective defender at the wing positions at any level, even if his short wingspan doesn't leave him huge margin for error. For the most part, he does a good job consistently locking in to straight man-to-man situations. He can run into some trouble when dealing with off-ball movement or fighting through screens on pick-and-rolls, where he seems to just go through the motions at times, but has the tools to be an excellent defender and doesn't appear resistant to putting in the effort on this end of the floor.

Looking forward, Caldwell-Pope remains raw overall, especially as a ball-handler and finisher, but he made significant strides this season despite still having plenty of flaws in his game. Becoming a more well-rounded offensive player should continue to be his highest priority, though further improving his defensive prowess certainly wouldn't hurt either.

The fact that his team is just 9-8 in a relatively weak SEC and 15-15 on the year certainly isn't helping his draft stock, even if it's very obvious that he does not have much talent alongside him. The question is, how much will things change next season? Another year in school would surely make him more ready to contribute immediately to a NBA team, but it will regardless be difficult to tell in this setting whether he's the type of player who can contribute to a winning environment. Nevertheless, Caldwell-Pope's physical gifts combined with his excellent scoring instincts will likely get him looks in the first round whenever he decides to declare for the draft, even if his lack of team success makes it more difficult to pinpoint exactly where he might land.

[Read Full Article]

---
Top NBA Draft Prospects in the SEC, Part Two (#2-5)
October 24, 2012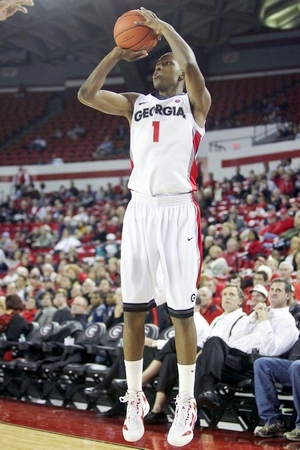 US Presswire



Joe Treutlein

Kentavious Caldwell-Pope had a freshman season at Georgia, exhibiting his impressive athletic abilities and scoring instincts, but at the same time displaying his rawness in many areas of the game.

Standing 6-6 with just an average wingspan (6-5 ˝) but a solid frame, Kentavious Caldwell-Pope is a great athlete for a wing, possessing excellent quickness and ability to elevate around the basket.

On the offensive end, Caldwell-Pope does the vast majority of his damage with his mid and long range jump shot, while he sees more than half of his field-goal attempts coming from behind the three-point arc. He shows a natural ability for putting the ball in the basket, and actually is a more efficient player on shots off the dribble than shots spotting up according to Synergy Sports Technology, averaging 0.93 points per shot pulling up and 0.84 points per shot on catch and shoots.

Unfortunately for Caldwell-Pope, while he does show a natural feel for putting the ball in the hoop and clearly is a talented scorer, it's not something he's been able to execute efficiently and consistently just yet.

Caldwell-Pope's 50% true shooting percentage ranks sixth worst of all players in our top 100 prospects, and it stems mostly from his inefficient outside shooting, and particularly his shot-selection.

While Caldwell-Pope shows a solid foundation for his mechanics with a high and quick release, he's often sloppy with his motions, seeing his arm drift to either side and not consistently getting his feet beneath him. This seems to occur with equal frequency whether he's guarded or open, and he actually seems at his best when he's in rhythm pulling up off one or two dribbles in space. Despite making just 30% of his 3-point attempts last season, he took nearly seven per game, which represented more than half of his overall field goal attempts.

Caldwell-Pope doesn't possess much of an isolation game at this stage, not showing much in terms of advanced ball-handling skills and almost never putting the ball on the floor to go to the rim. He is solid gaining separation quickly to get off his jump shot off the dribble or using jab-steps out of the triple-threat position, but has yet to develop more of a complete off-the-dribble game.

While Caldwell-Pope doesn't do much going to the rim with the ball in his hands, he is much better operating on cuts and getting out in transition, where he's able to fully take advantage of his solid size and excellent athleticism. Caldwell-Pope's ability to finish in transition is probably his best asset at this stage, and he's also pretty good at the rim in the half court.

On the defensive end, Caldwell-Pope possesses excellent tools, and he puts them to good use most of the time, where his combination of foot speed and size make him capable of effectively defending virtually any wing player at this level. His effort and focus can wane from time to time, as he is prone to giving up on plays, but for the most part puts in a solid effort with decent fundamentals.

Looking forward, Caldwell-Pope is a very intriguing player due to his natural talent and physical tools, while he's already proven himself as a player capable of scoring in bunches as a volume shooter against good competition. Still, he'll need to develop into a more efficient shooter and/or develop a more respectable dribble-drive game to come anywhere close to his potential, while he also shows potential to considerably improve his already solid defense. Caldwell-Pope's tools and natural feel give him a very high ceiling should he develop his skills and approach to the game, but he's still a raw prospect with a lot of work to do and is nowhere near his potential just yet.

[Read Full Article]

---