Kevin Pangos
Recent Tweets
All Tweets
DraftExpress: The best part about Kevin Pangos? He'll be at Gonzaga for 4 years. If he hit 9 threes in his first game, what will he do in his last?
2011-11-15 01:45:36
DraftExpress: When you have multiple DX profile entries before you play a college game,you're pretty good. Didn't see this coming from Kevin Pangos though
2011-11-15 01:21:29
DraftExpress: #NikeHoopSummit Scouting Reports: Int'l Guards (Evan Fournier, Mateusz Ponitka, Guo Ailun, Raul Neto, Kevin Pangos) http://bit.ly/g2qyNR
2011-04-13 05:01:28
DraftExpress: RT @JustinDYoung: Halftime world stats: Kevin Pangos 6, Mateusz Ponitka 5, Wiltjer/Bismack Biyombo 4 points. #NikeHoopSummit
2011-04-09 11:10:24
DraftExpress: Kevin Pangos is having a great practice. Shooting ball exceptionally well, directing the offense, really competing. Great get for Zags.
2011-04-06 10:46:24
Team: Gran Canaria
Physicals
Positions
Rankings
Salary
Misc
H: 6' 2"
W: 185 lbs
Bday: 01/26/1993
(22 Years Old)

Current: PG
NBA: PG
Possible: PG

RSCI: 176

Agent: Zach Kurtin

High School: Dr. Denison
Hometown: Newmarket, ON

Predraft Measurements
| Year | Source | Height w/o Shoes | Height w/shoes | Weight | Wingspan | Standing Reach | Body Fat | No Step Vert | Max Vert |
| --- | --- | --- | --- | --- | --- | --- | --- | --- | --- |
| 2014 | Nike Skills Academy | NA | 6' 2.5" | 185 | 5' 11.5" | NA | NA | NA | NA |
| 2013 | PG Skills Acad | NA | 6' 1.5" | 180 | 5' 11.5" | NA | NA | NA | NA |



Basic Per Game Statistics

- Comprehensive Stats - Statistical Top 25s
| Year | League | Name | GP | Min | Pts | FG | FGA | FG% | 2Pt | 2PtA | 2P% | 3Pt | 3PtA | 3P% | FTM | FTA | FT% | Off | Def | TOT | Asts | Stls | Blks | TOs | PFs |
| --- | --- | --- | --- | --- | --- | --- | --- | --- | --- | --- | --- | --- | --- | --- | --- | --- | --- | --- | --- | --- | --- | --- | --- | --- | --- |
| 2015/16 | ACB | Kevin Pangos | 8 | 26.3 | 12.0 | 4.5 | 11.0 | 40.9 | 2.5 | 5.4 | 46.5 | 2.0 | 5.6 | 35.6 | 1.0 | 1.0 | 100.0 | 0.0 | 2.8 | 2.8 | 4.3 | 1.3 | 0.0 | 2.1 | 2.8 |
| 2015/16 | Eurocup | Kevin Pangos | 7 | 26.0 | 14.1 | 4.6 | 10.1 | 45.1 | 2.1 | 5.7 | 37.5 | 2.4 | 4.4 | 54.8 | 2.6 | 3.4 | 75.0 | 0.6 | 1.0 | 1.6 | 5.4 | 0.4 | 0.0 | 1.6 | 2.1 |

Player Page&nbsp&nbsp| Player Stats | Related Articles&nbsp&nbsp| Add to My Draft Express&nbsp
&nbsp
Top NBA Prospects in the Non-BCS Conferences, Part Three: (#11-15)
November 1, 2013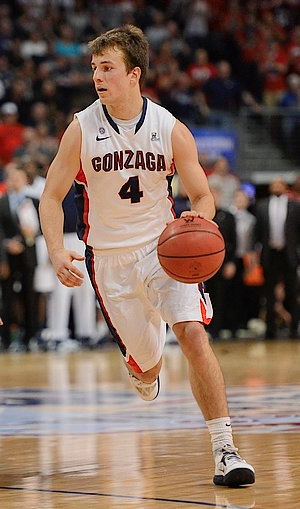 US Presswire



Kyle Nelson

The last time that we checked in on Kevin Pangos, the Canadian point guard had solidified himself as one of the best young point guards outside of the United States. Thus, few were surprised when he stepped into a starting role right away en route to being honored as the West Coast Conference (WCC) Newcomer of the Year, twice named to the All-WCC Team, and landing on the Naismith Award Pre-Season Watch List before his sophomore season.

In his two years at Gonzaga, Pangos has led the Bulldogs to a 58-10 record with back-to-back NCAA Tournament appearances, the school's first top-ranking and #1 NCAA seeding in school history, and a WCC Championship.

Yet, despite his many accolades, he is by no means a surefire NBA prospect, and as he prepares for his junior season, he must prove to scouts that he has what it takes to play in the NBA.

His biggest challenge will be overcoming his below average physical profile. Though he has average size for a point at guard at 6'2 with a 182-pound frame, his sub-6'0 wingspan does him few favors. Likewise, his first step leaves quite a bit to be desired, and he lacks even average explosiveness, though he does show shifty quickness in half court settings.

On the offensive end of the floor, Pangos has distinguished himself as a steady, efficient point guard and one of the best perimeter shooters in college basketball. True to his reputation, nearly three-quarters of his field goal attempts were jump shots last season, and he takes far more shots outside of the arc than inside of it. That being said, he saw fewer possessions in a more talented rotation and averaged just 15.0 points per 40 minutes pace, 2.1 points less than during his freshman season.

Fortunately, he remains an elite perimeter shooter, making 42% of his 5.5 three point attempts per game. On film, he shows outstanding mechanics, notably a quick and compact release, which allows him to get his shot off, even against bigger and more athletic defenders. He also made 36.4% of his jump shots off the dribble - many from beyond the arc. It must be noted, however, that his lack of size does affect his shooting ability at times, as he makes only 27.8% of his contested jumpers.

He also lacks a particularly quick first step and advanced ball handling, resulting in frequent struggles to get around quicker defenders on his way to the basket. When he is able to pick up speed and find his way into the lane, he ultimately struggles to finish at the rim, making just 42.3% of his overall attempts. His 44% 2P%, down from 48% as a sophomore, ranks him in the bottom half of point guard prospects in our database. He is actually a better finisher than one would expect due to his solid body control and a dependable floater, but he will likely continue to struggle both in the WCC and at the next level due to his physical limitations.

Showing scouts that he can attack the basket more effectively – and improving on his paltry 3.0 free throw attempts per 40 minutes pace adjusted – would likely assuage, at least temporarily, concerns about his athleticism.

An area of intrigue, however, is his versatility in running the pick-and-roll, While fairly limited as a half-court scorer at this point and not really a danger to create his own shot, he is a tough mark due to the fact that he can both find rolling big men and knock down jumpers off of the dribble. Solid is a good way to describe his point guard play across the board, as he is not a particularly flashy or creative player, but he rarely turns the ball over and sports an impressive 2.27 assist/turnover ratio despite playing 32.8 minutes per game. He already displays good court vision, but his handles and inability to get into the lane are both areas in which improvement could go a long way to positively affecting his prospects.

Pangos is an engaged defender, compensating somewhat for his average physical profile with focused and aggressive play. Most immediately, his 1.9 steals per 40 minutes pace adjusted are a testament to his effort on the defensive end of the floor. On film, he does a great job of moving his feet and running over and fighting through screens while defending the pick-and-roll, even if he struggles to stay in front of more athletic guards. Yet, despite his efforts, offensive players have little trouble shooting over him due to his short wingspan, and he struggles to close out on perimeter shooters. Unfortunately, while Pangos is a good defender in college, it's extremely difficult to see him performing at the same level as a professional due to his physical limitations.

Thus, it will be interesting to see how Pangos builds on his sophomore year. Playing alongside an experienced starting lineup of Gary Bell Jr. Przemek Karnowski, Sam Dower, and Providence transfer Gerard Coleman should give Pangos plenty of options as a distributor, as well as the space to find his own offense when necessary. Likewise, if summer reports can be believed, then scouts expect to see a better-conditioned player, improved as a shot creator and more adept at getting into the lane. While his weaknesses are undeniable and his ceiling is not particularly high, he will continue to garner interest from NBA scouts should he lead Gonzaga to another winning season. Pangos has already amassed an impressive resume and though his professional future is far from certain, there is still plenty of time for him to boost his stock in the eyes of NBA scouts.

[Read Full Article]

---
Nike Hoop Summit Scouting Reports: International Guards/Wings
April 13, 2011
Walker Beeken

Canadian point guard Kevin Pangos, who had previously played for Nike Hoops Summit Coach Roy Rana in the U-17 World Championships last year, was selected for the World Team based on his ability to run a team, take care of the basketball, make open shots, and get his teammates involved.

Unfortunately, Pangos ended looking a bit overmatched against the athleticism of Team USA, having a tough time getting the World Team into their offense, particularly early on in the game, ending up shooting 1-6 from the field and committing two turnovers in 16 minutes of action.

Pangos performed better in the practice sessions we saw, looking like the solid, mistake-free point guard that he was billed to be coming into the event. He looks to have great intangibles, as he seemed like a very hard worker and was a vocal leader all week.

As a floor general, Pangos does a great job of executing offensively, rarely forcing the issue and generally playing very unselfishly. His lack of burst prevents him from creating his own shot effectively, but he does a nice job of picking his spots and driving when the opportunity presents itself. He's also a very good shooter with his feet set out past the 3-point line, which helps keeps the defense honest.

Pangos will always likely be somewhat limited due to his physical profile, as he stands at 6'1" with a wingspan less than six feet, and has only average speed and explosiveness. He is a very competitive defender, but there are some question marks about his ability to guard bigger and more athletic players at his position. His intangibles and skill set bode well for an excellent college career, though, where he'll be attending Gonzaga next season and playing for Coach Mark Few.

[Read Full Article]

---
2011 Nike Hoop Summit: International Measurements
April 4, 2011
Kevin Pangos
Weight: 181 lbs.
Height (w/o shoes): 6'0"
Height (w/ shoes): 6'1.25"
Wingspan: 5'11.5"
Body Fat: 5.2%
Standing Reach: 7'7"

[Read Full Article]

---
FIBA U-17 World Championships: Top International Prospects
August 7, 2010
The clear-cut leader and go-to guy on this Canadian national team, Kevin Pangos had a strong outing in Hamburg and only added to his already impressive resume.

Not exceptionally athletic (but likely more physically gifted than we initially gave him credit for), Pangos has good size for a point guard to go along with excellent footwork and a terrific basketball IQ.

Pangos is extremely skilled with the ball in his hands. He's also a very good shooter who can make jumpers with his feet set or off the dribble and is particularly effective in the mid-range area. He runs the team steadily and confidently, showing strong ball-handling skills and solid court vision. He's effective in the pick-and-roll but prefers to settle for a pull-up jumper rather than take the ball strong to the rim. When he does get to the basket, he lacks the strength and explosiveness to finish the job, something that might become more pronounced at the college level than it is now.

Defensively, Pangos is smart and competitive. He knows how to use his body effectively and shows terrific fundamentals and patience staying in front of his man. His lateral quickness remains a question mark, though, something that will likely be easier to evaluate in the NCAA than at an international tournament of this nature.

Pangos is a coveted prospect for college coaches and for good reason—he's a rare breed of point guard and seems to have excellent intangibles on top of that. Just how much upside he has left to tap into is anyone's guess, but there's no question we'll be talking about him again over the next few years.

[Read Full Article]

---
Jordan Brand Classic International Game: Top Prospects
April 22, 2010
One of the older players at this event, but still only 17, Kevin Pangos is another in a line of excellent point guards coming out of Canada recently; along with Myck Kabongo and Cory Joseph.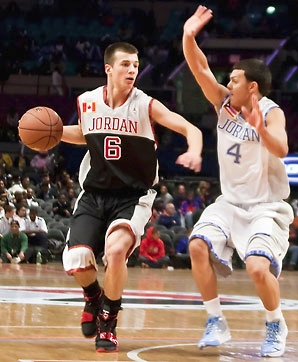 Matt Donders / DraftExpress



Not particularly gifted from a physical standpoint (possessing underwhelming size, strength and athleticism), Pangos compensates for his shortcomings with outstanding intangibles and a terrific basketball IQ to go along with a versatile skill-set. He has a terrific shooting stroke, is a willing passer, and is extremely competitive on the defensive end. He exhibited outstanding leadership skills throughout the practices and was quick to pick up on the drills and plays that were thrown at him, showing an excellent attitude along the way.

While his upside may not be as high as some of the other guards here, Pangos looks like a nice NCAA prospect who should make some college coach very happy. Canadian stronghold Gonzaga is apparently in the mix, and they'd probably be a perfect fit.

[Read Full Article]

---