Khris Middleton
Recent Tweets
All Tweets
DraftExpress: Khris Middleton went to Detroit actually, not Portland.
2012-06-28 11:02:15
DraftExpress: Khris Middleton goes 40th to Portland. Was criticized heavily for leaving school after a lackluster sophomore year. Not a bad spot for him.
2012-06-28 10:57:59
DraftExpress: Mass withdrawals in Minnesota group workout already: Tomas Satoransky, Kris Joseph, Khris Middleton and Garrett Stutz will not attend.
2012-05-31 10:49:42
DraftExpress: Surprising move. RT @jeffborzello: Texas A&M's Khris Middleton declares for NBA draft: http://t.co/fcXnIRqn
2012-04-06 08:33:29
DraftExpress: Top NBA Prospects in the Big 12, Part One http://t.co/4jF65E6r Perry Jones, Thomas Robinson, Khris Middleton, Tyshawn Taylor, Elijah Johnson
2011-09-28 04:08:31
Team: Bucks
Physicals
Positions
Rankings
Salary
Misc
H: 6' 8"
W: 216 lbs
Bday: 08/12/1991
(24 Years Old)

Current: SF
NBA: SF
Possible: SF

RSCI: 123

Agent: Michael Lindeman
Current Salary:$915,243

High School: Porter-Gaud
Hometown: North Charleston, SC
Drafted: Pick 39 in 2012 by Pistons

Predraft Measurements
| Year | Source | Height w/o Shoes | Height w/shoes | Weight | Wingspan | Standing Reach | Body Fat | No Step Vert | Max Vert |
| --- | --- | --- | --- | --- | --- | --- | --- | --- | --- |
| 2012 | NBA Draft Combine | 6' 6.75" | 6' 8.25" | 216 | 6' 10.75" | 8' 7" | 7.8 | 28.0 | 31.0 |
| 2011 | LeBron James Camp | NA | 6' 7.5" | 211 | 6' 10" | NA | NA | NA | NA |
| 2011 | Kevin Durant Camp | NA | 6' 8" | 211 | 6' 10" | NA | NA | NA | NA |



Basic Per Game Statistics

- Comprehensive Stats - Statistical Top 25s
| Year | League | Name | GP | Min | Pts | FG | FGA | FG% | 2Pt | 2PtA | 2P% | 3Pt | 3PtA | 3P% | FTM | FTA | FT% | Off | Def | TOT | Asts | Stls | Blks | TOs | PFs |
| --- | --- | --- | --- | --- | --- | --- | --- | --- | --- | --- | --- | --- | --- | --- | --- | --- | --- | --- | --- | --- | --- | --- | --- | --- | --- |
| 2015/16 | NBA | Khris Middleton | 17 | 33.9 | 14.5 | 4.8 | 12.0 | 40.2 | 2.7 | 7.4 | 36.5 | 2.1 | 4.6 | 46.2 | 2.8 | 3.2 | 87.0 | 0.3 | 2.9 | 3.2 | 2.9 | 1.4 | 0.2 | 1.4 | 3.1 |

Player Page&nbsp&nbsp| Player Stats | Mock Draft History | Related Articles&nbsp&nbsp| Add to My Draft Express&nbsp
&nbsp
Finding a Niche For: Khris Middleton
May 3, 2012
Joe Treutlein

After establishing himself as a player to keep an eye on with his strong sophomore campaign a year ago, Khris Middleton took a significant step back as a junior, struggling with a knee injury all season and seeing his pace-adjusted production fall off across the board this year, while his scoring efficiency numbers took a similar plunge.

Texas A&M's success as a team fared even worse, as the team went a disappointing 14-18 this year following a very good 24-9 a year ago.

Middleton surprisingly decided to enter the draft despite seeing his stock plummet this season, as the combination of injuries, the coach (Mark Turgeon) that recruited him leaving for Maryland last summer, and the significant turmoil his program has faced since in the wake of new head coach Billy Kennedy being diagnosed with Parkinson's disease and top recruits such as Jamal Branch deciding to jump ship likely led him to believe that the situation at College Station can't get any better.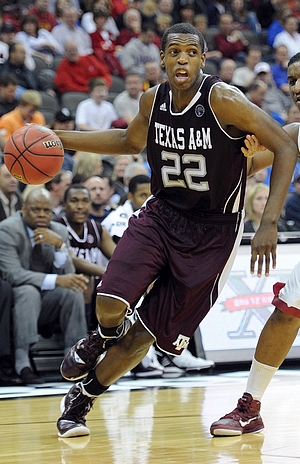 US Presswire



Looking at Middleton's game, his strengths and weaknesses remain largely the same as the last time we profiled him, as he possesses a few attractive attributes from an NBA perspective, though he hasn't progressed much as a player in that time span.

Middleton's ability to score off the dribble from the mid-range remains his most important skill as both a college player and NBA prospect, and he showed continued success in that area this past season. He possesses excellent creativity and feel in this area of his game, while being very comfortable finding small windows to get off shot attempts while blanketed by defenders.

Middleton's first step off the dribble is not very impressive and he rarely gets past his man in isolation situations, but he still gets off a variety of shots in the lane ranging from runners to floaters to pull-up jumpers. Despite just average length, he has a very high release point on these moves and requires very little space to get off his attempts.

From isolation situations, Middleton's efficiency is outstanding at the college level, as his 1.043 points per possessions according to Synergy ranks in the 91st percentile. Middleton's high level of efficiency scoring the ball in isolations is certainly a coveted skill from an NBA perspective, but there are some concerns projecting this area of his game to the next level. For one, given the finesse, mid-range nature of his game and how he relies heavily on scoring closely contested looks, there are questions if he will can maintain similar success against the bigger, more athletic opponents he'll face on nearly every possession. Further, there aren't many role-playing, shot-creating, isolation-oriented wings in the pros, which could make it difficult to find a niche matching his skill set, meaning significant adjustments in his game.

While Middleton saw continued success with his isolation game this past season, unfortunately the same cannot be said about all other aspects of his game. Middleton's shooting efficiency numbers fell in every area this year, highlighted by his three-point percentage plummeting from 36.1% to 26.1% on just a modest increase from 3.3 to 3.9 attempts per game. Middleton's spot-up shooting in general was unimpressive this year, as he hit just 0.827 points per shot on catch and shoot jumpers according to Synergy, barely better than his 0.825 points per shot on shots off the dribble.

Projecting to the next level where he'd very likely have to play a smaller and less ball-dominant offensive role, Middleton's lack of success hitting catch and shoot jumpers is a red flag, and is something he should focus on in his pre-draft workouts. Improving his three-point shooting in general will be even more important for him, as it will likely be necessary for him to become a much better three-point shooter to find a long-term place in the NBA, especially given the preferences most teams have for their wing players.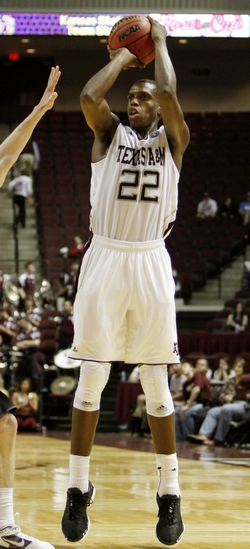 US Presswire



To Middleton's credit, it wasn't common that the ball-handling weak Aggies asked him to take spot-up shots in their offense, and when the ball did come his way for one, it was often out of the flow of the offense, so it was likely difficult to develop a rhythm in this area of his game. Further, he has a certain natural feel for putting the ball in the basket and is clearly a very talented shooter, so he could see significant improvement in this area down the road as he adjusts to new roles wherever he plays.

Middleton's ability finishing around the basket was another area he failed to impress this season, as he still shows a lack of explosiveness and lift around the rim, along with the aforementioned problems getting the step on his man in the half court. His FTA/FGA also fell considerably from 0.33 to 0.19, further evidence of a less aggressive playing style in regards to attacking the basket, possibly due to struggles related to his return from injury. While his success with runners and floaters somewhat mutes his inability to finish around the basket, it's still something he should work on for developing a more complete and efficient game moving forward.

One area Middleton did continue to excel with on the offensive end is his flow-of-the-offense passing, as he posted decent assist numbers for a small forward at 3.3 per pace adjusted 40 minutes. He's an unselfish player with solid vision and feel, while he's capable of making nice passes to shooters and cutters alike. While he's not someone to create offense for others or make many passes on the move, he can serve as an effective cog in this area of the game, and does a good job fitting into a team-oriented offense.

On the defensive end, Middleton still possesses many of the same issues we identified last time we profiled him, as he struggles to move well laterally and is prone to frequently being beat off the dribble in isolation. To his credit, he does a good job getting into his stance when matched up one-on-one, shows a high effort level, and does an effective job using his size to contest shots from behind even when he is beat. Still, this is likely to be an area of concern for him projecting forward, and putting in as much work as possible here would be to his benefit.

Looking forward, Khris Middleton possesses a fairly unique skill set for his position, and is an interesting player trying to project to the next level. While his ability and feel scoring the ball in isolation situations is certainly attractive, his shortcomings in most areas traditional role players excel in pose some questions for how his game will translate and what types of adjustments he'll need to make.

However, 6'8 players with his level of shot-creating ability are not a common commodity, and that could certainly lead someone to feel he's a player worth investing the time in to try and develop.

[Read Full Article]

---
Trending Prospects (12/23/2010)
December 23, 2010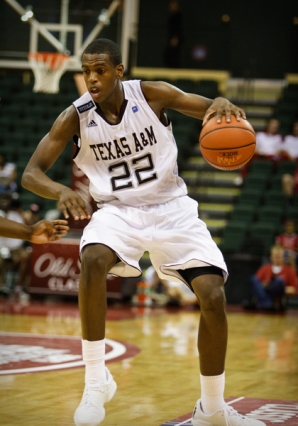 Icon SMI



Joseph Treutlein

After a solid freshman campaign where he averaged just over seven points in 20.9 minutes per game, Khris Middleton has more than doubled his scoring output as a sophomore despite playing just seven more minutes per game. Simultaneously he's bolstered his efficiency across the board, which all adds up to the fact that he's having quite the breakout year.

Possessing a very intriguing combination of physical attributes, versatility and feel for the game, Middleton looks like the type of prospect that could really catch someone's eye, especially when you consider that he's a year younger than most of his sophomore class.

Standing 6'7 with solid length and a wiry strong frame, Khris Middleton isn't the most explosive player around, but he makes up for it and then some with a certain smooth athleticism, while also bringing an interesting package of skills to the table for a developing small forward. His youth and late-blooming status leads us to believe that he may still have room to grow from an athletic standpoint as he continues to mature physically in the next few years.

On the offensive end, Middleton has an unorthodox mid-range game that is the bread and butter of his offense, doing a lot of damage in the 5-15 foot range on a variety of floaters, runners, and pull-up jumpers. His ability to transition from dribble into shot is great, while he boasts good touch on his shots and is crafty enough to use the glass when he needs to. He needs very little separation to get off his attempts, and maintains good balance while creating a lot of high percentage shots in areas most players can't.

In addition to his mid-range game, Middleton also brings respectable three-point shooting to the table, at times looking outstanding knocking down spot-up jumpers from behind the arc. His form isn't textbook, with a very pronounced pushing motion in front of his face, but he has a lightning quick release and is always ready to shoot it when the ball comes to him, whether he's standing still or coming around a screen. He's knocking down 36% of his shots on 3.5 attempts per game from three so far this year, and increasing those numbers over the remainder of his college career could definitely help his stock, while he appears to have the pure shooting ability to do it.

As for the rest of his offensive game, Middleton is also somewhat unorthodox with his ball-handling, vastly preferring to drive left despite being a right-handed shooter. He has a very strong right to left spin move in his arsenal, and will occasionally pull off other impressive advanced moves going to the rim, but his basic control of the ball is pretty shaky, not having the tightest dribble around and struggling against double teams. He turns the ball over on 27% of his possessions at the moment, which is an extremely high rate.

As for attacking the basket, he doesn't do a great job finishing around the rim, lacking a degree of strength and explosiveness that could very well come later on in his career, and struggling to transition his dribble into power moves, giving him a problem with elevating around the basket in the half-court. When he is getting shots at the rim, it's usually in transition or off half-court cuts, as opposed to creating out of isolation, something he does very little of. Tightening up his handle and developing some shot-fake moves to take advantage of the attention defenses must pay his perimeter game could improve this area for him.

One thing Middleton does show a pension for in the halfcourt, however, is making passes on the move, showing impressive court vision for a forward off the dribble, making some nice dump off assists in the lane on a few occasions this season. He clearly has an excellent feel for finding teammates, and appears to have a great deal of creativity as well.

On the defensive end, Middleton has trouble overcoming a high center of gravity and stiff hips that hinder his lateral movement, looking pretty awkward in his stance and struggling to stick with quick changes of direction. To his credit, the effort seems to be there and he does a good job staying with his man off the ball and closing out on perimeter shots with his length, but he'll need a lot of work to shape up his on-ball defense, something he looks very uncomfortable with thus far.

Looking forward, Middleton's one-year improvement is clearly very impressive, and he has a nice foundation to work with in his three-point shot and mid-range game. Maximizing his strength/athleticism, tightening up his handle, taking his three-point shooting to the next level, and working on his defense should all be among his priorities, and the likelihood of him doing so is definitely looking better given the learning curve he's already shown.

In short, Middleton is a prospect we'll need to revisit down the road, likely sooner rather than later.

[Read Full Article]

---
adidas Nations Experience Dunking Drills
September 9, 2010
[Read Full Article]

---