Kim English
Recent Tweets
All Tweets
DraftExpress2: 2nd rounders who had nice showings in Orlando Kim English who was as aggressive as he was at PIT and Kyle O'Quinn who brought great energy.
2012-07-13 14:59:11
DraftExpress: Detroit takes Kim English at #44.
2012-06-28 10:10:48
DraftExpress: Only one player you can say definitely looks like a NBA player in this 1st session: Kim English. Came out with his game face on #NetsCombine
2012-05-19 10:22:55
DraftExpress: While all the other players are drinking water, Kim English decided to stay on the court & show off his sweet stroke. Smart guy #NetsCombine
2012-05-19 09:48:48
DraftExpress: One on one live action drill. Five seconds to score. Kim English looking very aggressive. #NetsCombine http://t.co/w0ufsMAO
2012-05-19 09:41:48
Top 25s - Full List
Team: Cholet
Physicals
Positions
Rankings
Salary
Misc
H: 6' 6"
W: 192 lbs
Bday: 09/24/1988
(27 Years Old)

Current: SG/SF
NBA: SG
Possible: SG/SF

RSCI: 158

Agent: Ben Pensack

High School: Notre Dame Prep
Hometown: Baltimore, MD
Drafted: Pick 44 in 2012 by Pistons
Best Case: Jodie Meeks
Worst Case: Robert Vaden

Predraft Measurements
| Year | Source | Height w/o Shoes | Height w/shoes | Weight | Wingspan | Standing Reach | Body Fat | No Step Vert | Max Vert |
| --- | --- | --- | --- | --- | --- | --- | --- | --- | --- |
| 2012 | NBA Draft Combine | 6' 4.5" | 6' 5.75" | 192 | 6' 6.5" | 8' 2" | 4.3 | 29.0 | 36.5 |
| 2012 | Nets Workout | 6' 3.5" | 6' 4.5" | 198 | 6' 6.75" | 8' 3.25" | 8.4 | 29.3 | 35.3 |
| 2012 | Portsmouth | 6' 3.75" | NA | 191 | 6' 7" | NA | NA | 27.8 | NA |
| 2011 | Nets Workout | 6' 4.5" | 6' 5.5" | 195 | 6' 7.5" | 8' 4" | 4.9 | 28.0 | 34.5 |



Basic Per Game Statistics

- Comprehensive Stats - Statistical Top 25s
| Year | League | Name | GP | Min | Pts | FG | FGA | FG% | 2Pt | 2PtA | 2P% | 3Pt | 3PtA | 3P% | FTM | FTA | FT% | Off | Def | TOT | Asts | Stls | Blks | TOs | PFs |
| --- | --- | --- | --- | --- | --- | --- | --- | --- | --- | --- | --- | --- | --- | --- | --- | --- | --- | --- | --- | --- | --- | --- | --- | --- | --- |
| 2014/15 | Eurocup | Kim English | 5 | 16.0 | 5.0 | 1.8 | 7.4 | 24.3 | 0.8 | 4.0 | 20.0 | 1.0 | 3.4 | 29.4 | 0.4 | 1.4 | 28.6 | 0.0 | 1.4 | 1.4 | 0.8 | 0.4 | 0.0 | 1.4 | 2.2 |
| 2014/15 | French | Kim English | 5 | 17.0 | 9.4 | 2.8 | 8.2 | 34.1 | 0.8 | 3.2 | 25.0 | 2.0 | 5.0 | 40.0 | 1.8 | 2.0 | 90.0 | 0.4 | 2.4 | 2.8 | 3.6 | 0.4 | 0.2 | 2.8 | 0.8 |
| 2014/15 | French | Kim English | 4 | 21.8 | 9.3 | 3.0 | 8.3 | 36.4 | 1.5 | 5.3 | 28.6 | 1.5 | 3.0 | 50.0 | 1.8 | 3.3 | 53.8 | 0.3 | 1.5 | 1.8 | 1.3 | 0.3 | 0.0 | 1.0 | 1.8 |

Player Page&nbsp&nbsp| Player Stats | Mock Draft History | Related Articles&nbsp&nbsp| Add to My Draft Express&nbsp
&nbsp
DX All-Portsmouth Invitational Tournament Team
April 16, 2012
Averaging 18.3 points per-game, Kim English had a strong showing at the PIT, despite having to play out of position for stretches. Seeing time as his team's primary ball-handler, English was forced to run the point in lieu of the other wings on his team's roster who struggled mightily before the former Missouri Tiger was handed the reins. Despite the position he was put in, English rose to the challenge, playing aggressively on the offensive end. Although he may have forced the issue on a few occasions, English made some nice plays scoring and passing the ball, found ways to create shots for himself around the basket, knocked down his open jump shots with solid consistency, and showed a high basketball IQ. English may lack elite athleticism, but he plays intense defense, makes the extra pass, and seems well-equipped to fill a Daequan Cook type role in the right situation given his prolific jump shooting.

[Read Full Article]

---
Trending Prospects (2/19/2012)
February 19, 2012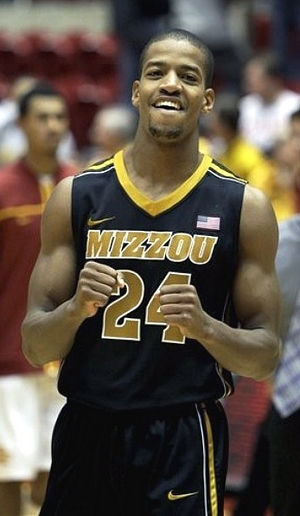 AP



Kyle Nelson

To say that Kim English is having a breakout season is somewhat of an understatement. While he has been on DraftExpress' radar since he was in high school, he did very little during his sophomore and junior seasons to suggest that he would turn the corner and become a NBA legitimate prospect. The opposite has been true during his senior campaign, where English has developed into an efficient second option for a championship contender.

While English has good size for an NBA shooting guard at around 6'6 and a much-improved 195-pound frame, he only has average length (6-7 Ĺ wingspan) and could still stand to get stronger. He is not a very explosive athlete, but is a very fluid and coordinated player with nice quickness who plays with great aggressiveness and purpose.

Pursuant to our previous scouting reports, English remains a fairly one-dimensional player on the offensive end, with nearly 80% of his shots coming off jumpers. What differentiates his senior year from past seasons, however, is the rate in which his jumpers are falling, as he now ranks as one of the best shooters in all of college basketball.

While last season English converted a mediocre 36% of his attempts from both inside and outside of the arc, this year he is shooting 54% from 2-point range and an outstanding 46% for 3. Not only is he one of the nation's best 3-point shooters, but he is also the most efficient shooting guard in our database in effective field goal percentage.

On tape, English continues to show excellent mechanics including a quick, fluid release and solid elevation. He excels as a catch-and-shoot option, where he sees nearly half of his offensive possessions and where he currently converts an amazing 52% of his attempts. He has improved shooting off of screens, as well, doing a much better job of getting his body squared and feet set prior to leaving the floor.

English has also improved his shot-selection significantly this season, which helps explain his dramatically improved shooting percentages both inside and outside the arc. While last season about 33% of his jumpers came off the dribble, this year only 14% of his jumpers have come on pull-ups, which has helped make his team's entire offense flow more smoothly.


While English may be the best spot-up shooter in the country, he has never developed his game elsewhere to the extent that suggests he can be more than a shooting specialist at the next level. For one, his average physical profile and his below-average ball-handling skills limit his abilities as a slasher, and he has yet to demonstrate that he has developed, much beyond flashes of potential, in the way of an efficient mid-range arsenal. Despite taking far fewer pull-up jumpers this season, his accuracy on these types of shots has only increased marginally, from a horrid 15.5% to 24% this year.

English's lack of versatility may not be as much of a problem as it once appeared, however, as he displays excellent intangibles on the offensive end. Though his court vision is just average, he is a willing passer and an unselfish teammate. English is also a vocal leader on an off of the court, as well, communicating well with his teammates and leading by example through his toughness and work ethic. Furthermore and as has been documented at length throughout his career, English is an intelligent individual with an outstanding basketball IQ, which combined with his other intangibles are an ideal combination for a projected role player in the NBA.

Despite not being an incredibly prolific shot-creator, English has found more ways to contribute inside the arc this season, either by taking opposing power forwards off the dribble in a straight line, or moving intelligently within Missouri's dynamic half-court offense.

While English will be able to contribute immediately on the offensive end of the floor at the next level, his defensive potential is far less certain. As has been stated before, he has good fundamentals, staying in his stance with active hands and feet, but his length and lateral quickness are just average. While he does a solid job of keeping track of his man and staying involved even after he is beaten, there are still significant questions whether he can guard quicker guards at the next level, as he guards both post and perimeter players alike now for the undersized Missouri Tigers.

When it comes down to it, there are few players in the country who have improved their standing with NBA scouts than Kim English. He still has work to do before securing a spot on a NBA roster, but should have plenty of opportunities to showcase his talents on the biggest stages of college basketball as Missouri looks to make a Final Four run in March.

[Read Full Article]

---
Top NBA Draft Prospects in the Big 12, Part Three (#11-15)
September 18, 2010
Joseph Treutlein

Coming off a solid freshman season, Kim English came back as a sophomore and upped his production across the board, partially a product of a 50% increase in minutes and partially a product of taking on a larger role in the team's offense after the departures of DeMarre Carroll and Leo Lyons. From a skills standpoint, English made some subtle improvements here and there, but is predominantly the same player we profiled a year ago.

On the offensive end, English's game is incredibly centered around his jump shot, as 83% of his shot attempts in the half-court come outside the paint, and at this stage of his development it's the only skill he has that is really near NBA-level. As a catch and shooter, English has great form and is lethal with range out to the NBA three-point line, but there are multiple things holding him back as a shooter overall, as he only shoots 37% from three and 39% from the field.

For a player whose best chance at this stage is to make it in the NBA is as a niche shooter, English's efficiency numbers are far behind what they need to be, and there are a few things he could improve on to make him a more dynamic scorer. While English does an excellent job in catch-and-shoot situations, his efficiency falls off notably in non-static situations, be it coming around screens or pulling up off the dribble, stemming primarily from him not being able to properly contain his momentum when moving side to side. Getting a stronger base on his shot and better holding his balance should eventually lead to increased accuracy and eventually make him a much more proficient outside threat.

Beyond his jump shot, English shows flashes in all areas of his game, but struggles to consistently contribute at this level, having a very unpolished all-around offensive arsenal. His ball-handling skills are just average, as he struggles to change directions with the ball and doesn't have much of a second gear.
In terms of finishing, English struggles on the rare occasion he gets all the way to the basket, not having the strength or explosiveness to do much of anything, often relying on throwing something in the general direction of the rim or getting bailed out by contact. He has actually done a good job developing a somewhat formidable mid-range game this season, however, showing flashes of floaters and runners in the lane with nice touch, but this isn't something he's consistent with yet. He shoots a very poor 41% inside the arc, which is not what you want to see from someone who is amongst the top-15 players in college basketball in field goal attempts per-40.

While English does a very good job moving without the ball to get open, helping his offense's floor spacing and general flow, he doesn't make the same kind of contributions in the passing game, not showing much in terms of court vision or instincts and often deciding what he's going to do a few seconds earlier than he should. To be fair, he doesn't appear to be a selfish or even reckless player, but passing it something that he still could improve greatly on.

Defensively, English shows a pretty good fundamental base, showing good awareness in his team's zone and often getting in a good fundamental stance at the start of plays, but he's prone to being beat laterally frequently, in part due to below average lateral quickness and in part due to a tendency to let up effort as plays go on. Adding strength to his narrow frame should help in this area.

Looking forward, English should have every chance to expand his game this season for the Tigers, as he's already the team's leading scorer and their offense (43rd in the country according to kenpom.com) has much room to improve. As an NBA prospect, developing more of an efficient all-around game or becoming more proficient with shooting, his bread and butter, will be critical to his stock down the road, as the NBA doesn't have much room for shooting specialists who make less than 40% of their 3-point attempts.

[Read Full Article]

---
Top NBA Draft Prospects in the Big 12 (Part Three: #11-15)
September 10, 2009
Kyle Nelson

In the final seconds of Missouri's thrilling second round match up against Marquette, veteran point guard J.T. Tiller was fouled hard on his way to the basket and was too shaken up to take his free throws. In an unexpected move, Missouri coach Mike Anderson chose freshman Kim English, a mediocre free throw shooter, to take the shots. English, who had scored a remarkable 15 points in less than five minutes during the first half, stepped to the line and knocked down both free throws, securing the win and Missouri's first Sweet 16 appearance since 2002. He then followed up his thrilling 17-point performance by shooting 0/7 from the field and scoring just six points in total against Memphis and Connecticut. His NCAA tournament, much like his freshman campaign, certainly had its ups and downs.

English looks the part of an NBA wing, standing 6'6 with a good wingspan and a wiry, albeit slight, frame. He must continue to get stronger, but he has the size to play either shooting guard or small forward at the next level. He is a decent athlete and has a very solid first step on the perimeter. English seemed to understand his athletic limitations last season, though it is important that he utilize his athleticism more often on both ends of the floor in the future.

Offensively, English is a pure shooter and, at times last season, a lethal scorer. He has a very quick release with a relatively smooth and consistent shooting motion. As with most young players, he tends to waste motion in his lower body when he does not shoot the ball from a standstill, but there are few players in the country who are as proficient in catch-and-shoot situations. English is in constant motion on the offensive end, which helps him find openings on the perimeter and makes him an easy target for his teammates. He does not have the greatest shot selection, but his aggressiveness to find his own shot will be valuable as Missouri begins the rebuilding process next season.

The rest of his offensive ability is somewhat limited, though he showed flashes of expanding his game. His mid-range game could be an interesting addition to his repertoire next season, but he needs to work on his ball-handling ability, most notably dribbling with his right hand, before he becomes a more creative scorer. Similarly, he must become a better ball handler in order to become a more prolific slasher. For a player with his size and solid first step, English does not attack the basket nearly enough. Getting stronger would help him in this area, as well.

On the defensive end, he shows decent lateral quickness, which combined with his length, allows him to guard multiple positions on the perimeter. Working on his fundamentals should help him to compensate for his lack of standout athleticism and would allow him to maximize his defensive potential. At this point, it is absolutely essential that English increase his awareness on the defensive end. He oftentimes finds himself out of position, which results in a pointless foul or an easy shot attempt for the offense. In time, English could emerge as a very solid defensive player, though for now, he has quite a bit of work ahead of him.

While at times English showed the potential to be a lethal perimeter threat in the Big 12, he was very inconsistent throughout the season. He is definitely worth keeping an eye on, however, and if he can continue to put points on the board for the rebuilding Missouri Tigers, then scouts will definitely take notice.

[Read Full Article]

---
National Prep Showcase, Day Two
November 18, 2007
The Notre Dame Prep scoring machine continued his dominance Saturday, almost single handedly keeping his team within reach of a loaded Hargrave Military Academy squad. He showed the ability to score in a variety of ways, be it via his beautiful jumpshot, or his fearless forays to the rim. Kimmie as heís called here shot the ball well from beyond the three point arc, showing off a jumper with a high release point that he can make both off of the dribble and from a standstill. He exhibited very nice athleticism when taking the ball to the rim, owning a nice first step and explosive leaping ability. English played nice defense as well, locking down whatever offensive player he was forced to guard, when he decided to exert effort on that end of the floor.

Although English was excellent this weekend, there certainly are some holes in his game. His ball handling skills are fairly limited, with him just putting his head down to the ground and going full speed with reckless abandon when going to the rim. Creating his own shot is certainly the biggest weakness that he possesses at the moment, and he could also improve upon his ability to find open teammates.

Missouri seems to have gotten a steal in Kim English, a player who proved this weekend that he is able to compete with most of his more heralded counterparts. He will have the opportunity to come in and make his presence felt right away as a freshman, given his ability to put points on the board and the fact that the Tigers are currently in a rebuilding process.

[Read Full Article]

---
National Prep Showcase: Day One
November 17, 2007
The leading scorer and likely go-to guy for Notre Dame Prep, 6-6 wing Kimmie English seems to have a lot of interesting aspects to his game that make him a solid college prospect. Fairly athletic with a chiseled frame, English looks the part of a high-major swingman and then some. He can put the ball on the floor a bit with mixed results, and has a really nice stroke with range out to the 3-point line. English created his own shot on a number of occasions, but clearly still has some work to do on his ball-handling skills. Defensively, English plays with intensity but isnít the most fundamental player in the world, gambling a bit for steals and blocks, and losing his focus at times. Englishís biggest problem at the moment seems to be his lack of experience and fairly average basketball IQ. His shot selection isnít the best and rarely would he pass the ball to an open teammate once he decided he was going to score on that possession. English clearly has a lot of talent, so if he can put it to good use over the next few years he might be a name to look out for.

[Read Full Article]

---