Top NBA Prospects in the Non-BCS Conferences, Part 8: Prospects #16-20
November 12, 2015
Josh Riddell

A rotation player on the 2011 BYU team that earned a 3 seed behind Jimmer Fredette, Kyle Collinsworth embarked on a two year Church of Latter Day Saints Mission after that year. He returned to the program for the 2014 season, which ended with him missing the last game with an ACL tear.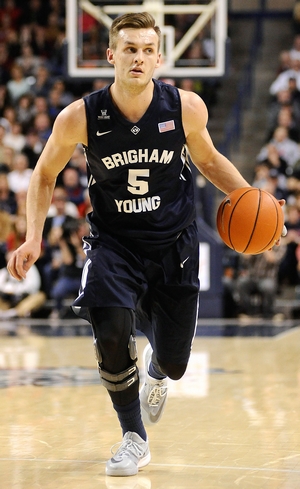 US Presswire
He returned healthy for the 2015 season, and became one of the best all-around offensive players in the country. He set a single season record with four triple doubles, including a 20 point output, which gave him six for his career and also tied a record.
Collinsworth has the ball in his hands a lot for the BYU offense and has the physical makeup of a combo guard. He's listed at 6'6" and has added enough muscle to his frame to contend with physical play. His game isn't reliant on athleticism, but he has enough to hang with many players. He loves to get out in transition and has enough speed to be dangerous. He's a quick jumper and while he plays mainly below the rim, he can explode for dunks in the right spots. Collinsworth isn't going to win many battles athletically against NBA competition, but he has enough to hang with most players.
Collinsworth has an excellent feel for the game and always seems to make the right decisions with the ball in his hands. This is especially true in ball screens sets, which account for 23% of his offensive possessions. He reads the defense perfectly and makes the proper call to attack the paint or pass to a cutter or shooter.
He's a straight line driver that can get to the rim at times, but may struggle to do so against NBA competition. Collinsworth needs screens to be able to penetrate to the rim, as he doesn't have the ball skills to beat his defender one on one. He needs to beat his defender with speed but this can cause him to get out of control going toward the rim which leads to a tough shot. He may not turn into a dominant scorer at the next level, but his ability to run the pick and roll and create for his teammates will be a role he could fill for a team.
When he does get to the rim, he is a good finisher for his size at 56.4%. His best finishes come off offensive rebounds or cuts when he can be more under control around the rim and explode to the rim rather than off the dribble. He can finish through contact and isn't afraid of physical play, getting to the line 6.4 times per 40 minutes pace adjusted.
Collinsworth isn't much of a shooter at this point in his career, both from a fundamentals and volume perspective. He attempted only 21 three pointers, making just six, and converted 25% of his 55 overall jump shots according to Synergy Sports Technology. The majority of his jump shots came off the dribble and he isn't always able to gather himself to release a shot on balance. There isn't much of a sample of catch and shoot possessions to judge his potential but he clearly isn't comfortable with his form if he doesn't have many attempts (he's made just 18 3-pointers in over 3000 career college minutes). The ball doesn't come off his hands clean and his form will need work for Collinsworth to become more accurate and confident with his jump shot.
While his lack of three point shooting isn't going to prevent him from being drafted, NBA teams will question his role offensively with so much emphasis being placed on the three point shot now a days. Since 2005, only six qualified players 6'6" and under who were eventually drafted have shot less than twenty threes in a season: Elfrid Payton, Kyle Lowry, P.J. Tucker, Ramon Sessions, Sir'Dominic Pointer and Travis Leslie. If he doesn't improve his shooting, Collinsworth will have to show he has other elite skills that can translate, forcing teams to get creative with their offense to find minutes for him.
Collinsworth has great court vision and understanding of the game and has become one of the best passers in the country. He dished out 7.1 assists per 40 minutes pace adjusted to only 3.4 turnovers per 40 minutes pace adjusted. He keeps the ball moving in the flow of the offense and makes perfect reads to find cutters in space. He has the potential to turn into a floor general at the next level by initiating offense and distributing the ball, even if he can't get his own points.
As a guard, Collinsworth is one of the top rebounders in the nation at 10.2 total rebounds per 40 minutes pace adjusted (2.9 offensive and 7.4 defensive). He has a nose for the ball and crashes the glass hard as a rebounder. Not every team will want their guards to focus so heavily on rebounding but in the right situation this will be a useful skill for Collinsworth.
He isn't a great individual defender and expends little energy on that side of the floor with so much of his stamina used on the offensive end. He is rarely in a stance and doesn't put the same level of focus on this side of the court. The basketball IQ he shows offensively doesn't translate to defense as he loses sight of his man and fails to screens coming and runs right into them which takes him out of the play. He fails to recover hard when he is beat and looks more toward rebounding or leaking out in transition.
Already 24 years old, there are questions about his ceiling and whether his collegiate success is due to his physical and maturity advantage. Regardless, his offensive potential will keep scouts interested and if Collinsworth can show some improvements in other areas of his game, he could be a viable draft candidate for a team that wants a mature player who can play right away.
[
Read Full Article
]